Cydia is an app that appears on an iPhone (iPad) once your jailbreak it. The main function of this app is to install those apps on the iPhone that are exclusively made for jailbroken device. Once installed, you cannot delete Cydia  from iPhone with the standard methods. You will need to use some other ways to do this.
Delete Cydia without Restoring iPhone (iPad) on iOS 11/10/9
There are many methods to delete Cydia from an iPhone (iPad), but they all either restore the iPhone (iPad) or erase its data. If you are looking for a way to delete Cydia without restoring your iPhone, then it is recommended that you use iMyFone Umate Pro. It is a powerful data erasing software that allows iOS users to erase any kind of data from their iPhone permanently. With Umate Pro, you can delete any app from your iPhone without hassles.
Features
Delete/uninstall any app from your iPhone, regardless of whether your device is jailbroken or not.
Delete Cydia from your iPhone without restoring it or erasing any other data.
Boost the performance of your iPhone as well as free up space with a single click.
Steps to Delete Cydia without Restore
Step 1. Connect your iPhone to your Windows or Mac computer. And open iMyFone Umate Pro.
Step 2. Click on Apps under the 1-Click Free Up Space function. Umate Pro will start scanning your iPhone.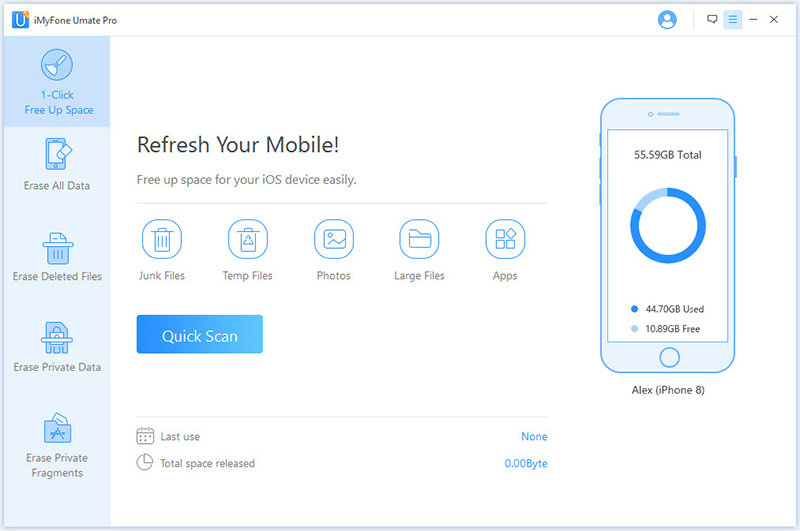 Step 3. Once the software lists all the installed apps on your iPhone, find and check Cydia and then click the Remove button.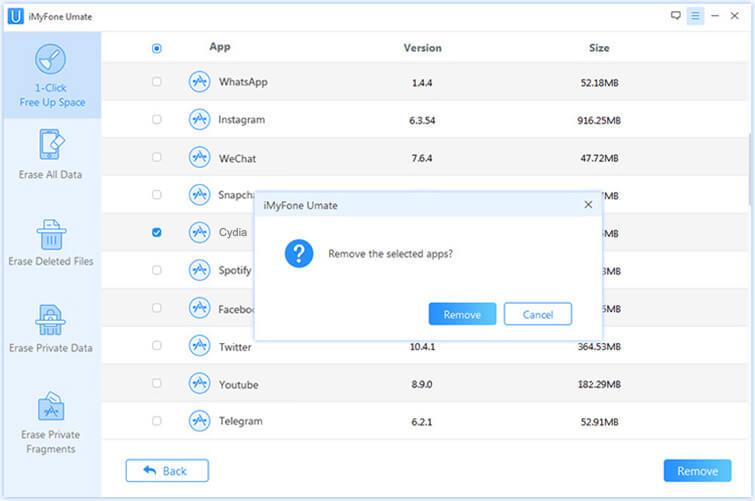 Step 4. Confirm your action by clicking the Remove button once it is prompted. Umate Pro will now delete Cydia from your iPhone.
Restore with iTunes to Delete Cydia from iPhone (iPad)
It is possible to delete Cydia from your iPhone (iPad) with iTunes but this method erases all your data and restores your device to factory default. So, it is recommended that you backup all your iPhone data before proceeding. Here are the steps:
Step 1. Connect your iPhone to your computer. If iTunes does not automatically open after connecting the iPhone to computer, then open it manually.
Step 2. In iTunes, choose your iPhone from the top of the software interface. The Summary page will open. Now choose 'This computer' and then select the 'Back Up Now' option. It is highly recommended that you do not skip this step, otherwise you will lose all your iPhone data and won't be able to restore it later.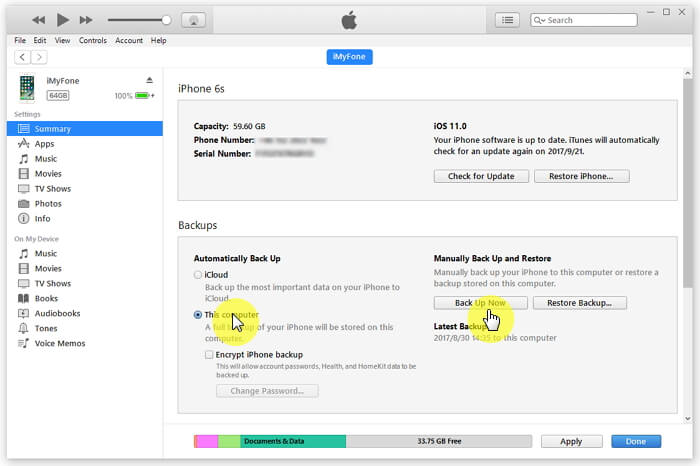 Step 3. Find and select the 'Restore iPhone' option. You will need to confirm your action to continue. Once you confirm it, iTunes will start the restoring process. All your iPhone data will be erased.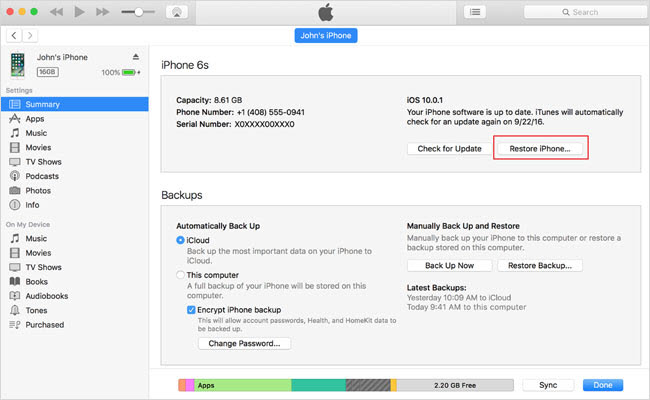 Step 4. Once the restore process is completed, you can load the backup that you have created in Step 2 to restore your data.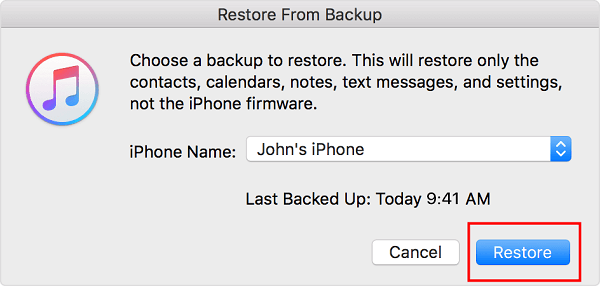 You May Like: Avoid Privacy Leak on Your Jailbroken iPhone
Once jailbreaking your iPhone, it becomes vulnerable to viruses and malwares which may lead to privacy leak. If you want to protect your privacy, then it is highly recommended that you erase your iPhone data permanently. You will need to use a professional data eraser software to achieve this. iMyFone Umate Pro is one of them.
iMyFone Umate Pro excels when it comes to erasing any or all kinds of data from an iPhone permanently. You can use its Erase All Data mode to permanently erase everything from your iPhone and protect your privacy. Data erased by iMyFone Umate Pro cannot be recovered by recovery software and even FBI.
Permanently erase private data such as call logs, contacts, notes, messages, etc. to protect your privacy (Learn More >>).
Scan deleted files and permanently erase them from your iPhone (iPad) to prevent them from ever being recovered.
Permanently erase third-party app data from your iPhone, including Whatsapp, Wechat, Viber, Snapchat, Kik, and 10 more.
How iMyFone Umate Pro Permanently Erases Data?
When you erase anything via Umate Pro, it erases it from your device and then stores random data in its place on your device. After storing the new random data, Umate Pro then erase it and then refills data again until data recovery becomes completely impossible. The data removal process of this software is so intricate that you can be sure that not even the FBI will be able to recover your erased data from the iPhone (iPad).