What is Hard Reset?
Hard Reset is another term for Factory Reset or Master Reset. It simply means restoring a device to its original state (i.e. as it was when it first left the factory). However, there are still many people wondering "does a hard reset erase everything on iPhone?"
Part 1: Does a Hard Reset Erase Everything on iPhone 6
Does a hard reset erase everything on iPhone? If you mean a full restore, then resetting your iPhone via Hard Reset will erase all your data completely. All your iPhone settings and your private data will be erased and restored to the original state. If someone tells you that a hard reset hasn't erase his data, it may be he just misleads restart/reboot as reset.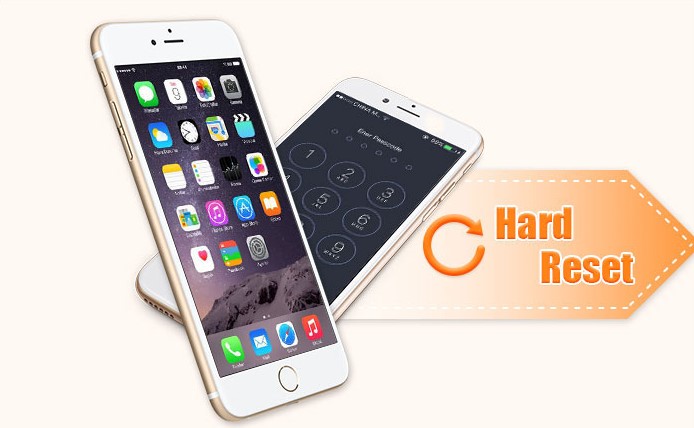 Part 2: How to Hard Reset an iPhone 6 without Losing iPhone Data
After answering "does a hard reset erase everything on iPhone?", we shall be discussing different tips on how to hard reset an iPhone 6 without losing data.
Step 1.

Backup iOS Data via iTunes before Hard Resetting iPhone 6

You should always copy and save the information contained in your iOS device before engaging on a hard reset. Here is how to back up your iPhone 6s Plus data to a computer via iTunes:
Step 1: Open iTunes and connect your iPhone 6 to your computer.
Step 2: If a pop-up message requests for your device passcode or Trust This Computer, follow the onscreen guide.
Step 3: Select your iPhone 6 when it appears on the iTunes side menu bar., then click "Back Up Now".
Step 4: Go to the Summary screen to see if your backup completed successfully.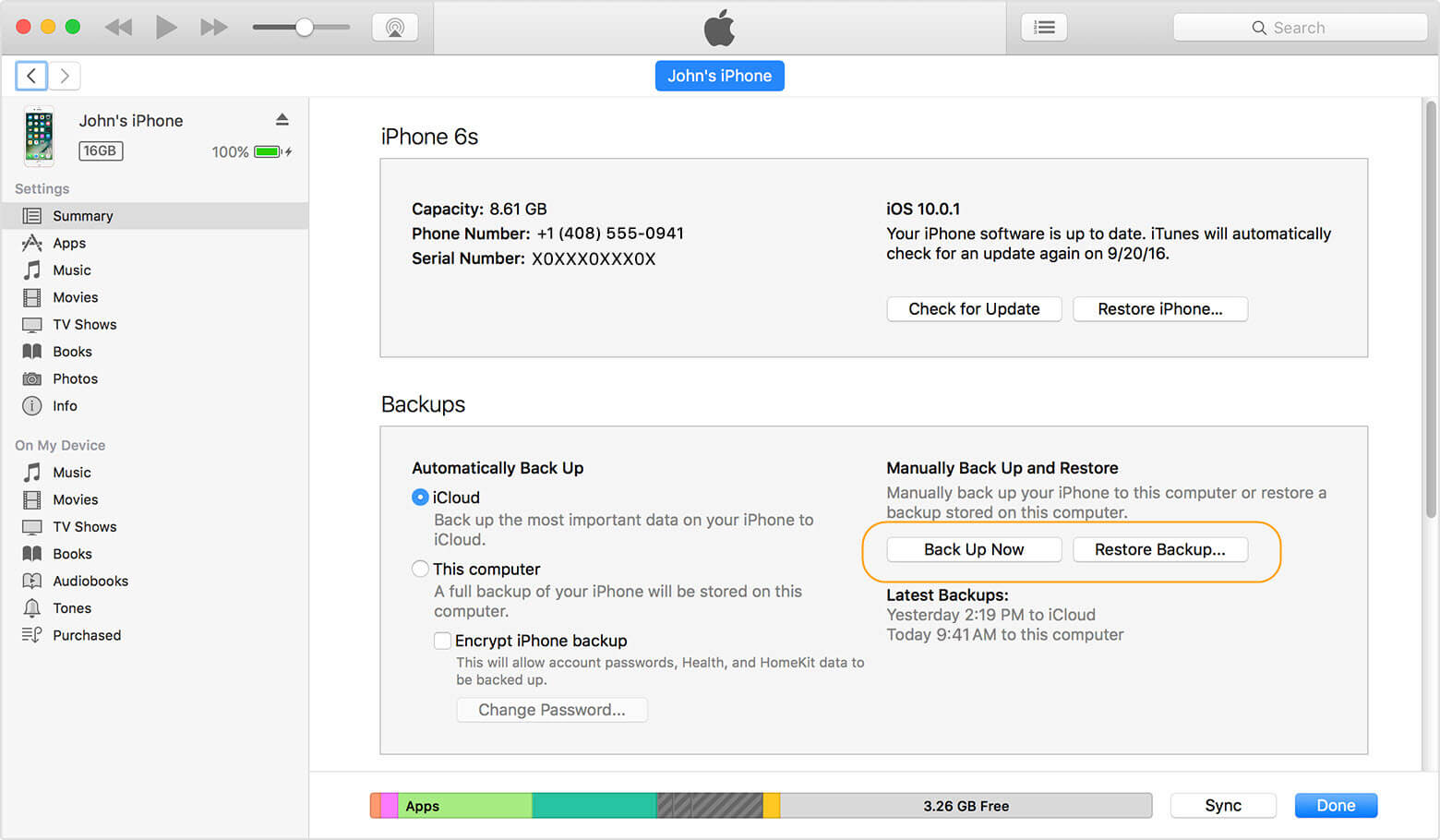 Step 2.Hard Reset Your iPhone 6
Method 1: Use iMyFone Umate Pro to Hard Reset iPhone 6
iMyFone Umate Pro is the best solution to hard reset an iOS device. As the ultimate iPhone data eraser, Umate Pro can erase all iPhone data and settings that may not be reached ordinarily by iPhone setting. Hence, if you want to hard reset your iPhone and permanently erase iPhone data to protect your privacy, then using Umate Pro is the best shot you got.
More so, Umate Pro has other features such as 100% with third-party apps and apps' data, erase iOS with 0% chances of recovery, and secure private data. More key features of Umate Pro are discussed in the following paragraphs.
Key Features:
Hard reset and Erase all iPhone 6, 6s or 6s Plus data permanently in just one click.
Erase deleted data without any chance of data recovery.
It's possible to selectively erase your iPhone data when you are not interested in hard resetting your iPhone. Umate Pro makes it possible for you to erase private data selectively to protect privacy.
All formally erased files, which are still lurking in your iPhone storage space can be scanned and permanently erased.
Offers you a free option to clean junk files.
The steps to hard reset iPhone via iMyFone Umate Pro:
Step 1: Download and install iMyFone Umate Pro on your PC. Launch Umate Pro and connect your iPhone to your PC using a USB cable. Trust your PC if this is the first time you are connecting to it.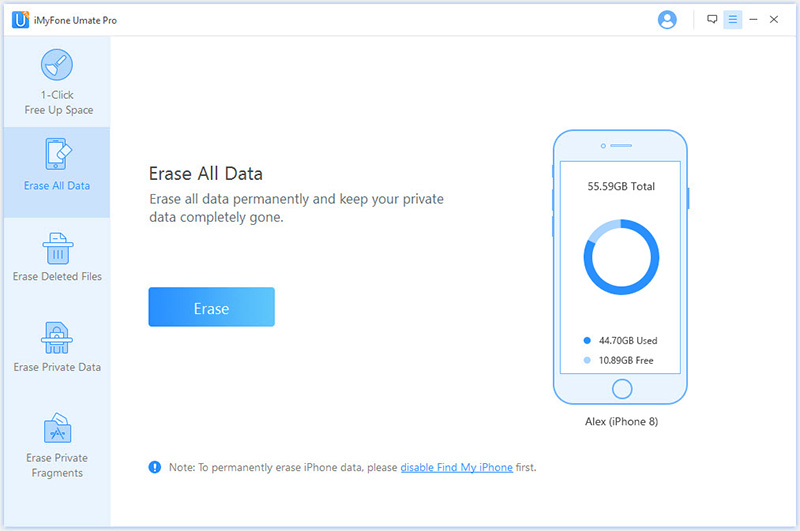 Step 2: Click "Erase All Data" -> "Erase" buttons. Then, type "delete" into the box to confirm your request, select your security level before clicking the "Erase button.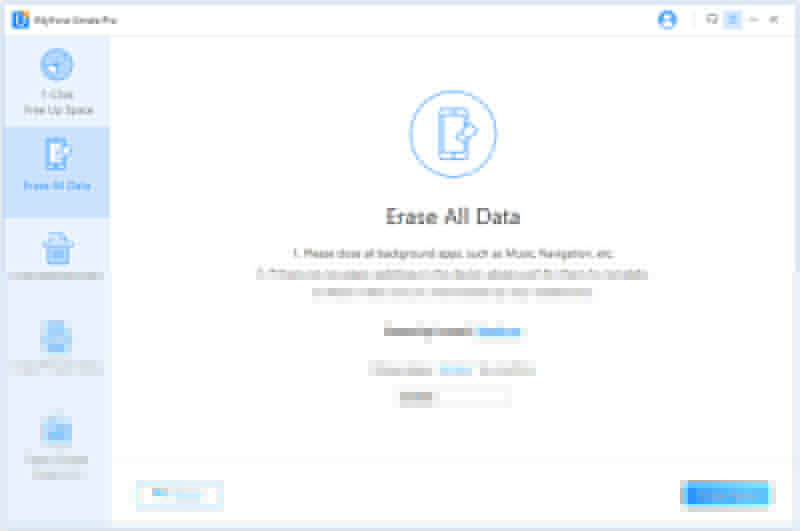 Method 2: Hard Reset iPhone 6 Using Setting
If you want to directly hard reset your iPhone from the Settings app, here are the steps you should follow.
Step 1: Click on "Settings" -> "General" -> "Reset" tabs on your iPhone.
Step 2: Click on "Erase All Content and Setting" tab. Then, click "Erase iPhone" tab and confirm your decision from the prompt.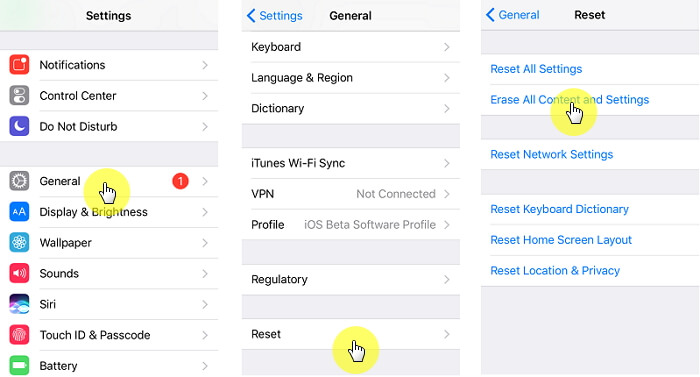 After following these steps, it's expected that none of your iPhone settings, applications and data will still be visible on your iPhone.
Step 3.Restore iPhone 6 Backup from iTunes
Factory resetting your iPhone 6 with iTunes is a good way to keep your data off your iPhone, but it comes with make drawbacks. To restore your iPhone via iTunes, follow these steps:
Step 1: Launch iTunes on your PC. Make sure you have the latest version of iTunes in order to minimize errors.
Step 2: Connect your iPhone to your PC using USB cable, if you're yet to make a backup, refer to Step 1 of this article.
Step 3: Click "Restore Backup" option, and then confirm your decision by tapping Restore. Your iPhone backup will be restored.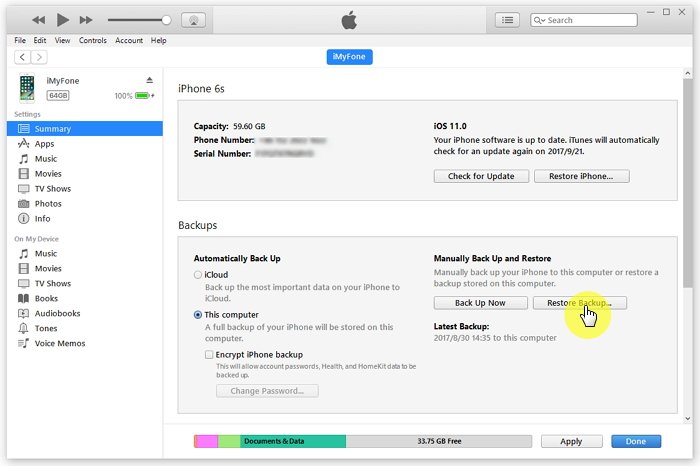 Part 3: Comparison of iPhone Settings and iMyFone Umate Pro with Respect to Hard Resetting iPhone 6
Here, we provide a comparison table about hard resetting iPhone 6 between iPhone settings and iMyFone Umate Pro. Please check beleow!
| Features in Hard Resetting | iMyFone Umate Pro | Settings |
| --- | --- | --- |
| Permanently erase iOS data | | |
| Chances of data recovery after hard resetting iPhone 6 | No | |
| Preview and selectively erase iOS data. | | No |
| Scan and erase deleted files | | No |
| Options to clean junk files | | No |