Apple has launched iOS 14 for public beta testing on 7th July 2020 with a wide variety of upgrades. However, like all other updates, iOS 14 will also come with storage constraints that must be addressed beforehand. Although iOS 14's size has not been declared yet, it'll ask for some deletions in your current operating system. In this guide, you'll learn many ways to free up your iPhone space for iOS 14 update without compromising any important data.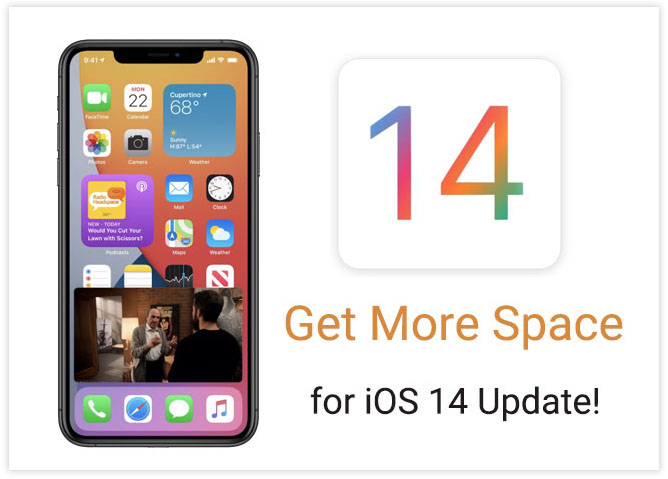 The Main iOS 14 Problems and Bugs Discovered So Far
With more and more iPhone users installing the iOS 14 version on their devices, all kinds of problems and bugs are also encountering. Below is a list of those bugs that have been found in the latest iOS 14.
"Other and "System" take up too much storage space after updating to iOS 14 version.
Some apps will undoubtedly break after iOS 14 update.
The Weather widget will appear blank temporarily.
Battery draining is too fast.
Safari browser cannot load any websites sometimes.
Random reboots.
Emails cannot sync properly.
Why is iOS 14 Consuming So Much Space on The iPhone?
A more manageable app library, convenient user interface, interactive messaging, and default emailing are some of the perks you'll get with this update. However, iOS 14 storage is big, like its older counterpart.
Here is the question: Why iOS 14 takes up so much storage space? Actually, such an iOS version storage bug has been discovered since the iOS 11 version. The "storage" section of the iPhone will become larger after installing the latest iOS version. And there are tons of reports the systems and other storage consumes the most storage space after upgrading to iOS 14, like the reddit user below. The reason for the iOS 14 storage bug is possibly that iOS is counting various third-party apps as part of System or Other storage. That's why the "Storage" section shows such a big number.

So to download iOS 14 on your iPhone/iPad, you'll need enough free space, which is quite a hassle for existing users. No sufficient space for updating iOS means you'll use an older version and miss out on several helpful advancements.
Since you cannot support an iPhone/iPad with an external storage device, deleting several items will be the only way to upgrade to iOS 14. But, that doesn't mean you'll have to lose your precious files. In the next part, we will guide you some effective ways to get more storage space for updating iOS 14. Just keep reading!
Tips
If you have installed the iOS 14 beta version on your iPhone: and want to downgrade to iOS 13 because of the storage bugs, you can still restore from a previous iOS 13 backups.
Manual Ways to Get Enough Space for Updating iOS 14
Downloading the new operating system will require ample space, which might mean you'll sacrifice several apps. But if you learn to free the storage without harming the core files, it'll keep your data intact.
First, you should learn what's taking up most of your iOS storage. Whether the old chats need to be deleted or there are several unused apps in your library, go to your iPhone's settings and get a clear insight. Once you know how much space is free and what's consuming the most of it, use any of the below-described means to optimize it:
1. Remove unused apps
This step clears a large amount of storage because apps' sizes are always heavy. If you have several large-sized apps that aren't regularly used i.e., Games, Viber, just remove them.
Since iOS 14 needs sufficient backup space to be downloaded, you can easily get these apps back when needed. But to upgrade your new iOS 14 operating system, say goodbye to those stagnant apps for now.
If you want to delete just one app, just tap and hold an app icon, then choose Delete App. However, deleting just one app is not enough for ios 14 update, you need to uninstall more unwanted apps on your iPhone.
If you want to delete apps in bulk, tap Edit Homescreen. Then an X button will appear at the upper left corner of each icon. Just tap the X from the app you want to remove. Then confirm your uninstallation request in the popup by tapping Delete. And that's done.
Note
After updating to iOS 14 successfully, and you want to retrieve those apps you removed, you can always go to the App Store and download and install them again.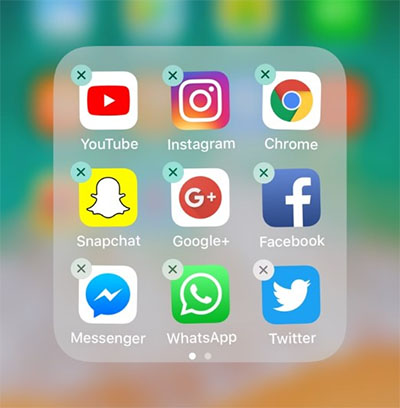 2. Clean up Media Files (Videos, Photos, or Audio Files)
Since most of us have a huge collection of media files in our devices, it's always challenging to manage an update with them.
For now, either sort the unnecessary files and delete them to free some space. Or move your collection to an external device i.e., laptop/tablet, and get it back once your iOS 14 is ready.
If those media files are important for you and you don't want to lost them, you can consider copying media files like photos and videos to a cloud storage service. So that you can delete them from your iPhone to get more available storage for installing iOS 14. Google Drive, Dropbox and iCloud are the nice options for cloud storage service. Once your photos have copied to your cloud service, then you can easily delete them from your device.

3. Clean up iPhone Messages
Old conversations also take up a lot of space, eventually limiting your ability to update. The easiest way is to go to your phone's general settings, and select "delete messages older than (the date of your choice)" and get rid of those lagging chats in a jiffy. As an alternate, you can remove your messaging app's entire data, without an option to recover it.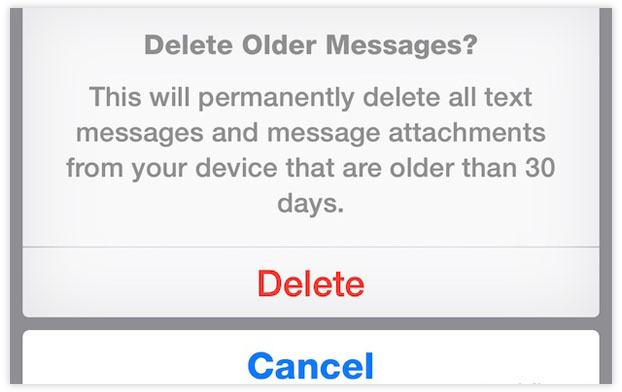 4. Clear Safari Data (Histories, Caches, Cookies)
Safari data isn't something you collect on your phone, but it's the system that tracks your cloud activities. Your passwords, browser/downloading history, and file cookies consume a fraction of your space. You can free your phone from this cache by opening general settings. Below is how you can do that.
Open Settings on your iPhone.
Scroll down to the Safari option.
Select Clear History and Website Data.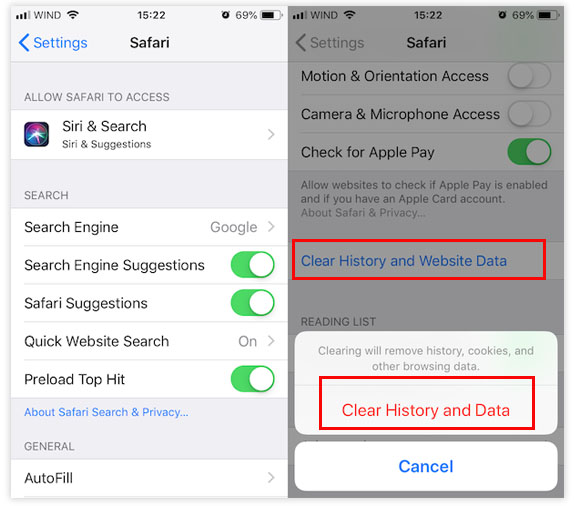 5. Optimize iPhone Storage [Only Available for iOS 11 or Above]
iOS 11 allows you an offloading option to take the unused apps off your grid and maximize the free space. If you are using iOS older than 11, upgrade to it fast because that'll help you increase your space without going the extra mile.
After you have upgraded to iOS 11, go to your phone's Settings option and click the General option, then select iPhone Storage. You'll get a breakdown of your phone's entire memory. And below that, your iPhone will show you some optimization options that can help you free up storage. You can choose any recommendation you want to accept and tap Enable to optimize it.
Also, some apps on iOS 11 will show two options i.e., offload and delete. When you delete an app, the data associated with it also goes off your storage. But when you offload an app, its stored data will remain in your phone, and just the app will be deleted. The next time you re-download that app, its data will already be there.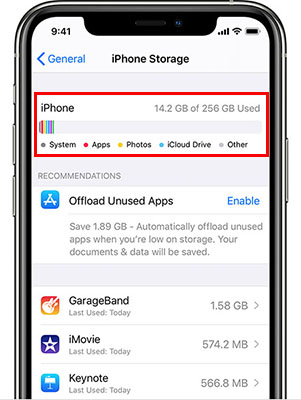 6. Erase iPhone and Restore Backup [Not Recommended]
Honestly, we don't recommend you to use this way if not necessary, because you need to erase your iPhone completely without keeping any file and data. But we have to saty that erasing your iPhone is one of the most useful methods when your iPhone has no enough space available for iOS 14 update. If you have decided to erase your phone to install iOS 14, you'd better create an backup first to prevent the important data loss. Just carefully follow the steps below.
Launch iTunes on your computer, please make sure it is the latest version.
Then connect your iPhone to the computer and click on the device icon.
Select the Restore iPhone button in the Summary option.
Select the Restore and Update button in the pop-up window. And that's it.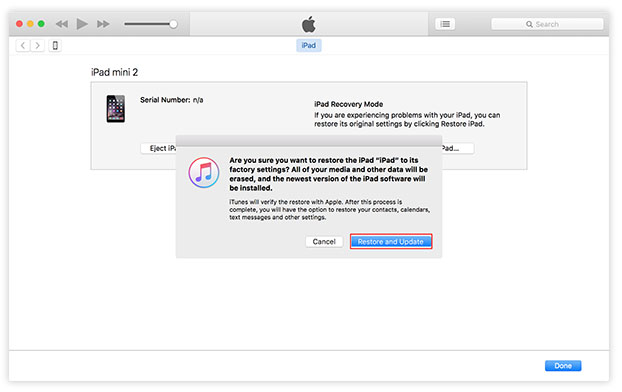 Wait, Is There A Way Can Do All Things Above in One Time? Yes!
Are you tired by reading all the steps mentioned above? If yes, stop worrying because you can clean your iPhone in one go, yes you heard that right. Optimizing a phone's space is no more a challenge because the iMyFone Umate Pro will do that in one go.
Umate Pro is a revolutionary solution ensuring that your data is never prone to any harm. It allows you to quickly erase and optimize your phone's space without worrying about the new operating system's configurations. Here are the top features of Umate Pro that you must know:
Free Up Space Options:
One-click clean up to free up space for iOS 14 update.
Remove 3rd-party Apps in bulk without any hassle.
Clean up all the hidden junk files, delete third-party apps fragments, compress/delete large files, etc.
Clear Safari data including Search histories, caches, cookies thoroughly.
Erase deleted data on iPhone to erase traces permanently.
Factory reset your iPhone with just one-clik.
Why choose Umate Pro
Auto-detect the files which take a large amount of iPhone system storage.
Permanently erase data with no traces.
Find all the invisible files with high scanning speed.
Preview data before erasing and can erase individually.
3-step simple operation, easy for everyone.
Get 2x space than before.
How to use Umate Pro to free up more space for iOS 14 update?
Using Umate Pro to prepare your iPhone for the latest iOS 14 update is apt and effective because it's designed to facilitate you.
Here are the steps to use Umate Pro:
Step 1. Connect your iPhone to computer and launch the tool.
Step 2. Choose 1-Click Free Up Space mode and click on Quick Scan button to start scanning your iPhone. If you want to factory reset your device to get more available spe, then you can choose the "Erase All Data" mode to do that.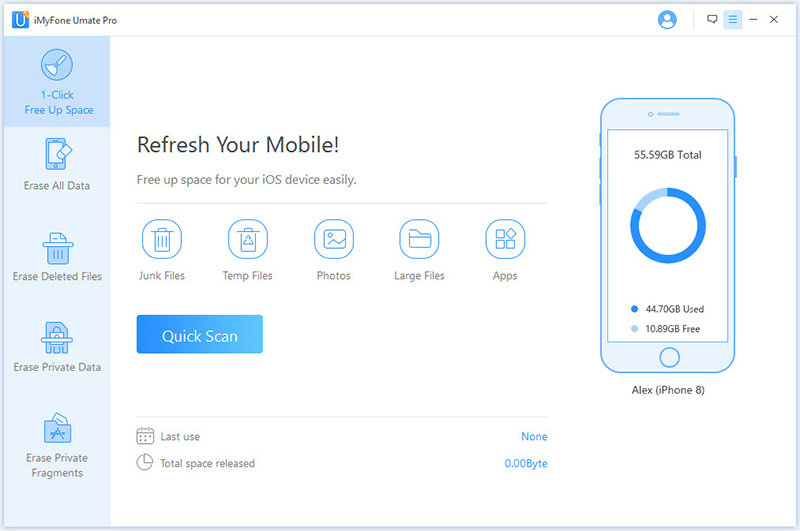 Step 3. After scanning, you will see how much storage space can be freed up, including Junk Files, Phones, Large Files and more. Then click the Clean button one by one to clear them out and get more space for iOS 14 update.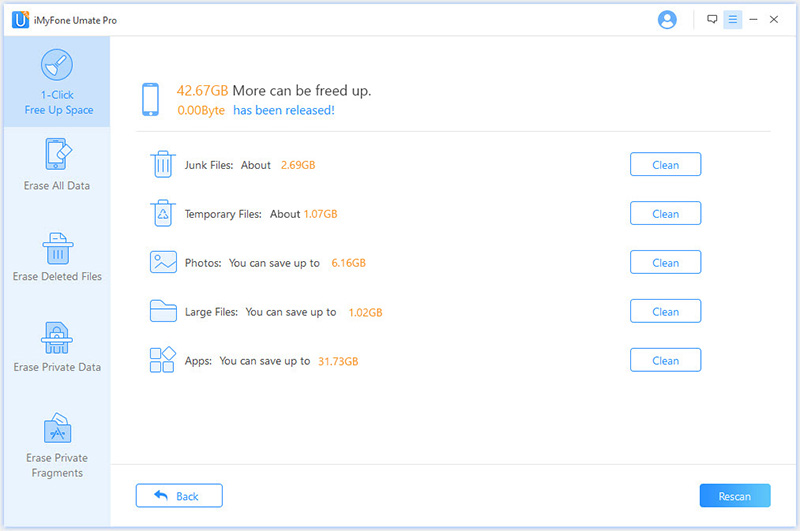 And that's done! Now you can prepare your iPhone for iOS 14 update after getting enough storage space!
Conclusion
If you don't want to spend hours figuring out what to delete and what to keep, try Umate Pro for a quick scan. It'll evaluate the least used, most used, and moderately used files to decide accordingly. Once you delete the unknown storage fragments from your iPhone, updating to the latest iOS 14 version will be easily manageable.