Check to know if the iPhone you intend to buy is carrier-locked before purchasing. If you don't check before purchasing a new or pre-owned iPhone, you might end up frustrated and annoying especially when the seller's return policy is not favorable. This article gives you the answer to "How do I know if my iPhone is locked or unlocked?". We also added tips you need to know about carrier locked phones.
How do I Know If My iPhone is Locked or Unlocked
#1. Check If Your iPhone is Unlocked via Settings
This method is one of the oldest methods of checking if an iPhone is unlocked, but it's still very efficient with every version of iOS. Here are the steps to take.
Step 1: Launch your iPhone "Settings".
Step 2: Click "Cellular".
Step 3: Find the option labeled "Cellular Data Network". If you can find this option, then your iPhone is unlocked, but if not, your iPhone is carrier-locked.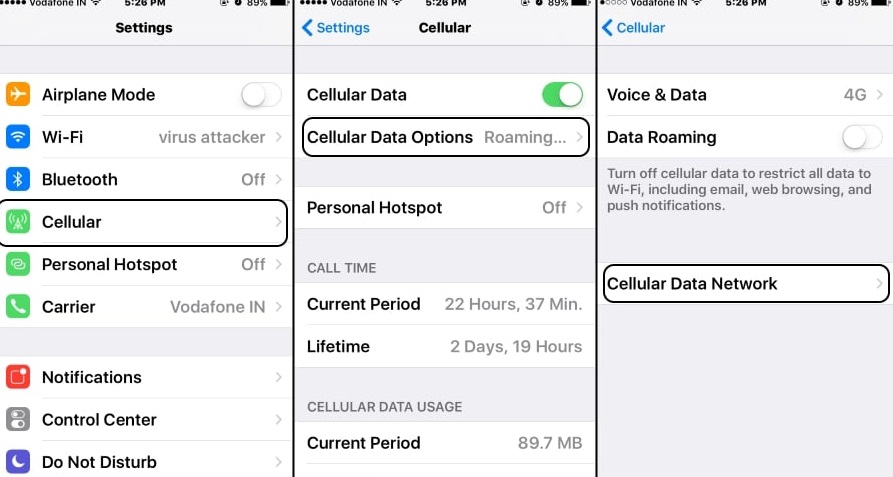 #2. Check If Your iPhone is Unlocked Using a Different Carrier's SIM Card
I presume you know what a carrier SIM Card is? Then, this method is to replace the iPhone's original carrier SIM Card with another mobile operator's SIM Card. If a notification with the caption "SIM Not Supported" or some other request is made from the phone app such as "Activation Code" or "SIM Unlock Code" is displayed, then your iPhone is carrier-locked.
Here are the steps to check if your iPhone is unlocked with a SIM card from a different carrier:
Step 1: Switch off your iPhone using the power button.
Step 2: Locate and open your SIM card slot using your SIM eject tool or a small paper clip. You will find the SIM slot by the iPhone casing, and you can open the SIM slot by pushing the SIM eject tool into the small SIM tray Hole.
Step 3: Diligently pull the SIM tray out once it pops out, and replace the SIM card with another mobile operator's SIM card.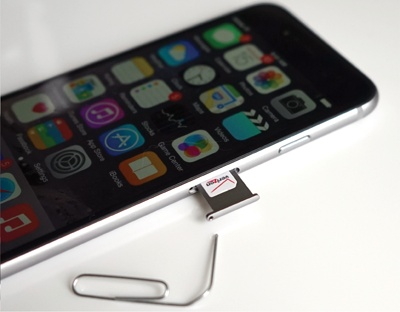 Step 4: Insert the tray back, and switch on your iPhone. If your iPhone request for a passcode, enter your passcode or use the touch sensor to pass.
Step 5: Click on your iPhone app. If it's requesting for a "SIM Unlock Code" or an "Activation Code" or you experience error before opening the app, then your iPhone is carrier-locked.
You can also refer to this video for further details:
#3. Check If Your iPhone Is Unlocked with iTunes by Restoring
Another way to check an iPhone's unlock status is simply resetting to factory defaults and restoring through iTunes. This can be done by connecting the device to a PC. You should see the familiar "Congratulations, the iPhone is unlocked" message on your screen. If that happens, just know the iPhone has been unlocked.

This message is usually shown by AT&T if you use their free unlocking methods after a contract ends. The same thing applies if you requested a SIM unlock through network providers like Verizon or Sprint while still on contract.
#4. Check If Your iPhone Is Unlocked Use an Online Service
This method is long and it entails using the IMEI Info registration page to check if your iPhone is unlocked.
Step 1: Visit IMEI Info's registration page, and create an account.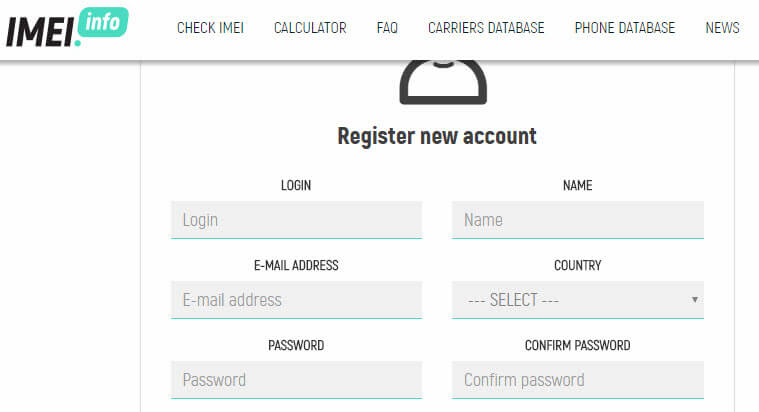 Step 2: Enter the required information in the specified fields and click "Register Me!"
Step 3: Confirm your registration by clicking on the link sent to your provided email address. This would take you to the IMEI Info's main page where you will enter your iPhone's IMEI number.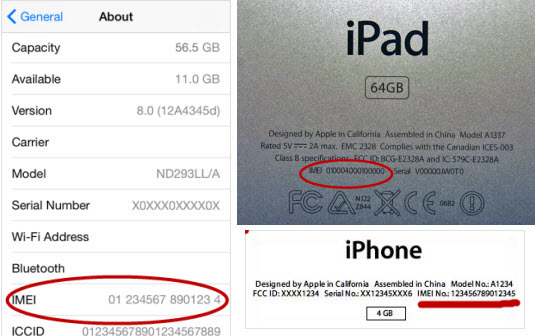 Step 4: To find your iPhone's IMEI number open iPhone "Settings" and click "General > About", and scroll down to IMEI section – you'll find the number there.
Step 5: Input the IMEI number in the field provided on the IMEI Info's main page.
Step 6: Click "I'm not a robot > Check > SIMLOCK & WARRANTY > Check Apple Phone Details". You'll see the message "unlocked: false" or "unlocked: true". The former means that your iPhone is carrier locked, while the latter means that your iPhone is unlocked.
What to Do If iPhone Is Locked - Unlock It Now!
If you attempt a wrong password input on your iPhone for more than ten times, it becomes locked, with the message "iPhone is disabled, connect to iTunes" popping up times and again. Several methods exist to unlock your iPhone when it gets locked. However, not all the methods work effectively as they claimed to be. The easiest and safest method, which users speak highly of, is using iMyFone LockWiper - professional iPhone unlocking software.
Features of iMyFone LockWiper
Unlock or reset your phone with just a few clicks.
Bypass a 4-digit, 6-digit passcode, Touch ID as well as Face ID on your device.
Works perfectly on locked, disabled or broken iOS screen.
Easily wipe all data on your disabled iPhone in a reset process With a few clicks.
Remove Apple ID on your iDevices without a password.
Unlock a Locked iPhone with iMyFone LockWiper
The following is the guide to unlock your iPhone screen lock. Please note that the unlocking process will wipe all your device data.
Step 1: Install and launch iMyFone LockWiper on your computer. Click "Start".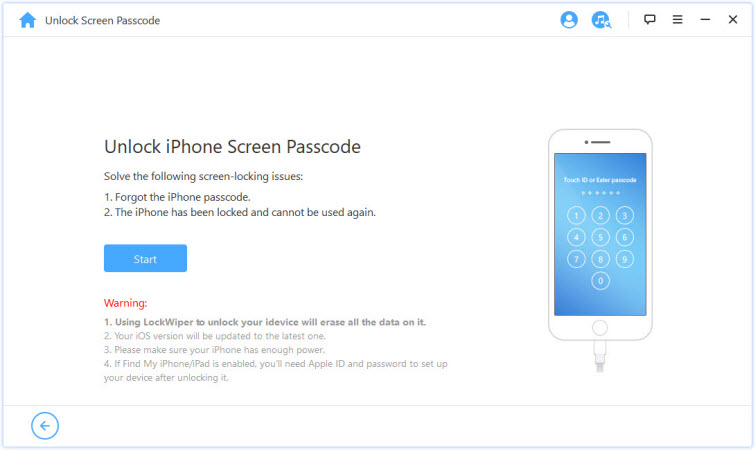 Step 2: Then you can connect your iOS device to the computer.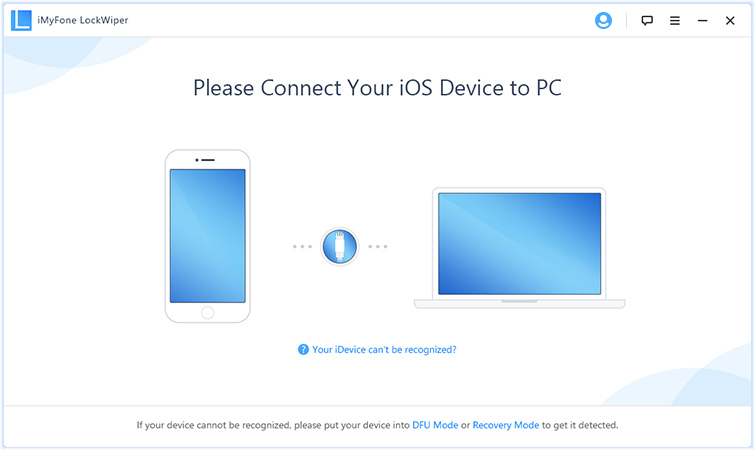 Step 3: Follow the guide on the interface to put your iPhone into DFU mode. Confirm your device model and click "Download" to continue.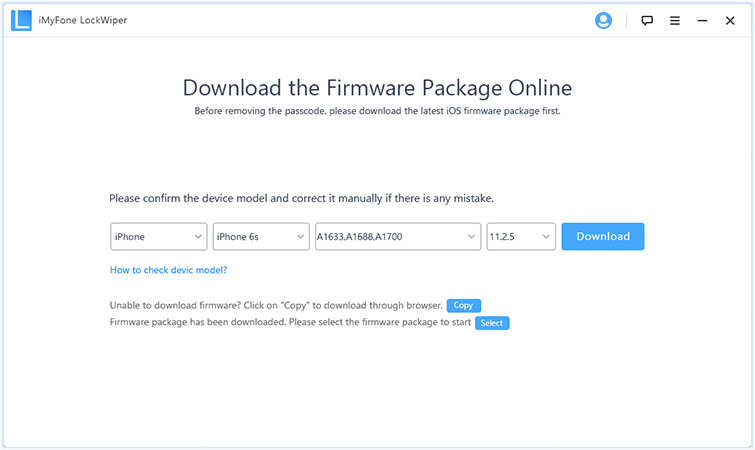 Step 4: Verify the downloaded firmware and it won't take you too long. When verify firmware package successfully, click "Start Unlock" to begin.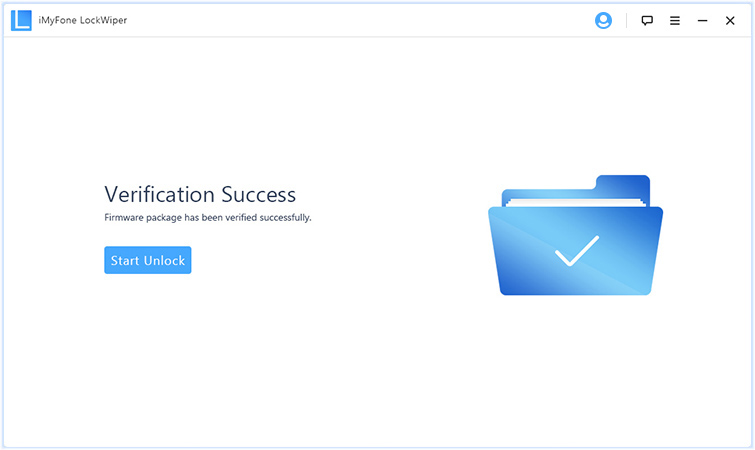 Step 5: Just wait in patience. Please enter "000000" to double confirm unlocking, then click "Unlock". When it finish. You can see the interface like below.
How to Completely Reset A Second-hand iPhone After Unlocking it
Unlocking a carrier-locked iPhone brings the need to completely reset the second-hand iPhone. There is no better way to reset an iPhone completely than iMyFone Umate Pro iPhone Data Eraser for Win or iPhone Data Eraser for Mac, the ultimate iPhone data eraser which is recommended by lots of media, like MacWorld, iPhoneinCanada, APPKED, etc.
Key Features of iOS Data Eraser
Clean many kinds of hidden junk files for free.
Permanently erase data from iPhone, the erased data is 100% unrecoverable, even FBI cannot recover them.
Allow you to preview and selectively erase almost all kinds of iOS data: messages, contacts, call history, videos, photos, internet history, accounts etc.
Erase also previously deleted files that are invisible but can be recovered by recovery tool.
Completely wiped all unwanted third-party app fragments: WhatsApp, WeChat, Kik, Viber, SnapChat, FaceBook, etc.
The steps to use iMyFone Umate Pro iPhone Data Eraser to reset iPhone:
Step 1: Connect your iPhone to PC/Mac after downloading and installing iMyFone Umate Pro. Trust your computer if requested to.
Step 2: Click "Erase All Data" tab at the left-hand side of the window, then click the "Erase" button.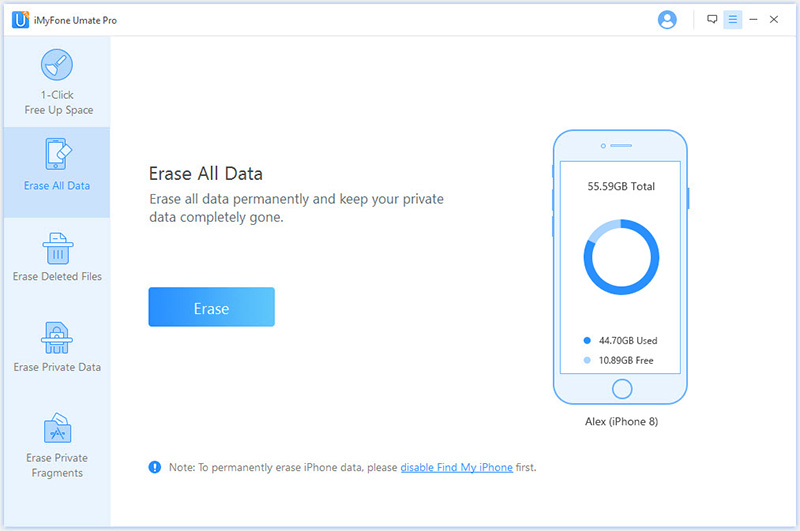 Step 3: Select security level, and type "delete" into the box to confirm.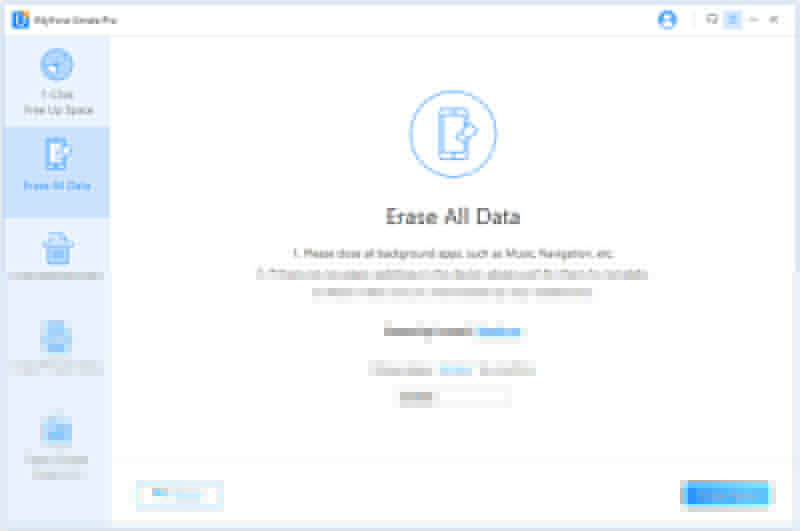 Step 4: Click "Erase Now" button to start erasing all the data on your device. Wait for seconds till the erasing process finishes.
Tips You Need to Know about Carrier Locked Phones
#Tip 1. What Does It Mean When a Phone Is Carrier Locked?
Telecoms operators make agreements with phone manufacturers to develop special software code that prevents the device from being used on any other network. These software locks can, however, be unlocked by using different software code to unlock the device.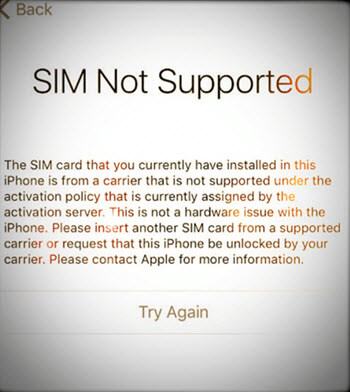 The mobile devices locked in this manner are bought by the users on the contract during which they receive a discount, and the user is expected to abide by the contract terms which usually lasts for two years. For iPhone contracts, this agreement makes it easy for the mobile operator to recoup their investment after offering the user a discount for the device. If you wish to cancel the contract, you will be charged a termination fee which will cover the remaining payment value.
There are also some deals where iPhones are sold without discounts, but they are carrier locked. If you wish to buy an unlocked phone, you must directly ask for a phone that is unlocked to avoid making a costly mistake.
#Tip 2. What Is the Importance of Unlocking Phones?
Unlocked phones can be used with any carrier or network worldwide on the GSM band. Using phones without carrier restriction give you the freedom to choose your preferred carrier and use their SIM card and cellular services.
#Tip 3. Be Clear about the Unlock Status before Purchasing a New or Second-hand Phone
There is a vast market for pre-owned phones. They are sold at cheaper rates by owners who want to upgrade their devices. You can purchase these iPhones/iPads and enjoy using them but they must be unlocked, or you may encounter difficulties. Before payment, request for the IMEI. With the IMEI you can determine the status of the phone. If the seller is unwilling to reveal the device's IMEI, you may want to buy from another seller to avoid issues after purchase. Always ask for proof to be sure that a phone is unlocked before purchase.
Conclusion
From what has been discussed above, you should have had an impression on the cause and consequence of using a carrier locked the phone. This article has introduced 4 effective methods on how to check if your iPhone is carrier locked. In addition, two professional tools are recommended to unlock a locked phone and to completely erase all data on a second-hand iPhone. Download the free trial of the tools if you happen to come across the problem mentioned above!