Some people make a common mistake, believing they have freed up all their junk or App data on their iPhone 8/iPhone 7S/iPhone 7S Plus after removing a group of images and videos in the photos app.
In reality, when you removed your photographs or video. They do not get straight away deleted from the phone, but actually, they remain under a particular album names 'Recently Deleted' for 40 days. Because of this iPhone feature, many people get the loss of leakage their private data.
Steps to Delete Recently Deleted on iPhone 8/iPhone 7S/iPhone 7S Plus
Step 1: Launch photos on your iPhone.
Step 2: Tap the Album button at the bottom.
Step 3: then tap on the album titled 'Recently Deleted'.
Step 4: Now tap the select button at top right corner.
Step 5: Choose to Delete all.
You will see a caution message informing you that this action cannot be undone.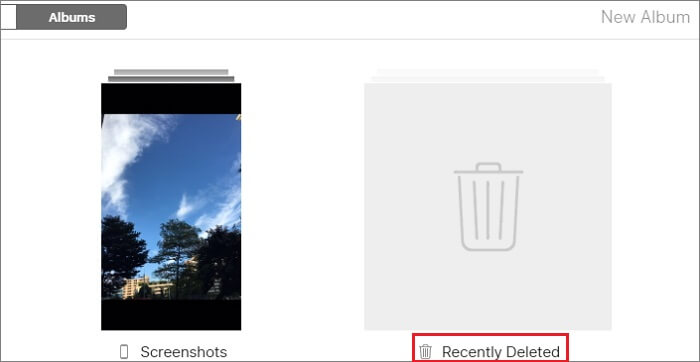 How to Get Rid of Recently Deleted on iPhone 8/iPhone 7S/iPhone 7S Plus
You cannot be secure on iPhone until you don't get rid of recently deleted record. It can be done only when you can delete completely your data and in single time click.
You need a perfect option which gives you confirmation that deleted data will not be saved in any so-called 'recentely deleted' folder. It only can do by iMyFone Umate Pro or iMyFone Umate Pro for Mac by following these steps.
Step 1: Instal Umate Pro.
Step 2: After Launching, Tap on '1Click Free Up Space'.
Step 3: Then select the photo you want to delete.
Step 4: After selecting all tap on 'Clean' button.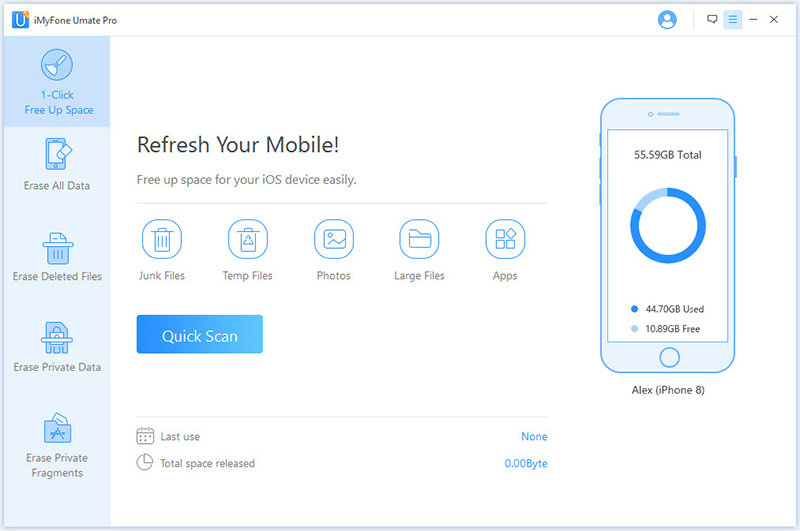 Permanently Delete iPhone Recently Deleted - iOS 11 Supported
iMyFone Umate Pro offers to erase iPhone data permanently. The information will be wiped out thoroughly, and the private data or previously delete data (recently deleted) stored on the device will no longer available after you perform these actions.
For erasing deleted data from the iPhone permanently, please follow these steps below:
Step 1: Connect your iPhone to the computer and Launch the iMyFone Umate Pro software.
Step 2: Choose the 'Erase Deleted Files' section and click on 'Scan' button.
Step 3: Preview and select the files to erase.
Step 4: Click 'Erase Now'to Erase all selected data permanently.
There are three erasing levels; you can pick out the only that suits you. We suggest you choose medium security stage.
Step 5: When you manually type "delete" into the box to confirm your motion, click on 'Erase Now' button to erase all data or photos to your device.
Note: This action will permanently erase your data and cannot be restored. 100% unrecoverable.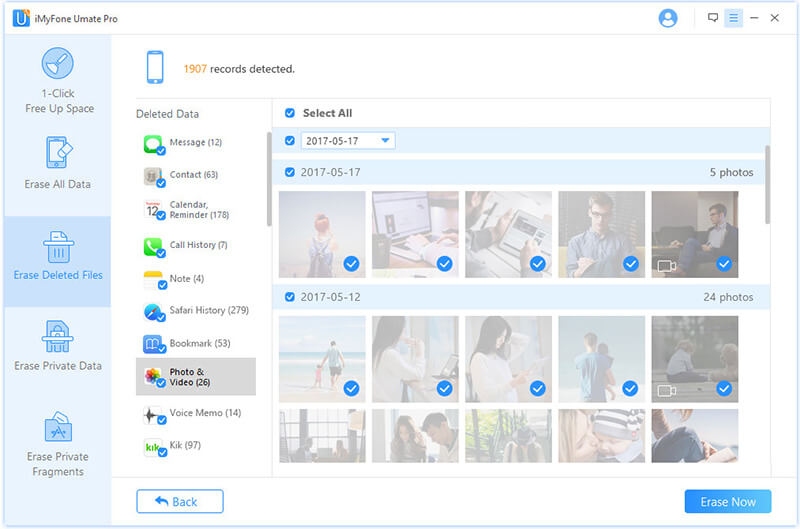 Why Choose Umate Pro?
100% unrecoverable: Umate Pro scan your iOS device and ensure that each one the files and personal files are eliminated and unrecoverable.
Preview and selectively erase photos: Umate Pro helps to remove selectively data on the iOS device. It is not necessary to delete/erase everything at once. You can preview and select once what you want to delete permanently.
Erase also previously deleted photos: It is a truth that previously deleted data can be recovered. But Umate Pro also find that data available on memory and delete permanently to leave recoverable option.
erase WhatsApp / WeChat attachments: You can delete the album or group of videos you received in attachments. Erase them permanently by using Umate Pro.
Umate Pro offers the above-indexed features and with friendly software. It is a complete package to secure from any field of iPhone applications. Either you want to compress data, delete data, and boost your iDevice or erasing photos or videos separately. iMyFone Umate Pro is your secure partner on your device.