Snapchat is currently a popular photo-sharing app. You send photos to someone and the photo gets automatically deleted after a few moments. Neither you nor the recipient can then recover the image once it self-destructs automatically. However, if you believe that delete Snapchat photos is finished, you are wrong.
Part 1. Why You Should Delete Snapchat Pictures?
Even through they claimed that Snapchat images self-destructs automatically. However, the images are not really deleted from the sender's device. A forensics firm has confirmed that the pictures one sends on Snapchat are stored in the sender's device and can be easily extracted as well. This makes it very important for you to delete your private pictures before someone gets to them.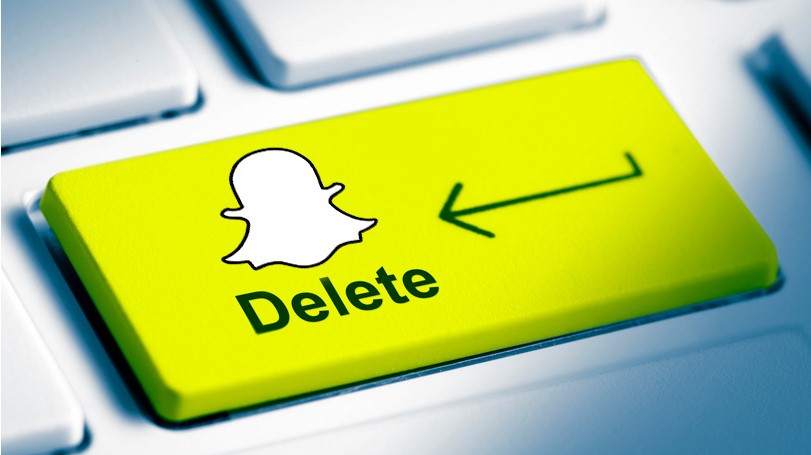 Part 2. How to Delete Snapchat Pictures on iPhone?
Method 1. Delete Conversations That Contain the Pictures
Step 1: Open the Snapchat app and tap on the Snapchat ghost icon at the top center.
Step 2: Tap on the gear icon with your name and score at the top left to get into the settings.
Step 3: Scroll down to Account Actions and tap on Clear Conversations in that menu.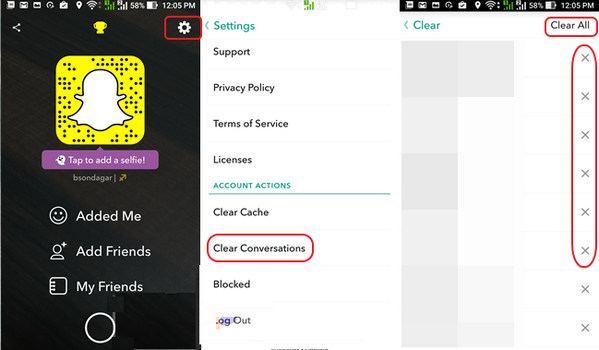 Method 2. Uninstall Snapchat App
If you use Snapchat on iPhone, the app provides you with an option to save the Snapshots in your phone. To completely get rid of Snapchat and its pictures, simply unload the app if you don't want to use it anymore. Press Snapchat app icon and hold it until X shows up at the left and click X to delete Snapchat.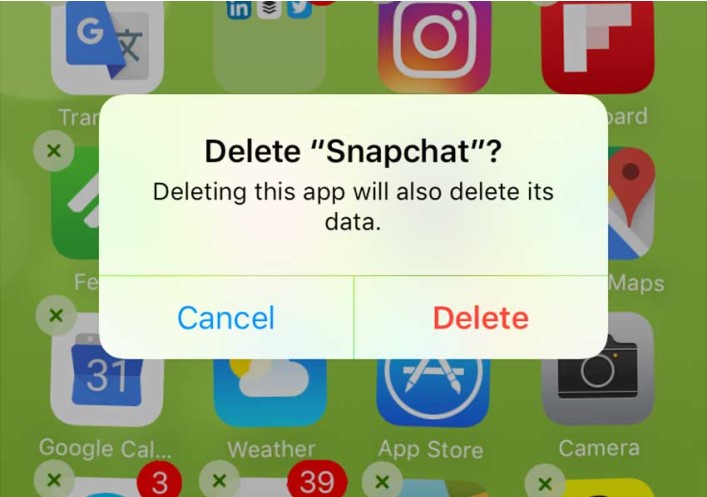 Part 3. How to Clear Snapchat Data?
Method 1. Free Way to Clear Snapchat Junk and Temp Files
If you are looking for a simpler way to delete everything related to Snapchat in your iPhone, like the crash logs, caches, corrupted files, etc. iMyFone Umate Pro is an excellent choice. The 1-Click Free Up Space features of this software will help you delete everything related to Snapchat in an instant.
Key Features:
Delete various types of files, like junk files and temp files for Snapchat
Wipe Snapchat files without any difficulty and just need a few clicks.
Erase fragments from Snapchat competely andpermanently.
Ensure that both the data will be erased completely and the operation will be simple.
Step 1: After downloading the software, launch it and connect your iPhone to iMyFone Umate Pro. Click Quick Scan on 1-Click to Free Up Space mode to start scanning the device.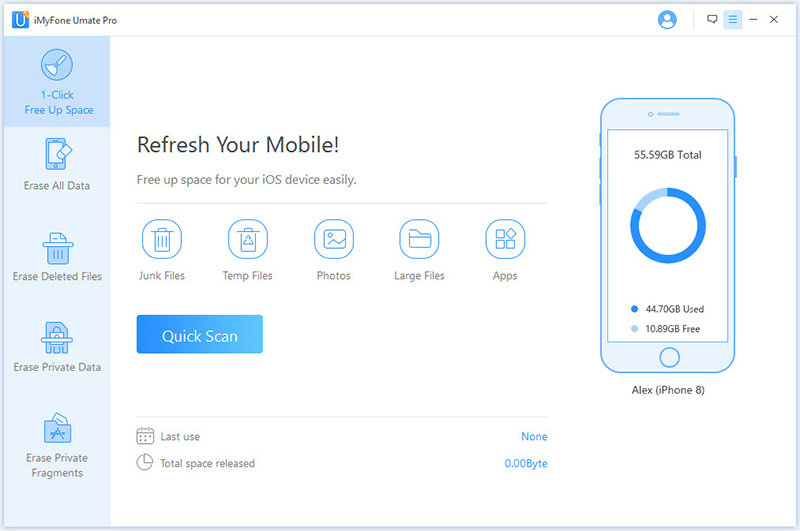 Step 2: Once the scanning is done, you'll get to see all the data which can be deleted from your iPhone.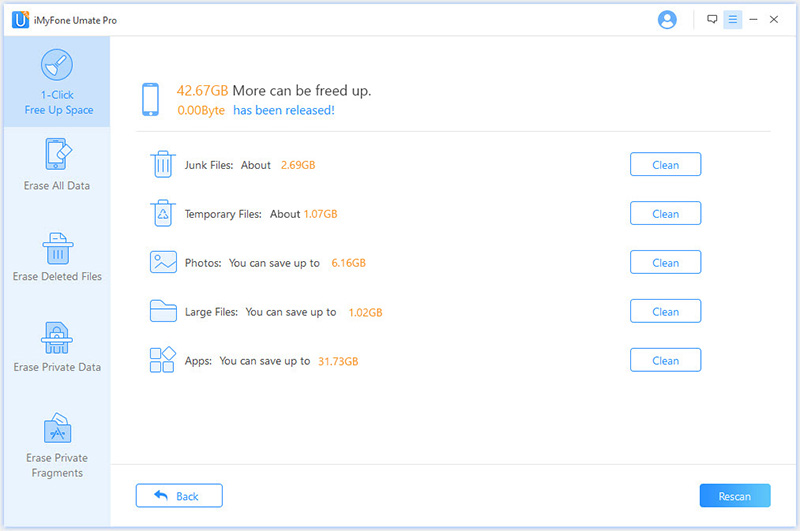 Step 3: Simply select the junk or temp files that you want to delete and click Clean.
For junk files, you can clean Snapchat related crash logs, photos caches, user storage files, etc.
For temp files, just tap Clean.
Method 2. Permanently Delete All Snapchat Data
If you are worried about the Snapshots which are still available on your iPhone, iMyFone Umate Pro can be an excellent solution for that as well. The software comes with a number of features, including Erase Private Fragments mode, which can help to delete Snapchat data permanently from the iPhone and can never be recovered with the help of any tool or software.
Bonus 1. How to Delete Snapchat Account?
Here we will show you how to delete Snapchat account. Follow the steps here:
Step 1: Go to the account portal and enter your username and password.
Step 2: Select Delete my account. After delete your account, it will be deactivated for 30 days. In this status, your friend will not be able to contact or send message to you.
Step 3: After 30 days, your account will be permanently deleted. All your data will be deleted permanently too.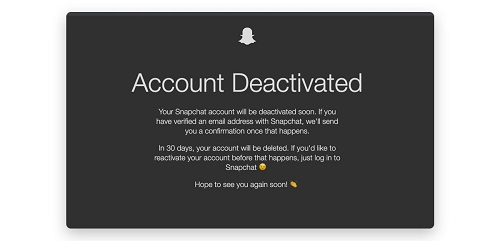 Bonus 2. How to Delete An Unopened Snapchat Picture?
Snapchat will now let you delete sent messages before they're opened. Follow the steps below to delete.
Step 1: Press and hold on the media.
Step 2: A pop-up will appear asking if you'd like to delete and just tap Delete.
Step 3: The content in question will disappear.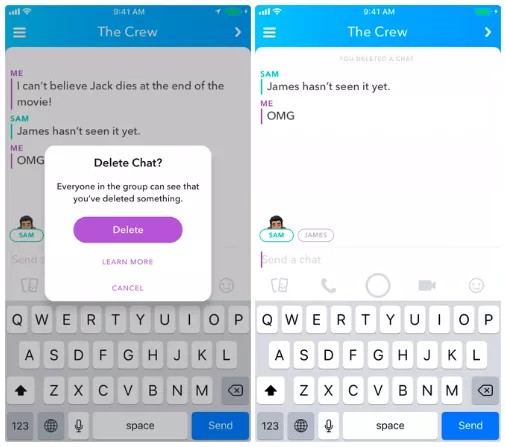 Conclusion
Once you finished the steps, the message will be deleted. The person you sent the picture will get a notification that the message was deleted. As long as it was never opened, they won't know what that was. By the way, you can also read this guide in Français. iMyFone Umate Pro is your best choice, if you want to delete Snapchat files on your iPhone.