"I wanted to send an email to my boss at work using my iPhone X mail app, but I got a strange notification that says, "Cannot verify server identity of the mail server you're trying to connect to". I have tried rectifying this issue/error by troubleshooting my iPhone but I couldn't correct the error. Moreover, it seems that my iPhone is frozen and I can't even browser or use other apps. Please, how can I fix the error notification "Cannot Verify Server Identity" iOS 13?"
4 Ways to Fix "Cannot Verify Server Identity iOS 13" iPhone
Do you know what to do when your iPhone cannot verify server identity? Here are the possible solutions to fix this error notification!
#1. Fix "Cannot Verify Server Identity iOS 13" Error Using iMyFone Umate Pro
Mail app errors such as "Cannot verify server identity iOS 13" can make an iPhone, iPad or iPod touch frozen for quite a long time. Fixing such errors from the iPhone Settings app can make the error go away but it won't be forever. The reason for such errors is that Mail app has accumulated too many caches, junk and redundant files and documents. Hence, clearing out these files and resetting Mail app settings can solve this issue.
iMyFone Umate Pro for Win or for Mac is the best tool for fixing "Cannot verify server identity" errors in iPhones, iPads, and iPods. With 1-Click to Clean Up mode, iMyFone Umate Pro can instantly delete all hidden junk files, trash, caches, temp files and other needless files that are causing an error in your Mail App.
Key Features:
Umate Pro can fix Mail app issues such as "cannot verify server identity iOS 13" in one click.
Easily clear iPhone junk files and temp files using iMyFone Umate Pro.
Your private data will be permanently erased if you use Umate Pro is cleaning up your Mail app files.
You can reset all iPhone settings to correct every wrong setting in Mail app using an iMyFone Umate pro.
Steps to fix "Can't verify server identity iOS 13" issue using Umate Pro:
Step 1. Connect your iOS device to your Pc and run iMyFone Umate Pro.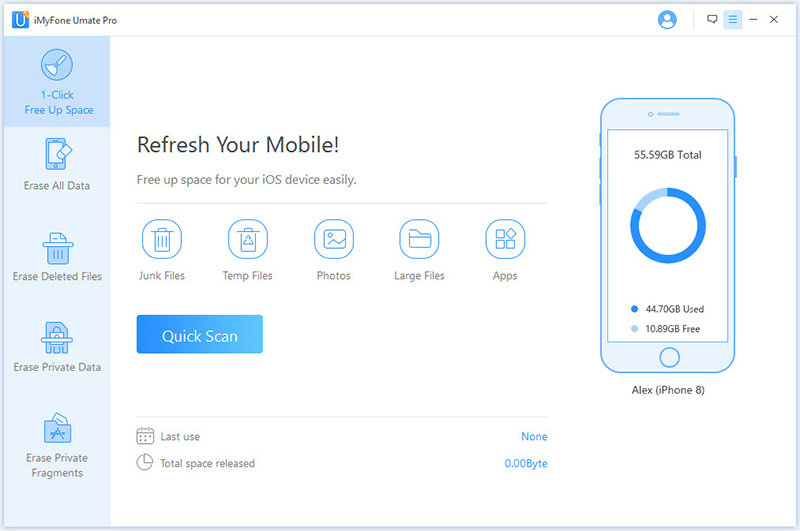 Step 2. Scan your iOS device for space saving analysis by clicking the "Quick Scan" tab.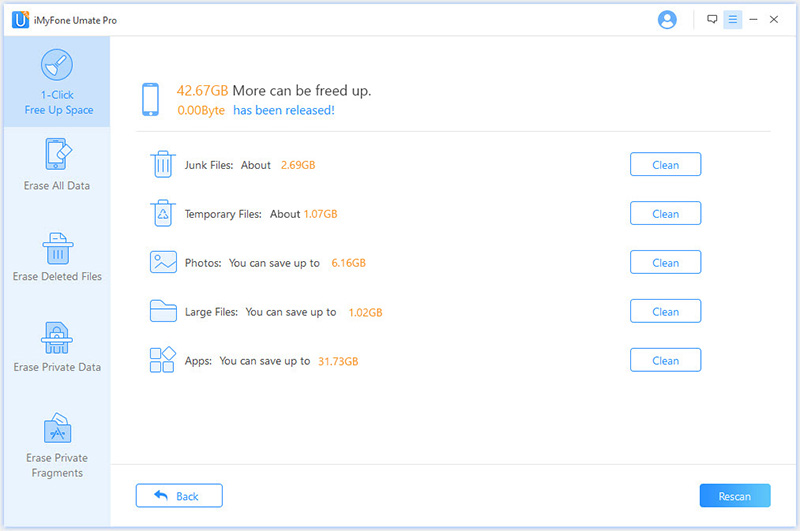 Step 3. After the scan, click the "Clean" button beside every type of junk file to clear it. The notification "Cannot Verify Server Identity" should have left your iPhone screen by now.
#2. Other Solutions to Fixing "Cannot Verify Server Identity iOS 13" Issue
The following solutions can fix iOS 13 Mail App "Cannot Verify Server identity" error.
Solution 1.

Restart Your iPhone

Peradventure the error message is coming from a little glitch in iPhone performance settings, restarting your iPhone will help to take care of this problem. Here is how to restart an iPhone/iPad or iPod:

Step 1. Press and hold the Power button until you see "Slide to power off" screen.

Step 2. Slide the red power icon to the left to turn off your iPhone.

Step 3. Once your iPhone is fully turned off, press and hold the power button until Apple logo appears on the screen.
Solution 2.

Close and Reopen Mail App

When your mail app is not working properly, it may be that the app software is on the verge of crashing. The best way to get it working again is to restart the app.

Step 1. Close the Mail app by double-clicking your Home button, which will open App Switcher.

Step 2. Swipe up the Mail app to close it.

Step 3. Launch the Mail app again by clicking on it from the iTunes Homepage.
Solution 3.

Delete and Re-add Email Account

Do you know that deleting and re-adding your email account resets your emails' server identity certificates? This would allow your email account to be easily verified by mail app.

Step 1. Remove your email account by launching Settings app on your iOS device. Click "Accounts & Passwords" and search for the email account you want to delete, and then select it.

Step 2. Tap the "Delete Account" button at the bottom of the page, and click "Delete Account" again to confirm your action.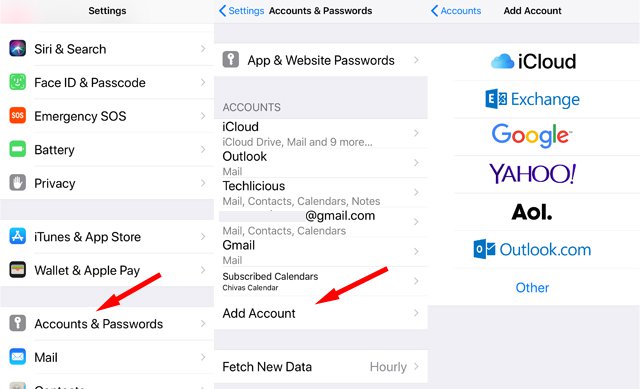 Step 3. To re-add your email account, click "Account & Password" from Settings app, select the mail service and enter the appropriate information.
The Main Reasons for this Mail App Error
There could be many reasons why you are receiving the error notification "Cannot Verify Server Identity iOS 13" when trying to send emails on your iPhone. Here are some of the reasons:
There is an error in your email's server identity certificate settings.
It may be coming from a faulty Mail app.
It may be because of ISP having an issue with its server identity certificate.
It may due to lack of update from Apple iOS, Mail or other related applications.