Every month, tech companies like Samsung, Apple and Google release new and amazing smartphones in the market, and you may be necessitated to sell your old iPhone 5 in order to acquire a new iPhone 7 Plus. Before selling it, we should firstly format the iPhone 5.
Format your iPhone 5 when it is having serious technical issues which you believe resetting your iPhone will solve.
Format your iPhone 5 to avoid privacy leak when you need to sell of give it away.
Format your iPhone 5 when the iPhone storage space is totally bloated.
How Can I Thoroughly Format My Old iPhone 5 Data & Files?
We need to know how best to format our used iPhone 5 in order to keep the erased files permanently deleted. Hence, we shall be discussing three ways of formatting iPhone 5 to factory settings.
1

Format iPhone 5 with iTunes
Formatting your iPhone 5 using iTunes is possible. To restore your iDevice to factory settings using iTunes only takes the following steps.
Step 1: Launch iPhone on your PC, and trust your computer by inputting your passcode.

Step 2: Select your device from iTunes.

Step 3: Go to the Summary panel and click on Restore Device. You need to click on Restore Device again to confirm your action.

Step 4: Your device is now being restored to factory settings and would restart at the end of the process.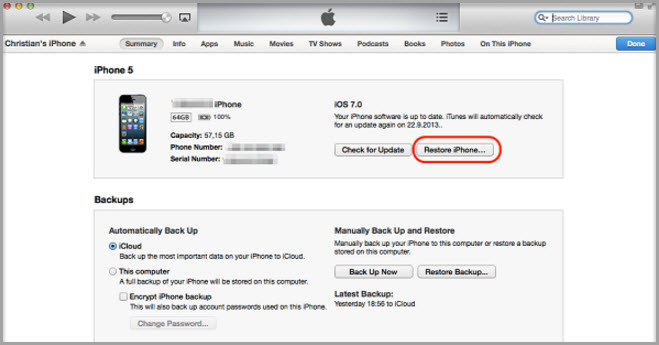 2

Format iPhone 5 from iPhone Setting App
This is the quickest and easy way of restoring your iDevice to its original factory settings. We are here to help you with the necessary steps that will aid you in restoring your iPhone 5 to factory settings via iPhone Settings.
Step 1: Click on "Settings" from your iPhone.

Step 2: Scroll down to select "General".

Step 3: Find the tab labeled "Reset" and click on it.

Step 4: Select "Erase All Content and Settings".

Step 5: Confirm your action by clicking "Yes" and wait for the process to complete with your iPhone restarting.
3

Format iPhone 5 with iMyFone Umate Pro
Most individuals believe that a click on "Reset" will be all right to erase their iPhone files and keep them permanently unrecoverable. You may successfully recover your iPhone storage space after erasing your data via iTunes or iPhone Settings, but the truth is that your deleted files can be recovered using a data recovery tool when you give the phone away.
iMyFone iPhone Data Eraser or iMyFone iPhone Data Eraser for Mac is the best option among the three options we are discussing within this write-up that really has the privacy of your iPhone data at heart. Using iMyFone Umate Pro gives you the following advantages:
100% unrecoverable: Umate Pro renders deleted files 100% unrecoverable as the erased data is completely overwritten, while the other two methods discussed above only deletes the files without shredding them.
Erase also preciously deleted files: Previously deleted iPhone files can be easily traced and recovered using some data recovery software. However, Umate Pro can be used to erase traces of these deleted private files in order that they would never be discovered or recovered using any tool.
Supports selectively file erasing: iMyFone Umate Pro has 3 modes for erasing files permanently, safely and selectively. The modes include Erase all data, Erase deleted files, and erase private data. Hence, you can decide to use any of the modes that suit your purpose: completely wipe your iPhone or selectively erase messages, photos, videos, notes, call histories, WhatsApp messages etc.
Will not need to reactivate your iPhone as reactivation have risks: Umate Pro does not need to restart your iPhone after erasing files, because most methods like the two we previously discussed cause phone damage or crash during reactivation. iMyFone Umate Pro protects not only your iPhone data but also the safety of your iPhone.
How to Use Umate Pro to Format iPhone 5
To thoroughly wipe out your iPhone data and files using iMyFone Umate Pro, you will need to utilize the "Erase All Data" option. This mode leaves no stone unturned in cleaning your iPhone data beyond the reach of any recovery tool. Here are the steps on how to achieve this:
Step 1: After download iMyFone Umate Pro, please connect your iOS device to computer via cable.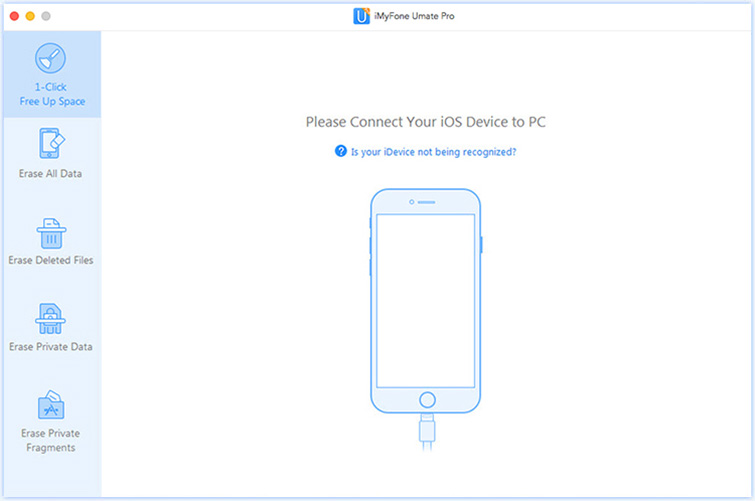 Step 2: When your iPhone or iPad connect successfully, Choose "Erase All Data" tab, Click "Erase" button and then in the next window you will be asked to type "delete" into the box to confirm.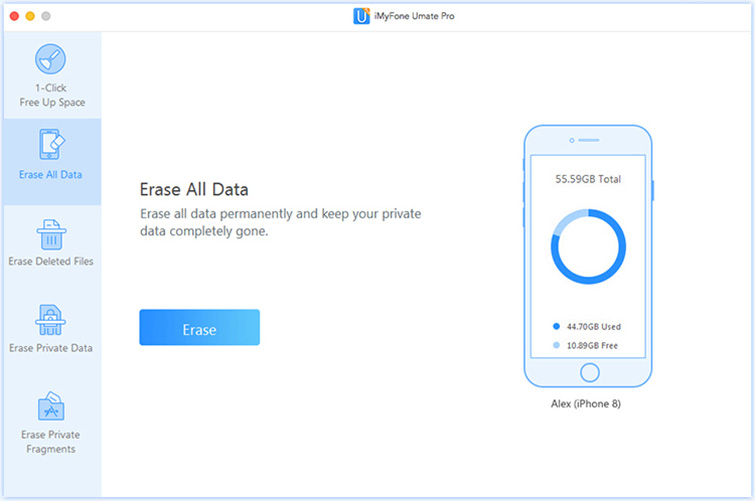 Step 3: Type "delete" into the box to confirm, of course if you want to change the security level, you can click the link to change the level. Please read security level settings carefully.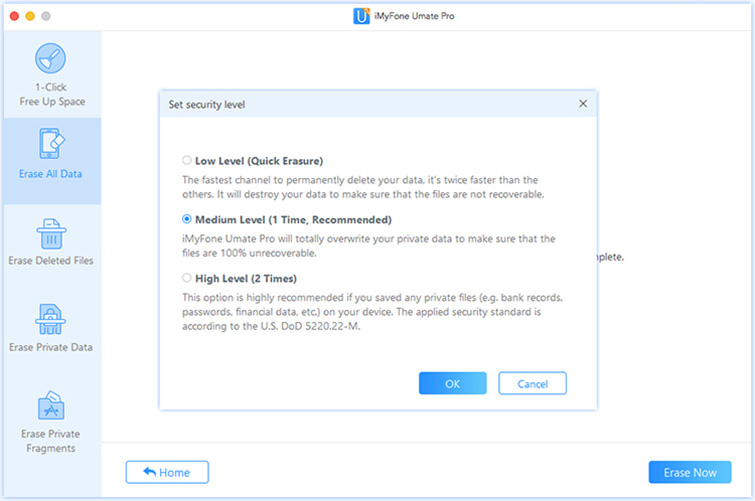 Step 4: After you manually type 'delete' into the box to confirm your action, Click "Erase Now" button to erase all data on your device.