iPhones are really great smartphones and they can grow on you when you've been using the for a while. However, time will come when you'd need to wipe the device and restore it to factory settings.
This can happen for a great number of reasons:
If you've decided to sell your iPhone or give it away, you'll need to do a factory reset.
The same goes for when your iPhone is stolen. This is pretty important to ensure that your private data does not get in the wrong hands.
In extreme circumstances, you may need to restore your iPhone in order for it to become useful for you again. Severe issues like constant crashing or freezing can make this inevitable.
If you find yourself in any positions, restoring your iPhone back to factory settings can be your only solution.
What Does iTunes Restore Actually Do?
A factory restore deletes all the data and settings on iPhone and also installs the latest version of iOS.
But note that "deletion" is not the same as "erasure". "Deletion" just make the data unavailable on iPhone while "erasure" repeatedly overwrites the data to remove from device and drive. You should erase your old iPhone 5/5c/5s especially you want to sell or donate it.
The solutions here are also suitable for iPhone X/8 Plus/8/7 Plus/7/SE/6s Plus/6s/6 Plus/6/4s/4, iPad and iPod touch.
How to Restore iPhone 5/5c/5s to Factory Settings with iTunes
iTunes allows you to conduct a large number of operations on your iPhone, including backing up, updating and restoring your iPhone. You can restore your iPhone to factory settings on iTunes using the following steps:
Step 1: Launch iTunes on your Mac or PC and connect your iPhone with its original cable.
Step 2: Trust the computer and enter your passcode if prompted. Then select your iPhone when it appears on iTunes.

Step 3: On the right side of the screen, tap on "Restore iPhone".

Step 4: Click "Restore" again to confirm. iTunes will then erase your device and restore it to factory settings.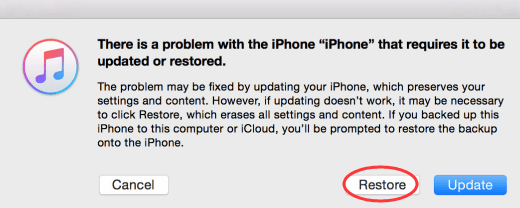 Note: Restoring your device to iTunes does not mean all your data is permanently gone. iPhone data is still recoverable after being erased with iTunes. This means anyone using the device afterwards can still access your private data.
How to Permanently Restore iPhone 5/5c/5s to Factory
Obviously, there's no use restoring your iPhone to factory settings if someone else can simply recover and access them again. How do you avoid this and ensure your iPhone is restore to factory settings permanently with iMyFone Umate Pro.
Umate Pro is a market leading iPhone data eraser that guarantees you absolute privacy with 100% unrecoverable data erasing power. When you delete data with Umate Pro, you can rest assured that it's gone for good.
iMyFone Umate Pro are recommended by software review authorities, like getintopc.com, MacWorld, APPKED, etc.

Steps to Permanently Restore iPhone to Factory Settings:
Step 1: Start up Umate Pro and connect your iPhone to computer.
Step 2: You will be directed to the Umate Pro homepage. On the homepage, you will have four different erasing options. Select the "Erase All Data" tab and click "Erase".
Note: Umate Pro offers great features that include four data erasing options that let you: Erase All Data, Erase Deleted Files, Erase Private Data and Erase Private Fragments as well as an awesome feature that allows you Free Up Space in One Click.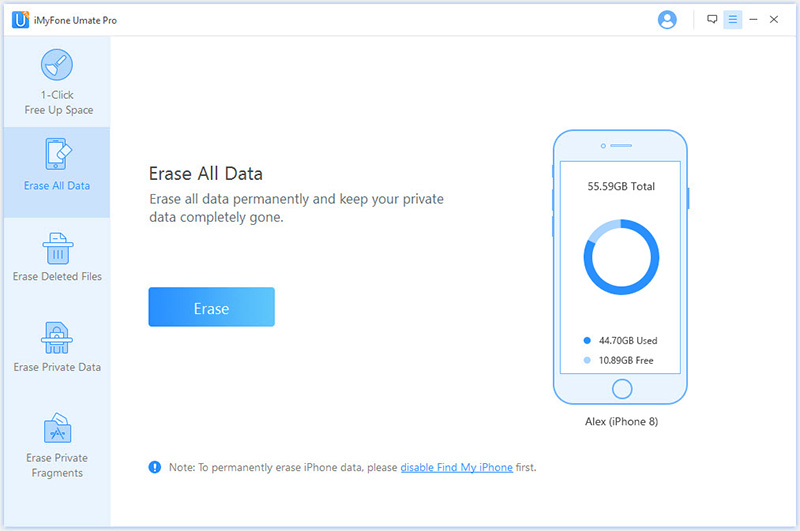 Step 3: Type "delete" into the box. Click the "Erase Now" button to erase all the data on your device.
Note: If there is backing info stored on your device, click the Security Level and choose High Level, before your click Erase Now. This will secure your sensitive data in the safest way.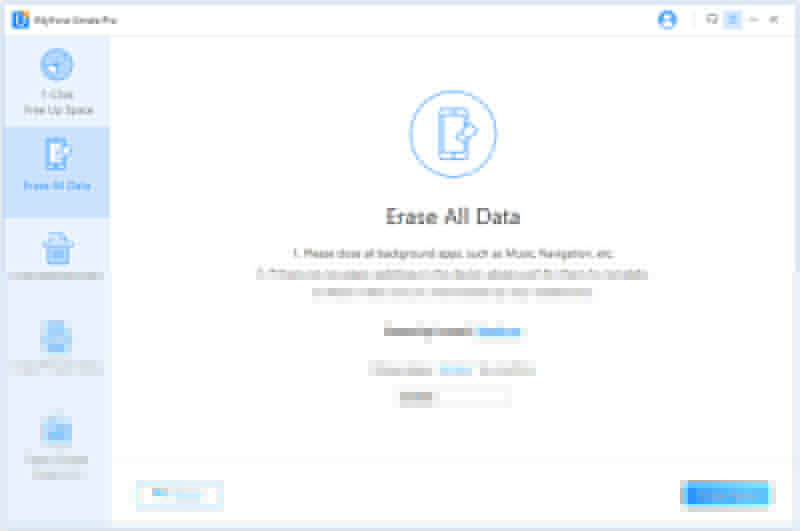 Other Features of Umate Pro That You Would Like to Know:
Apart from restore the whole iPhone to factory settings, you can selectively restore some data.
You can view what previously deleted data still remains on your iPhone and wipe it to be 100% unrecoverable.
Everything is erasable, including messages, contacts, photos, videos, internet history, search history, WhatsApp/WeChat/Viber/Kik data, etc.
Umate Pro allows you to secure your 3rd-party apps experience, like Snapchat, Facebook, Chrome, Twitter, Instagram and 10+ more.
1-click clean useless junk files, cache, logs, corrupted files, temporary files, etc.from iPhone for free.
What Should You Do Before Restoring iPhone to Factory Settings
Before you head on to restore your iPhone to factory settings, you need to ensure that your iPhone is backed up. This is especially so if you have data on the iPhone that you still want to use afterwards.
Back up iPhone with iTunes
To back up your iPhone with iTunes, plug your device into your PC or Mac using an authentic Apple cable. Launch iTunes, then click on your iPhone name. Tap on "Back Up Now" from the right panel. It will start the backup process.
When backup is done, it will show you the latest backup under "Back Up Now" button.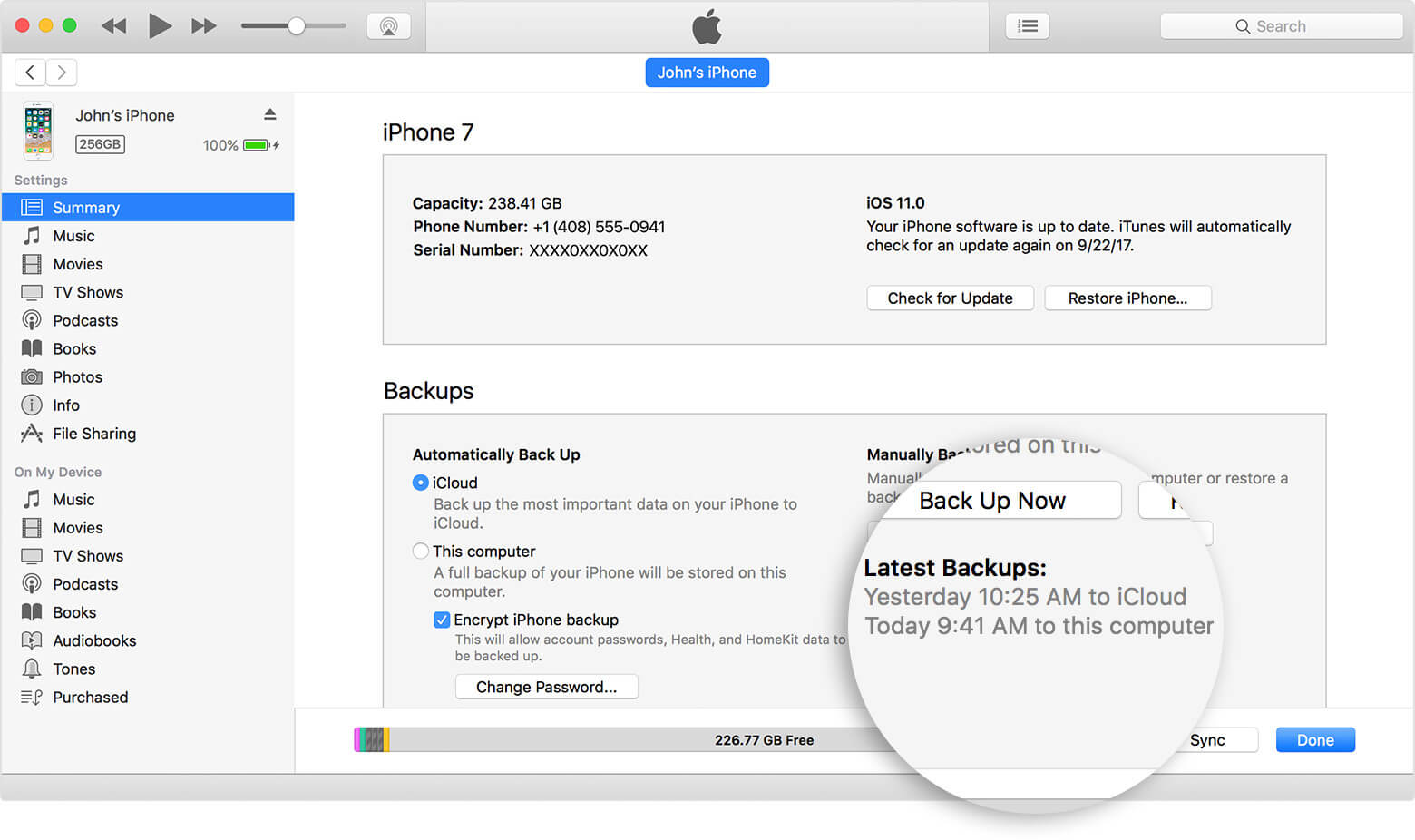 What to Do If You Wiped an iPhone that Wasn't Backed up
If you have wiped your iPhone without first doing a backup, don't despair. There may still be a backup you're not aware of.
To find out, go to Settings > iCloud > Storage > Manage Storage. You will see your various iOS device backups here. Check the list of backups there, you should see one that says "This iPhone". Your chances of seeing a backup there are high since your iPhone automatically makes a backup once it's charging and there's Wi-Fi.
Final Verdict:
Secure your privacy for good. You'd best permanently restore iPhone to factory default settings without any risk of privacy leak with iMyFone iPhone Eraser. Put all your privacy worries to rest once and for all.