Since iPhone Xs (Max) doesn't have a Home button, it utilizes the Side button for performing various tasks. However, you cannot turn off the device with it. Hence, powering down the device seems a bit more complicated as compared to iPhone 8 series and below. Fortunately, the unique method of turning off iPhone Xs (Max) is relatively easy and you will get used to it very quickly.
2 Ways to Turn Off iPhone Xs (Max)
The following methods are available for iPhone Xs (Max), iPhone XR and iPhone X.
Turn off iPhone Xs (Max) with Buttons
As mentioned above, you cannot turn off iPhone Xs via the Side button because it summons Siri instead of showing the "slide to power off" option. You can however, turn off the device with the combination of Side button and Volume button. Here are the steps on how to do this:
Press the Side button and Volume Down or Up button and hold them.
Once the screen changes, release the buttons and slide the top toggle to the right. The device will be turned off.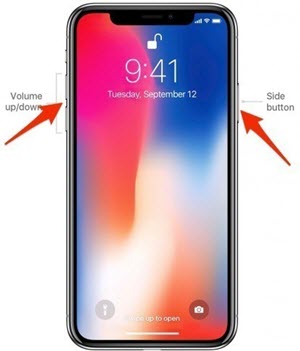 Turn off iPhone Xs (Max) from Settings
Apart from shutting down iPhone Xs via Side and Volume Down/Up buttons, you can also turn it off via the Settings app. You will need to crawl through a couple of pages in the Settings app but the overall process is pretty simple.
Open Settings app on your iPhone Xs.
Navigate to General > Shut Down.
Now slide the top toggle to the right to turn off the device.

Turning on iPhone Xs is pretty easy once it has powered down. You simply need to press and hold the Side button for a few seconds until the Apple logo appears on the screen.
Bonus Tips to Manage Your iPhone Xs Easier
How to Force Restart iPhone Xs (Max)?
You will need to force restart your iPhone Xs if its screen gets frozen or you encounter a black screen problem. The method to force restart iPhone Xs is also different from force restarting iPhone 8 series and below.
Steps to Force Restart iPhone Xs
Press the Volume Up button and then quickly release it.
Press the Volume Down button and then quickly release it.
Now press the Side button and hold it until the device restarts.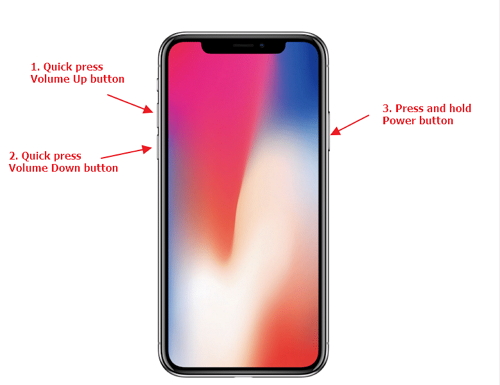 Bonus: A Nice Tool to Manage iPhone Xs
iMyFone Umate Pro is a third-party iDevice data management and data removal tool that is equipped with many powerful and advanced features. You can use Umate Pro to manage your device's storage, boost its performance, and erase files from its storage permanently to prevent privacy leak. Data erasing capabilities of Umate Pro are second to none.
About iMyFone Umate Pro
Speed Up iPhone: Your iPhone slows down and starts lagging because of the accumulating temporary and junk files. Cleaning them will speed up the device. Umate Pro has a special mode for this purpose that allows you to clean junk and temporary files with a single click. (Totally Free)
Manage Storage: Smart management features of Umate Pro include compressing photos, uninstalling apps in bulk, scanning and deleting large files, and more.
Avoid Privacy Leak: Permanently erase your private files such as messages, call logs, contacts, photos, videos, third-party app messages, etc. to protect your privacy. Data deleted via Umate Pro cannot be recovered, not even by FBI.
Safer than Factory Reset: Permanently erase all data on your device with a single click. This complete reset method is safer and better than the ordinary factory reset.
iMyFone Umate Pro is fully compatible with iOS 12 and receive lots of positive reviews from macworld.co.uk, Makeuseof.com , Cultofmac.com etc.


Steps to Manage iPhone Storage
Launch Umate Pro and connect your iPhone Xs to your computer via lightning cable.
From the software's home interface, select 1-Click Free Up Space mode and click the Quick Scan button.
Once the scan is complete, view and clean your desired content via the Clean button shown in front of each data type.