iMyFone Fixppo is all you need to overcome almost any software fault.
iMyFone's Fixppo software can handle almost any iPhone, iPad or Apple TV problem.
iMyFone iOS System Recovery helps you fix various iOS system issues.
Fix All iOS/iPadOS/tvOS Problems at Home
iPhone stuck in recovery mode? iPad won't charge or turn on? Apple TV went to black screen? Don't worry! iMyFone Fixppo can fix everything for you. It can easily fix any kinds of iOS/iPadOS/tvOS system issues and get your device back to normal. With a few clicks, you can handle it by yourself in minutes without data loss.
Stuck in Recovery
Mode

Stuck on Apple
Logo

Stuck in Spinning
Circle

White Screen

Black Screen

iPhone Boot Loop

Frozen Screen

iPhone Update
Failure

Apple TV Issues

Other iPadOS/iOS
Issues
Easiest iOS Downgrader & Upgrader
1-Click to Downgrade/Upgrade Tool for iOS/iPadOS/macOS without iTunes
Fixppo provides a convenient way to downgrade from iOS to ANY other iOS versions without iTunes, and restore iPhone/iPad/Apple TV to previous iOS system.

Note: Before downgrading iOS for your iPhone or iPad, it is crucial to make a backup with iTunes or iCloud. It is unable to downgrade if Apple has stopped signing the IPSW file.

1,740,832 users have download

Upgrading to the latest iOS version is a breeze with Fixppo, as it eliminates the need for iTunes.

Moreover, you can rest assured that there's no possibility of accidentally rendering your phone inoperable while performing the upgrade. So go ahead and effortlessly update your system with just a few simple clicks.
why Fixppo is the best iOS Downgrader & Upgrader
NO Developer Account

Downgrade/ Upgrade iOS profile without Developer Account or iTunes.

NO Data Loss

It won't affect the data or settings in your device.

No Jailbreak

Fixppo ensure downgrade in a completely safe environment.

Easy

Fixppo will list out the matching firmware to complete the downgrade easily.

Downgrade iOS Automcatically

Fixppo automatically detects the corresponding IPSW files without requiring you to enter recovery mode.

Fast

Downgrade iOS 17 to iOS 16 or other iOS versions within Seconds.
Free & One Click
Enter/Exit
Recovery Mode
Totally Free
iMyFone Fixppo enables you to fix iPhone stuck in recovery mode in one click! You can easily make this process without any skills. Moreover, your data will not be affected.


Keep Your Data
Fix iOS/iPadOS/tvOS
without Losing Data
With leading technology, Fixppo can fix your iOS system issue without losing data (excluding Advanced Mode). All you need to do is to connect your device and make a few clicks, no risk of losing any data on your device.
Easy to Reset
Factory Reset

iPhone/iPad/ iPod touch

without Password

iMyFone Fixppo offers hassle-free solutions for you to reset iPhone/iPad/iPod touch. Even when you forget the password, Fixppo can help you regain access to your iDevices by hard-reset solution.


Back to Your Like
Downgrade

from iOS 17 -

No Jailbreak

Fixppo makes it a piece of cake to upgrade or downgrade iOS. You can roll back to the version you like even if you don't have a developer account.

Only Support Signed Firmware.
Free Trial vs. Full Version
Free Trial
1-click enter recovery mode

1-click exit recovery mode

Check device compatibility

Customer support

Fix iPhone issues

Downgrade/upgrade iOS
Full Version
Enter/Exit recovery mode

Fix various iPhone issues

Fix Apple TV issues

1-click reset iPhone/iPad/iPod touch

Downgrade iOS without jailbreak

Bypass iTunes errors

Lifetime free updates

Money back guarantee

24/7 customer support
Repair iPhone/iPad/iPod touch/Apple TV in Just 3 Steps
Step 1. Choose a repair mode
Step 2. Download the firmware
Step 3. Get your device back to normal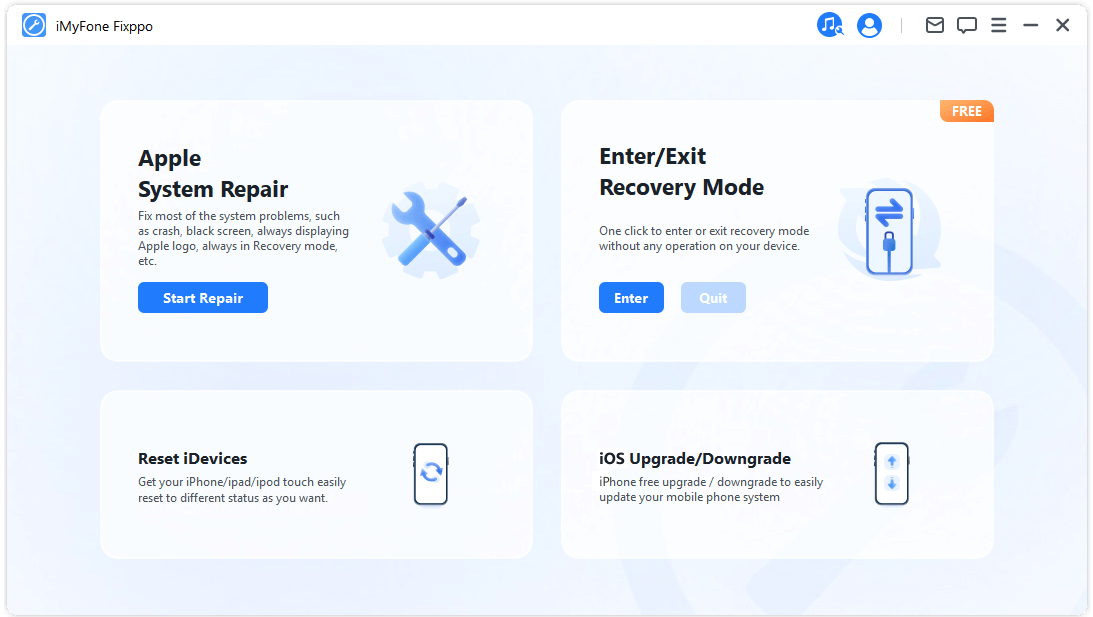 Step 1. Choose a repair mode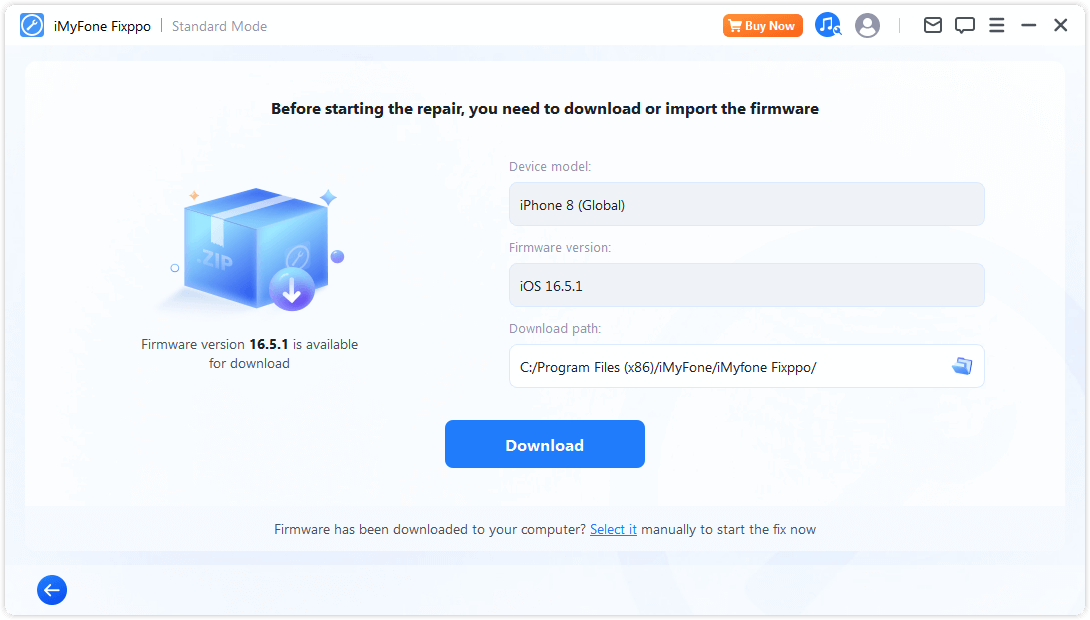 Step 2. Download the firmware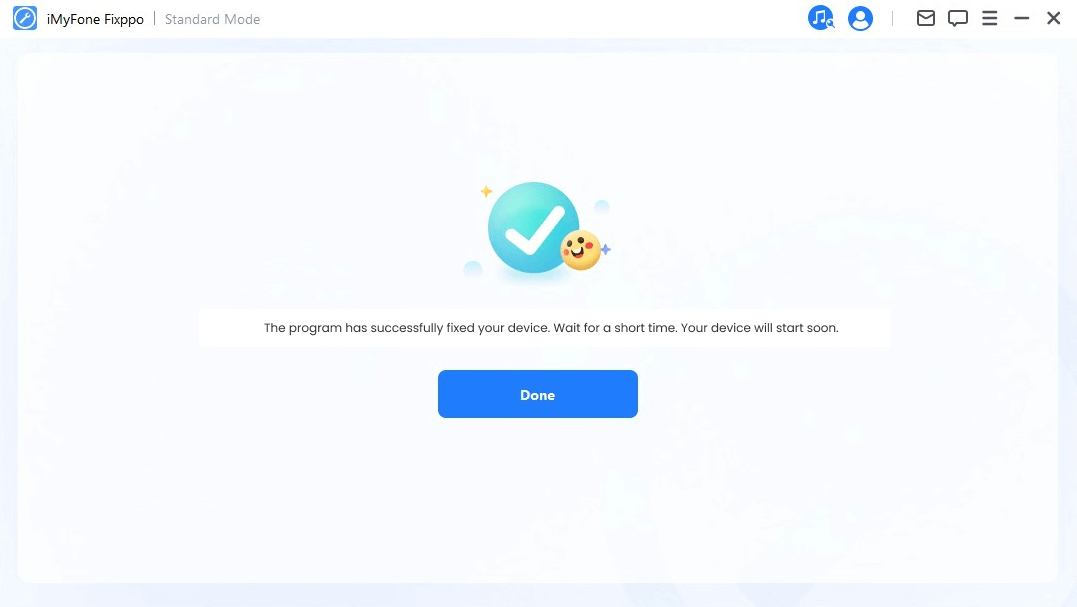 Step 3. Get your device back to normal
Step 1. Choose a repair mode
Why Should You Choose Fixppo?
Easy to Use

You can easily fix the iOS/iPadOS/tvOS issues at home with just a few clicks.

100% Secure

iMyFone Fixppo program is highly praised for its security and professional technical team.

Save Money

With Fixppo, it will cost a lot less than if you went to a repair shop.

Exclusive Technology

You don't have to worry about invading your privacy, and you don't need any technical knowledge.
We Are Trusted & Recommended
With a set of excellent iOS system recovery features, guided menus, and three affordable packages, iMyfone Fixppo is the ultimate iOS toolkit.
Name almost any of the most common iPhone complaints, and Fixppo will have a solution to offer – and it will frequently be able to achieve this without the loss of your data.
iMyFone iOS System Recovery helps you fix various iOS system issues, such as being stuck in recovery mode or stuck on the Apple logo, typically the general method of recovery would be to perform a factory reset via iTunes. In this case, you will lose all the original data on your iDevice, including current data and settings.
iMyFone Fixppo is so easy to use because much of the work is done automatically, via firmware that you download while following some simple, intuitive steps.
This is one of the best iPhone system repair tools out there. While going directly to the service center might be the first thing people would do when they experience certain irregularities, fixing the smartphone with the Fixppo could be a lot easier than driving all the way to the service center.
You can fix your Apple TV black screen with the help of a third-party tool like iMyFone Fixppo. It is an iOS repairing tool that can repair your apple device which works as a remote control for your Apple TV.
Compatibility
iPhone iPhone 15 series, ,iPhone 14 series, iPhone 13 series, iPhone 12 series, iPhone 11 series, iPhone Xs series, iPhone Xr, iPhone X, iPhone 8/8 Plus, iPhone 7/7 Plus, iPhone 6 series, iPhone 5 - iPhone 4

iOS iOS 17, iOS 16, iOS 15, iOS 14, iOS 13, iOS 12, iOS 11, iOS 10, iOS 9
iPad iPad Pro, iPad Air series, iPad mini series, iPad

iPod iPod touch 7, iPod touch 6, iPod touch 5, iPod touch 4, iPod touch 3, iPod touch 2, iPod touch 1

Apple TV Apple TV HD, Apple TV 3rd Generation, Apple TV 2nd Generation
Tech Spec
CPU/Processor Win: 1GHz (64 bit) or above Mac: 1GHz Intel or above

RAM Win: 256 MB or more of RAM (1024MB Recommended) Mac: 512 MB or more

Hard Disk Space 200 MB and above free space
Windows Win 11/10/8/7

Mac macOS 12 (Monterey), macOS 11 (Big Sur, including 11.5), macOS 10.15 (Catalina), macOS 10.14 (Mojave), macOS 10.13 (High Sierra), macOS 10.12 (Sierra), OS X 10.11 (El Capitan), OS X 10.10 (Yosemite), OS X 10.9 (Mavericks)
FAQs and Hot Topics
FAQs about iOS Repair Tool :
1. What kind of iOS issues can I fix using iMyFone Fixppo?
With iMyFone Fixppo, you can easily fix your device without turning to a technical specialist.
1. iPhone Stuck in Recovery Mode/Spinning Circle/Apple Logo;
2. Black/White Screen of Death;
3. iPhone Won't Turn On/iPhone Boot Loop/iPhone Frozen;
4. iPhone Restore Failure/iPhone Update Failure;
5. Apple TV Issues & Other iPadOS/iOS Issues.
2. Why do I need to put my iPhone/iPad/iPod touch/Apple TV in DFU or Recovery mode?
These 2 modes are set for system repair by Apple. In order to effectively fix the system problems, you have to put your device into DFU or Recovery mode. Besides, some devices cannot be detected when connected. DFU or Recovery mode will help our program recognize your device. This will not affect the data or settings on your device.
3. What's the difference between your program and iTunes?
Fixppo employs our independently developed technology to fix various iOS problems. Our program also needs to use firmware, but it works differently from iTunes. That's why it can fix the problems that iTunes cannot.
30-Day Money Back Guarantee
100% Secure
Transactions Protected
Serving Millions of Users