Question
Instagram keeps on crashing after using the app for about 30 seconds Using iPhone 15 Instagram version 258.0 Ios version 16.1 Anybody else experiencing this? If there's a solution do let me know +draining battery as well during the crash. -- From Reddit
Is this situation familiar to you? Instagram has gained popularity and become one of the favorite apps we use in today's life. However, sometimes it may fail to respond as it should, thus stopping us from knowing the latest news. Since I've run into this iOS 17 Instagram keeps crashing problem one time, I know how irritating it can be. Given that, several tested and useful solutions are provided in this article to help you out. Let's check them one by one.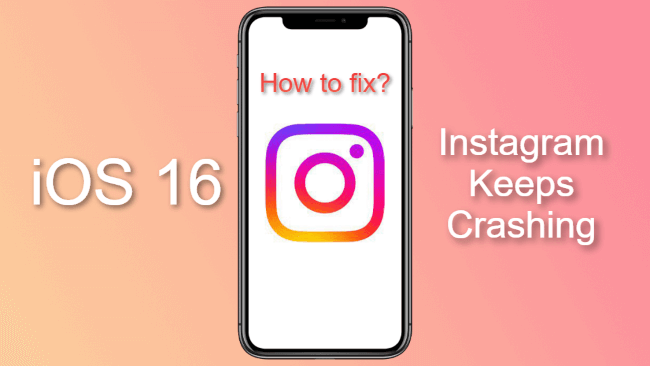 Fix iOS System Problem without Data Loss
One-click to reset your device without needing any passwords.
Protect your private data when you conduct repairs.
Downgrade back to iOS 17 until Apple issues an update.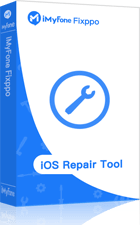 iMyFone Fixppo
Limited Time 10% OFF Coupon Code for iMyFone Fixppo: YTR5E7
Why Instagram App Keeps Closing on iPhone?
Network connection is unstable. A network connection is the first thing you need to make sure when you're surfing online. If your Instagram keeps going wrong for no reason, you should check whether the network is well-connected or connected to a more stable and trustworthy one.
Bugs coming up with your Instagram app. The problem should also come down to Instagram itself. You can use the solutions mentioned in the next part to solve this problem.
Glitches in your iOS system. Every release of iOS comes with bugs, so this is the case with iOS16. Hence, don't forget that your iOS system will cause Instagram to not work as well.
8 Ways to Save Instagram from Crashing in iOS 17
1

Clear Instagram Cache
Since the functioning of Instagram requires enough storage space, the piled-up cache and data will definitely get in the way. Therefore, clearing up the cache regularly guarantees that Instagram to go well to a great extent.
Step 1: Go to Personal profile>Tap Settings in the top right>Tap Your activity.
Step 2: Tap Recent searches>Clear all in the top right>Then click Clear all again to confirm.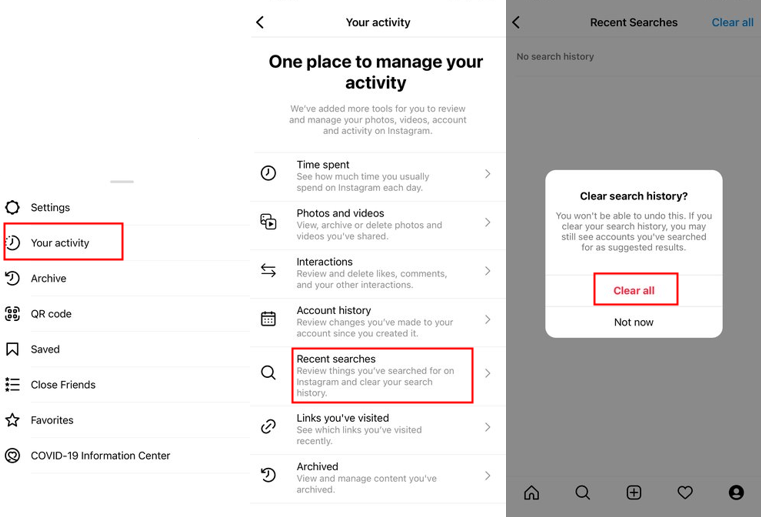 ---
2

Update Instagram App
If cleaning up the data won't work, then you should check if Instagram is outdated. Not updating the app for a long period will hinder it from running or even make it stop working completely. Therefore, you need to make updates regularly to important apps to ensure their smooth running.
Go to Apple Store to check if there is an update available for Instagram, click on Update on the condition that you're in a stable network environment.
---
3

Turn Off Upload at Highest Quality
Always uploading the highest quality videos and photos can speed up the piling of data. If your iPhone doesn't have enough storage space for it, Instagram will act slower every time you turn it on and will flash back or crash inevitably at last. What's more, an unstable Wi-Fi/Cellular connection or a weak signal can cause laggy operation of your Instagram, making it more possible to crash if it's required to upload everything in the highest quality.
Go to Settings>Account>Data Usage>Turn off the button next to Upload at highest quality.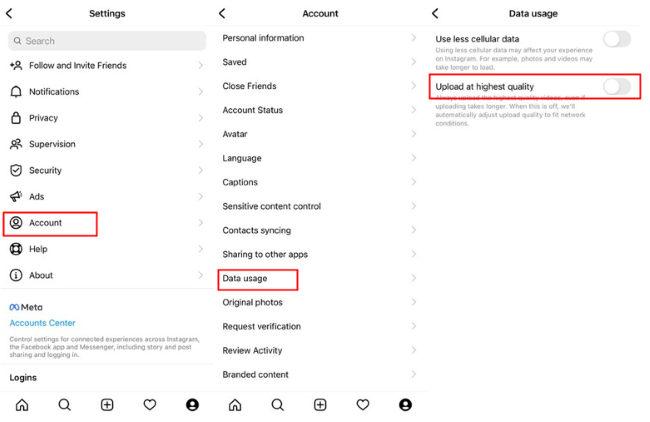 4

Use iMyFone Fixppo to Fix Instagram Crashing
As I've mentioned in the first part, the problem may have something to do with your iPhone/iOS system, and you might consider fixing this problem via a third-party tool out of safety concern.
iMyFone Fixppo is a system recovery tool that can help to fix iOS-related problems such as iOS 17 stuck on black screen, iOS 17 stuck on preparing update, etc. Without further ado, let's follow the steps to fix this Instagram app crashing in iOS 17 problem with Fixppo.
Step 1: Download Fixppo, launch it then choose the Standard Mode.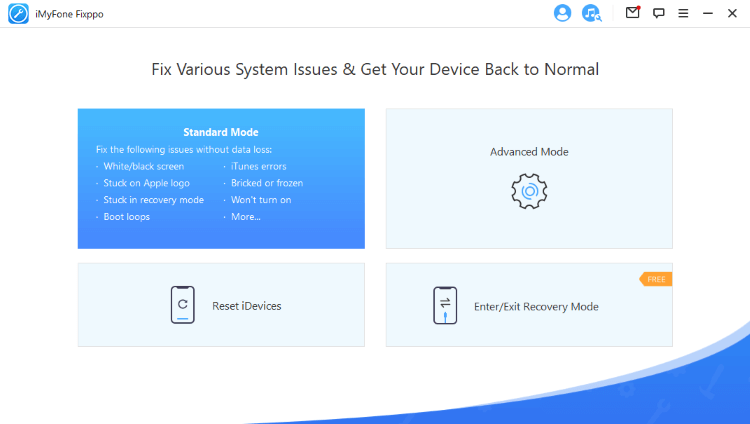 Step 2: Connect your device to computer, then enter Recovery Mode as instructed (Try DFU Mode if needed).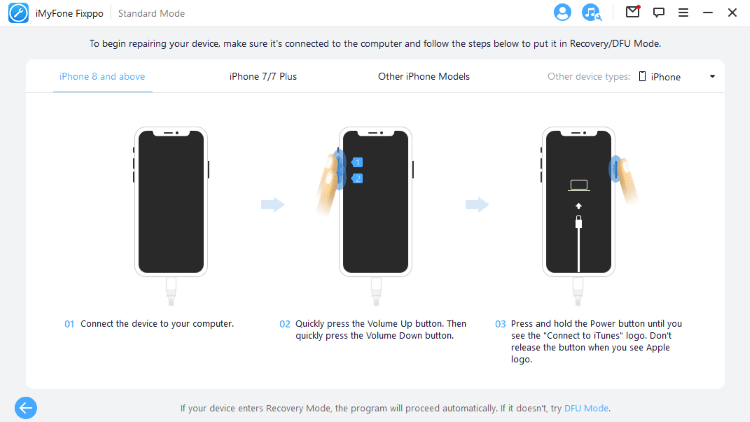 Step 3: When you are ready, download the firmware package.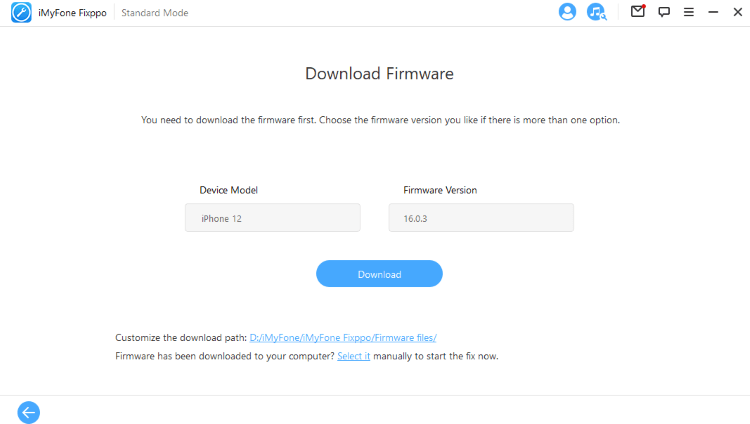 Step 4: With the downloaded firmware, Fixppo will begin its job. When everything is settled, your device will start again. And that's all! Fixppo successfully made it and your Instagram will be back to normal without crashing again.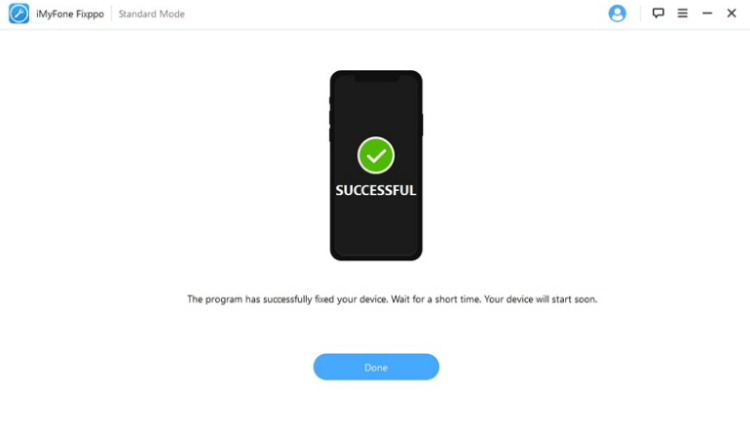 How easy it is to use! You can try downloading Fixppo and fix your problem instantly.
iMyFone Fixppo - System Repair
One-stop iPhone Troubleshooter:
Instantly enter/exit Recovery Mode on iOS devices for Free.
One click to reset iPhone/iPad/iPod touch without passwords.
Repair 150+ iOS/iPadOS/tvOS system problems like stuck on Apple logo, screen won't turn on, recovery mode loop, reboot loop, and black screen, etc.
It's 100% secure to use without losing data.
Limited Time 10% OFF Coupon Code for iMyFone Fixppo: YTR5E7
---
---
5

Offload and Reinstall Instagram
It's worth noticing that offloading Instagram then reinstall it won't erase all related data and information stored in your account but free up storage used by the app, and this method is useful for you to fix Instagram app keeps crashing issue. It's like getting your iPhone a new app while you can log in with your account and password and everything inside remain intact. Here are two ways for you to reinstall it.
Way 1:
Step 1: Go to Settings>General>iPhone Storage.
Step 2: Tap Instagram>Click Offload App>Then reinstall Instagram from the Apple Store.
Way 2:
Step 1: Go to Home Screen>Tap any app until all of them start to wiggle>Tap - on Instagram.
Step 2: Tap Delete App>Tap Delete for further confirmation>Then reinstall Instagram from the Apple Store.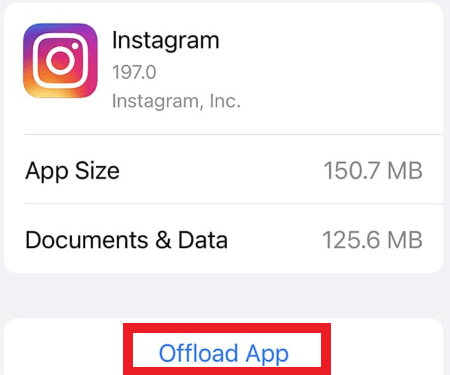 ---
6

Check Malware
Malware in your iPhone can also cause problem, so please check if there are conflicted or untrustworthy apps installed. Also, choose any other app to see if the crashing problem happen to it as well. If the answer is yes, then go to iPhone Storage to see what malware is preventing your iPhone from work properly.
---
7

Restart Your iPhone
This may sound funny, but it's ture when it comes to fix some tech problems of phones. You can always fix some minor glitches by turning off your phone then turing it back. In problem like Instagram app keeps crashing, you can perform a quick start to refresh your software, thus getting it back to normal.
Step 1: Press and hold the either the Volume Up/Down button and Side Button until the power off slider appears.
Step 2: Drag the slider. Your iPhone will be switches off within 30 secs or so.
Step 3: When the screen turns black entirely, press and hold the Side Button until the apple logo appears.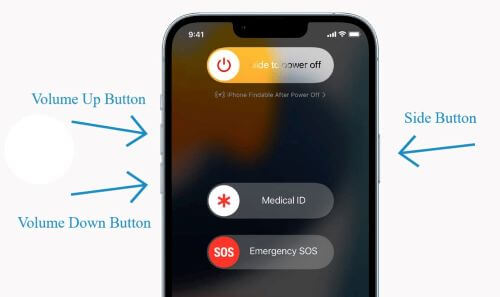 ---
8

Reset All Settings
Though this solution is a bit troublesome, it works in some situations. It will only erase your preference settings and get them back to default state but not your private data including files, messages, photos and so on, which will all remain intact on your iPhone. You may try other simple methods first then this one, since it may take time to make some adjustments after that.
Step 1: Go to Settings>General>Transfer or Reset iPhone.
Step 2: Tap Reset>Reset All Settings.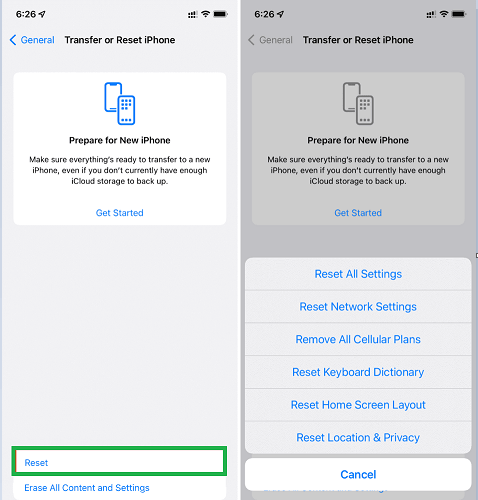 How to Downgrade iOS 17 If it Causes Instagram to Crash via iTunes?
Though it's urged to make a new update whenever there is a new release, not everyone can get used to it since the new software update may cause certain inconveniences to your phone with buggy problems. Therefore, if your Instagram crashing on iPhone problem occurs at the time you made an update to iOS 17 and you want to go back to the last version, then here is a way offered for you to get back to iOS 15.
Step 1.Turn off Find My iPhone
Tap Settings>Profile>Find My.
Tap Find My iPhone>Enter your Apple ID and Passcode>Turn off the button next to Find My iPhone.
Step 2.Back up all your important information.
Step 3.Go to IPSW, download the iOS 15 firmware and save it to the computer.
Step 4.Open iTunes, clicking on the iPhone icon.
Step 5.Tap Summary section, press and hold the Shift button, then click on Restore iPhone.
Step 6.Select the iOS 15 package file you downloaded before when prompted.
Step 7.Follow the instruction on the screen, then tap Restore to begin the downgrading process.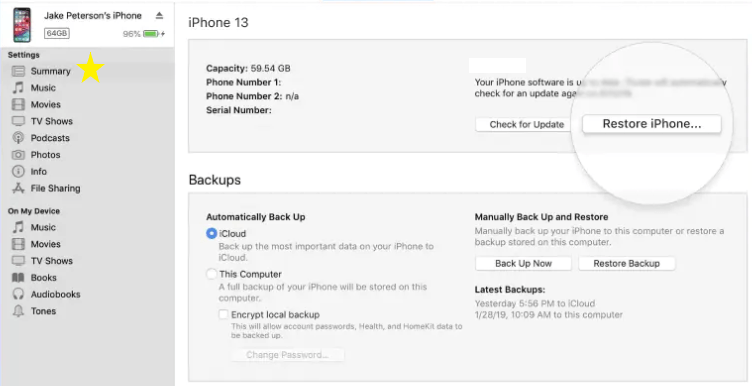 Tips
If you find it tricky to downgrade iOS 17 via iTunes, you can try iMyFone Fixppo. Besides fixing iPhone-related problems, it can also help to downgrade the iOS system with the steps mentioned in that part. And if you want to know detailed information about this whole process, please refer to this article:
how to downgrade from iOS 17 to iOS 16
.
Final Words
That's all, guys! I'm sure that after trying these 8 tested solutions, fixing iOS 17 Instagram Crashing on iPhone problem can be easy! However, if you find that it's the iOS system that causes the problem and you want to get it fixed quickly, iMyFone Fixppo can be your best choice. A trustworthy app, it can fix your iOS-related glitches within 4 steps with satisfying results!