This post aims to show you why iPhone brightness keeps changing and the solutions to fix it. If you meet the same problem, keep reading.
Why My Phone Brightness Keeps Changing?
Being able to change the brightness on your iPhone is actually a major benefit users love. It allows you to dim the screen in dark areas and brighten it back up when walking around on a sunny day. However, there can be many reasons why your iPhone brightness keeps changing that include:
You may have created settings to cause the screen to automatically brighten or dim, depending on lighting and time of day.
Hardware issues that are causing a poor connection with the screen.
Software conflicts are creating bugs and forcing your screen to change when unprompted.
Water damage makes the screen think it is darker than it is outside.
One-Stop Solution to Fix iPhone Display Brightness Keeps Changing
Anytime your iPhone display brightness keeps changing can be frustrating, especially when you need it to be on one setting for streaming or in the middle of a video chat. While there are numerous manual fixes we'll go over below, the easiest solution is using iMyFone Fixppo.
It is a all-in-one software package that can restores your device to a default iOS version quickly. You don't have to worry about jailbreaking your iPhone or risking the accidental deletion of your private. Fixppo does everything for you safely and securely.
iMyFone Fixppo
One-stop Solutions to Fix iOS Issues
Key Features:
One-click to reset your device without needing any passwords.
Easily enter/exit recovery mode for free.
Remove any bugs so you can use your iPhone's screen without needing to constantly change the brightness settings.
Support fix many iOS issues, such as iPhone stuck on SOS mode, iPhone stuck on black screen after update to iOS 16, etc.
See how to use iMyFone Fixppo to fix iPhone brightness keeps changing
Step 1. Download and install iMyFone Fixppo on your PC and use Standard Mode on the available options, and then connect your iPhone to your computer.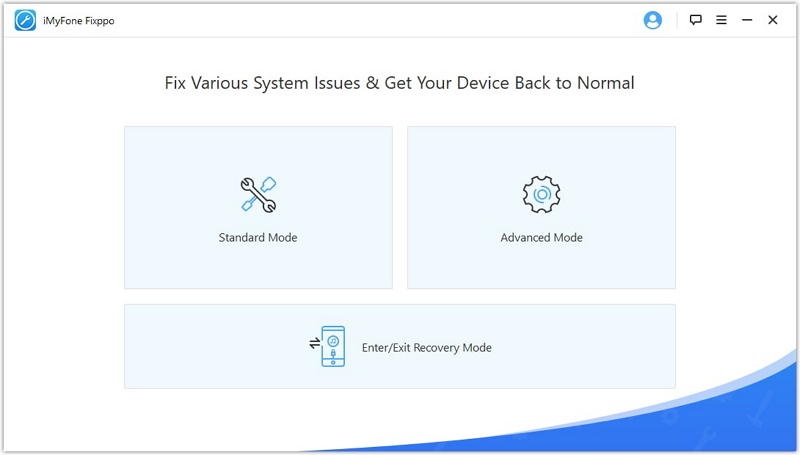 Step 2. Download the firmware by clicking the Download button on the screen.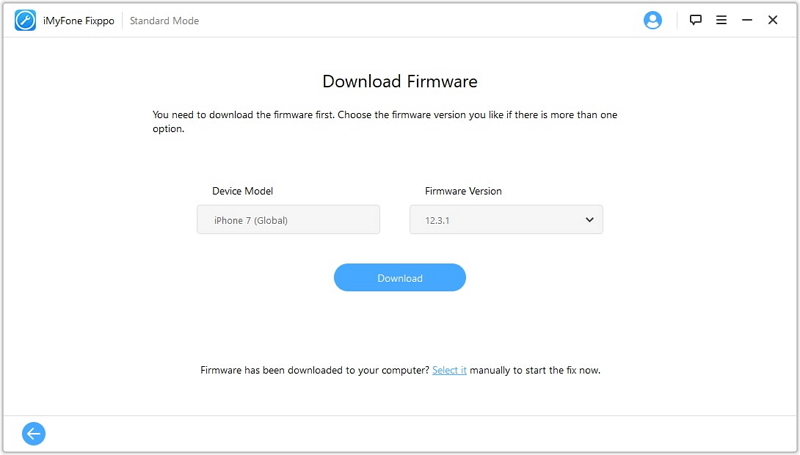 Step 3. Keep waiting for the procession complete and restart your iPhone. Then your iPhone screen should be work as normal!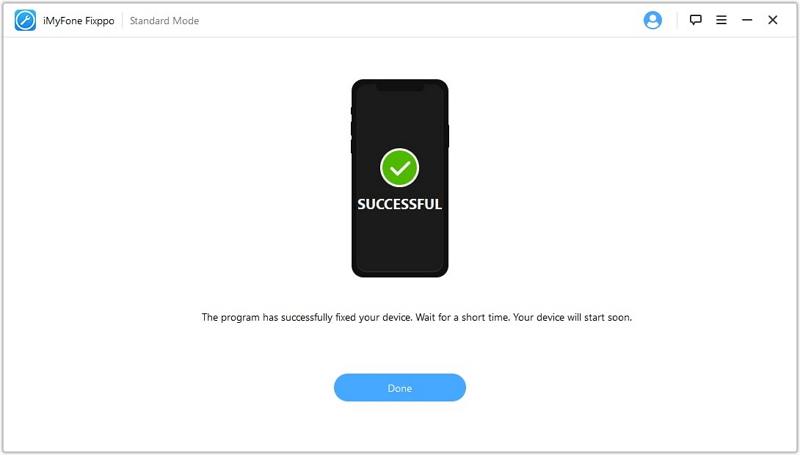 Manual Ways to Stop iPhone Brightness Keeps Changing
As we mentioned above, there are plenty of manual repairs you can try when the iPhone brightness keeps changing. Don't worry; none of these require a great deal of technical knowledge, and you can try them quickly to see if they work on your device.
1

Check the Night Shift Feature
Night Shift is an automatic brightness setting that changes the colors of your iPhone's screen. It creates less strain on your eyes when it is dark outside or inside. Unfortunately, this setting can also change the brightness level of your device, and force you to mess with the settings when you want to be relaxing. To fix this:
Open Settings and tap on Display & Brightness.
Tap on Night Shift and toggle off the scheduled option.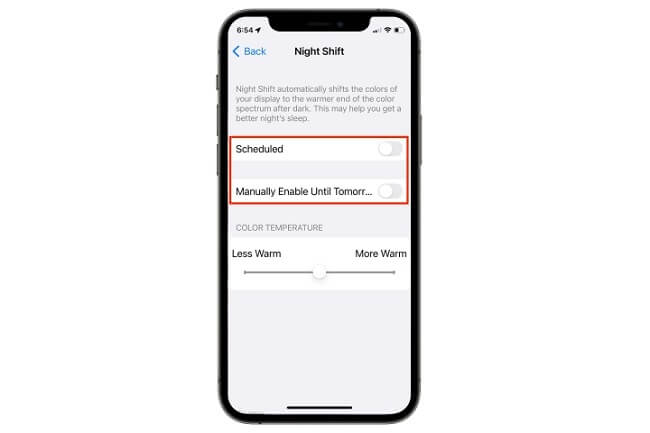 2

Turn Off "Attention-Aware" Features
If you have the Face ID feature turned on for your device, you most likely have the Attention-Aware setting. This is turned on to preserve battery power by dimming your iPhone's screen when you are not looking directly at it. The problem is that if this feature is going haywire, it could easily cause my phone brightness keeps changing problem. To turn this off:
Tap on Settings and navigate to Accessibility.
There should be a setting for FACE ID and Attention.
Tap on them and then change the toggle option next to Attention-Aware.
3

Disable the "True Tone" Option
It is a pretty new option that has helped iPhone users get a better experience on their devices by shifting the brightness setting according to the ambient light and temperature of their physical environment. It is a fun set to play with, but can get confused if you're next to a fan or in a shifting outdoor area. The easiest solution is to turn this feature off when your iPhone brightness keeps changing unexpectedly.
Go to Settings and tap on Display and Brightness.
Under the brightness bar you'll see the True Tone option.
Slide the toggle off.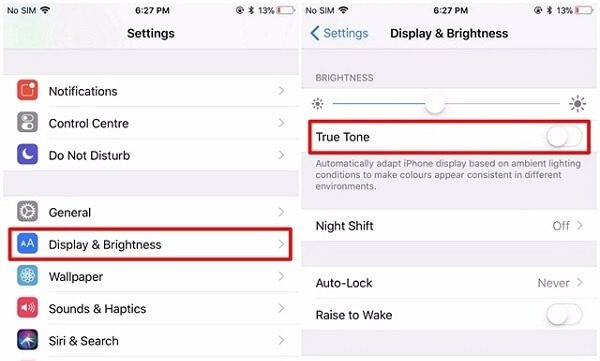 4

Check the Auto-Lock Feature
This is both a security and power-saving feature many users enjoy. Whenever the iPhone is lying still for an extended period, it automatically turns off the screen and locks it out. That means the next time you pick it up, you'll have to enter your passcode, scan your face, or use other security features to turn it back on. You can turn this off by:
Go to Settings and tap on Display and Brightness.
There will be an option for Auto-Lock. Then tap on that and set it to never.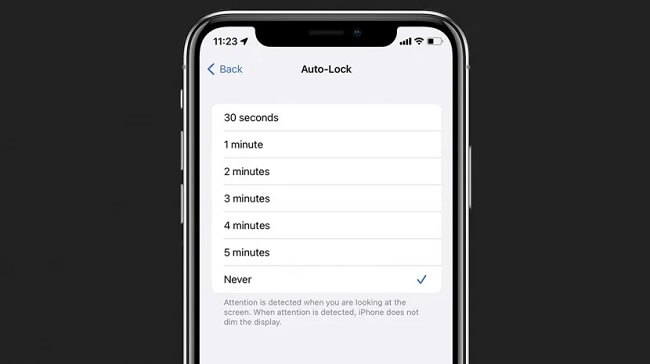 5

Turn Off Low Power Mode
Again, your iPhone loves to find ways to conserve power so it can last longer on a single battery charge. This is great unless it is causing your iPhone display brightness keeps changing issues. The Low Power mode is designed to dim your screen whenever your battery reaches a low level, like 20% or 10% of the total battery charge. You can turn this off by:
Go into Settings > Battery > Low Power.
Slide the toggle next to that to the off position.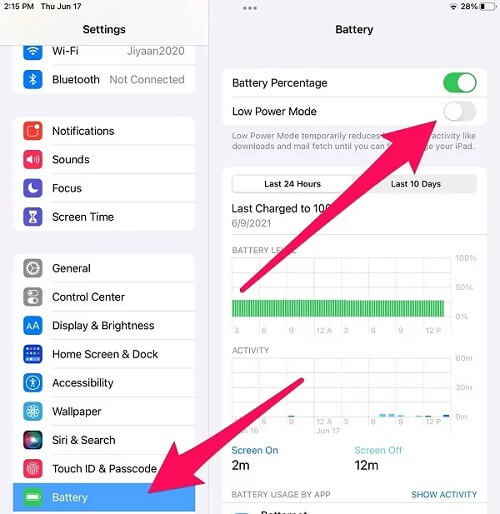 6

Extend How Quickly Your iPhone Auto-Lock
The auto-lock mode we mentioned earlier is a great feature for your iPhone. It helps you defend against unwanted users trying to see what is on your device when you have put your phone down for a little while and to focus on other things. If you feel like this mode is too short, you have the option to extend it longer than a few seconds. You can do this by:
Go to Settings > Display and Brightness > Auto-Lock.
Tap on that and extend the time to something longer.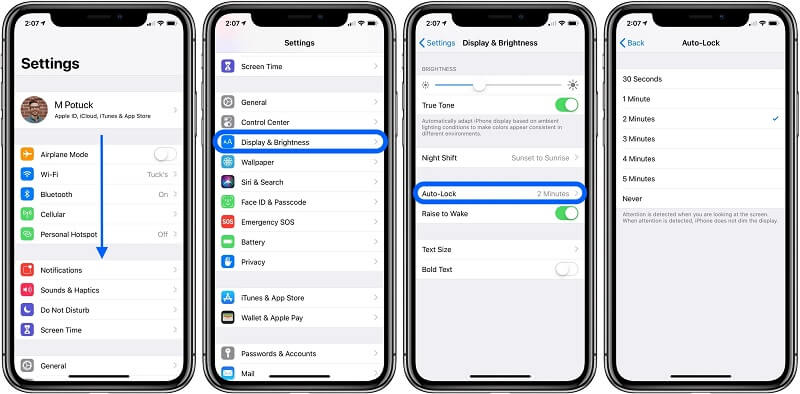 To Conclude
As you can see, there are many causes and possible solutions to fix iPhone brightness keeps changing issue. The easiest and most reliable solution is to use iMyFone Fixppo. You can download a free version by clicking the button belows. That way, you get a better idea of how the software works before upgrading to a premium version in case other issues crop up in the future.