The Favorites feature in contacts is an iPhone feature that has proven its usefulness since its introduction. You can now organize your favorite contacts on your iPhone quite easily and widgets have made accessing tour Favorites list even easier.
But like every feature of the iPhone, sometimes the favorites feature can fail to work as expected. This article highlights some of the actions you can take if you are having issues with the Favorites feature in contacts.
The Most Common Issues with iPhone Favorite Contacts
Some of the most common problems users have reported with their Favorites contact feature include the following;
Favorite contacts list shows different numbers from the one's you added.
Users have also reported being unable to add new contacts to the favorite list.
The following solutions should fix these issues and any other you may be facing;
1. Check Whether Contacts Are Syncing
The first thing you should do before taking any troubleshooting solutions is to check whether your contacts are syncing correctly with your preferred third-party accounts like Google and Yahoo. Here's how to check that your contacts are syncing;
Step 1: Go to Settings> Accounts & Password if you are using iOS 10 and later versions. Or, go to Settings > Mail > Accounts if you are using iOS 16 and earlier.
Step 2: Tap on each account that is listed there to check whether "Contacts" is toggled on.
Here we take Yahoo email account as example.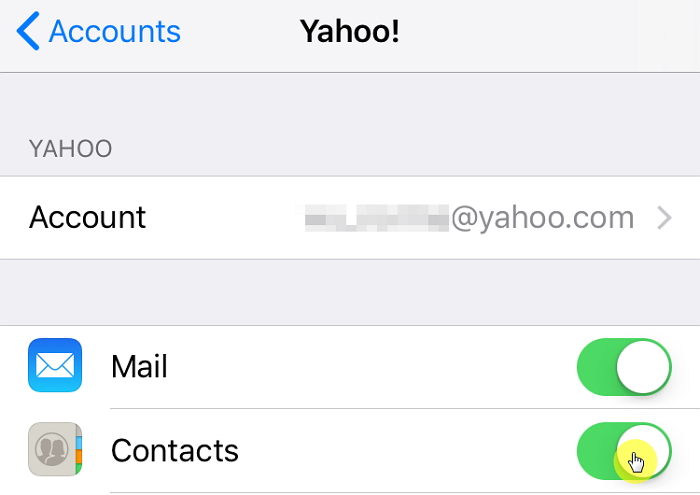 2. Check If the Problem is Caused by Duplicate Contacts
Sometimes the problem can be caused by the presence of duplicated contacts. You can check if there are duplicated contacts by going to icloud.com log in, click on contacts and then check if there are duplicated contacts.
But doing this if you have more than one duplicate can be difficult and time consuming. Instead, you can use the contacts app on your Mac to merge the contacts. Follow these simple steps to do that;
Step 1: Open the contacts app on your Mac and the click on "Card." From the drop-down menu select "Look for Duplicates."
Step 2: You should see a popup appear telling you the number of duplicates found. Click "merge" to eliminate the duplicated contacts.
Once done, the contacts will sync with the iPhone if you gave enabled iCloud on both devices.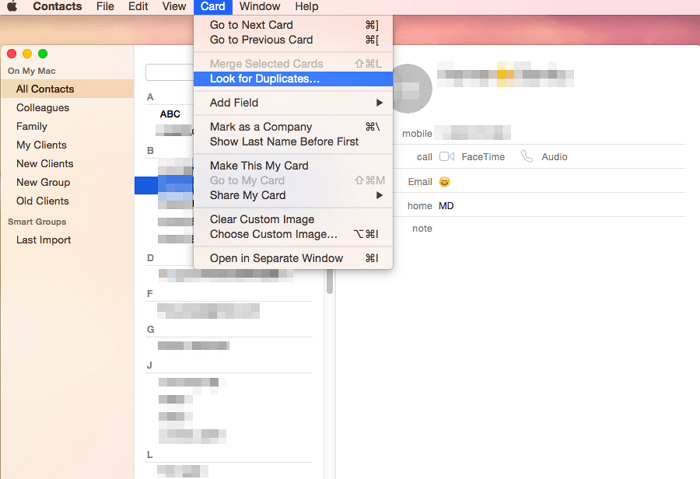 3. Manage Your Linked Contact Information
The link feature allows you to link different contact information that may be duplicated. It is a useful feature that allows you to link a contact that may have synced from your third-party accounts with the same number you may have entered manually. If the linked numbers are incorrect, you may experience issues with the favorites. Here's how to fix that;
Step 1: Open the contact that is causing problems within favorites. You should also scroll down to check if the contact is correct in multiple accounts.
Step 2: Edit the number so it is same on all accounts.
Step 3: Open the favorites to show that both numbers are reflected correctly.
4. Re-Sign in to Your iCloud Account
If none of the above work, iCloud contacts syncing maybe the problem. In this case, you may want to sign out and the re-sign in to iCloud. Doing this may trigger a re-fresh of your contacts and solve the problem. Here's how;
Step 1: Tap on Settings > iCloud.
Step 2: Sign out of iCloud.
Step 3: Wait a few seconds and then sign back in to iCloud.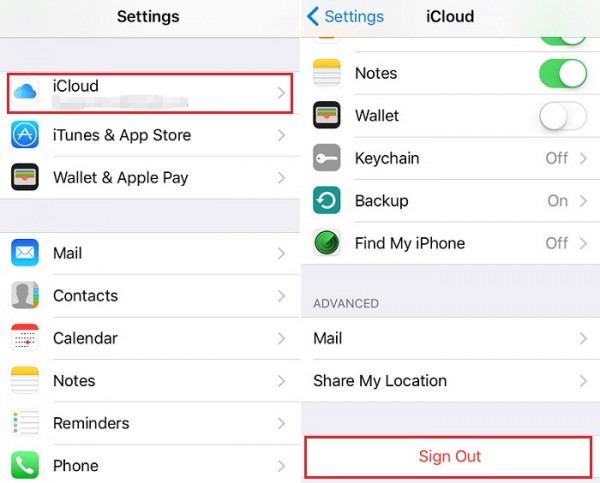 5. Fix Issues by Completely Re-Installing Your iOS
If the solutions above fail to produce the desired result, you may have to completely reinstall the iOS on your device to fix the problem. A third-party tool like iMyFone Fixppo will help you do that without risking the data on your device. This tool can be used to fix just about any issue you may be experiencing with your iOS device including an iPhone stuck in Recovery Mode or DFU mode, or an iPad gives no response and many other issues. It is easy to use and will have your iPhone working properly again in a few minutes.
You should download and install iMyFone System Recovery on your PC or Mac, and then launch the program to fix your iPhone whose Favorite Contacts is not working;
Step 1: From the three repair modes presented, choose "Standard Mode." You can also know what the program can do with other two repair modes.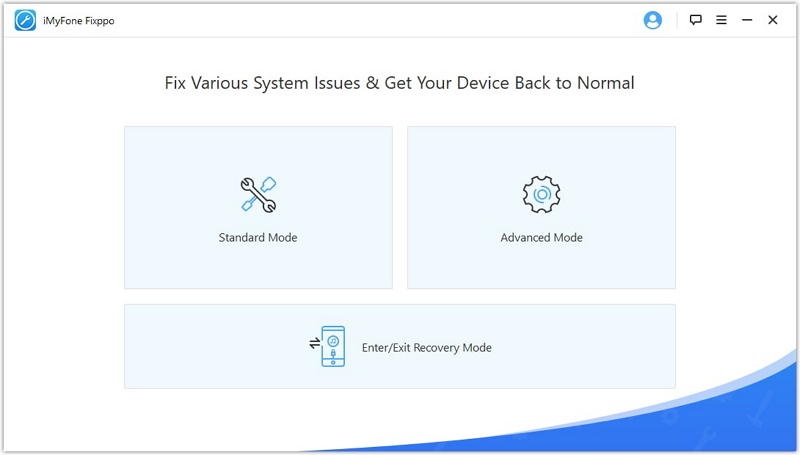 Step 2: Click "Start" and then follow the instructions the program displays to put your iPhone in DFU/Recovery mode.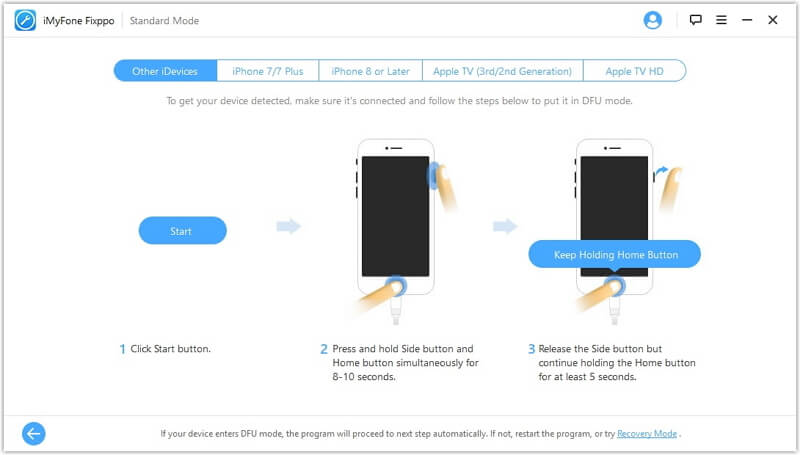 Note
Operate exactly what the program says or you may fail to put your device into DFU/Recovery mode and proceed to fix.
Step 3: Once your iPhone is in DFU/Recovery Mode, you will be allowed to download the latest firmware. Simply click "Download" and wait for the process of downloading and verifying to be completed.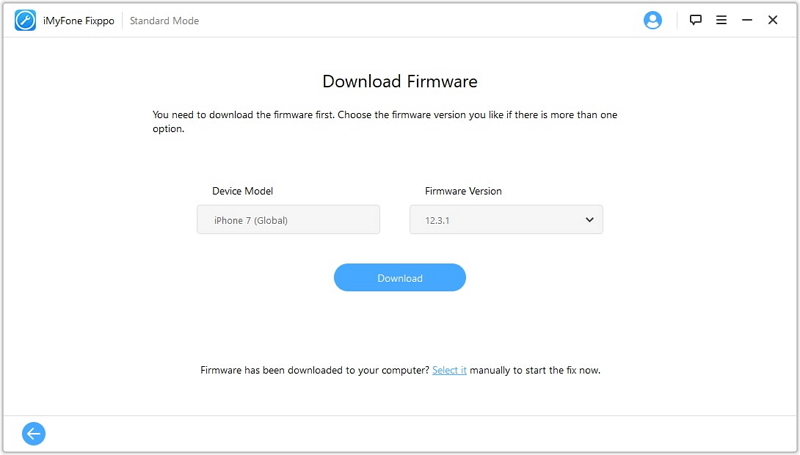 Step 4: The program will begin fixing your iPhone and generally it will take less than 20 minutes.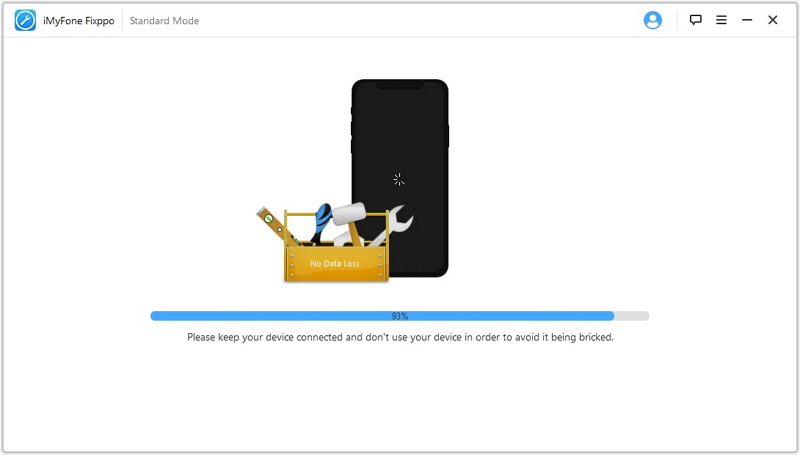 The device will restart in normal mode with the iOS reinstalled and the favorites feature in contacts should now be working correctly.
One of the above solutions should work to fix the problem and have you using favorites again. Share your thoughts with us on the solutions and which ones worked best for you in the comments section. Don't forget that the free trial version of iMyFone Fixppo allows you confirm whether your device can be detected. Try it now.