Let's face it, connectivity is one of Apple's greatest assets. However, users of iOS devices never seem to understand the full scope of Apple's value in connectivity. If you're watching a movie, viewing photos, or listening to music on your iPad, you can seamlessly mirror the screen to a larger Mac screen and enjoy the experience. Since many people are unaware of how to screen mirror iPad to Mac, this article will explore six easy ways that you can follow to connect the screens of these two Apple devices.
6 Easy Ways to Mirror iPad to Mac
If you are wondering how you can mirror your iPad to Mac, then you have six options from which you can choose a convenient one.
1. AirPlay
AirPlay Mirroring is one of the finest options for mirroring everything on your iPad's screen to a Mac computer or an Apple TV. It is a method that comes in handy when doing presentations, creating videos or screencasts, or simply enjoying the view of a larger screen.
It is an incredibly easy-to-use method if you have the right setup. The preliminaries require that you have the following requirements:
An iPad 2 or later, iOS 5 or later.
The Mac computer should have OSX Mountain Lion, an app that supports mirroring, and a supported Mac.
You should buy Reflector or Air Server as they are the two apps that support screen mirroring.
Steps to follow:
Set both devices (iPad and Mac) on the same WiFi network.
Double-tap the Home button on your iPad to bring up the MultiTasking Bar.
Locate the AirPlay Mirroring icon by swiping on the list of apps from left to right until you find it.
Tap on the AirPlay Mirroring icon to show the list of devices on your WiFi network it can mirror.

From the list of devices, select the Mac computer you want to connect.
That is how easy it is to mirror iPad screen to Mac using AirPlay.
2. QuickTime Player
QuickTime Player is one of the third-party applications providing Apple users with screen mirroring solutions. It has a simple interface that makes it easy to mirror Mac to iPad. QuickTime has a wired connection that eliminates threats of network connection in the process of mirroring an iPad screen to a Mac screen.
You should follow these steps:
Use a USB cable to connect your iPad with the Mac computer. After connecting the two Apple devices, you should then open QuickTime on Mac.
The second step is to navigate the basic settings and tap on the "File" button on your screen. Afterward, click on "New Movie Recording", which will open on a new window.
The third step is to choose your iPad in the list presented to initiate the screen mirroring process.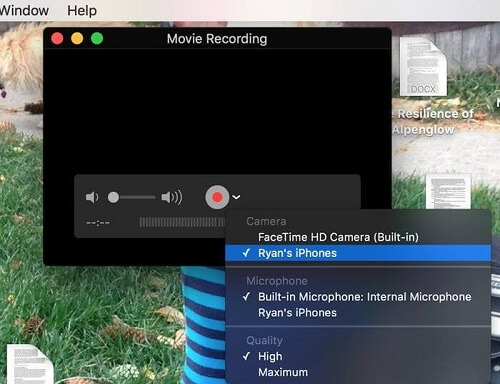 3. Sidecar
Sidecar allows you to use your mirror your iPad's screen to a Mac screen. There is an option of connecting the two devices wirelessly though you might need to connect the USB cable to keep your iPad charged during the screen mirroring process. Using Sidecar to mirror iPad to MacBook is quite simple. You first need to know the system's requirements then follow the easy steps.
The first step is to start a Sidecar session. This might be different depending on the Mac version that you're using.
Those using MacOS Big Sur, click on the menu bar to choose your iPad.
Click on the AirPlay icon to choose your iPad if you are using macOS Catalina.
Another option is to simply move a window to your iPad.
The next step is to switch to screen mirroring using option of mirroring presented on the Display menu. It also gives you the option to decide if you want it to be used as a display or mirror both devices.
4. Wi-Fi Syncing
Another option for mirroring an iPad screen to a MacBook screen is through wireless synchrony. Wi-Fi syncing is an option that is easy to use. It includes connecting your two devices on the same Wi-Fi network and following a few steps that will mirror the two screens.  
Here is a detailed step-by-step-process of what to do when opting for this method:
Open iTunes.
Use your USB cable to connect your iPad to your Mac computer. To initiate the Wi-Fi syncing, select your device on the left side of the Computer then select "Sync with your device over Wi-Fi".

Once the two devices or on the same network, the iPad will appear on iTunes for you to sync it. To complete the sync, ensure that your iPad is plugged into power, iTunes is open, iPad and Mac are on the same Wi-Fi network.
Configure the sync options by selecting the content tabs on the left-hand column of iTunes.
Finally, click on "Apply".
As easy as that, you would have finished the process of mirroring your Apple devices.
5. LetsView
LetsView is also an amazing tool that you can use to mirror your iPad screen to your Mac computer. It is a powerful screen mirroring tool that allows multiple screen sharing options such as casting and wireless mirroring. It works perfectly on different platforms.
Steps to follow:
The first step is to install the LetsView app on both the iPad and the Mac computer.
You should then connect both the iPad and the Mac computer to the same Wi-Fi network and launch the app.
To connect the two devices, you will need to input the PIN code shared on the Mac computer to your iPad. There is also the option of scanning the QR code to create a connection between the two devices.

To start connecting the two devices, tap on Screen Mirroring.
The mirroring process will begin instantly as soon as you are connected. That is how screen mirroring iPad to MacBook using LetsView works.
6. Reflector
If you are still looking for how to mirror an iPad to a MacBook, you can use the Reflector method. This is an amazing software that offers a solution to your Apple's connectivity. Using Reflector is a preferred method because of its user-friendly platform that makes it easy for everyone to mirror their iPad and Mac screens.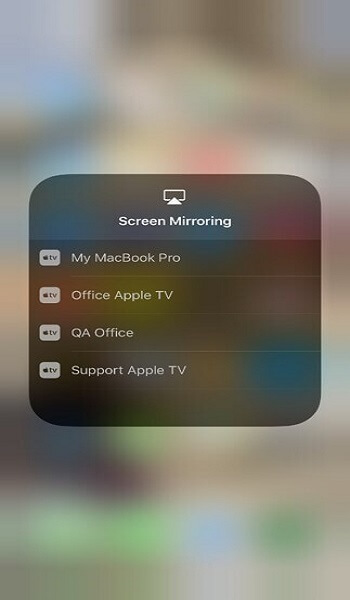 There are three basic steps that you should follow if you have opted for this method.
Download and Launch Software

The first thing is to download the software on your Mac computer. It is important that you get it from the original website. When doing so, ensure that the devices are connected to the same Wi-Fi network. After you have downloaded the app, locate it on the Applications folder and open it on your mac computer.

Open Control Center

On your iPad, locate the Control Center to start the AirPlay Mirroring feature. To do this, you should tap your iPad twice to get to its Home Button.

Select the Device

After you have activated the AirPlay feature, you will be presented with a list of appropriate devices. You should choose the device that you want to mirror. In this case, you will select iPad to Mac.
As simple as that, you will be done with the process and you can enjoy the enlarged display of your Mac to present items from your iPad.
These six simple ways provide multiple answers to a common question by many Apple devices' users – how do I mirror my iPad to my Mac? If that's your question, you can use any of the methods provided.
You may also like:
How to Use AirPlay on Windows 10 - Using AirPlay Explained
[Full Guide] How to Mirror iPhone to PC/Computer/Laptop in 2021
How to cast iPhone to Chromecast for Free? [2021 update]
Hot FAQs
Here are some of the frequently asked questions about the screen mirroring process.
1. Can you AirPlay from iPad to Mac?
Yes, it is possible to Airplay from iPad to Mac. AirPlay is Apple's technology that allows the streaming of media content from one Apple device to another. You just need to ensure that the devices are compatible. Therefore, you should check the compatibility requirements of both the iPad and the Mac computer.
2. Can I Project my iPad to my laptop?
Yes, you can project your iPad to your laptop device. There are multiple options that you can use. You just need to identify the right method that fits your device.
3. Can I use an iPad as a second monitor?
Your iPad can be used as a second monitor if you connect it to a compatible Apple device using the right method. For example, you can use a USB or do it wirelessly using AirPlay to connect the two devices. You will also need to use the same Apple ID on your Apple devices.
4. Can I connect my iPad to my MacBook Pro via Bluetooth?
Yes, you can connect your iPad to your MacBook Pro via Bluetooth. You just need to enable your Bluetooth on both devices. However, you should know that you'll need to use an app to share media content after connecting it with Bluetooth.
5. Why can't I mirror my iPad to my Mac?
There could be a couple of reasons why you can't mirror your two Apple devices. The common reasons include:
You are using incompatible Apple devices.
Your devices are far away from each other.
You have not turned on AirPlay.
You are not using the same Wi-Fi network connection for both devices.
You have not updated the latest software.
Check these conditions and restart your devices to attempt screen mirroring again.
Final Words
Screen mirroring an iPad to Mac shouldn't be a worry to you. There are multiple ways you can connect your two Apple devices and enjoy the large screen of your Mac laptop to view the media on your iPad.
Always ensure that you get the right information from the right source to have a smooth screen mirroring process. This comprehensive guide should be your first start if you want to try various ways of mirroring your iPad screen to your Mac computer.