Photos are important to us all: they capture moments that can be reflected upon in the future. That's why you might want your old photos from your old iPhone to your new Android phone. Luckily, it isn't the case that if you get a new phone, you will have to leave all your old photos on the old device. Instead, you can move them to your new phone quite simply. This article will show you a few methods on how you can transfer photos from iPhone to Android phone. Feel free to try multiple methods if you would like to experiment with them.
P.S. We also figure out the ways to transfer data like notes from iPhone to Android, so you can just search our website for more solutions.
Method 1: Use a PC to Manually Transfer Photos from iPhone to Android
A computer can be used as the medium for file transfer generally. This means you can connect your phones to a computer and use it to move your photos. There are two main ways in which you can use your PC to move your photos from your iPhone to your Android phone.
1.1 Copy Photos Directly from iPhone to Android
This method directly copies the images on your iPhone and moves them onto your Android phone. This is better than the other way in terms of time because it doesn't require you to save the images to a separate location. However, you won't have a backup of the images that you are copying. A backup can be useful for future use, especially if you accidentally delete a photo from your iPhone. If you want to have a backup in your PC, go to the second part. It will let you access the files from your computer too, which then, in turn, can be used to transfer the same photos to another phone.
The steps on how to transfer photos from iPhone to Android directly via a PC are shown as follows:
Connect both your phones to your PC using a USB data transfer cable.
Go to your file explorer and locate the two devices listed under "portable devices". You may need to unlock both phones and select "trust this device" on your iPhone, along with choosing your device as a photo transfer device on your Android.
Open both phone's internal storage, one in a new window (it doesn't matter which one you open in a new window).
Locate the DCIM folder on your iPhone. (This is where your photos are stored) and open the DCIM folder on your Android phone too. Alternatively, you can create a new folder, names something such as "Images".
Copy the images from the iPhone's DCIM folder to Android's internal storage.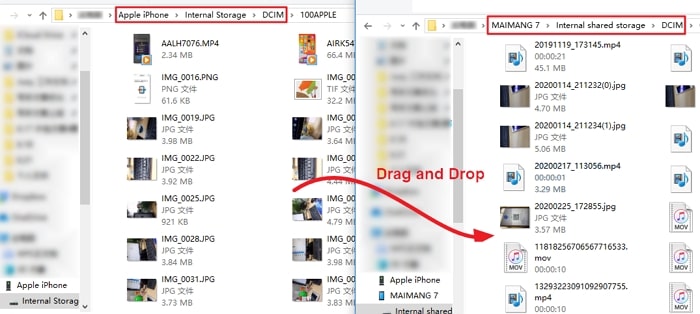 Wait until the transfer is complete – the time for the transfer to complete depends on the size of the files being moved.
This method is not too complicated but is prone to errors, especially if you miss out some files. However, an advantage of this method is that it lets you select the images that you will be moving, meaning not all your photos have to be moved.
Note
If you have been using an SD card, your photos may be saved to your SD card, so make sure you check that too if you aren't able to locate them.
1.2 Copy Photos to PC to Transfer from iPhone to Android
The second way of doing this requires you to first copy the photos to your PC, and then move them to your Android phone. This can be useful if your computer only has one USB port, or you want to move those photos to multiple places, such as to a phone and upload them to a cloud storage site.
Connect your iPhone to your PC.
Locate the DCIM folder (on the iPhone's internal storage) and copy the images within this folder.

Paste the images to a separate location, such as to a folder on the desktop of your computer.
Connect your Android to your PC and open its internal storage.
Locate the DCIM folder and copy the photos that you recently put on your PC to this folder. You can also decide to use another location to store the photos on your Android phone.
As you can see, this method requires an extra stage – you need to copy the images to your computer. Due to this, you will also need to make sure you have sufficient storage on your PC for these images.
A quick guide on how you can upload them to a cloud storage site is:
Sign up to an account for a cloud storage site, such as Google Drive.
Choose upload and select the copied photos.
Wait until they have been uploaded.
Method 2: Use Send Anywhere to Wirelessly Transfer Photos from iPhone to Android
The Send Anywhere app is available on both the Google Play store and the Apple App Store, free to download and install. It is an app that lets you wirelessly transfer files from one device to another, without having to use a computer. This is useful for the transfer of small files, such as a few images, however, it isn't recommended for many images because it can take a lot of time.
You will need a reliable internet connection when using this service, because your files are stored to a cloud server when uploading, and then downloaded from it when importing. Due to this, the time taken for all of this to complete will depend on how strong your network connection is.
Download and install the Send Anywhere app on your iPhone and your Android phone.
Open the app on your iPhone, set it up and do the same on your Android.
On the iPhone, choose to Send and pick Photos from the listed file types.
Select all the photos that you want to transfer, and tap Send.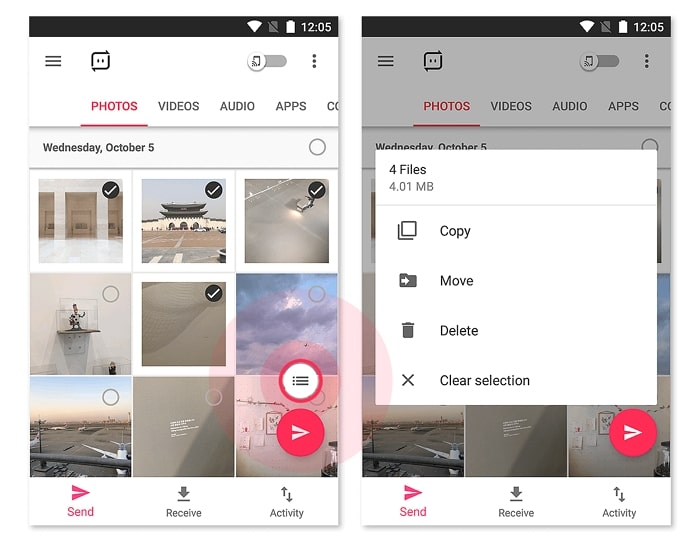 Wait until a QR code and a PIN code are generated on your iPhone. You can alternatively choose to "upload" your images so that they can be accessed from multiple devices.
Select Receive on the Send Anywhere app on your Android phone.
Either enter the PIN code or scan the QR code from our iPhone.
Wait until the files have downloaded to your Android.
Note
The PIN code and QR code generated by the sending phone usually lasts for 10 minutes, so make sure you act quickly when downloading the photos. You can choose to change the time limit for this if you require more time.
Tip. Use a Third-party Tool to Easily Transfer Data from iPhone to Samsung
In case you want to transfer your iPhone data to a Samsung device, which has troubled many our readers, we provide you an amazing tool here — iMyFone iTransor Pro. You can easily transfer 18 types of data in total including photos and all your WhatsApp data from iPhone to Samsung using this desktop software. All you need to do are just a few clicks.
Download the program and launch it on your computer.
Choose Transfer WhatsApp or Transfer Other Data on the main interface. For now the program is available for transferring WhatsApp between different devices of iOS and Android OS, and transferring the other 17 types of data from iPhone to Samsung. So you can decide to use either one or both of the functions depending on your device models.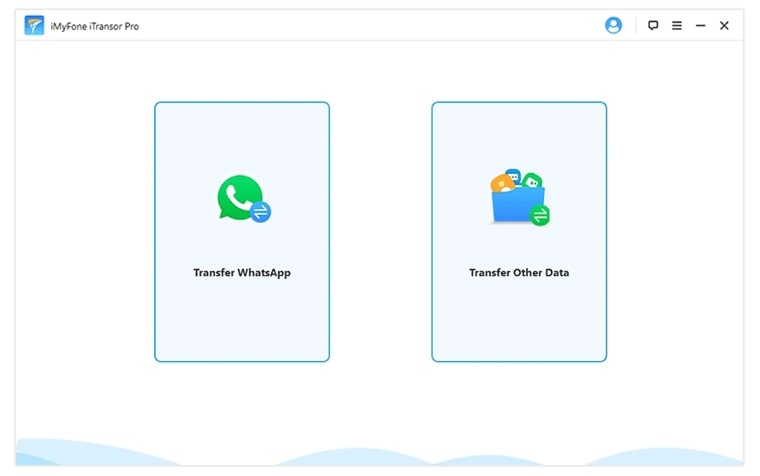 Connect both your devices to the computer with USB cables. Here we would take the function Transfer Other Data as an example.
Check if your source and destination devices are correct. If not, just switch the devices.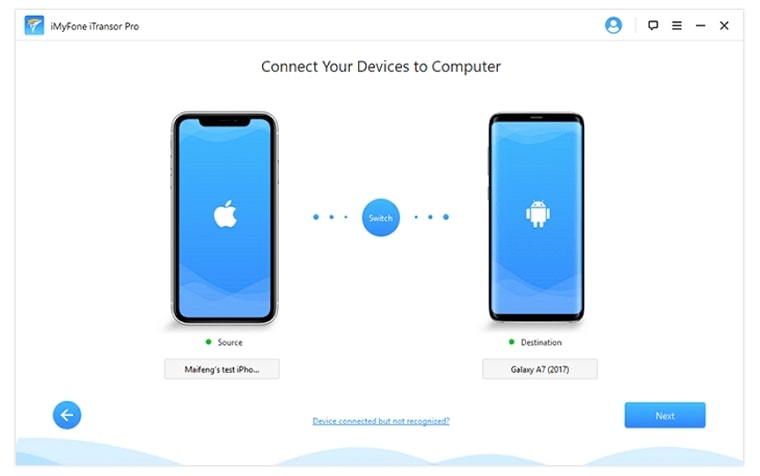 Click Next to start the process, choose the data you'd like to transfer from iPhone to Samsung, and then wait for the transfer completed prompt.
Tips
If you only want your WhatsApp data being transferred to your new Android phone, you can use the Transfer WhatsApp function of iMyFone iTransor Pro. Go to the official website to check the full phone transfer guide.
Conclusion
All the methods listed above are reasonable ways of transferring photos from your iPhone to your Android phone. Feel free to try them all or just choose the one you like. Furthermore, if you require any assistance in the process of photo transfer, you can easily leave a message in the text box below and we'll reply to you as soon as possible.