You can also read this guide in Français.
There are lots of reasons why you might want to merge two iTunes libraries. Maybe you had two accounts in the past for some reason, and you want all of your purchases to be under one account now. Maybe you and your friend want to share music with each other. It could also be that you want to share your files with your spouse. Whatever the reason, this guide offers the best way for you.
Method 1: How to Merge Two iTunes Libraries without Duplicates
iMyFone TunesMate iPhone Transfer is a perfect transfer tool that lets you transfer nearly any kind of file between iPhones, computers, or even iTunes libraries. This means that you can merge two libraries very easily and without running into any of Apple's restrictions. You can do this by simply transferring your iTunes library to your iPhone/iPad/iPod as temporary storage, and then transferring iTunes library from iOS device to another iTunes library. Besides, this tool is trusted by thousands of users (every year) and reported by well-known media around the world, such as Getintopc, Geekreply, etc.
The two iTunes libraries can be signed in with different Apple IDs.
It will detect different contents between these two iTunes libraries and only transfer the missing ones, avoiding duplicates.
You can select what kinds of contents to merge and what kinds not.
Guide to Merge Two iTunes Libraries without Duplicates
First, you need to transfer the first iTunes library to your iOS device (iPad / iPod / iPhone):
Step 1: Make sure that TunesMate is installed on your computer where the first iTunes library locates, then plug in your device.
Step 2: Open TunesMate and choose "Transfer iTunes Media to iDevice."
Step 3: The entire iTunes media library will be selected by default. Click "Transfer," then wait until it is done.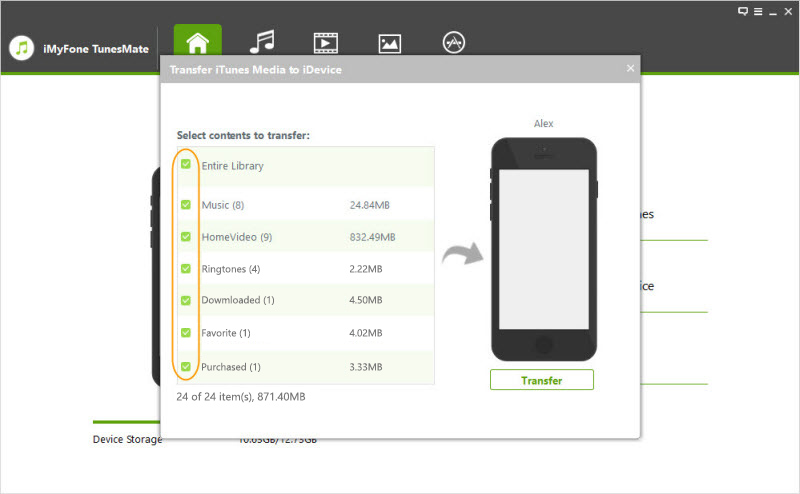 Next, you need to transfer the iTunes library from your iOS device to the other iTunes library. The second library won't be overwritten by the first library.
Step 4: Make sure that TunesMate is installed on the second computer with the second library, then plug your device into it.
Step 5: Launch TunesMate and click where it says, "Transfer iDevice Media to iTunes."
Step 6: Click "Start," and it will begin to scan your device. Click "Start" again to transfer the files, and click "OK" when it is done.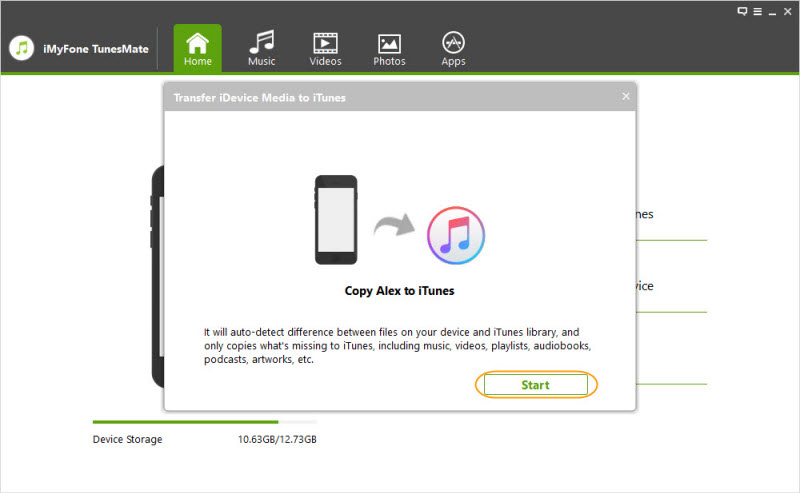 You can find the music, movies, TV shows, playlists, podcasts, audibooks, iTunes U, etc. of the first iTunes library in the second iTunes library.
Note
TunesMate can detect duplicate files in the iPhone Library and iTunes Library. If the same file is in both, it won't transfer the file so that you don't have duplicates.
---
Method 2: How to Merge Two iTunes Libraries Manually
This method is not so recommended, but this is how you can manually merge two iTunes libraries:
Step 1: Go to the computer with the iTunes library that you want to extract and plug in an external hard drive.
Step 2: Move the iTunes Music folder onto the external hard drive. This contains all of your iTunes data.
Mac: Go to "Finder" and then "Go > Home" from the menu bar. Double click on "Music" folder.
Win: Go to "UsersusernameMy MusiciTunes".
Step 3: Plug the external hard drive into your second computer, that contains the library that you want to combine to.
Step 4: Open iTunes and go to Files > Library > Organize Library, and make sure that Consolidate Files is checked.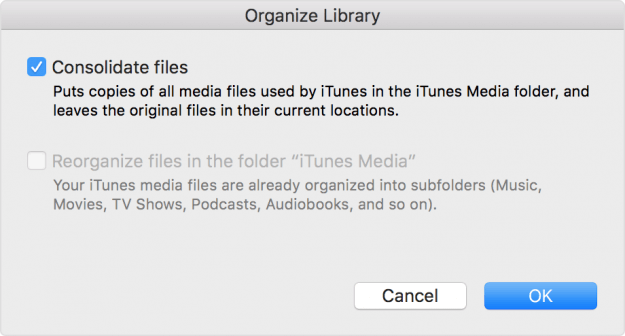 Step 5: Drag the iTunes Music folder on the external hard drive to the "Library" section of iTunes.
Note that there are a few limits here:
You will lose your star ratings and playcounts on your songs being moved to the second library.
You may have duplicates.
You may not be able to transfer data from different Apple ID's.
You can't select which to combine and which not.
---
Conclusion
The best way to merge two iTunes libraries while preserving all of your data and not giving up any of your freedoms is to use iMyFone TunesMate. It's much easier and faster than the manual method.
TunesMate has tons of other features that make it a great tool for not only merging your iTunes library, but also transferring files between devices. With TunesMate, you can:
Transfer all kinds of files, such as music files, video, photos, contacts, playlsits, audiobooks, and more.
Transfer music/video/files library from one iPhone/iTunes to another iPhone/iTunes without duplicates.
Transfer iPhone music to and from any computer that runs Windows or OSX.
Transfer both purchases and non-purchased files easily.
Sync your iPhone/iTunes files without losing data.