Are you confused by all of your options for transferring and syncing your iPhone? Luckily, there are only a few different applications that you really need to know about if you want to move beyond iTunes. Leawo iTransfer is one of them.
What is Leawo iTransfer?
It is software made especially for transferring data to and from your iOS device. It transfers data between your devices, your computer, and even your iTunes library with relative ease. You can share between many different devices and bypass some of Apple's restrictions. Some of its features include: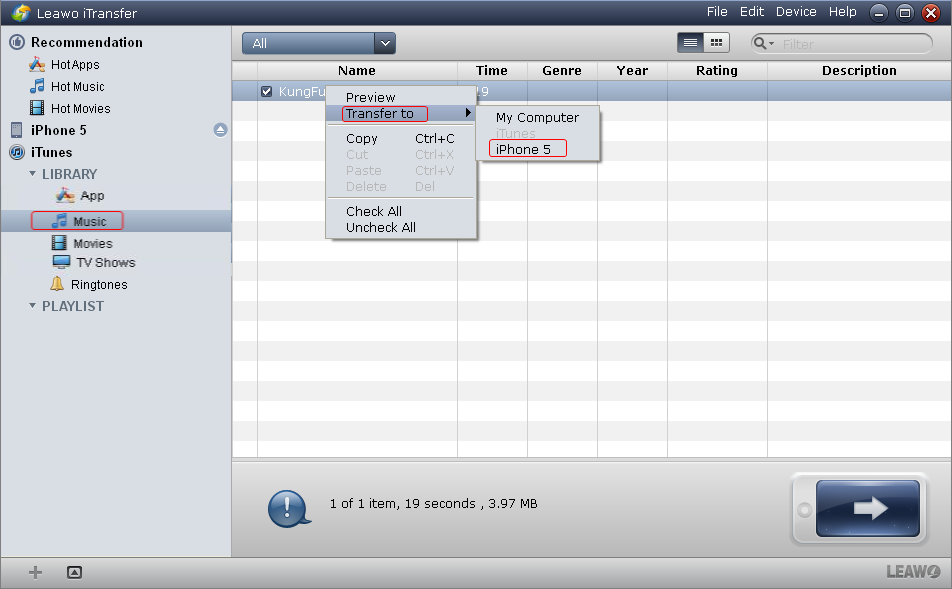 Transfer to and from iPhone, iPad, and iPod devices.
Transfer many different types of files: music, movies, TV shows, ebooks, photos, etc.
Back up your data from iDevices to computer. You can also transfer and back up files from your computer and put it on your devices.
Add and share items from your iTunes library without opening iTunes.
Turn your iOS device into basically a flash drive.
Use an interface that is much easier to navigate than iTunes.
Leawo iTransfer Review
Now the question is, how does Leawo iTransfer measure up compared to other iPhone transfer of its kind? Let's take a quick look at how it performs:
Test & Review
Leawo iTransfer is basically transfer software that lets you move your files from one device to another without Apple's restrictions. You can transfer many different types of files, and they are often automatically converted before they reach your iOS device. Overall, the application is easy to use and runs well. The user interface is simple and anyone can learn how to use it.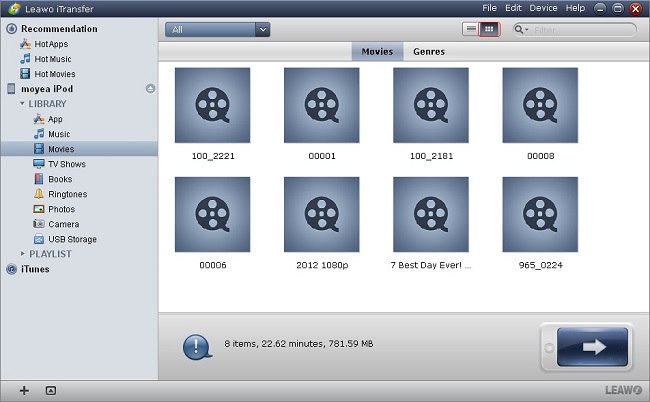 The transfer process was fast, and it was easy enough to select the files that needed to be transferred. It worked well both with PC and Mac, and many different versions of windows were supported. Similarly, it worked with many different versions of iOS.
Pros:
Extremely simple to use. It had just a few buttons in the main window and it was very obvious what each of them did. Even an absolute beginner could use Leawo iTransfer. The interface looked very polished and professional.
You can transfer almost any kind of file.
You can transfer files even if you haven't purchased them. This is great for people who like to collect massive media libraries from free downloads online. You can easily transfer these to and from your device.
Cons:
This is basically expected, it is not free and if you want to go beyond the trial features, you have to pay.
The interface is nice, but it's not quite and simple and elegant.
It's an old iPhone transfer software and has not been updated for a long time.
Lots of its functions cannot support even iOS 9 & 10. Its official website still says it supports the latest iOS 7.
What to Expect When It Comes to iPhone Transfer Software
No matter what transfer software you want to get, there are certain standard features that you should always expect:
Two-way transfer between iPhone and your computer freely.
The ability to manipulate your iTunes library without opening iTunes.
Support for many different types of files: music, movies, TV shows, playlists, photos, podcasts, ringtones, etc.
Support for many versions of iOS, many models of iDevice and even the latest ones.
No risk of data loss during data transfer.
The ability to share music and other media with multiple devices.
The ability to share music across many Apple IDs.
2 Similar Recommended iPhone Transfer Software
1

iMyFone TunesMate
One of the best iPhone transfer applications out there for iOS devices, iMyFone TunesMate allows you to bypass many of Apple's restrictions easily. After you install it on your computer, you will be able to transfer most kinds of files with just a few clicks. Its features include:
Freely transfer files between iPhone and computer without loss of data and quality.
Add files to your iTunes library without opening iTunes.
Share iTunes/iPhone music between many different devices even in different Apple IDs.
Back up iPhone files and restore backups anytime.
Feature in converter which will convert non-supported audio and video files to supported ones when transferring to iPhone/iPad/iPod.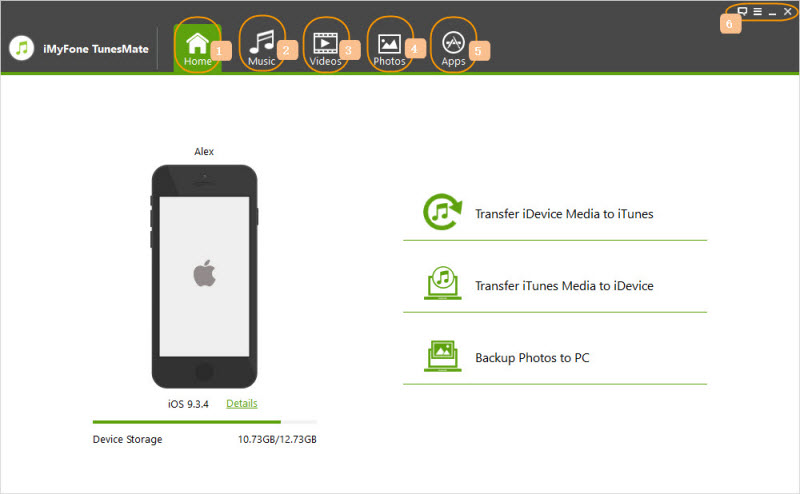 Build up your iTunes library using the music from your friends or from many different computers.
Extremely easy to use, clean-looking interface.
Best of all, it comes with a free trial so you can try it before you buy it.
2

PodTrans
PodTrans is a transfer application that supports all kinds of iOS devices. It can help you transfer many different kinds of files between devices and also between your computer and device. It's quite fast and easy to use; it's one of the simplest iOS transfer software applications out there. Some of its features include:
Transfer between your device and your computer quickly.
Make backups easily with just a few clicks.
Manage your files with a simple interface.
Many 1-click transfer options available.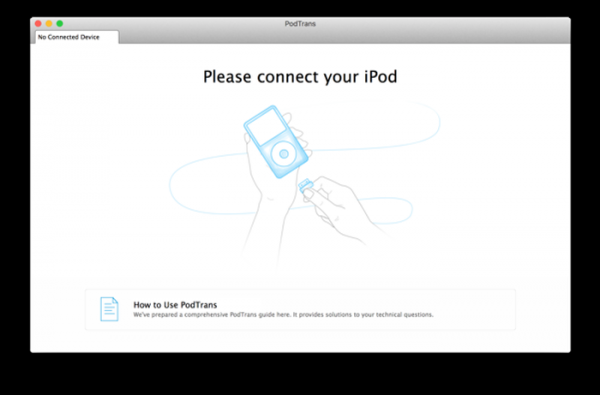 If you're looking for iOS transfer software that can move your music and other files from your computer to your device or vice versa, then any of these options can do the job. However, iMyFone TunesMate is the best, thanks to its easy interface, its quick speed, and its free trial.