If you have an iPhone, you're probably well aware that it can be used to view all kinds of media. You can listen to music, look at photos, and - most importantly - watch videos on this versatile device. The question is, of course, what is the best video player for iPhone? There are tons of iPhone video players to choose from on the market, so let's take a look at some of the best.
Top 10 iPhone Video Player Apps - iOS 11 Supported
1. VLC for Mobile
Price: Free
Rating: 3.5 Stars
Easily one of the best video players for iPhone and ANY toher operating system, from Windows to Linux to iOS, there doesn't seem to be a file format that VLC video player can't play. If you have a diverse collection of video and audio files, this is the one to use. It also comes in tons of different languages.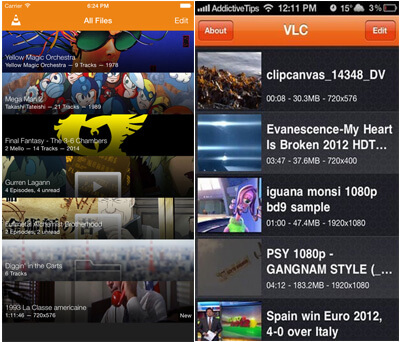 ---
2. GPlayer
Price: $2.99
Rating: 4.5 Stars
This iPhone video player is great because you can transfer files between your PC and your device via WIFI, which makes sharing extremely easy. It also supports tons of different file formats, so you don't have to worry about converting your videos.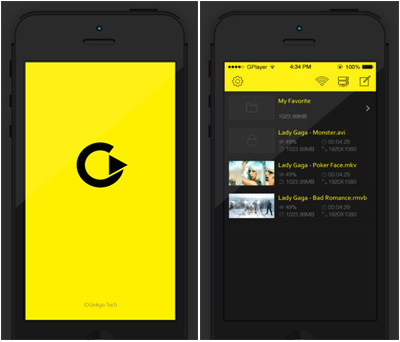 ---
3. It's Playing
Price: $9.99
Rating: 4.0 Stars
The unique thing about this video player app for iPhone is that it lets you mess with the videos settings even while it's playing. You can change the brightness or the speed and other random things about the playback while it plays on your iPhone. If you want to be able to tweak your experience on the fly, this is the one to get.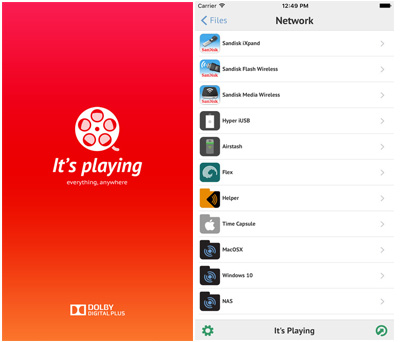 ---
4. 8Player
Price: $5.99
Rating: 3.5 Stars
8Player offers very high quality playback, and it also gives you a very customizable experience. With its ability to play many different types of file formats, this may be the one you want if you're looking to efficiently play high quality video in a myriad of file types.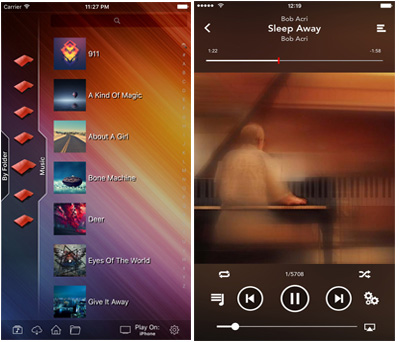 ---
5. OPlayer
Price: $2.99
Rating: 4.0 Stars
Do you need to be able to watch your subtitles? OPlayer has support for that. In addition, it will play all kinds of file formats. It is an overall great video player for iPhone 7 with an easy to use interface that can play streaming video as well. Best of all, it's highly rated and not too expensive.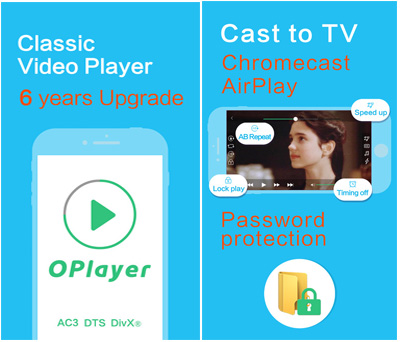 ---
6. GoodPlayer
Price: $2.99
Rating: 2.5 Stars
This is a well-rounded iPhone video player that plays many different types of files and allows you to open the files that you want to play easily, from AVI to MP4 and much more. You can toggle subtitles without much trouble, either, for when you want to see the lyrics to your favorite song or watch a foreign movie.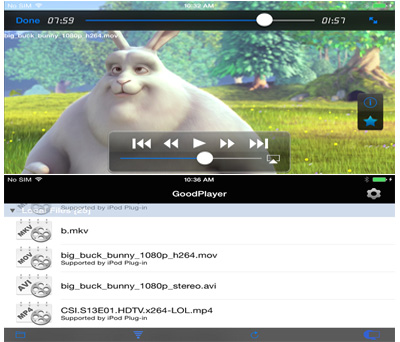 ---
7. PlayerXtreme Media Player
Price: Free; $4.99 for Pro version
Rating: 4.5 Stars
This player has a lot of wonderful features. Not only can you play video files of a diverse range of formats, but you can also stream video through WIFI. It has a password protect feature and you can customize how you want your subtitles to show up on the screen. Overall, a great video player iPhone.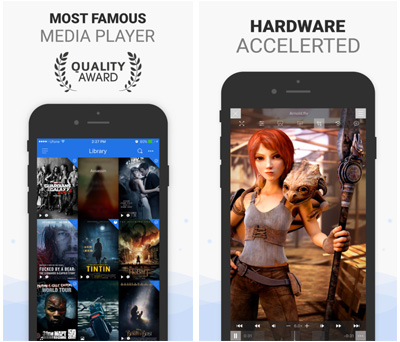 ---
8. Infuse
Price: Free; $6.49 for Pro version
Rating: 4.5 Stars
This iPhone video player has WIFI transfer support, as well as the ability to transfer files via FTP. It can play tons of different file formats, rivaling VLC and Gplayer in its versatility. It also has many video and audio features so that you can see and hear your media in high definition, though some of these features are only unlocked with the pro version. Now, the pro version is a little bit pricey, but it's worth it.
---
9. Kodi
This is the only one so far that isn't available via the iTunes store. You'll have to jailbreak your iPhone to use it. Now, this may seem like a pain, but it can be worth it if you value open source software. Kodi is not only open source, but it is a high-quality video player that supports all kinds of video formats. If you have a jailbroken iPhone, consider giving it a try. It's also available for other operating systems, such as Windows.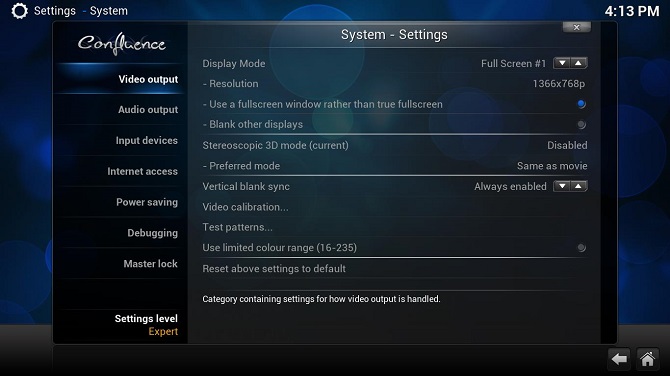 ---
10. KMplayer
Price: Free
Rating: 4.0 Stars
This video player in iPhone is extremely useful and plays all kinds of different formats. You could compare it to VLC in its versatility, though it doesn't support Dolby AC3 and certain older audio codecs. If this is fine with you, though, then it makes a solid player, and you can even find versions of it for Windows and Mac if you find that you like it. Best of all, it's totally free.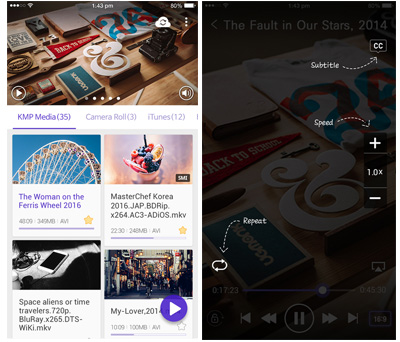 ---
Best iPhone Video/Music Transfer Tool You Should Know - Also Work for iOS 11
iMyFone TunesMate is an one-stop transfer tool that gives you easier way to manage and transfer your iPhone media, like movies, music, videos, photos, etc. Unlike iTunes, it gives you more control on your iPhone data and files.
iPhone Music Transfer for iPhone X/8/7/6S/6 (Plus)
Transfer files including music, videos, playlists, photos, podcasts, audiobooks, TV shows, etc.
Two-way sync to transfer medias between iPhone and iTunes/computer.
Share your music or videos with friends, even in different Apple ID.
Backup iPhone files and restore backups anytime.
Restore iTunes library when iTunes crashed.
Why not download and give it a free trial?