iMyFone UltraRepair
Free download iMyFone UltraRepair to do photo restoration and repair broken images easily.
Most of the pictures taken these days are stored and shared online. Unfortunately, this technology didn't come sooner for the older photos, and some of them tear down or fade away because of the passing of time. Thankfully, technology catches on with this issue quickly. Now, we can do photo restoration to some of those pictures and restore the nostalgia of the old photos. Iet's check out the 4 easy ways to do photo restoration below!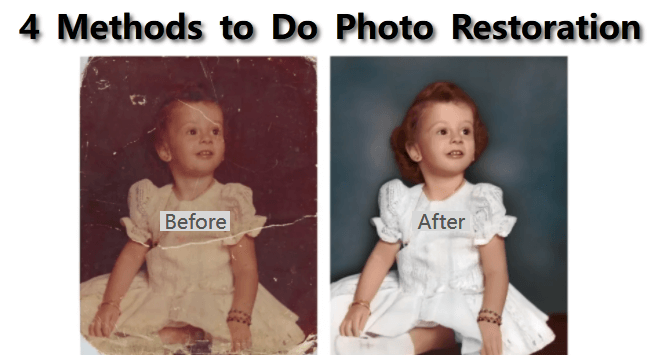 Part 1: Reduce Damages on Old Photos with General Photo Editing Software
---
You can try to reduce the damage on your pictures by editing them in photo editing software. This method works only for low brightness or tiny stain, but it may not work for a large area. This method may not work for everyone depending on how the photo has been damaged, but it still worth a try.
First scan your photo to different size, then choose the best one and save it as a .tiff file to preserve more detail.
Start editing the file in any of your photo editing software. Brightness slider can help you brighten the old photo up, and tiny tints or stain can be removed with color adjuster.
Scratches may also be cleared if you are patient enough with the eraser in your photo editing software.
Finally crop the photos to finish the restoration.
This method is usually free but requires some techniques. If you are looking for easier ways, keep on reading.
Part 2: Restore Damaged Photos Using Photo Repair Tool
---
If you are looking for an advanced photo repairing software that is easy to use, then iMyFone UltraRepair is the one for you. The software has such an easy and simple interface to the point where you can master the software within minutes. Expect repair images, it can also repair blurry videos and word, excel and pdf file easily.
iMyFone UltraRepair
UltraRepair gives you the best solution to repair your damaged, incomplete, or corrupted photos within minutes.
From photo restoration to photo editing, you can do all of them by using iMyFone UltraRepair.
UltraRepair can fix damaged videos, like corrupt mp4 clip, black screen when a video is broken.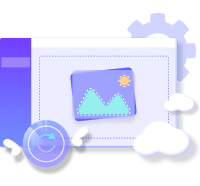 Step 1.Launch UltraRepair and choose Photo Repair function. Add photo which has been damaged.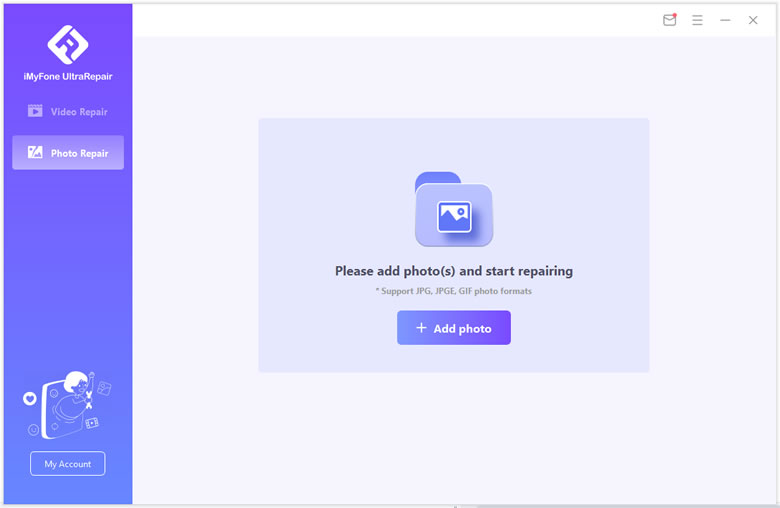 Step 2.Confirm the detail information, and you can remove photos you don't need before you finally start Repair process.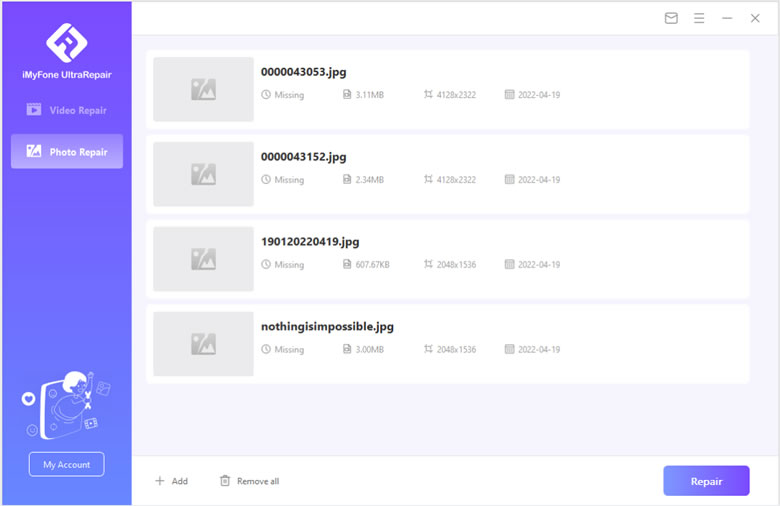 Step 3.Wait for a while and the program will note you if the repair is successfully completed. Finally you can Save the repaired photos to your computer.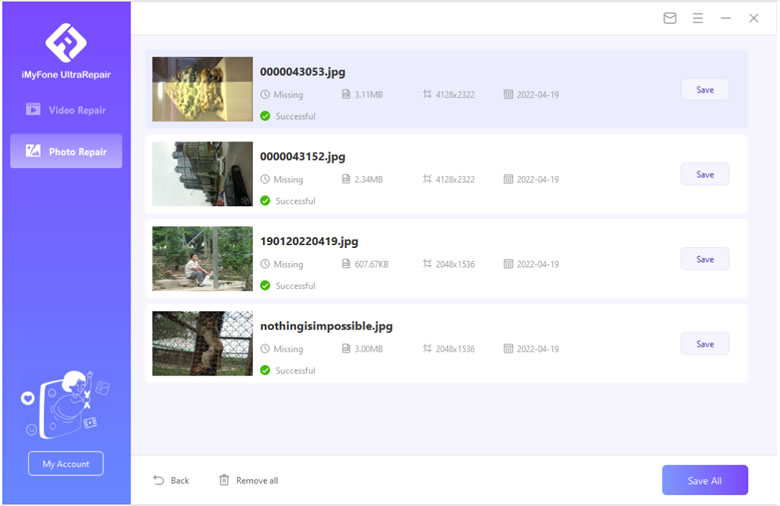 Part 3: Fix Damaged Photo with Photoshop
---
Photoshop's fame is not without reason, as it has features we wouldn't even think about. Photo restoration is only one of their features. Artists can do so much other than restoration such as manual drawing, masking images, adding new layers, and many more. You name what feature you want, Photoshop definitely has it.
Upload your old photo on the software. If it's a real-life photo, you can scan it then import it.
Make a new layer that will be used to adjust the changes and fixes later.
At the toolbar, go to Sample All Layers > Content Aware > Spot Healing Brush.

Use the brush to get rid of creases, blemishes, and restore tears.
To smoothen the picture, hold Alt and highlight the area you want to fix. Before doing this, make sure you have clicked Current layers and below.
If you want to color the black and white picture, make a new layer by clicking Control + Alt + Shift + E.
When you've made the new layer, find Filter > Neural Filters > Colorize. The mode for blending should be in Color.
Once the editing is done, import the newly-restored images in the format you want (such as jpeg, png, tiff, etc).
Part 4: Try an Online Tool to Restore Old Photos
---
If you're not using your own device for the restoration, you can checkout HotPot, an online photo editor tool you can access on any browser. What makes it perfect is the fact that it automatically does the photo restoration for you, so you can do everything without lifting a finger.
Of course, sometimes the end result is not as perfect as the one we expected, and there is no customization option. However, it is great for a quick and easy restoration.
Open HotPot on your browser and upload the file.
If the photo has scratches, turn on the Has Scratch? option.
Click Restore to start the automatic photo restoration process.

Save the end result to your device.
FAQs: More About Photo Restoration
---
1 How can I improve the quality of a photo?
You can improve the quality of a photo in many ways. They are:
Reducing the amount of ISO.
Adding the aperture.
Have the shutter speed at max or use a tripod to reduce blur.
Have proper settings for the white balance.
Check the focus before taking the picture.
---
2 Is it better to scan or photograph old photos?
It is always recommended to scan old photos. The image acquired with a scanner has excellent illumination that is evenly spread throughout, and the contained room ensures that the surroundings have no effect. This results in a high-quality image that is far superior to taking the picture using a camera.
The Bottom Line
Although our old photos cannot catch up to the present, we can bring it back to the present by having photo restoration done on them. There are plenty of methods to restore the old photos, so you can pick the most suitable method for you.
Our recommendation for photo restoration is iMyFone UltraRepair. It is simple yet advanced, complex yet easy to handle. The straightforward manners the software handles photo restoration makes it perfect for everybody, even for beginners. Ready to restore your old photos easily using iMyFone UltraRepair?