Powerful Features of MirrorTo Lite
Cast iOS & Android Screen to PC
Experience seamless device mirroring effortlessly cast your iOS and Android screens onto your PC. Streamline presentations, gaming, and media sharing, all with real-time synchronization and responsive control.
Tips: Elevate your Zoom presentations with real-time phone screen sharing and annotation. Unlock the power of iMyFone MirrorTo's full version.
Control iOS & Android with Mouse
Navigate and control iOS & Android devices with precision using a mouse to elevate your mobile experience. Seamlessly manage apps and content on a larger screen for unparalleled convenience.
Dominate mobile gaming and messaging: Harness iMyFone MirrorTo's full version to command Android screens using both your keyboard and mouse effortlessly.
Mirrored Screen Auto-rotate with Audio
This feature lets you effortlessly view and listen to your shared screen on PC in the landscape or portrait orientation, maximizing your content enjoyment across platforms.
Support Multiple Connection
Seamlessly connect via USB for lightning-fast mirroring, go wireless over Wi-Fi for untethered freedom, or just scan a QR code to cast screen conveniently, enjoying your device on a larger screen.
Effortlessly scan the QR code to mirror your Android screen on PC by unlocking iMyFone MirrorTo's complete version.
Various Use Cases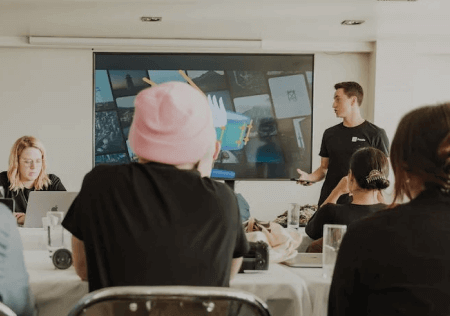 Presentation
Seamlessly display device content in meetings.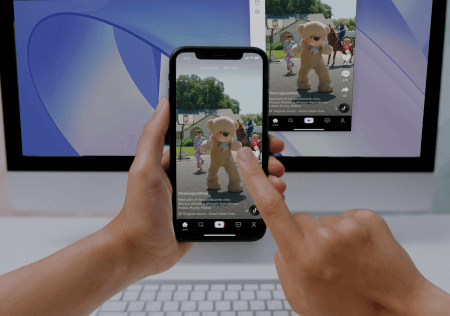 Entertainment
Enjoy movies, videos, and music on a larger PC screen.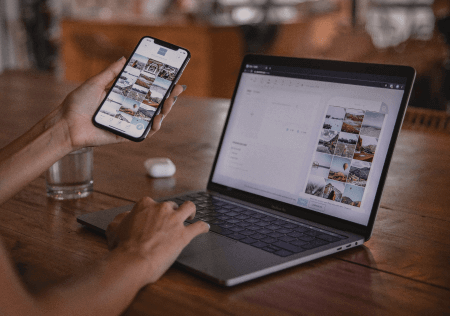 Multitasking
Allow you to manage messages, notifications, and apps without switching devices.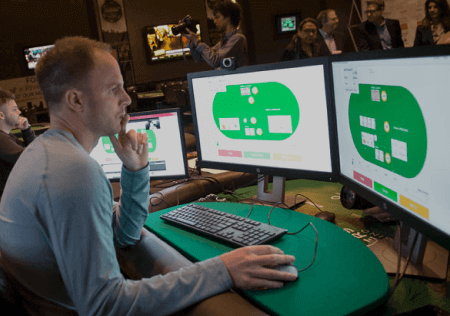 Gaming
Cast games from mobile devices to PC for better controls and visual.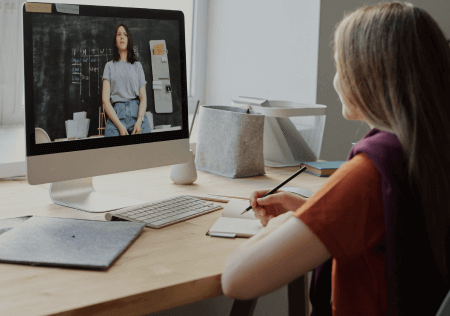 Teaching
Teachers can mirror content from phone/tablet to PC for classroom instruction.
Easy Mirror in 3 Simple Steps
Step 1. Select Your Phone System
Step1:
Select Your Phone System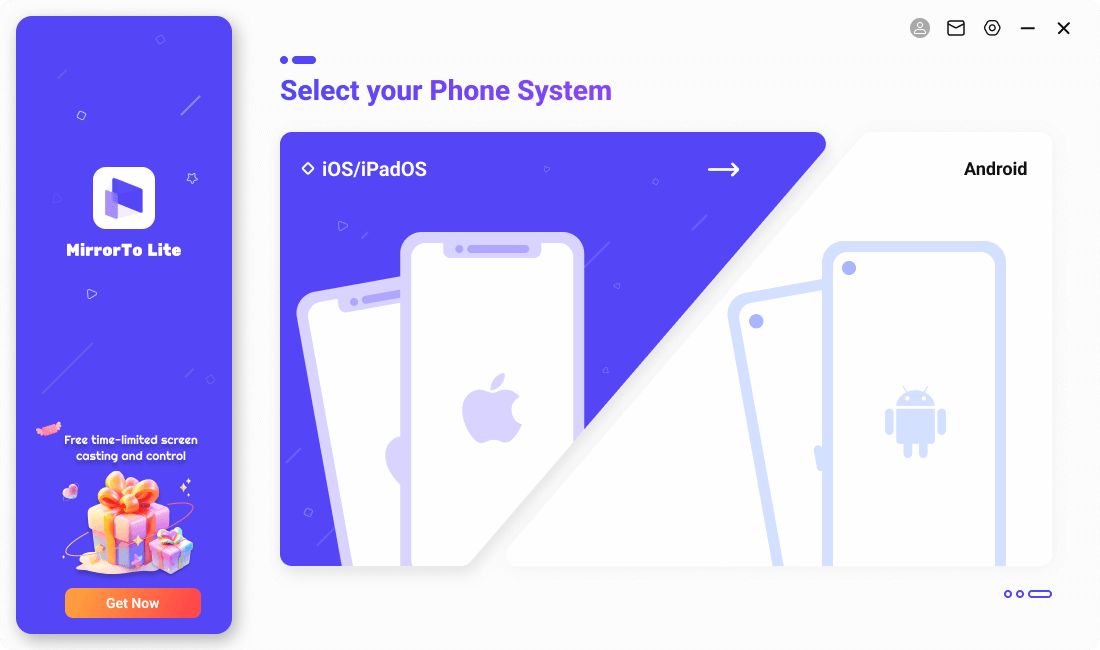 Step 2. Select Connection Method
Step2:
Select Connection Method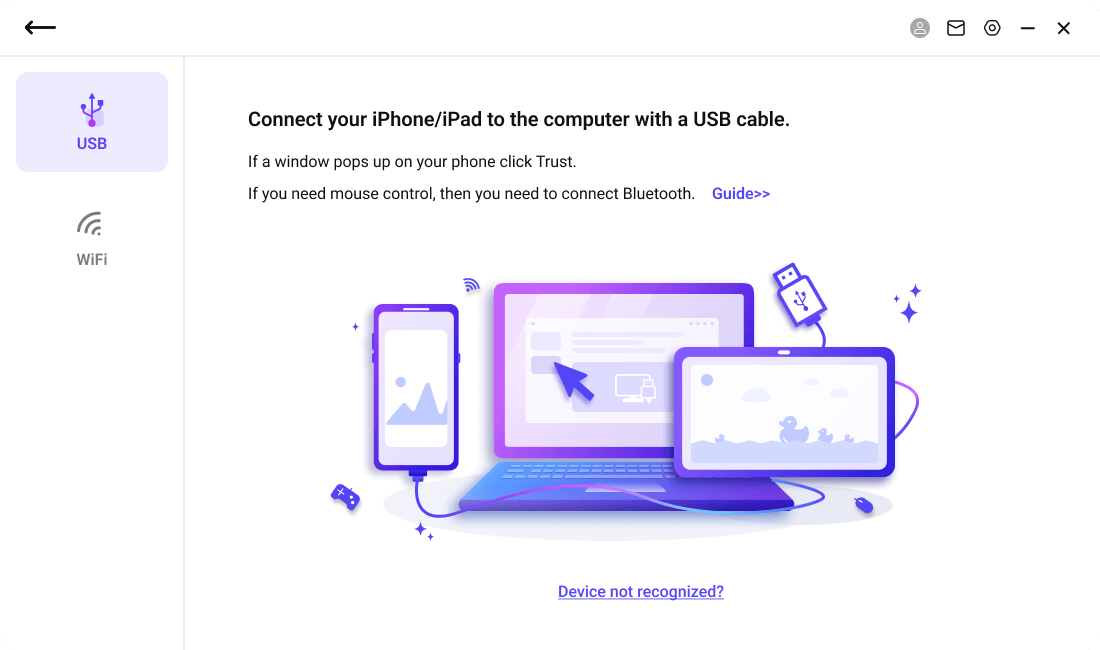 Step 3. Screen Cast Succeed
Step3:
Screen Cast Succeed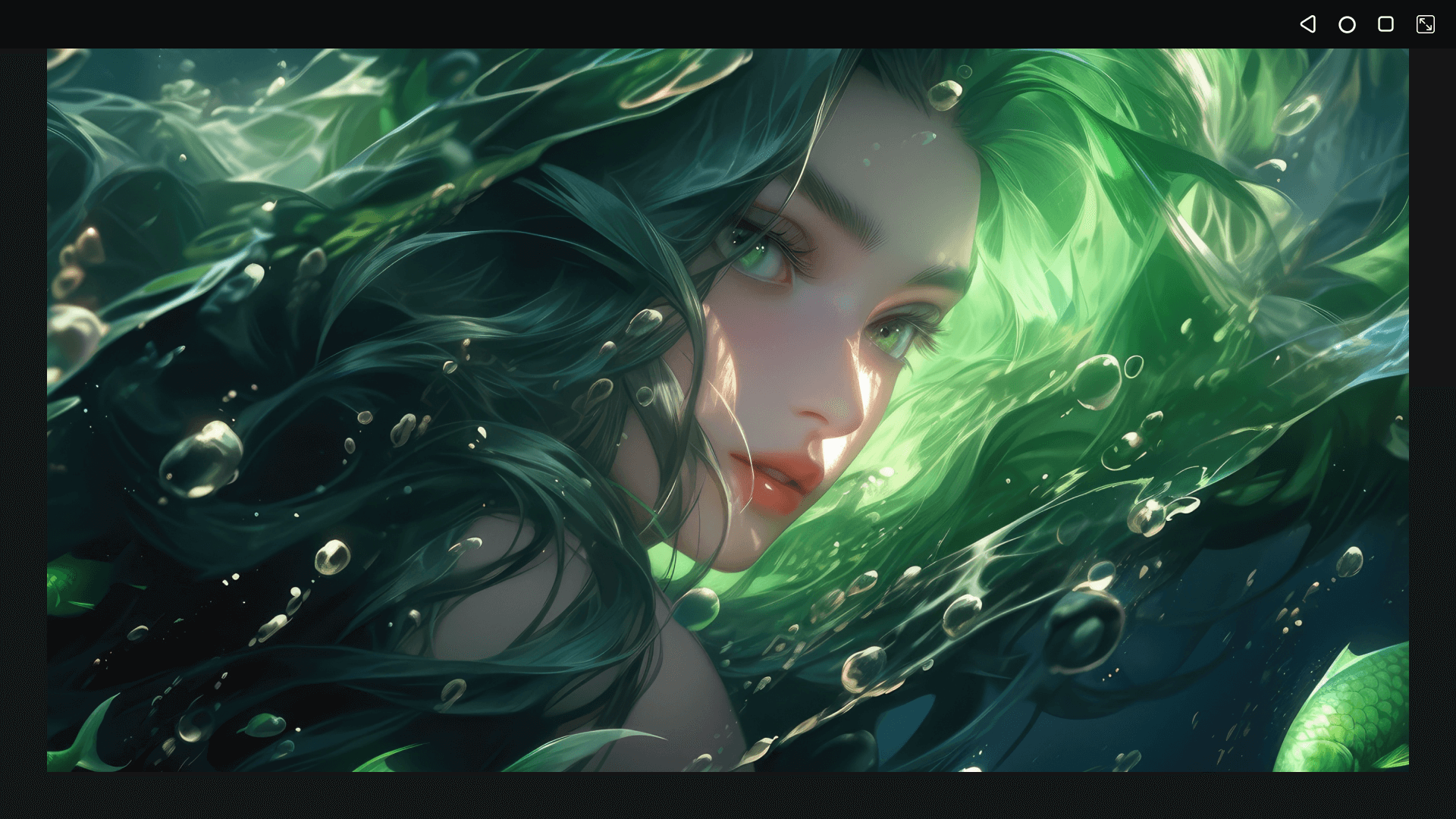 Compatibility of MirrorTo Lite
iOS Versions iOS 11.X - iOS 17.
iOS Devices All models of iPhone, including the newest iPhone 15 series.All models of iPad Air, iPad mini, iPad Pro and iPad
Android Versions Android 6.0 - Android 14.
Android Devices All models of Samsung, Google Pixel, Huawei, LG, Sony, Oppo,Vivo, Xiaomi, OnePlus, Motorola, etc.
Windows Win 11/10/8/8.1/7/Visa/XP
Computer Lenovo, Dell, HP, Microsoft, ASUS, Samsung, Sony, Acer, Razer.
Why Choose MirrorTo Lite
Stable Connection

Fluent Mirroring

Smooth Control

Easy Operation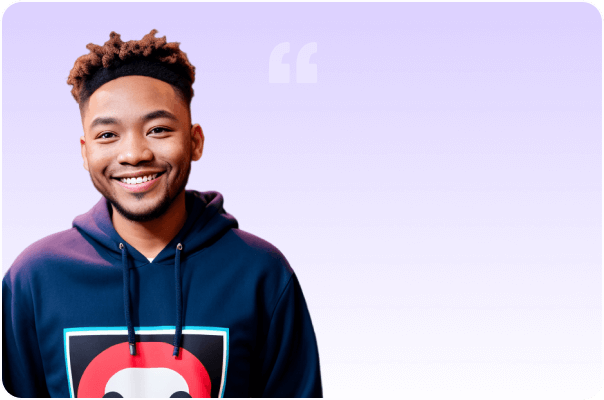 I'm thoroughly impressed with this app's performance. The audio synchronization during screen mirroring is spot-on, making it a true pleasure to watch videos and play games on my TV. It's like having my phone on the big screen without any lag. Kudos to the developers for creating such a seamless experience!
Benjamin Hughes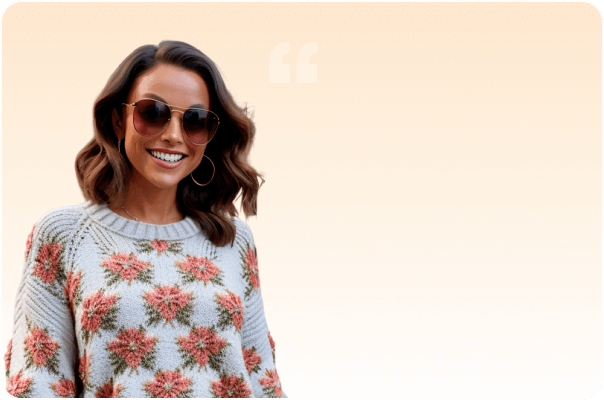 Absolutely fantastic app! I've tried a few screen mirroring apps before, but this one truly stands out. The ease with which I can mirror and control my phone on a larger screen is amazing. It's become an essential tool for both work presentations and movie nights. Highly recommend!
Sarah Mitchell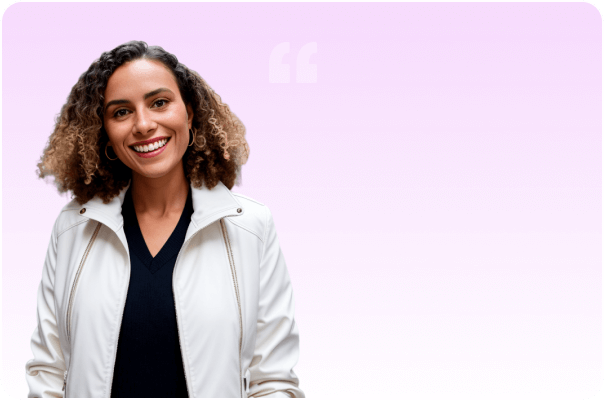 creen mirroring app! What sets this apart is its intuitive interface. Connecting my devices and navigating the controls is a breeze. As someone who's not very tech-savvy, I appreciate the simplicity. It's transformed how I share content with my family during gatherings.
Emily Anderson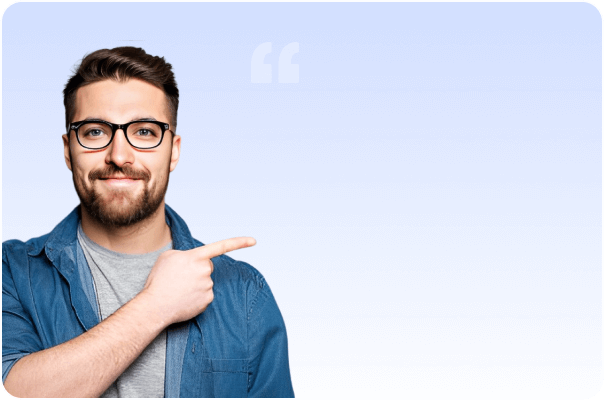 MirrorTo Lite delivers on its promises and then some! Screen mirroring has never been so seamless. The ability to not only see but also interact with my phone's screen on my computer is like magic. I can effortlessly present my ideas during meetings and even troubleshoot my device from a distance. A must-have app that's become indispensable in my daily routine!
Michael Williams
FAQs and Hot Topics
FAQs:
1. What to do if I cannot connect my device to the computer?
Step 1. First use your cable to connect the computer and the mobile phone, try multiple USB ports on the desktop.
Step 2. Change the USB transport from charging only to file transport, and Huawei's should be changed to (MTP).
Step 3. After finishing the above, check whether the computer can recognize your mobile phone. If it can, you can start the next step. If can't, you need to change the data cable or USB ports.
2. What to do if my computer cannot recognize my device?
Step 1. Replace the USB cable or the USB ports of the computer.
Step 2. Check the connection mode of the phone. If it is USB charging mode, please switch to file transfer mode or MTP or PTP mode.
Step 3. Then follow the app guide to turn on USB debugging and continue.
Note: If this still doesn't work, you may need to install the correct driver for your Android phone.
Your phone may prompt you to grant permission to use this computer. If this is the case, please click "OK/Allow".
If you have turned on USB debugging and connected the computer with a USB data cable, but the computer still does not respond, this may be because our software conflicts with other mobile assistants, and you need to manually exit other mobile assistants.
3. How to deal with abnormal disconnection?
Make sure that USB debugging is enabled on your Android device. You can find step-by-step instructions for enabling USB debugging here.
Step 1. If you are using LG and Sony devices, please select "Send Image (PTP) mode" to connect to your phone.
Step 2. Then use the USB data cable to connect the Android device to the computer.
4. How to turn on USB debugging?
Different mobile phones have slightly different opening methods, but they are basically the same. You can refer to the following steps to try:
Step 1. Click the "Settings" icon.
Step 2. Click About Phone > Software information > Build number.
Step 3. Click the "Build number" 7 times to enable the Developer options.
Step 4. Return to the settings and enter "Developer Options".
Step 5. Scroll down and enable "USB Debugging".

*For system version 6.0 or above, please turn on "ADB debugging is allowed in charging mode only" first.
*If there are "USB Installation" and "USB Debugging (Security Settings)" under "USB Debugging", please enable these two items.
Your phone may prompt you to allow permission to use this computer. If this is the case, please click "OK/Allow".
5. What can I do if it shows that APK installation failed?
There are two reasons for this problem:
1. The phone is not turned on to allow installation and operation of unknown sources;
2. Part of the mobile phone installation process requires manual intervention in the installation process. If you do not click install on the phone, the installation cannot be completed (Some Android phones have set permissions and restrictions on the operating system).
Solution:
1. First, you need to enable the installation of unknown sources on your phone.
2. Plug and unplug the phone again, watch the installation prompt that pops up on the phone, and manually install according to the prompt.
MirrorTo Lite
Enjoy the Lightest Screen Mirroring & Control App for iOS & Android Now!
12,000
people have downloaded it
30-Day Money Back Guarantee
Serving Millions of Users