Switching from Android to iPhone or vice versa is an exciting moment because you know you will come across many differences. However, one thing that is not that much exciting is transferring WhatsApp. There are no built-in options to bi-directionally transfer WhatsApp. However, tools like MobileTrans WhatsApp Transfer make a great option for everyone.
So, here we will be discussing how to transfer WhatsApp from Android to iPhone with MobileTrans, its benefits, steps, prices, and everything you need to know.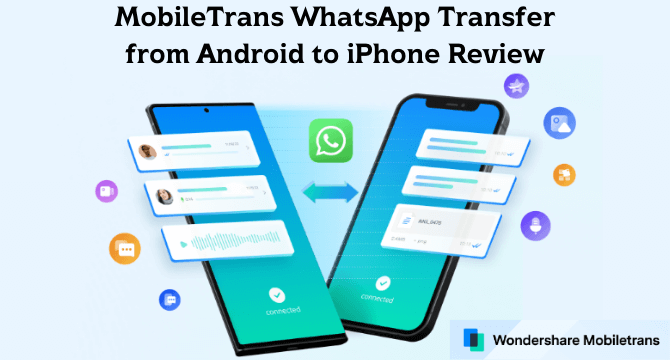 Part 1. MobileTrans WhatsApp Transfer Review
MobileTrans WhatsApp transfer is one of the world-leading tools for transferring WhatsApp data across different devices when you switch your devices. So, in this MobileTrans WhatsApp transfer full version free download review, we will discuss how valuable it is for you.
1.1 What Can MobileTrans WhatsApp Transfer Do?
MobileTrans for WhatsApp is a tool full of features to power your WhatsApp transferring needs. Here is all that it can do for you:
It allows you to transfer your WhatsApp data between more than 6000 devices running across different operating systems of Android and iOS.
Here you get to transfer a lot more than just chats. It allows transferring stickers, media and much more.
MobileTrans for WhatsApp works on the Business version of WhatsApp as well. So, you will never lose any chat.
1.2 Transfer WhatsApp from Android to iPhone using Mobiletrans
Transferring WhatsApp data from your Android to your iPhone can be time-consuming, but MobileTrans can make it easy and simple.
Steps to Transfer WhatsApp using MobileTrans
if you plan to use MobileTrans for transferring all your WhatsApp data from Android to iPhone, here are the steps you will have to follow.
Step 1. Make sure both your iOS and Android devices are connected to the PC, and after that, you have to launch MobileTrans. Select the option of WhatsApp transfer.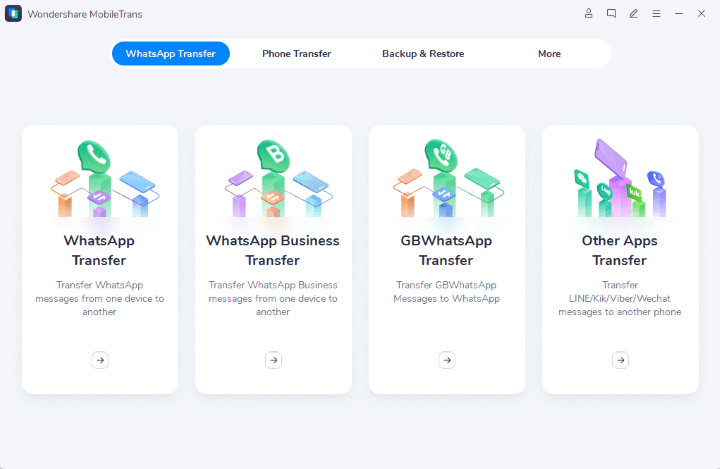 Step 2. Within a few seconds, the software will recognize your devices. After that, you have to confirm that you want to transfer data from your source device and select the option of start.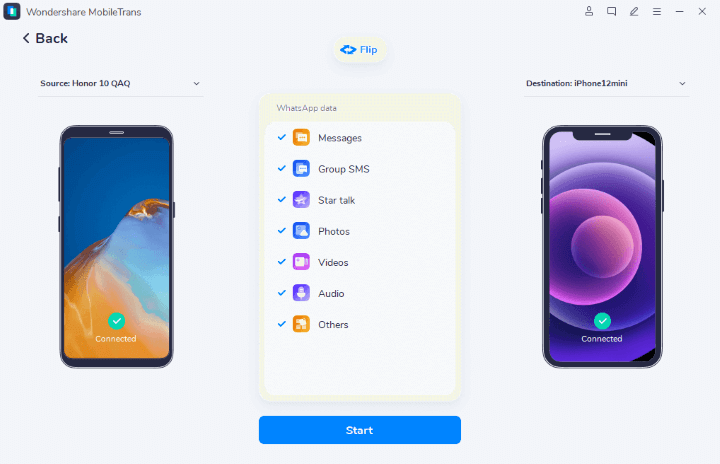 Step 3. 3. Follow the given instructions on the screen, and you have to wait for a few minutes for the process of transferring to complete.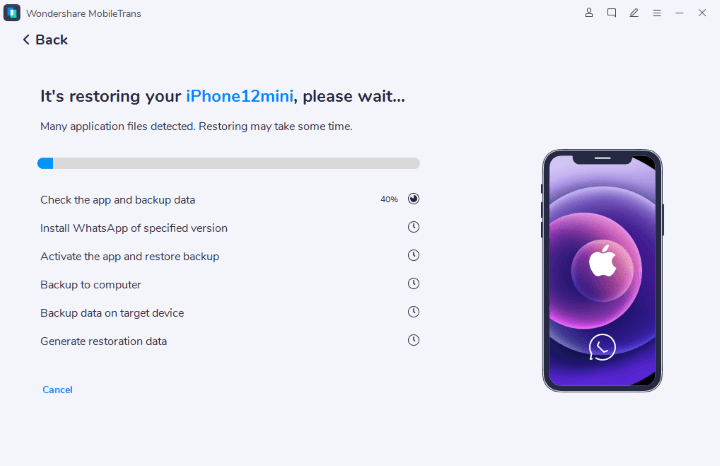 1.3 MobileTrans WhatsApp Transfer Free Download and Price
So, the thing about MobileTrans is that you can download it for free. Interestingly, there are different pricing packages available for Windows and Mac users, which are as follows:
One Year of Windows usage for $ 29.99.
Perpetual Windows usage for $ 39.99.
One Year of Mac usage for $ 49.99.
Perpetual Mac usage for $ 59.99.
So, at first glance, we see a slight difference between the prices for Mac and Windows. The Mac users have to pay around $10 more for the same plan.
Part 2: Alternative to Transfer WhatsApp from Android to iPhone
If you do not get all the features to meet your requirements from MobileTrans, then going for iTransor might be your right choice. It is a tool from iMyFone that takes care of all your WhatsApp transfer requirements. So, it is hard to say that anything is missing here that you still need. Here is all you need to know about it.
2.1 Why Choose iTransor for WhatsApp
There are many reasons to choose iTransor for all your needs, and here we will elaborate on the best ones.
Easy transfer of data: iTransor for WhatsApp makes the data transfer process very easy. It does not matter which devices you are using; the process will be very easy for you.
Backup made quicker: When you use the WhatsApp tool, you quickly back up your WhatsApp data on your computer. This offline data backup is quicker and more convenient than online backups.
Versatile restore options: With the program, you get versatile restore options. It allows you to restore your data across different devices with different operating systems.
Allows you to export data: Here you can export data in many file formats of your choice.
Google Drive backup and restore is one of the best features: The last and the most important reason to choose is that it allows for google drive direct backup and restore. It makes things even more reliable for you. The process is also automated, so there is not much you need to do.
2.2 Transfer WhatsApp from Android/Google Drive to iPhone
As you know, iTransor allows you to transfer data from different devices using google drive and the regular PC method. So, here we will be discussing the steps of both of these methods:
Steps to Transfer WhatsApp with iTransor for WhatsApp
Step 1. The first step of this process is connecting your devices with your computer to transfer your WhatsApp data.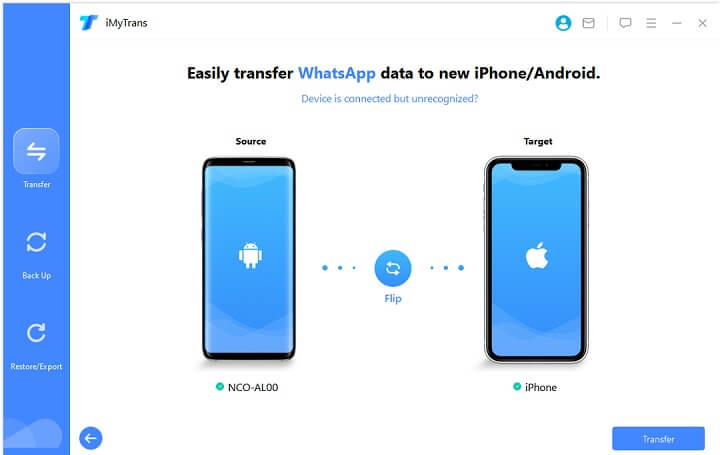 Step 2. When the tool reads your devices, you can select the Transfer option and start the transfer process.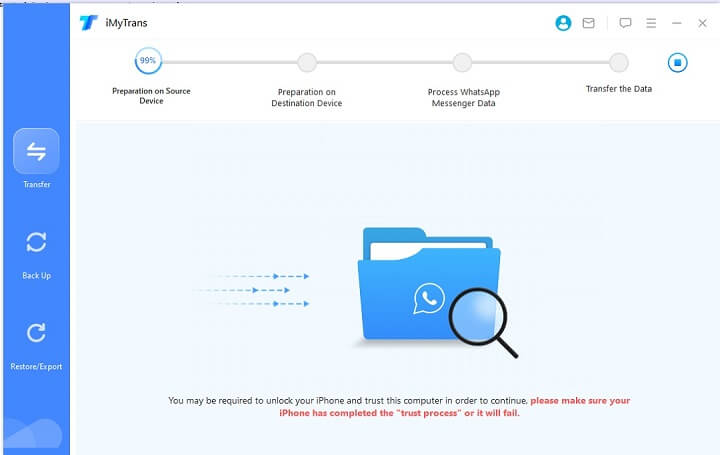 Step 3. Be patient as the process will take some time. After the process is complete, you will simply need to follow through with the ending steps, and you will have your WhatsApp data transfer complete.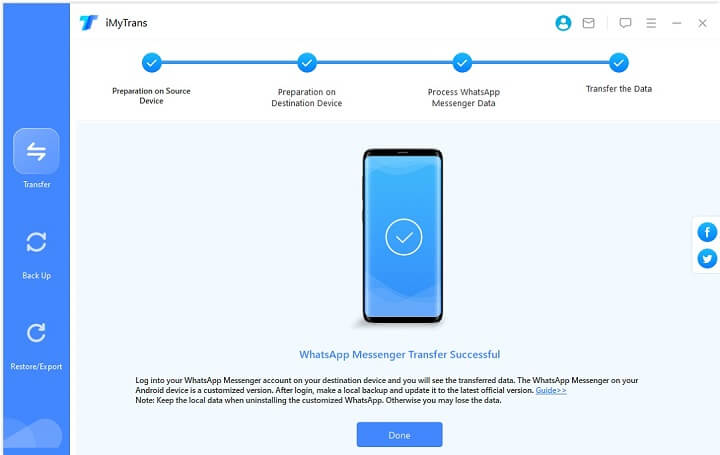 Steps to Restore WhatsApp from Google Drive to iPhone
Step 1. To start this process, you will need to sign into your Google account first.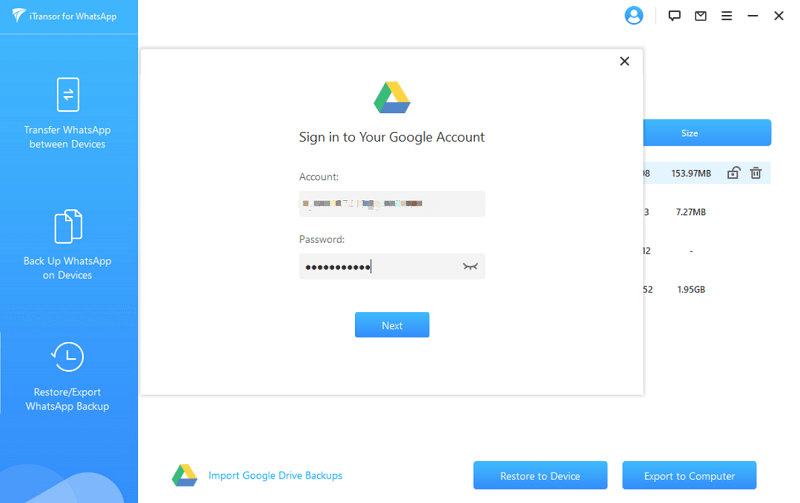 Step 2. Then you will need to download the Google Drive backup on your computer where you have the program working.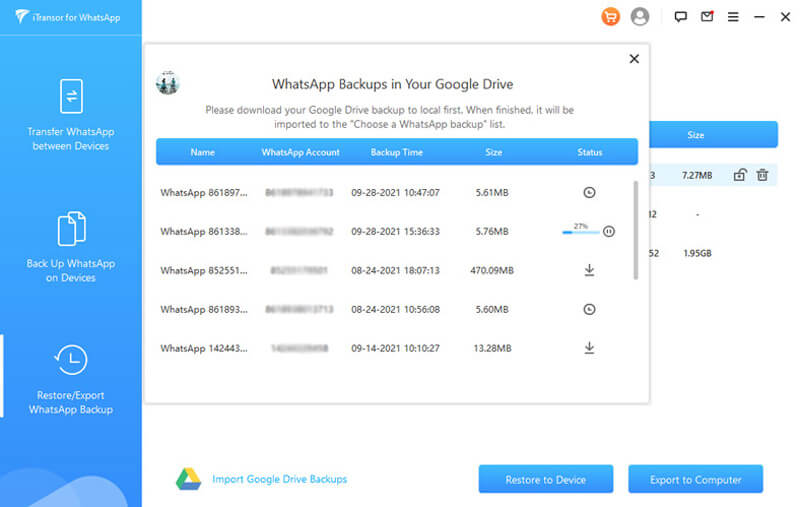 Step 3. Once the download is complete, click on Restore to Device and you will start the transfer process, including many steps like verification.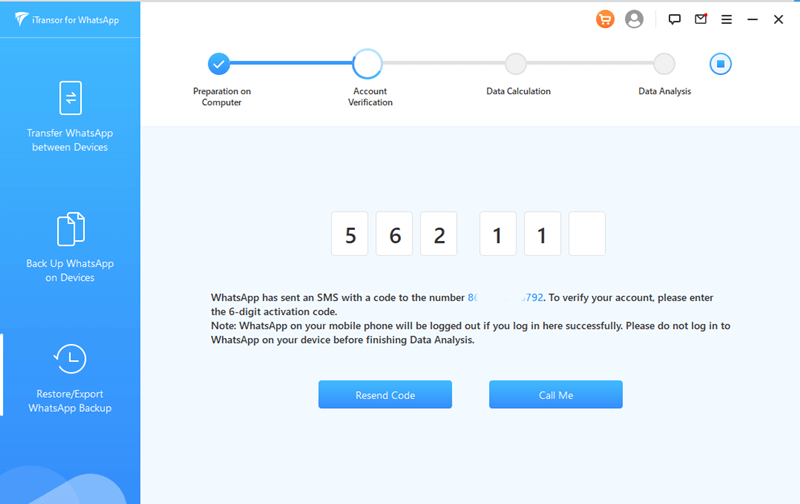 Step 4. After these steps are complete, you can easily restore your backup from Google Drive to iPhone, and you will be done with the process.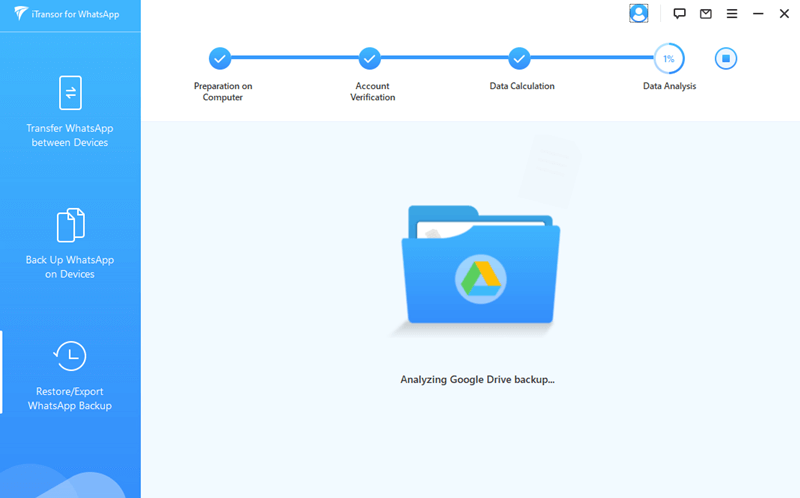 2.3 Prices and Purchase Plan
iTransor brings its features for you with a free trying option. However, if you go for paid services, you have 2 individual options and business. The business plan needs you to contact iTransor to get pricing and features. Otherwise, for the individual plans, here are the prices for 5 mobile devices and one PC:
1 month at $29.95 for 5 devices available.
1 year at $39.95 for 5 devices available.
Lifetime usage for 5 mobile devices for $45.95.
Also you can get a business plan for more or unlimited devices.
Part 3: MobileTrans WhatsApp Transfer vs. iTransor for WhatsApp
To make your final decision, you must be able to tell which of these is a better choice and how. So, here we will discuss a few reasons to go for either of them.
MobileTrans
MobileTrans ensures to bring good quality along with good features. So, here is how it brings value to you:
Available for Mac and Windows
Cheap prices for students
Works across more than 6000 devices
iTransor for WhatsApp
It makes a good choice in many ways, including the following:
It helps you backup WhatsApp chats in different file formats
Here you can selectively export and restore your WhatsApp on different devices regardless of the devices where you created the backup.
One of the best features of iTransor for WhatsApp is that it allows you to backup WhatsApp from google drive data.
Each of these has its benefits, and there are some unique features. So, it is up to you and your requirements about which tool you prefer.
Conclusion
Whenever you want to transfer WhatsApp between iPhone and Android devices, you must look for reliability as your first requirement. The good thing about both of these options we're discussing here is that they bring the best reliability with top-notch features at the best prices. So, if you are looking for WhatsApp transfer tools, these might be your best choice according to the features.