Transfer WhatsApp Stickers from Android to iPhone/New Phone
Category: Transfer WhatsApp
4 mins read
Stickers make the conversation more enchanting, meaningful, and colorful. It conveys the message in a unique and attractive way. If you have switched your phone, you might want to transfer your stickers from the old phone to the new one. In this article, we are going to share detailed information regarding how to transfer WhatsApp stickers to a new phone and how to download and share WhatsApp stickers from Android to iPhone. We will share the step-by-step methods to make the transfer easier for beginners.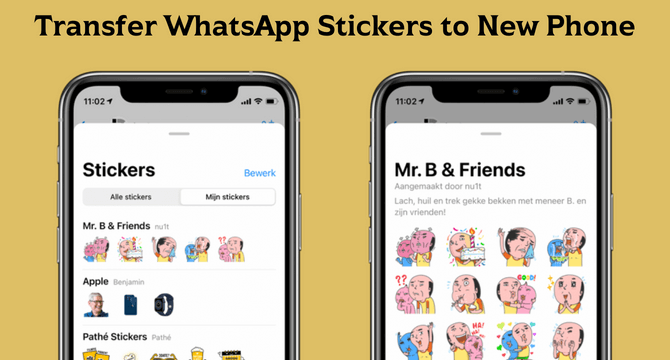 Part 1. One-click to Transfer WhatsApp Stickers from Android to iPhone
If you want to transfer WhatsApp stickers from Android to iPhone, then iMyFone iMyTrans is the best software to consider. With a bundle of features and functions, it helps easily transport (import and export) WhatsApp data between two devices. It's easy to understand, and the simple user interface is very convenient for the users.
The program provides a one-click method to transfer WhatsApp stickers and other data from Android to iPhone. You only need to make sure that a good internet connection is available all the time during the transfer.
Steps to Use:
Step 1. Download, install and open iMyTrans on your computer and choose Transfer WhatsApp between Devices. Attach both mobiles (iPhone and Android) with your computer.
Step 2. Allow permissions from both mobiles and click on the Transfer button. This step will take some time.

Step 3. The software itself performs all functions of analyzing data bases and preparations. Once the transfer is successful, click on the Done button, and your whole WhatsApp account will be transferred from Android to iPhone.
Part 2. How Do You Transfer WhatsApp Stickers to a New Phone [3 Tips]
Here are some of the most common methods of sharing, saving, and transferring stickers from one WhatsApp account to another or between different WhatsApp contacts. You can also use them to transfer WhatsApp stickers from your old phone to the new one.
1

Send to Friends and Save Stickers

Here are the steps that you can follow to send stickers to your friends and save stickers received from them.
Step 1. Create a chat group first. Then you can remove others from the group, or you can inform them that you are going to send all your stickers there.
Step 2. At the bottom of the screen, you will see the icons for stickers and GIFs. Tap on the sticker's icon, and select the one which you want to send. Just single tap on the sticker, and it will be sent to your friend.

Step 3. Back up all your WhatsApp chats. When you change to new phone, find the group chat again, and you can save the stickers there.
Step 4. When you tap on any sticker, a pop-up will appear with three options. Tap on the last option Add to favorites. That particular sticker will be added to your account for your use.
2

Backup and Restore WhatsApp Stickers

Like chats, stickers saved on any account can also be restored through backups. When it comes to backup, you have different options: Google Drive backup, iTunes, iCloud Backups, and local backups. In this section, we are going to show you the steps on how to restore WhatsApp stickers through Google Drive backup and create a new backup.

For creating a Google Drive backup, follow the steps below:
Step 1. Open WhatsApp, and go to the Settings. A list of options will appear; tap on the Chats.
Step 2. Another screen with many new options will appear. Scroll down the screen and tap on the second last option of Chat Backup.
Step 3. Here, you will see a BACK UP. Tap on it, and your data will be restored, including stickers and GIFs.
For restoring Google Drive backup, follow the steps below:
Step 1. You need to uninstall the WhatsApp application. Do that first.
Step 2. Install the application again from the Play Store. Keep in mind that your device should be connected to the same Google Account in which you have the backup, and you should log in to WhatsApp using the same phone number.
Step 3. Enter your mobile number and complete the verification process. After that, you will see the backup option. Tap on the Restore button.
You May Want to Know:
How to Export WhatsApp Stickers
3

Copy Stickers Folders and Paste [Android Only]
Step 1. Go to Files/Internal Storage of your device. Tap on Android > Media > com.whatsapp.
Step 2. Tap on WhatsApp. This will show you all folders of WhatsApp data.
Step 3. Tap on the WhatsApp Stickers, and the folders will appear in front of you from where you can copy and paste it to your desired location.
You May Want to Know:
Export and Use Telegram/WeChat/Snapchat Stickers on WhatsApp
FAQs: More About Transferring and Exporting WhatsApp Stickers
1

Are WhatsApp stickers free, and how can I get them?

Yes, WhatsApp stickers are totally free. The only thing required is a good internet connection. The section on Emoji also contains an option for stickers and GIFs. You can tap on the icon of plus "+" to add new stickers to your account. The stickers you save to your account can be sent to all WhatsApp contacts.
2

Can I export stickers from other messaging apps to WhatsApp?

Yes, it is possible to share stickers from other messaging applications on WhatsApp. Apps like Telegram, Snapchat, and WeChat allow you to transfer or move stickers to WhatsApp. All these applications have built-in options/features to download and transfer stickers to other applications like WhatsApp.
Conclusion
WhatsApp data, as well as the Stickers and GIFs, can be sent and transferred between two devices and accounts. All the possible methods to transfer stickers from one account to the other, one mobile to the other, and one contact to the other have been discussed above in detail. You can use iMyTrans, which is one of the best WhatsApp data transferring software. It makes the transfer of data easier and quicker.
Customer Reviews