Reddit Question
I have that Whisper app and there's a nearby feature. If I want my posts to show up in a different nearby location than where I physically am, how could I fake my location?
Did you know that fake location on Whisper is important? One unfortunate thing you should know when using Whisper is that there are many eyes everywhere. They can be the , internet service providers, website owners, and other entities allowed to track each of your moves online and find your location.
 The entities only need to identify your IP address and access the GPS location of your mobile device. So, if you have been using the app, you might want to hide your location. This guide will teach you how to change location on Whisper effortlessly.
Part 1: What is Whisper?
Whisper is among the oldest and most popular social media apps. But unlike the others, this social media app brands itself as an "anti-social social app" or "Anti-Facebook" social app. People know it as the mobile app that allows them to do anything anonymously and stay truest to themselves.
The application allows people above the age of 17 years to create an account so that they can post and send messages. Unfortunately, the app has a large team of moderators who control the content and they might track your location or the origin of your posts and messages. After registering on the application, you can browse the posts also known as Whispers, comment on them, like them, and chat with other users.  
Part 2: How to Turn Off/Hide My Location on Whisper
Most people see Whisper as a better way of venting their frustration and anger and come clean about the things they deem that their friends, families, coworkers, and SOs see as unacceptable. Therefore, a large percentage of the users rely on it for anonymous whistleblowing.
After installing the app, you can choose to allow or deny access to your location. But if prefer keeping your identity and location anonymous turning it off is the right thing to do. Unfortunately, there is no way of disabling the geo-location from within this app. Therefore, you will have to resort to the Setting app of your phone whether you are an Android or an iOS user. Here is how to switch off the location services.
For iOS
If you have an iPad or iPhone device, here are the steps to follow when turning off the location services.
Step 1: Open the "Settings" app on your iPhone device and proceed to the "Privacy" option.
Step 2: Find the "Location Services" from the screen that pops up and click on it.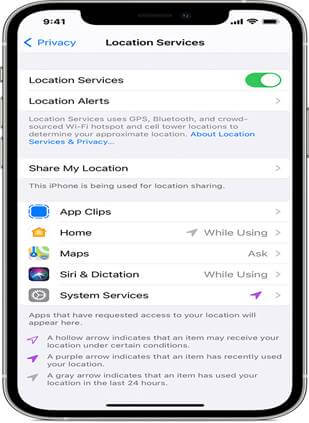 Step 3: Press on the "Share My Location" option and the device will display the current status.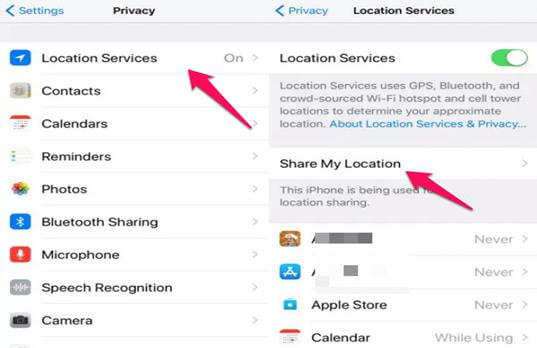 Step 4: Press the "Share" button to find the "My Location" button. Toggle it to turn the status off.
For Android
Here are the steps to follow if you are a user of an Android device.
Step 1: Switch on your Android device and open the Settings app. Look for the "Connections" or "Privacy" tab depending on your device.
Step 2: Tap the "Location" option and toggle to change it to off.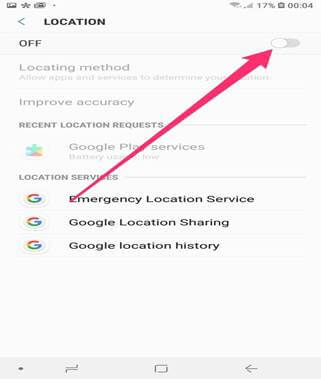 Step 3: You can tap the "Emergency Location Service" and "Google Location Sharing" to switch off the location tracking features. 
Part 3: Why Whisper Still Tracks My Location?
Including after you have turned off the location services on your iOS or Android device, Whisper may continue tracking your location. It will rely on other methods to know your identity and the origin of your whispers.
After you sign up on Whisper, you will have to agree on the Terms of Service to start using it. However, what you did not know is that Whisper requires you to accept that it will collect your usage data after agreeing to the terms. So, most of your Whispers may not be deleted.
In the Terms of Service, you also agree that your chat messages and Whispers may be acquired by other companies if Whisper is merged or sold in part or whole. Also, you agree that the app has the right to disclose your messages, whispers, and any other information to the government and courts.
Whisper claims that it relies on a GeoIP app that uses your IP address to determine your location. That raises many questions, particularly because Whisper is an app based on anonymity and mutual trust between the app and the users. In addition, it poses many practical difficulties for whistleblowers who would need complete anonymity to disclose sensitive information. So, it using a fake location on Whisper might be a better idea.
Part 4: How to Fake Location on Whisper to Stop Tracking Me?
Whisper is a good choice for people who would want to vent out everyday emotional issues. However, if you are planning to share sensitive information, you will have to use Whisper change location services. iMyFone AnyTo is among the most reliable services you should try.
iMyFone AnyTo
iMyFone AnyTo is a program developed to help you change the GPS location on your mobile device to any place in a single click. All you have to do is take your mobile phone and connect it to your computer. After that, search for a new location or select it from the map. You can then use Whisper without worrying about disclosing your location.
Key Features
The program has many features designed to help you change the location of your mobile device easily. Here are the key features.
It allows the users to change their GPS location to any place in the world within a few seconds.
The users can plan routes in virtual locations with the help of a map and simulate virtual movements at customized speeds.
Users can use the tool to work safely with location-based apps like AR games and to access content restricted to some locations.
The app maintains a historical record of the virtual locations so that you can fake your locations easily.
How it Works
iMyFone AnyTo allows users to change their GPS location and simulate GPS movements with the customized route in three modes. The modes are:
Change GPS location
Two-spot Mode (customize routes between 2 spots)
Multi-spot mode (customize routes with 100 spots)
Here is how to use this app to hide your location when using Whisper on your Android or iOS device.
Step 1: Download the iMyFone AnyTo software and install it onto your computer device. Open it.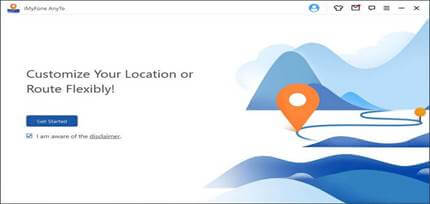 Step 2: Connect your iPhone or Android device to the computer using a USB cable.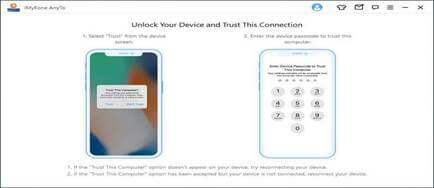 Step 3: A map indicating your current location will appear on your computer screen.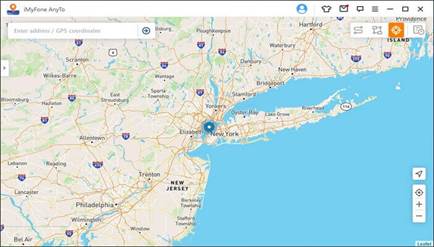 Step 4: Choose the "Teleport mode" to start zooming in on the map and choose your desired location. Alternatively, you can put your desired location in the address bar.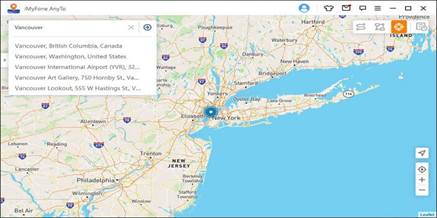 Step 5: iMyFone AnyTo will display the coordinates, the location, and the distance you have chosen. Click "Move" to change your device's GPS location to a new location. The location on your iPhone or Android device will change.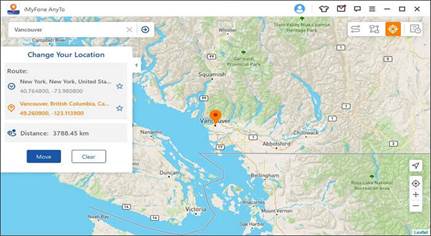 Part 5: 5 FAQs about Faking Location Whisper
Q: Is Whisper Truly Anonymous?
A: No. The app has been inadvertently disclosing sensitive information of the users for years through online public databases. The app claims that it tracks the approximate location of the users and the origin of the posts. So, if anonymity is important to you when using Whisper, you should start using third-party tools, such as iMyFone AnyTo to hide your location.
Q: Is Whisper a Hookup app?
A: Whisper is not a hookup app. However, there are numerous hookups and sex groups established on the platform and anyone, including the minors on the app, can join them. Whisper requires all users to be over 17 years of age. However, it does not have any restrictions in place to verify the age. Users mostly use specific groups to message, comment, and solicit for sex.
Q: Is Whisper Location-Based? 
A: Whisper claims that it does not collect or store any personally identifiable information from the users. It also claims that there is nothing in its geo-location data is tied to individual users and the anonymity of the users is never compromised. However, the app will track your location, including when your location services on your device are turned off completely. It will use other methods to determine the origin of the whispers.
Q: Can Someone Track You on Whisper?
A: Whisper allows the users to communicate without disclosing or providing their identities by sending private messages and posting content. Most of the content on the app is public, so everyone, including law enforcement, can see it. Also, according to the terms of service, the app can disclose your whispers, messages, and any other information to the government and courts.
Q: Did Whisper Shutdown?
A: Despite the board members leaving the company and lack of money, Whisper is not shutting down soon. The owners claim that the app is getting more users every day and there is room for expansion.
Conclusion
The data collection problem has been growing rapidly, something that has forced people to opt for the social media platforms and apps that promise to keep them anonymous and abstain from data collection. Whisper has been the leading app. However, it still tracks your approximate location. So, you have to use one of the above ways to hide your location if you want to stay anonymous.