Pokemon GO gamers who have no trouble exploring Pokestops and gyms in significant metropolitan or rural towns may be out of the question. However, what can be said about provincial regions? Changing Location in Pokemon Go may avoid you from overlooking and obtaining unique Pokemon.
Never be concerned with provincial residence Pokemon lovers. There's a trick that can help you enjoy an experience like how your friends do in a major town.
Below are some methods for you to change location in Pokemon Go Android 2022:
Method 1: Use iMyFone AnyTo to Change Location in Pokemon Go Android 2022
Users may not be familiar with this Pokemon Go Android spoofer or changer before. Still, as a new utility, iMyFone AnyTo is one of the most powerful software for changing Pokémon Go GPS location. It allows you to take control over the whole outcome of your catches. You can spoof location anytime and anywhere in Pokemon Go Android.
iMyFone AnyTo has brought the best experience to change your location instantly without getting detected. AnyTo will deliver exactly what we claim to and you can get the uninterrupted gaming experience from your most favorite game.
How to install and use AnyTo:
To install iMyFone AnyTo on your PC and choose to Get Started. Connect your Android phone with USB to your PC and tap trust on your phone.

It shows where you stand on the map, by default, when your map is loaded. In the upper right corner, select Teleport Mode, the third option.

Now find a spot on the map where you hope you are there.
Pinpoint may be dragged on the map or searched for your desired place in a search box. Then the Pogo spoofer shows the address, coordinates, and distance information.
To find your spot, you may zoom in and out the map.
Click on the button Move now. You may notice that the location is quickly changed to the new one.

Open Pokémon Go, you'll be able to change location in the application successfully. Now you may start to explore the app and its broad range of advantages for the ardent Pokémon Go gamers.
You can go to below iOS tutorial video to change location in Pokemon Go
Method 2: Use TutuApp for Spoofing in Pokemon Go Android 2022
You may change location for Pokemon Go with the help of TutuApp. And use the customized version of Pokémon Go Android, which TutuApp has built. The regular version of Pokemon Go necessitates that you leave home to catch Pokemon while you don't want the Pokemon location changing android 2018 version to catch Pokemon.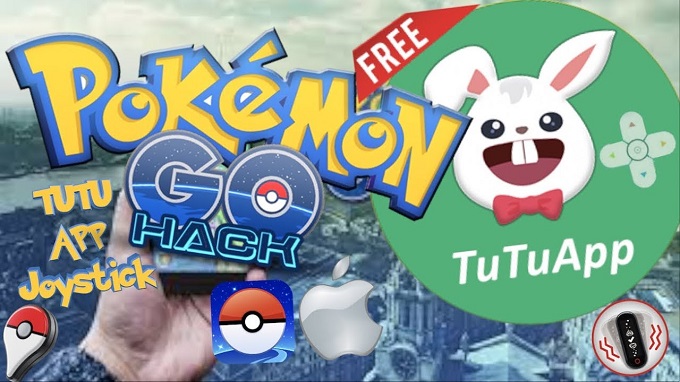 Hence, your games and applications installed from this app store will be updated every day when the TutuApp publishes updates. No jailbreak application needs to be downloaded for Tutu Pokemon Go iOS, nor your Android smartphone has to root up to play this game. TutuApp Pokemon Go Android location changing is a customized joystick-controlled version. You may, therefore, simply navigate around using the joystick.
How to install and use Tutuapp Pokemon:
Download TutuApp to start with and install it on your smartphone.
Start your smartphone with the TutuApp and open the App Drawer.
Search Pokemon Go and click the green Download button next.
Download the Pokemon Go app on your smartphone by following on-screen instructions.
Upon your Android main screen, you'll see the game's icon. This is how TutuApp Pokemon Go location changing for Android can be downloaded and enjoyed.
Method 3: Fly GPS for Location Changing in Pokémon Go Android 2022
Fly GPS app for Android is also available to support you with a joystick for Pokemon Android GPS Location Changing. So perhaps you would like to virtually travel another region of the globe, utilizing GPS coordinates to find uncommon or legendary Pokemon. It's fairly straightforward to install and use. Just follow our 6-step instruction to install Fly GPS fast on your Android phone/tablet and change your location:
When the app is successfully downloaded, scroll the notifications bar down and tap the application file.
A blocked Install pop-up message will be shown. Click on the Settings.
And then tap on the checkbox Unknown sources.
The following screen will show in the pop-up Unknown Sources. Ensure that this box is marked as enabled by Allow this only installation. Finally, tap OK.
Click on the button Install.
In only a few seconds, your Android app will be installed.
Method 4: VPN Helps to Change Location in Pokemon Go Android 2022
You can prevent revealing your IP address with a VPN (connected with GPS spoofing programs in this scenario). VPNs also protect those who surf the web or browse via other applications. Strong encryption ensures that your information is secure against other unauthorized parties.
Modification of your Pokemon GO area depends on whether you use an iPhone or a mobile Android smartphone. You will also need to install a GPS spoofing program after downloading and installing a VPN on your mobile device. Select a VPN for service and signup. We advise NordVPN to be selected.
How to install and use VPN:
On your mobile device, download and install VPN. In the Google Play Store, you may find NordVPN.
Return to Google Play Store and get the application download.
Now, check the settings of your Android smartphone and click the About Phone button.
Tap seven times on Build Number and the mode gets switched on.
Go to Developer Options and go back to settings.
Click the Mock Locations App option or Allow Mock Locations.

Here, get Mock Mock Locations from the Xposed Module Repository. This can prevent applications like Pokemon GO from discovering.
Turn on your mobile device's VPN now and select a server where you want Pokemon to be found.
Ensure that your IP address matches your GPS and that you have activated the spoofing app and pick a place in that location.
You're good to go, that's all. Turn on Pokemon GO to start looking for Gengar, Snorlax, and Pikachu for your favorite Pokemon.
Comparison of Four Methods to Change Location in Pokemon Go Android 2022
Each of these methods provides its benefits and its downsides. Depending upon which one works for you, you have a variety of choices to go with.
| iMyFone AnyTo | TutuApp | Fly GPS | VPN |
| --- | --- | --- | --- |
| Android Support | Android Support | Android Support | Android Support |
| Choose any virtual location | Choose any virtual location | May provide limited locations | May provide limited locations |
| Works with in-game account | Provides their own game application | Works in game | Works in game |
| Simple | Normal | Normal | Complex |
FAQs for Changing Location in Pokemon Go Android
1

Can you still change location in Pokemon Go 2022?
Yes. Install a VPN application to achieve this, though. You must also enter Developer Mode if you have an Android phone or if you have an iPhone. It would help if you jailbroke to allow it.
2

How do you get a joystick in Pokemon Go Android?
As said previously, download & install programs. Open settings > About Phone> Open settings To open the developer mode on your smartphone, tap the build number 7 times.
Access location configuration and configure the high precision GPS option to enable Change GPS to work effectively.
Start routes now and activate the GPS device. Just drag the cursor to the correct place to pick or spawn every area.
Go to Settings for GPS apps and activate Non-Root Mode. Then, activate the Joystick option.
Drag the red dot to any chosen place and press Play to activate it. Confirm your notification panel, and you will notice a notification to ensure everything is functional. Open Google Maps to check whether you want your place to be.
Now you'll be in a unreal location while available Pokémon Go. Please switch to the Pokémon Go app and move your pointing to the Pokémon Go app wherever you want it. You will see the location of your character.
3

Can you get banned for changing location in Pokemon Go?
It may help you to play from wherever location you want and allow you to acquire more Pokemon balls and the best Pokemon. But if you change the location exceptionally often, it might result in a soft ban; then, it may get you a permanent ban after a while.
4

How hard is it to spoof an IP address?
Depending upon your expertise with a computer device, and if you follow proper steps. IP spoofing is that hard if you follow all these steps.
In Closing
Since the first release of the game, Pokémon Go Spoofing has been expected. Most spoofer has not been able to remedy the problem. For the same reason, reports purportedly spoofed on a long-term basis are prohibited. The only one you face is the same thing as was referred earlier, i.e., getting ban when it comes to Pokemon Spoofing. However, iMyFone AnyTo, also compatible with iOS 15, maintains some guidelines to ensure fair prohibition and better playing environments.