Clearing the cache empties the memory and the next time a user opens YouTube, data starts to get loaded from the scratch. At times, it so happens that the YouTube page is partially loaded or suddenly a junk image appears on the page. This happens when the cache is filled with temporary files or cookies, and the memory gets confused about when to load what.
This may not be a cache problem but clearing YouTube cache on the iPhone may solve the issue. Next time when your YouTube is loaded, download a fresh set of files from the internet, and get all the technical glitches avoided.
Part 1. Most Recommended - Completely Clear All YouTube Caches on iPhone
Clearing YouTube's browsing history altogether by quitting the app will make the application reload itself again, and all your saved data may get deleted. Your favourite video may take more time to buffer, and your search history will have to be created again.
To avoid this, it is better to clear cookies and cache with the help of memory cleaning applications available on Mac and Windows. One such is the iMyFone Umate Pro. And the free trial version of the software has the function to clear all iPhone App caches. Yeah, you do it for totally free and all you have to do is download it and have a try! After all, iMyFone is highly spoken of by hundreds of users and well-known media, like MacWorld, iPhoneinCanada, APPKED, etc.
Key Features of iMyFone Umate Pro:
100% Unrecoverable: Clear YouTube caches and make it unrecoverable with a high success rate.
Erase Deleted Files: Deleted YouTube files that are recoverable will be scanned and completely destroyed.
Wipe Private Traces: Incomplete fragments left by not only the YouTube, but also Snapchat, Facebook, and 10+ 3rd-party apps will be full erased for privacy protection.
Various Data Types: Support messages, photos, videos, docs, etc. of other apps like, WhatsApp, WeChat, Kik, LINE and any other iPhone private data.
Video tutorial to clear YouTube caches on iPhone.
Text guide to clear YouTube caches on iPhone.
Step 1: Open iMyFone Umate Pro, connect your iPhone to your PC.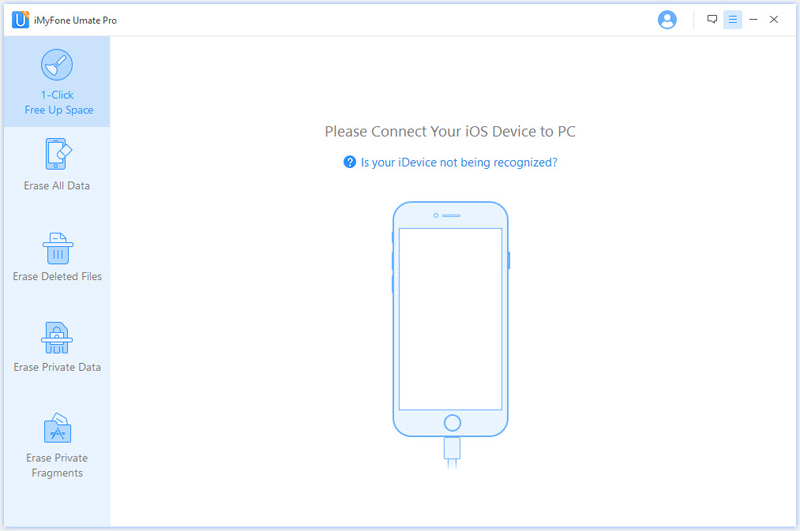 Step 2: Select "1-Click Free Up Space" mode, let the software scan the device for junk files and cookies.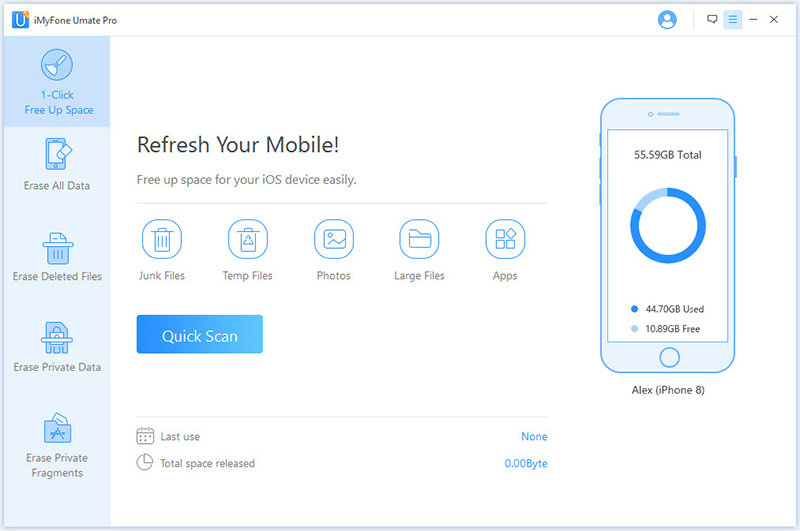 Step 3: Click on "Clean" to clear up all junk files and temporary data from your device.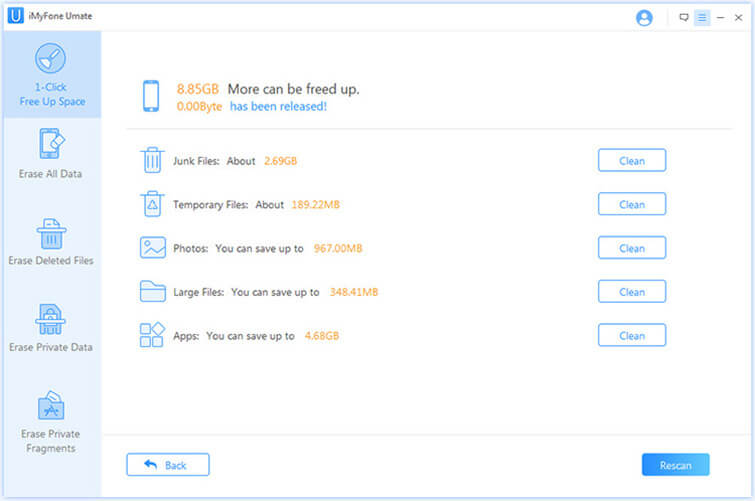 This removes the problem of uninstalling and reinstalling Youtube to remove its cache. The cache files of all your Apps installed will be removed without deleting other useful App data.
Part 2. Quick Way to Clear YouTube Cache on iPhone
There is no option for clearing browsing history available with the app. However, you can do it by clearing the app from your iPhone's running status data by following the simple steps.
Step 1: Double tap on the home screen button.
Step 2: Swipe the application up to quit the YouTube app.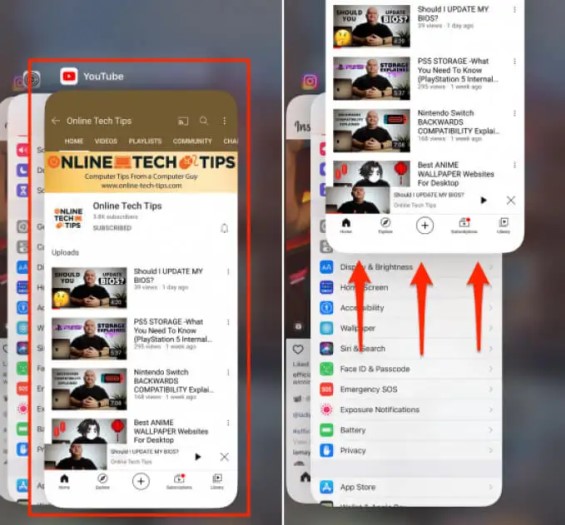 This will clear YouTube's browsing history and reopen it next time will refresh the application.
Note
However, all YouTube's content in the cache may not get deleted and cookies stored due to sharing videos on applications like Twitter may remain. In this case, you may have to uninstall and reinstall the twitter app which will delete all of twitter's cache.
Part 3. Permanently Erase iPhone Videos for Privacy Protection
Even after deleting temporary internet files and cookies from your device, you may find that your iPhone is still running slow and crashing unnecessarily. This happens because of videos stored on your phone eat up a lot of space. And simply deleting them does not remove them completely, though invisible, they still exist on your iPhone before having been overwriting. If others recover these "previously deleted personal videos", then it will lead to privacy leak.
With iMyFone Umate Pro, you can permanently erase current and previously deleted private videos. You will also have the option to preview and select the videos before removing manually. The erased videos cannot be recovered by any recovery software.
Step 1. Launch iMyFone Umate Pro, then click "Erase Private Data".
Step 2. After that, click on "Photo & Videos". You can select all the photos and videos, and you can also select individual photos or several photos as well as videos.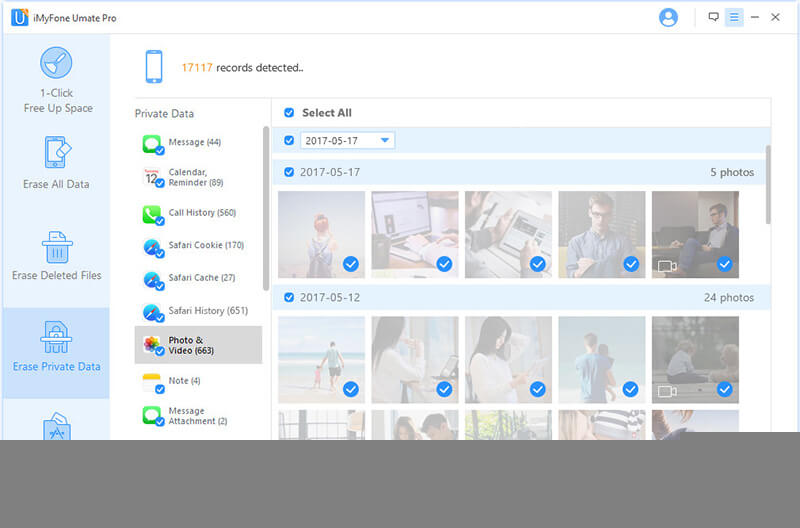 Note
If you want to clear up or delete music on your iPhone, please try this iPhone music transfer, which can freely transfer iPhone music between iPhone and iTunes/PC, as well as delete and export iPhone music.
Part 4. Clear Your YouTube Search History on iPhone
In fact, not only the caches, there are many search histories in your YouTube app. It's necessary to clear them regularly to protect your privacy. The steps to clear your YouTube search history on iPhone is very easy, follow the steps below:
Step 1: Open your YouTube app, click "Setting" icon, then you will see these five options: YouTube, Privacy, Offline, Upload, and About.
Step 2: Go to "Privavy" option, you will see these four funcitons: Clear watch history, Clear search history, Pause watch/search history and Blocked contacts.
Step 3: Tap "Clear search history", all of the keywords used to search videos will be removed.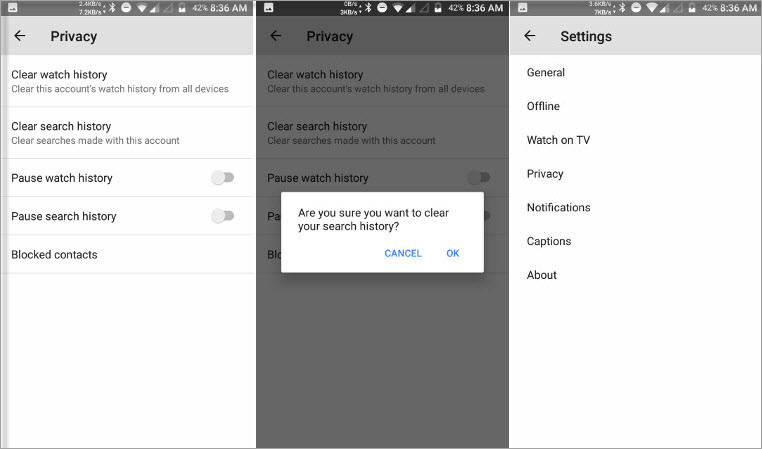 Conclusion
iMyFone Umate Pro is the best tool to clear caches and delete files. After successfully clearing YouTube caches, then you can free up your space on iPhone. Just a few clicks, this tool doesn't require any technical knowledge. So, what are you waiting for? Just download if for free and purchase it to have a try!