Most often we wish to clear out space to make room in our very limited storage on iPad. iPad along with all Apple devices have a limitation to the amount of memory we have available. This has restricted users to empty space through various methods. There are times when we receive an iPad from an already used source. A stranger's message recipient along with various conversations is no use to us. All these queries make us wonder how to delete all messages on iPad. Once we do decide to delete the messages we are soon discover how annoyingly tedious it is to delete one message at a time.
How to Permanently Delete All Messages on iPad Once
Deleting all messages in one-go seems like a blessing in disguise. For anyone who has ever gone through the trouble to delete all messages on iPad one by one knows how time consuming it is. Luckily you can opt for a third party software to help assist you in this endeavor.
iMyFone Umate Pro/iMyFone Umate Pro for Mac and its data eraser feature is a key solution to all your deleting needs. Not only can you wipe out all messages on iPad once, but also delete specific data using this helpful application. Unlike iPad itself, you don't need to delete all messages one by one. "Select All" option is provided by iMyFone Uamte Pro. Unlike on iPad deleted messages can be retrieved with recovery tool, like iMyFone D-Back, messages erased by iMyFone Umate Pro cannot be recovered since the original messages are completely overwritten. It is easier and safer than deletion on iPad.
Note
Data supported to be erased via "Erase Private Data" includes messages, call history, Safari cookies, Safari cache, Safari history, photos, note, message attachment, note attachment, WhatsApp messages, photos, videos and attachment, WeChat chats, photos, videos and attachments and any other invisible private fragments which cannot be displayed, like SnapChat data.
Once you are done deleting all messages on iPad, do delve into this latest iMyFone Umate Pro feature. As describe above, simply deleting messages can be recovered. It must be surprisingly for some of you to hear about this, but it is true! How do we prevent that. That's "Erase Deleted Files" on iMyFone Uamte Pro can help. It will help you to find out all previously deleted messages which are under risks of being retrieved and then completely destroy them from the ground floor.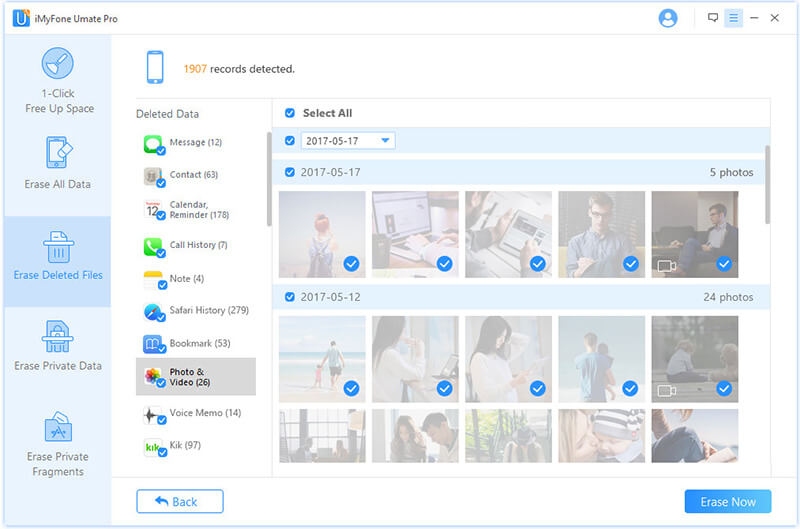 Note
Data supported to be erased via "Erase Deleted Files" includes messages, contact, calerder & reminder, call history, note, Safari history, bookmark, photo, voice memo, WhatsApp chats, photos, videos and attachment, Wechat chats, photos, videos and attachment, and other fragments which cannot be displayed here, like previously deleted SnapChat data.
Apart from these 2 erase modes, iMyFone Uamte Pro still has other 2 features shown as below.
Erase All Data: It is an all-in-one solution to permanently erase all data and files from your iPhone or iPad. All types of iOS files are supported here. It is necessary especially when you want to give your device away or send it to repair.
1-Click Free Up Space: Unlike erase features, 1-click cleanup aims to help you free up much space on your iPhone or iPad. It makes the annoying step-by-step cleaning on iPad as easy as 1, 2, 3. All the cleaning needs just 1 click.
It can clear up as many as 30+ types of junk files once, like app cache, photo cache, user storage files, corrupted files, crash log, etc.
It can thorough clean as much as temporary files to free up much free space.
You can transfer photos and videos to computer and then delete them from iPhone or iPad.
Photos can be losslessly compressed, not damaging visible quality but saving 75%+ photo space.
Large files, like videos, movies, audio book, can be managed according to different file sizes or different file types.
A bulk of unwanted apps can be uninstalled once.
---
Tips to Check Whether the Messages Are Deleted Permanently
Whence you have completed this process, you will notice the difference between deleting your iPad messages from the iMessage app and using iMyFone Umate Pro in accomplishing it.
You can check to see if these messages are deleted permanently. You can ascertain this by following these simple steps:
Step 1: Launch your iPad settings app and click on General.
Step 2: Click on Storage & iCloud Usage
Step 3: Click on Manage Storage
Step 4: Scroll down to the iMessage app to see how much storage it is occupying.