When failing to factory reset your iPhone, you can give DFU mode a shot. Here in this post we share with you top 4 free DFU tools for you to put iPhone in DFU mode. Also you will find a DFU alternative here for completely resetting your iPhone.
Part 1: What is DFU Mode?
The acronym "DFU" stands for "Device Firmware Upgrade". It's the deepest type of iPhone restore but remains an essential smartphone restore mode that allows all devices to be restored from any state.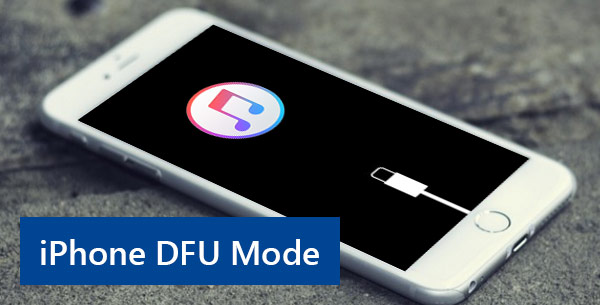 iPhone DFU mode is important in updating the firmware, jailbreak, rescuing an unresponsive iPhone, or installing an older version of iOS. This restore mode can be used to solve many other iPhone and iOS problems.
Part 2: Top 4 iPhone DFU Tools
To put iPhone in DFU mode, there are many apps and software that can be of help. Some of these tools have been shared in the following paragraphs.
Top #1 DFU Tool: RecBoot
RecBoot can help you to reboot iPhone, iPad or iPod touch for free by clicking only two tabs on the interface that would enter/exit your iPhone to/from recovery mode respectively. Your iPhone will restart automatically when you've exited recovery mode.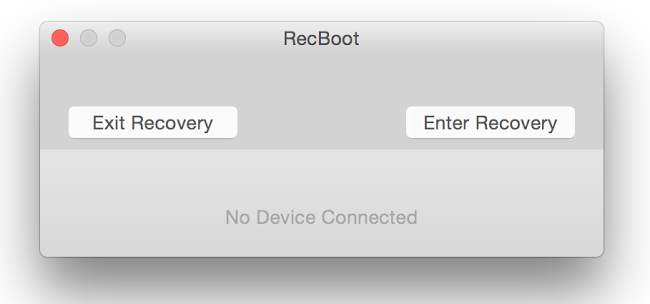 Pros:
RecBoot is very easy to use, and the interface is friendly.
It's free of charge.
Cons:
It doesn't work on the 64-bit operating system.
Top #2 DFU Tool: Tiny Umbrella
Tiny Umbrella as an iPhone tool wasn't primarily meant for putting iPhone into DFU mode, but this is one of the tiny features in this iPhone tool. However, this tool is doing just fine in entering and exiting iPhones to/from DFU mode, after which your device will be forced to reboot.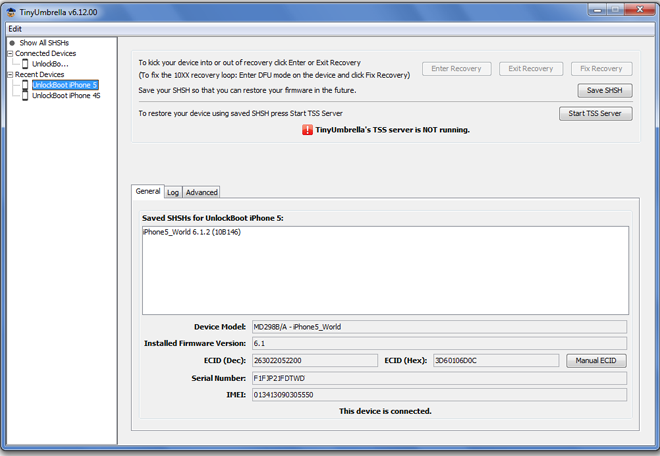 Pros:
It can restore your iOS to older versions.
It has several features and serves as a multi-functional iPhone tool.
Cons:
It may not detect your device sometimes.
It poses a great risk to iPhone data and can render your precious data unrecoverable.
Top #3 DFU Tool: RedSn0w
RedSn0w primary feature is to jailbreak iPhones, iPads and iPod touches. However, this tool still offers some features in recovery fix. You can easily enter or exit DFU mode with this software. You can reboot your iDevice after using this tool.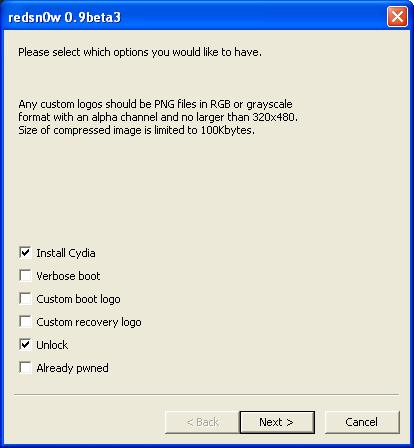 Pros:
It offers other features outside recovery/DFU mode.
It would help to prevent endless loops of recovery mode that arises when you jailbreak your iPhone.
Cons:
The latest version of this tool is not compatible with most recent versions of iOS.
Top #4 DFU Tool: iReb
The software iReb can be useful in restoring iPhones, iPads, or iPod touches in any condition such as recovery mode, Apple logo, iPhone crash, or unresponsive iPhone.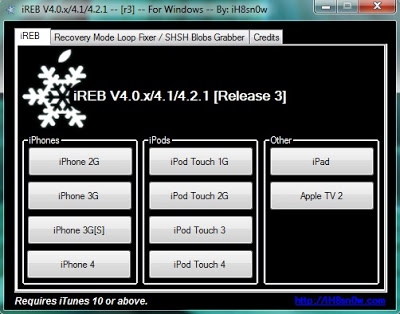 Pros:
It functions well on all PCs and operating systems.
It's a simple app with three tabs, which makes it easy to use.
Cons:
There is a high probability that you'll end up losing your data.
It's not a good option if you're concerned with safeguarding your iOS data.
Part 3: How to Completely Delete and Erase iPhone with DFU Mode Alternative?
iMyFone Umate Pro is the ultimate iPhone, iPad, or iPod touch data eraser tool that can completely delete and erase all your iOS data in one click. This software leaves no pages unturned in erasing iOS data. It has served as a good alternative to iPhone DFU/Recovery mode tools in that it can be used to erase problematic apps, fragments, files and data that pose a serious threat to your privacy.
When you use iMyFone Umate Pro as your favorite DFU mode alternative, you'll get to enjoy the following features:
Key Features:
Erase Data while Protecting Privacy to the Fullest: iMyFone Umate Pro offers you the full privacy of your iOS data, and a reliable way to erase data with 0% chances of data recovery.
Multiple Data Erasing Options: No DFU mode tool is better than Umate Pro in features because you're giving 4 data erasing options with Umate Pro.
Erase All Data: With Umate Pro, you can erase all your iPhone data to put your iPhone in factory restore mode.
Erase Third-Party Apps and Fragments: All third-party apps and their fragments can be erased using Umate Pro "Erase Private Data" feature. This would eliminate incessant crashing of your jailbroken iPhone.
Steps to Completely Delete and Erase iPhone with iMyFone Umate Pro:
Step 1. Download, install and launch iMyFone Umate Pro on your PC. Connect your iPhone to computer using a USB cable, and trust the computer on your iPhone.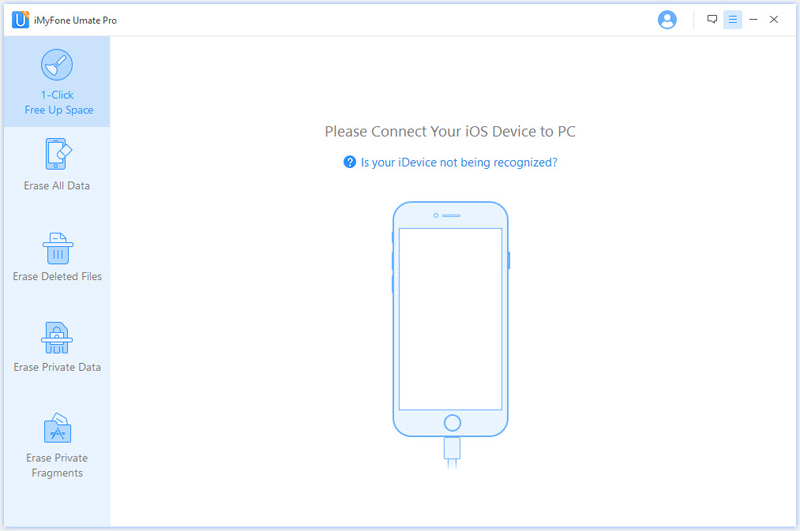 Step 2. On the main interface of iMyFone Umate Pro, choose "Erase All Data" from the left side menu bar, and click the "Erase" tab.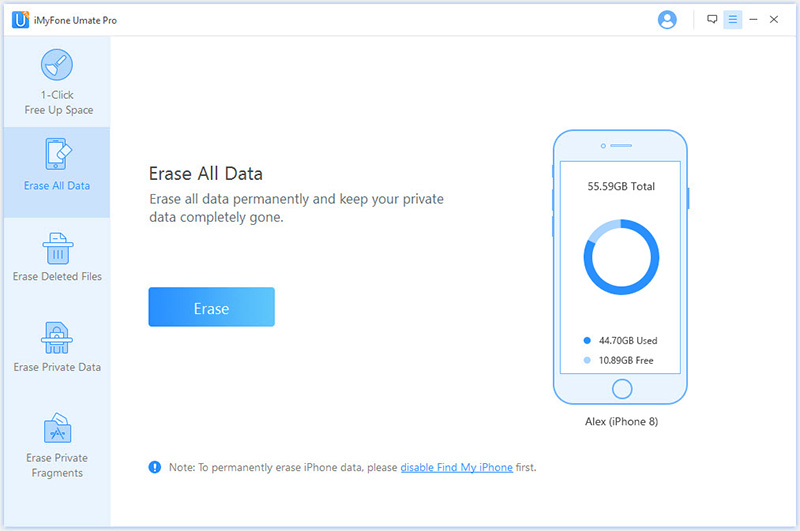 Step 3. Type "delete" into the box, and select your security level and click "OK" (if needed). Now, click the "Erase Now" tab to erase all your iPhone data completely.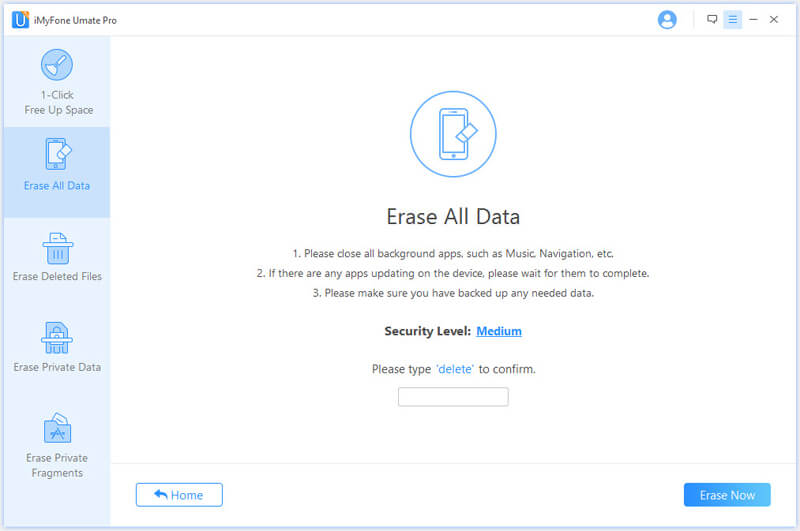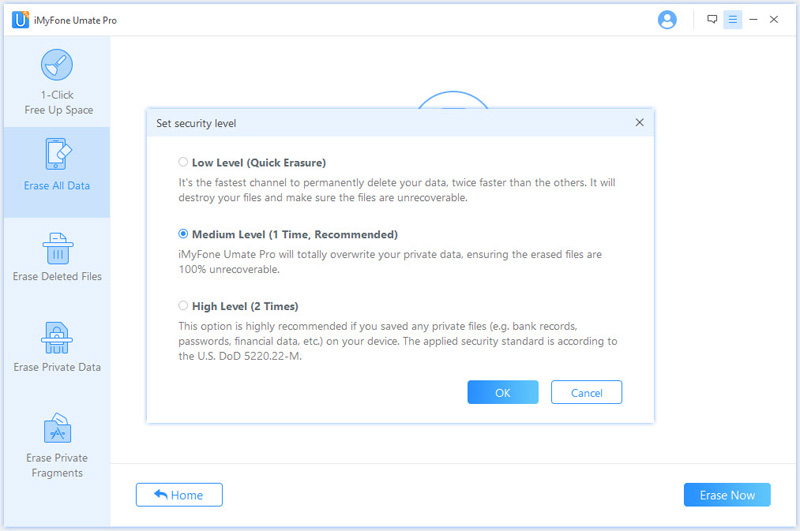 You can also completely erase deleted files with iMyFone Umate Pro.