iPhone is running slow after jailbreak? Without speed, most users will get bored quickly and lose interest in their iPhone. Most people pay attention to speed as an essential attribute before they make the choice of parting with their money. One of the selling ideas of iOS 9 was its ability to speed up all compatible devices. Although the increases are hardly noticeable, it is convincing enough to give the users enough confidence in the gadget. It is however, easy to notice the difference in animated transitions. You do not have to consider removing jailbreak from your iPhone because it is not responsible for space consumption hence not the reason for slow speeds.
How to Speed up Jailbroken iPhone with Umate Pro
There is always an urge to speed up jailbroken iPhone back to factory settings without losing the jailbreak features. Since apps filling up the space contribute to slow speeds, it is necessary to restore the fresh settings. iMyFone Umate Pro is the most recommended solution to safely complete the exercise. This is because it is simple and basic.
This tool allows you to make a quick cleanup of your jailbroken iPhone with simple basic steps. Luckily, it comes with the option to select the partial or all data eraser options. Most importantly, you will not be worrying about privacy leaks later as the data erased is permanent. Download iMyFone software to your iPhone first and launch it to familiarize with the features.
Key Features:
Permanent erasing of any or all iOS data from your iPhone. No Data Recovery Software can reverse the action completed by Umate Pro.
Efficient wiping of iPhone storage facility of all data intended for deletion. It is safer compared to ordinary factory reset.
Scanning and erasing already deleted files from your iDevice enables formatting of fragments/tracks.
With one click you can free up the space and speed up your iDevice.
Free up space on your iDevice via One-Click Clean UP iDevice feature.
Here are the necessary steps you need to speed up jailbroken iPhone with iMyFone Umate Pro.
Step 1: Using your compatible lightning cable, link up your IDevice to you PC (Windows or Mac).
Step 2: On the home page of the Umate Pro; choose '1-Click Free Up Space' mode and click on 'Quick Scan'.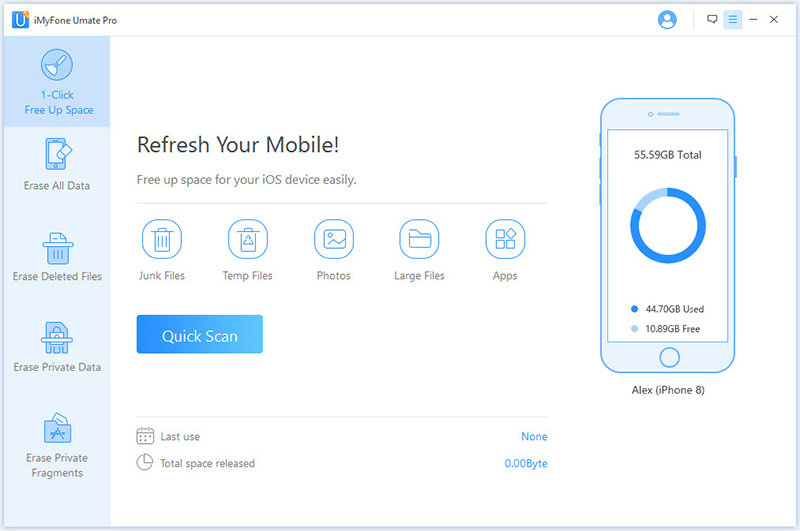 Step 3: Select the files you want to clean and click 'Clean'.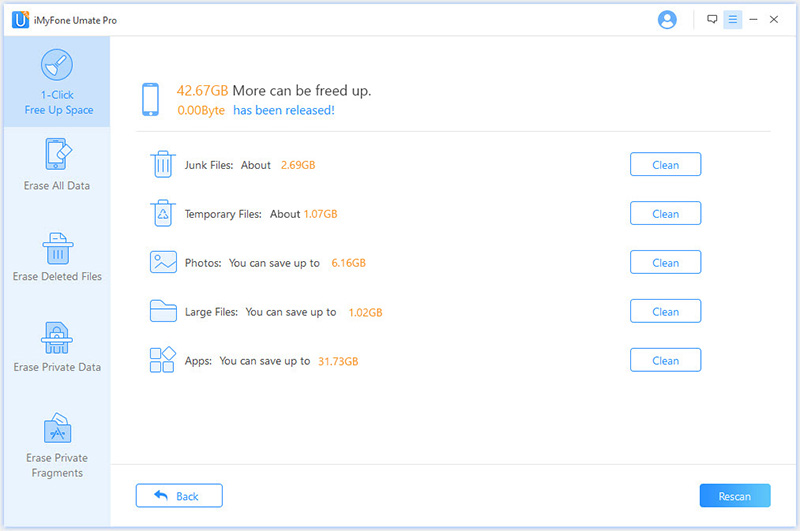 Step 4: It will show how much space you have saved after cleaning. It's quite simple!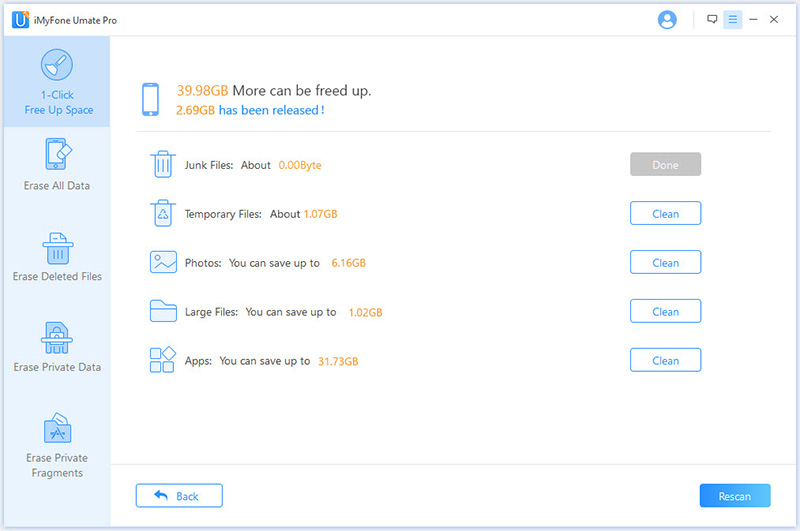 How to Speed up Jailbroken iPhone Using iTunes
Ridding your iPhone from issues by resetting can easily be accomplished using iTunes. This is also a reliable method to clean up your phone. However, you are highly likely to lose your jailbreak features, as there is no guarantee.
Before proceeding with this method, you need first, to update iTunes, backup all your phone data for future access, and turning off 'Find My iPhone' feature.
Steps of Use
Step 1: Start the iTunes engine and connect the device to your PC.
Step 2: Choose your iPhone from iTunes.
Step 3: On 'summary' tab click on restore iPhone.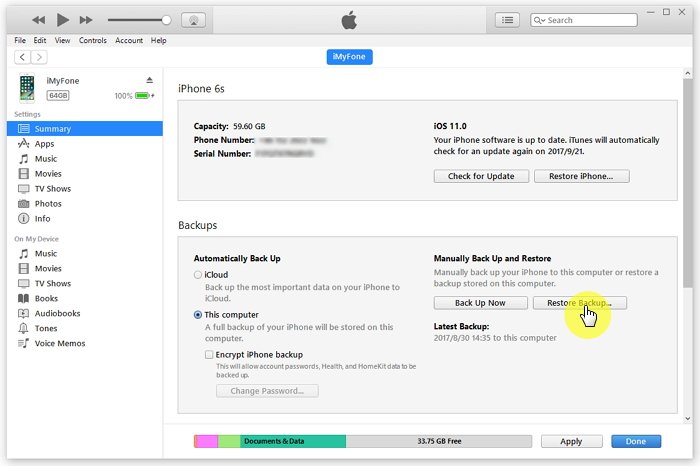 How to Speed up Jailbroken iPhone Using Speed Intensifier
Speed Intensifier is a popular tweak by Phillip Wong found on Cydia. This is an easy and quick method to speed up a jailbroken iPhone. It has been in use since the arrival of iOS 6. This tweak comes with frequent updates to fix bugs and improve compatibility. The latest version compatible with iOS 9 has proven efficient tin resolving all issues users face especially with speeds.
It requires a restart of your device to complete installation. After restarting, proceed to settings to view the completed installation.
Steps of Use
Step 1: Tap on the icon to launch speed intensifier.
Step 2: Ensure it is enabled by checking on the menu and read through the tabs (simple, fusion, advanced, and app) to familiarize. The 'advanced' mode is the most unstable and reportedly crushes often.
Step 3: Select a speed appropriate for you. The higher the speed, the faster the animations.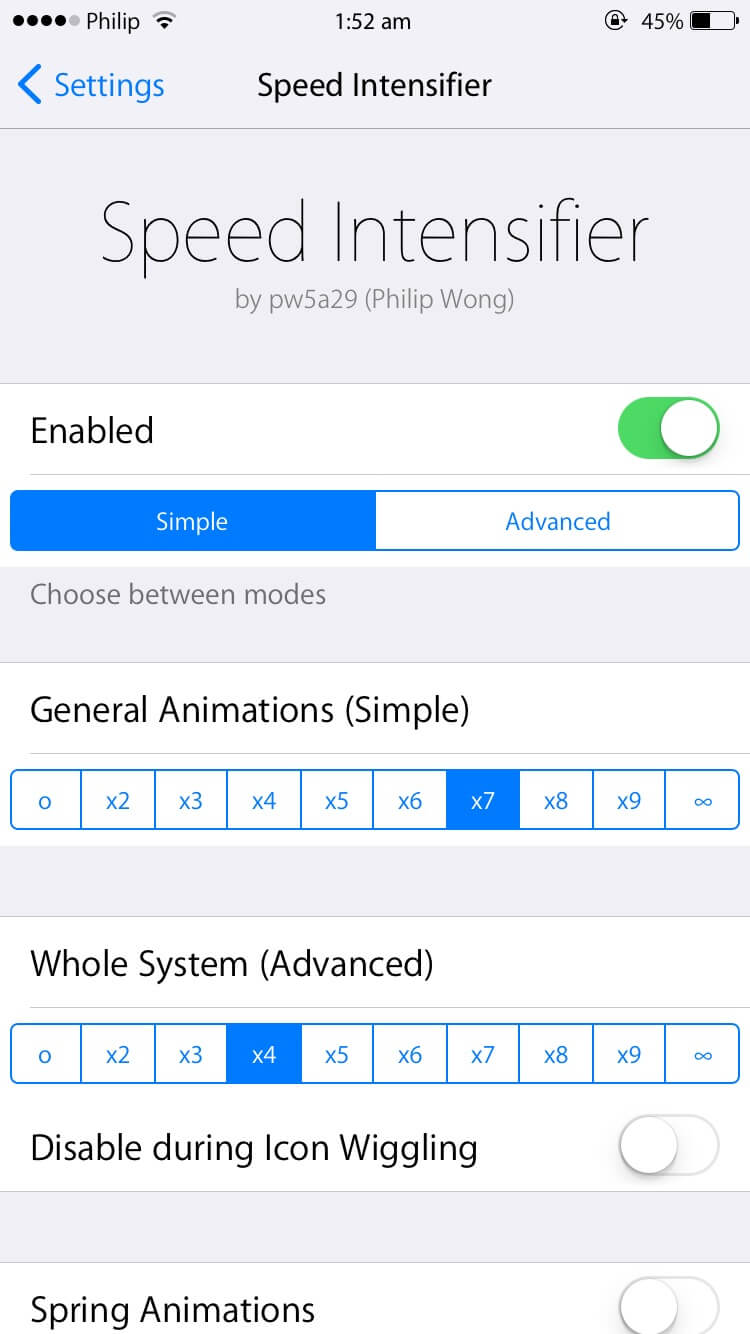 Beware that you will need to restart every time you need to check animated transition speeds. You will soon be enjoying faster speeds boosted by speed intensifier. Other options include blacklisting and altering spring animations.