iMyFone Umate Pro is a powerful iDevice data erasing software that has been designed to help iOS users conveniently erase files from their iDevices and protect their privacy. In order to fully utilize Umate Pro, you will need to register the software via a registration code.
Things You Need Know about iMyFone Umate Pro Registration Code
1

Why You Need iMyFone Umate Pro?
Protecting your privacy should be your primary concern as there are many risks of privacy leak. You store your sensitive and valuable information on your iDevice. This private data needs to be protected so that no one can use it to their advantage in case your device is lost or stolen.
iMyFone Umate Pro can help you protect your privacy by allowing you to permanently erase the sensitive files and ensure that no one can recover them. As an ultimate iDevice data erasing tool, Umate Pro is equipped with many powerful and advanced data deletion features.
Features of iMyFone Umate Pro
Key Features:
Permanently erase all your iDevice data with one click.
Scan for private data on your iDevice and permanently erase it to protect your privacy.
Erase deleted files from your iDevice permanently, making them 100% unrecoverable.
Scan and permanently erase third-party app data from apps such as WhatsApp, Viber, Kik, WeChat, etc.
Optimize the performance of your iDevice via 1-Click Free Up Space mode.
iMyFone Umate Pro is fully compatible with iOS 11 and receive lots of positive reviews from Makeuseof.com, macworld.co.uk, Cultofmac.com, etc.
2

Truth About iMyFone Umate Pro Free Registration Code Online
There are a variety of licenses to choose from when buying iMyFone Umate Pro. Here are details of the licenses:
Basic License: This license supports 1 iDevice. It is a lifetime license and costs $39.95.
Family License: This license supports 2-5 iDevices and its cost is $49.95. It is also a lifetime license.
1-Year License: You can purchase this license to be used with 1 iDevice for an entire year. Its cost is $29.95.
Business License: This license supports unlimited iDevices. The cost of this lifetime license is $299.95.
Truth
It is recommended that you purchase the license code from the official iMyFone website as licenses and registration codes on other websites are invalid as they have been used too many times.
3

Why You Need a Registration Code to Be Able to Use iMyFone Umate Pro?
Umate Pro is a state-of-the-art software which is the result of a combined effort from iMyFone team. By associating this software with a registration key, it is ensured that only those iOS users can use Umate Pro who purchase it. In this way, the advantages it offers are personalized to those specific users.
Why
By purchasing the license code, you support the iMyFone team and allow them to provide you a better software experience via future updates, further improvements, and developments.
4

Why You Should Get Your Own iMyFone Umate Pro Registration Code?
There are many benefits of getting your own iMyFone Umate Pro license code. These are listed below.
Highest Cost-Efficiency
Umate Pro is an advanced iDevice data erasing software. As compared to other iDevice erasing softwares, Umate Pro excels in many areas. Its powerful features can cover all your data erasing needs.
Best Customer Service
Customer satisfaction is the top priority of iMyFone team. By getting your own Umate Pro license, you get to enjoy the following benefits:
24/7/365 Customer Service: If you face any difficulty or problem when using Umate Pro, you can always count on iMyFone customer support team to help you.
30-Day Money Back Guarantee: If you are not satisfied with Umate Pro within this period, you can request for a refund.
Lifetime Free Updates
With your own Umate Pro license code, you will get to enjoy lifetime free updates as the software continues to improve its performance and will surely get new features in the future.
5

A Gift for You
You can get a discount on Umate Pro license by using a coupon code. Use the following coupon code to get a 20% off on Umate Pro license:
Steps to Use Coupon Code for Purchasing Umate Pro License
Step 1. Visit iMyFone Store and choose iMyFone Umate Pro by clicking the 'Buy Now' button.
Step 2. After that, choose one of the license you prefer, then use the 'Add to Cart' button to proceed. Doing this will take you to the shopping cart.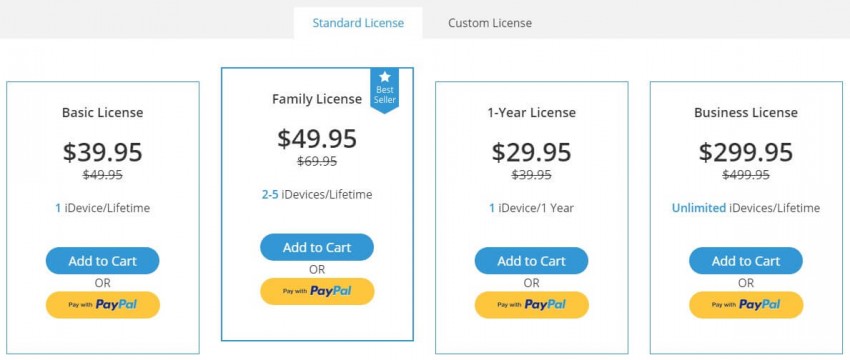 Step 3. On that page, find and check the box named 'Check to enter coupon code'.

Step 4. Now copy the coupon code 5ED-FQ1-KZU and paste it in the textbox shown on the page. Click 'Apply' to proceed.

Step 5. Then you will save 20% to get iMyFone Umate Pro.