Question
Hi iMyFone, I faced with an annoying problem: sighing into iTunes store keeps popping up and asking my Apple ID and password. Why did it happed? I did nothing before this happened. Please help, your suggestions are greatly appreciated. Thanks!
iPhone can be useful and they can also be annoying. If your iPhone keeps asking to sign into iTunes store, you will know what we mean. If your iPhone is making your life unbarable by displaying the Apple ID pop-up, read through this article. We will provide you with 4 solutions to this issue.
Method 1: Sign out of Apple ID and Sign Back In
The first solution to try out when you are getting the annoying Apple ID popup is to sign out of your Apple ID and then sign in again. This may help eliminate the issue. We show you the steps that you need to follow below:
Step 1: Launch Settings and tap the "Apple ID" banner.
Step 2: At the bottom, click "Sign Out". Enter the Apple ID password and then choose "Turn Off.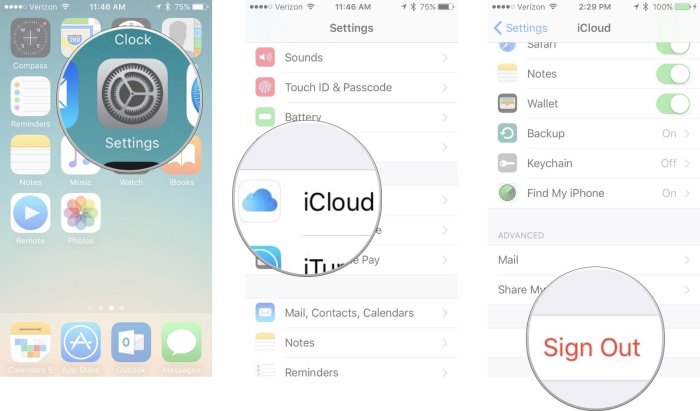 Step 3: Toggle on the switches for all the content you wish to keep on your iOS device and then click "Sign Out". Click "Sign Out" again to confirm.
Step 4: After Signing out successfully, use your Apple ID and password to sign back in.
Method 2: Check Out Your Purchased Apps
If you have applications hanging in failed downloads, your iPhone may bug you asking you to sign into Apple ID. To check your purchased applications, follow the steps below:
Step 1: Launch the App Store and click Your Profile.
Step 2: Tap Purchased. Check the apps you have on your iOS device and those that you don't have. Also, click the Updates tab and update your current applications.
Method 3: Check for iOS updates
Updating your iOS device may fix the errors present in your current iOS system. These may be causing the iPhone to keep asking you to sign in to iTunes Store. To check for iOS updates, simply follow the steps outlined below:
Step 1: Connect your iOS device to a stable Wi-Fi network and plug it into power. An iOS update may take a while and hence it can drain your battery power.
Step 2: Click "Settings" -> "General" -> "Software Update".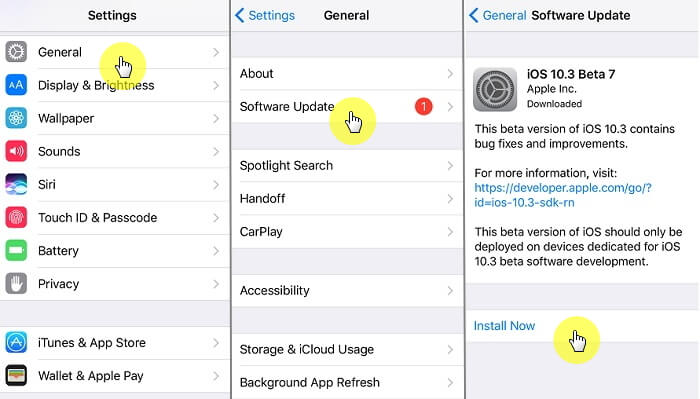 Step 3: Click "Download" and "Install" if an Update is available.
Method 4: Reset All Settings
Clearing the currently available iPhone settings may help you eliminate the iPhone keeps asking to sign into iTunes store Problem. To reset all your iPhone settings, follow the steps below:
Step 1: Launch Settings > click General > tap Reset.
Step 2: Click Reset All Settings and confirm if asked to.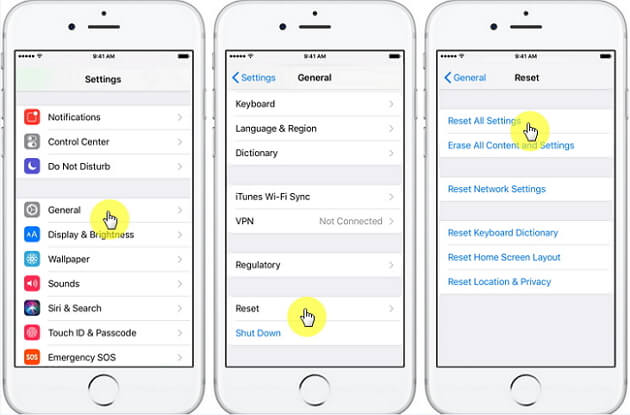 Bonus Tip: Best Cleaner App for iPhone in 2022 [iOS 15]
Cleaning the useless data available on your iOS device is important especially when you need more space to store your important data.  Also, it will help you boost your device operating speed. If you are thinking of getting a new iPhone and getting rid of the old one, you would want to secure your privacy by erasing the private data available on your current device. The conventional means of erasing your iPhone data won't secure it. The data can be still retrieved.
However, you don't have to worry about either cleaning junk files from your iPhone or safeguarding your privacy by deleting your private data if you have iMyFone Umate Pro. The features present in this tool include:
Key Features of iMyFone Umate Pro:
It will allow you to clear temporary and junk files without hassle. These files usually contribute to slowing down your iOS device.
It will help you compress your iPhone photos which will save you over 75% photo space.
It will allow you to back up pictures and other large files to your computer and delete them on your iOS device to save space.
It will let you clean contacts, messages, notes, browsing history and any other private data available on your iOS device with a 0% chance of recovery.
It is fully compatible with iOS 15 and receive lots of positive reviews from macworld.co.uk, Makeuseof.com , Cultofmac.com etc.
To free up space on your device using Umate Pro, follow the steps outlined below:
Step 1: Launch iMyFone Umate Pro on your computer and connect your iOS device to the computer using a USB cable. Click "1-Click Free Up Space" on the left-hand column and tap on "Quick Scan". This may take a few seconds or minutes.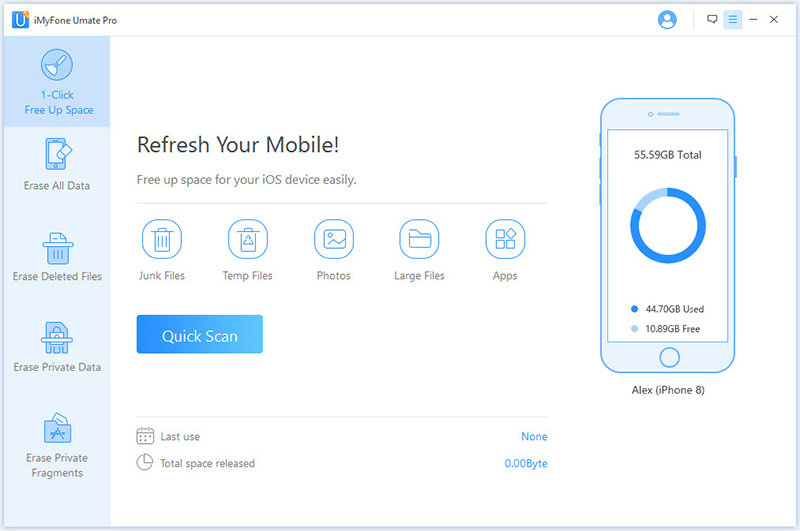 Step 2: After the scanning, Umate Pro will display the files you can erase from your iPhone to free up space. To erase any file, tap the "Clean" button to the right of the file.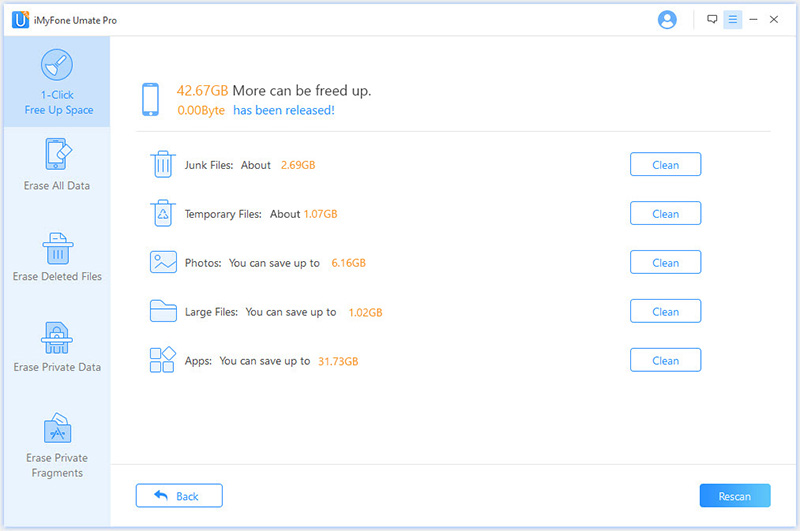 Conclusion
After getting acquainted with 4 slutions we've provided, you may know which one is best for you. We strongly recommend you to download iMyFone Umate Pro and purchase it! It is really worth trying! We will also issue coupons from time to time.