You got a message on your screen that your iPhone storage is full. Quickly, you think you can delete some photos in your Photo Library to free up space.
However, the information about storage on your iPhone is still showing full despite having deleted some photos and videos. Anyone who has experienced this would agree it is very annoying. In this article, we will analyze the reasons for you as well as offer the related solutions.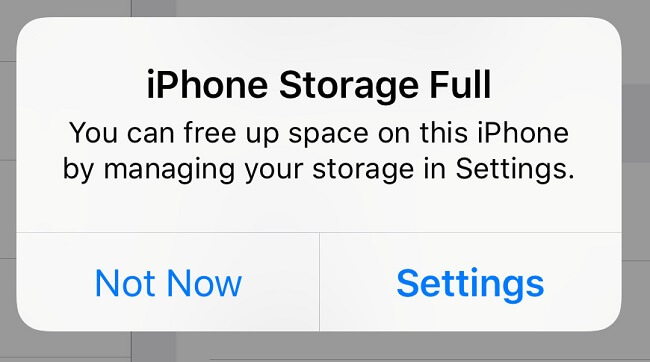 Part 1. Why Is My Storage Still Full after Deleting Photos?
There are two main reasons that it happens:
People usually just click the "Delete" button of the photos they choose, then they think these unwanted pictures will disappear on their iPhone. But the thing is, they don't actually get deleted. It just gets moved to a special album called "Recently Deleted".
Deleting the photos may just 20% help to release your storage on iPhone. There are lots of caches or incomplete fragments come from 3rd-party apps you need to delete, because they may take up a lot more space than you think.
According to above reasons, you might understand why I deleted all my photos and still have no storage on iPhone. Don't worry, this article will offer you the solutions about fixing these problems.
Part 2. How to Fix iPhone Storage Full after Deleting Photos Issue?
2.1 Delete the "Recently Deleted Album"
If you want to use this method, just follow the steps below.
Step 1: Bring out the Photos app, and tap on Albums which is usually at the bottom of the screen.
Step 2: Click on Recently Deleted from the album list.
Step 3: Click on Select in the upper right corner of your iPhone screen.
Step 4: Click Delete All at the bottom.

Step 5: Confirm the deletion.
Now you can check the updated iPhone storage through Settings>General>iPhone Storage. If you see that it is still the same as before without a drop, you may have run into a strange bug, where deleted photos don't actually get removed. To fix this, you can try the below instructions:
Step 6: Go to Settings>General>Date & Time, and disable Set Automatically
Step 7: Tap on the current date & time and roll it back about 2 years ago.
Step 8: Return and open the Photos App, then check the Recently Deleted Album even it says there are 0 photos.

Step 9: Is it full of photos? If so, repeat step 2-4 to delete all of them.
Now, check the updated storage information again, and you should find that the usage of Photos is free up.
2.2 Free up Storage Space on Your Device Thoroughly
As we have analyzed before, just deleting the photos is not a long-term strategy to fix your storage issue. After a while, you will receive the annoying reminder of " iPhone storage full" again. In order to free up the space in a thorough way, we suggest that you can proceed with a comprehensive diagnosis to find out what takes up the most of your storage.
iMyFone Umate Pro is a very helpful cleaning tool, especially at solving the storage full issue. It can allow you to clean up all the hidden garbage and deleted files that are still lurking on your iPhone, creating storage for your iPhone.
Features:
One Click to Locate the Issues: Diagnose how much space you can free up, and it will show which part take up the most. You can have these data by just one click.
Delete All the Photos

Thoroughly

(3rd-Party apps Included): You can use "Erase Private Fragments" mode to delete those incomplete photos fragments which constantly generated by 3rd-party apps.
Wipe Deleted App Files: Previously deleted App files which are still on your iPhone,"Erase Deleted Files" mode can scan and erase them, leaving no chances to take the storage.
Various Data: It supports to wipe texts, photos, videos, links, docs, group medias, etc from 3rd-Party apps, creating maxiumn space to your iPhone.
Using Steps are as below:
Step 1: Start by downloading and installing Umate Pro to your computer.
Step 2: Connect your device to the computer system with a cable.
Step 3: From different erase modes of Umate Pro, select one that matches your need.

Choose the "1-Click Free Up Space" mode to find out which kind of data takes up the most of total storage, then you can select and delete it.

Choose the "Erase Private Fragments" mode to delete those incomplete photos fragments which constantly generated by 3rd-party apps.

Choose the "Erase Deleted Files" mode to erase those deleted files, avoiding these hidden trash data to occpy the space.

Step 4: After the scan, you can preview the data and select the one to erase.
Step 5: Click on "Clean" or "Erase Now" according to the mode, and you can remove the unwanted data and release the storage.
Part 3:Extra Tips to Manage Your Storage
After introducing above two methods, you should solve the problem of iPhone storage full after deleting photos. For better managing your storage, we also provide some tips for you.
One option is turn on Optimize iPhone Storage. If you have purchased iCloud Storage plans and have enough space on iCloud, this tip allow you to keep a smaller compressed version of photos on your device and store the full resolution versions on iCloud. Then you can have more sapce on your device.
Another one is to backup your photos as well as some large files to your computer or external devices. But remember to save them on a safe place, preventing damage situations happened.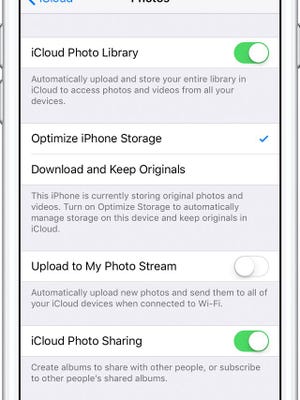 Conclusion
With the increasing needs of iPhone storage, it is very common to experience out of usages. If you try to make space for your iPhone by deleting photos, then don't forget to clean your "Deleted Photo Album". But it is suggested that you better check deeper what really eats up your space, so you will not experience storage still full after deleting photos this issue frequently. Try iMyFone Umate Pro and have a deep clean to your iPhone.