If you have an iPhone with a relatively smaller storage space, then you probably have to deal with 'out of storage' error from time to time. Fortunately, there are ways to optimize iPhone storage so you can get a little extra out of your device's storage for storing photos and videos.
Top 3 Ways to Optimize iPhone Storage
Photo/video/audio/document/junk/temporary files can take up a lot of space from your iPhone. Removing them will optimize and free up much need space on your iPhone. Here are 3 ways to optimize storage on iPhone.
Optimize iPhone Storage Using an iOS Data Eraser
iMyFone Umate Pro for Win / iMyFone Umate Pro for Mac is one of the best iPhone data removal tools to optimize iPhone storage. The 1-Click Free Up Space mode has been especially designed to deal with this. This function can also make your iPhone run fast, just like when it was brand new. Here is the storage you can save using  1-Click Free Up Space mode: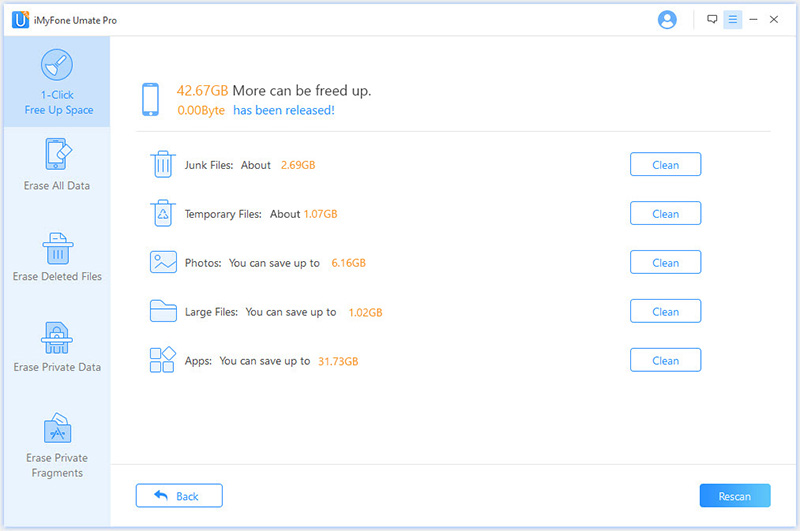 Features of iMyFone Umate Pro
Permanently erase more than 30 types of hidden temporary and junk files. iMyFone Umate Pro is equipped with 25+ analyzation techniques to find and remove such files.
Manage your photos efficiently with iMyFone Umate Pro. You can perform lossless compression, delete photos in bulk, as well as backup/export all your photos to your computer via this software.
Umate Pro can efficiently detect all kinds of large files (audio/video/documents) which are over 5MB.
Preview your installed apps and uninstall all unwanted apps in bulk.
You can permanently erase private and personal data via Umate Pro. It may include your personal photos, videos, all types of accounts and passwords, bank information, WhatsApp messages, and more.
It's recommended by lots of noted media arround the world: MacWorld, iPhoneinCanada, APPKED, etc.
Steps to Optimize iPhone Storage
Step 1. Connect your iPhone to your computer. And open iMyFone Umate Pro.
Step 2. Select 1-Click Free Up Space mode from its home interface and click on the Quick Scan button.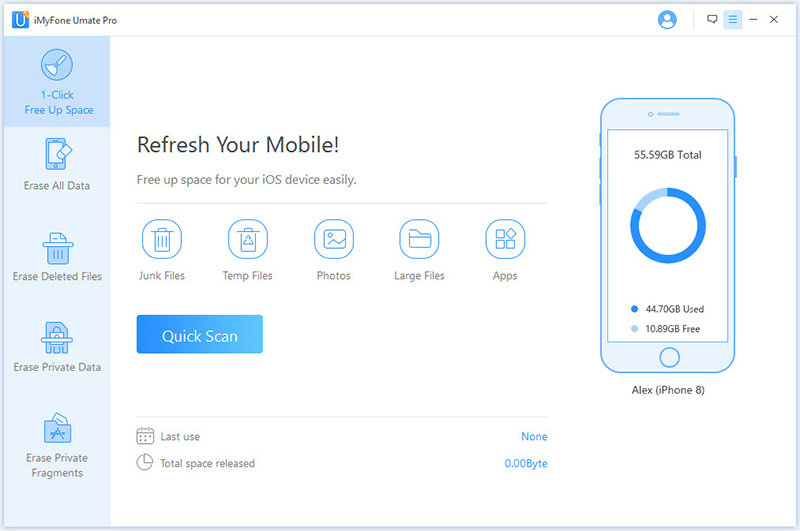 Step 3. Once the scan is finished, you'll see how much storage can you free up as the above first picture shows, use the Clean button to optimize your iPhone storage.
Choose "Optimize iPhone Storage" under iCloud Photo Library
What Does "Optimize iPhone Storage" Mean?
Optimize iPhone Storage is a feature included in Apple's iCloud Photo Library that allows you to replace all your full resolution photos and videos with smaller, device-size versions. When you turn on the "Optimize iPhone Storage" option you will be able to save a lot storage for your iPhone. You can download the full resolution versions of your photos and videos from iCloud anytime.
Optimize iPhone Storage vs. Download and Keep Originals, What's the Difference?
The 'Optimize iPhone Storage' feature stores your local photos and videos at low resolution. These photos and videos take up relatively less space, hence your storage is optimized to allow for more content to be stored.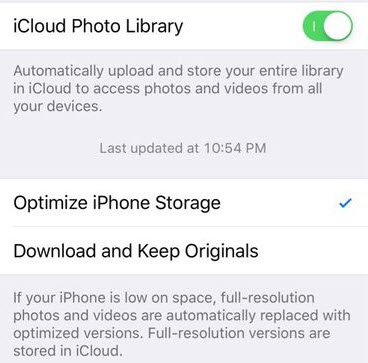 The 'Download and Keep Originals' feature downloads all your photos and videos from your iCloud account at full resolution. You should use this feature if you have plenty of free space on your iPhone.
How to Turn On "Optimize iPhone Storage" to Save Space?
First, make sure you are connected to a working Wi-Fi.
Then launch the Settings app and navigate to Photos & Camera.
Now tap on the Optimize Storage option to turn it on.
Delete Old Messages to Optimize Storage on iPhone
Your iMessage conversations can take up a lot of storage space if they are not deleted very often. This is because your messages do not just contain the text, they also contain any stickers, gifs, photos, and videos you send or receive. Fortunately, there is an efficient way to make sure that your older message threads get deleted automatically. You will simply need to specify a time period for how long your messages should be kept on your device before getting automatically deleted.
Follow these instructions to optimize storage on iPhone:
Open Settings app on your iPhone.
Navigate to Messages > Keep Messages.
Now specify a time period (e.g. 30 days) for how long you wish to keep your messages stored. It is also recommended that you turn on Low Quality Image Mode so that the size of any sent or received files is automatically reduced.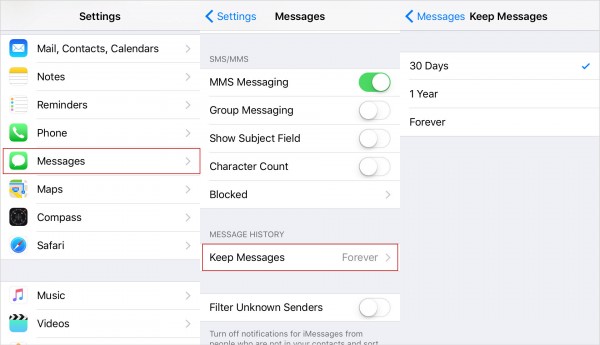 Note
Following are some cons of this method of optimizing iPhone storage:
You cannot select and delete messages in bulk via this method.
This method does not erase messages permanently so they can be recovered via a data recovery software.
If you wish to delete your messages in bulk and make sure none of the recovery software can retrieve them, then it is recommended that you use iMyFone Umate Pro.