[2023] How to Recover Permanently Deleted Notes on iPhone
Category: iOS Data Recovery
5 mins read
"Help! I stupidly deleted all 86 notes on my iPhone XS including all my reading lists, random work ideas and even some important records! Can anyone tell me how to recover deleted notes on iPhone? BTW, iOS 16 is running on my iPhone!"
Notes have greatly improved the way we capture a quick thought, create checklists and more. However, there comes some trouble that upsets users as well - just like any other type of data, what's stored in Notes is very easy to get lost once in a while. As some notes are so crucial that we cannot afford to lose, the top priority is to figure out effective ways to get them back.
If you have your notes backed up before, then things will go easier for you. But there are times when you just accidentally delete or lose the notes before you can back it up. Luckily, there exist solutions for both cases and some really helpful ways will be detailed in this article. Keep reading to find out how to restore deleted notes on iPhone without backup/icloud after 30 days!
Watch this video to have a quick guide about how to retrieve deleted notes on iPhone
Basic Steps You Can Take First to Find Accidentally Deleted iPhone Notes
There are a few things you can do immediately at realizing the notes are missing, which will greatly improve the chance of data recovery.
1. Check Recently Deleted Folder Before 30 Days
If you are using iOS 11 and above(iOS 16 included), you will find the Notes app contains a folder called Recently Deleted. This folder allows you to restore recently deleted notes, but as the word "Recently" denotes, notes are available here for only 30 days. After 30 days, the deleted notes will be permanently removed, and this may take up to 40 days. Therefore, to recover notes that were deleted within 30 days, you can firstly head to Recently Deleted folder. Here is the guide on "How do I retrieve deleted notes on iPhone?":
Open Notes app and find Recently Deleted folder.
Tap Edit on the top righter corner.
Select the notes you want to recover.
Tap Move option.
Then select a folder on your iPhone as the destination of this move.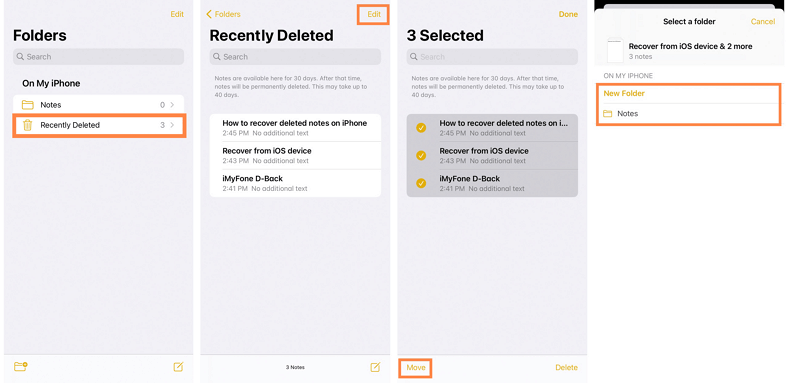 2. Check Whether You Have Backup Files
Next, check whether the notes have been backed up on either iTunes or iCloud. If they are, you can simply restore the backup to get the deleted notes back. However, the biggest problem here is that you cannot view or access iTunes/iCloud backup first. If the notes you need are not included in the backup file, apart from getting nothing back, you might even lose the data created since last backup.
3. Stop Using Your iPhone if There Is No Backup
If you don't have available backup, there is only one option left - retrieve deleted notes directly from iPhone. Some people may start to wonder, "Is it really possible that I get back the deleted notes on iPhone without iTunes/iCloud"? This may sound crazy but the answer is YES.
When you delete data on iPhone, actually they won't disappear immediately. Instead, they will be stored in a category called "Unallocated". But once new files are created and occupy the space in "Unallocated", those deleted files will be overwritten and removed completely. Therefore, if you still want to get your notes back, the key is to stop using your iPhone immediately to avoid permanent loss. On this basis, you can use some third-party tool to officially begin the recovery work - search the database and find the deleted notes on iPhone.
How to Recover Deleted Notes on iPhone - 5 Ways
Before we delve into the specific methods to recover deleted notes on iPhone, let's start with an overview of the available options.
Overview of the methods to recover notes
| | via iMyFone D-Back software | via Official iTunes | via Official iCloud |
| --- | --- | --- | --- |
| Without Backup | | | |
| Recovery Options | Selectively or fully | Fully restore only | Fully restore only |
| Preview before recovery | | | |
| Overwrite the Current Data | No | Yes | Yes |
| Recommend level | | | |
Our editor would recommend iMyFone D-Back iPhone data recovery software to retrieve deleted notes on iPhone, you can preview the deleted notes before the final recovery, you need recover it with a computer, Download iMyFone D-Back free now.
Way 1. Recover Permanently Deleted Notes on iPhone without Backup/iCloud (iOS 17 Supported)
If your accidentally deleted notes are not in the Recently Deleted folder after 30 days, and you get no back up in hand or don't want to restore the device from iTunes/iCloud (which will overwrite data on your device), then you can consider some third-party tools. An excellent one, iMyFone D-Back iPhone Data Recovery, can be your best choice and offer some really practical help. It has been recommended by CNET, techradar, PCWorld, and other professional websites.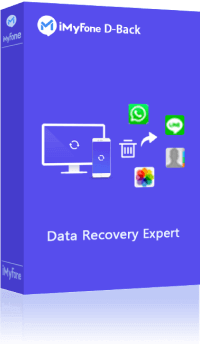 1,000,000+ Downloads
Key Features:
Four Recovery Modes: iMyFone D-Back offers four different recovery modes, using advanced technology to recover permanently deleted notes on iPhone even without a backup, with a high success rate.
Preview Function: Users can preview the data before initiating the recovery process, ensuring that nothing goes wrong. This allows for selective recovery of desired data.
Wide Range of Supported Data: In addition to notes, iMyFone D-Back can retrieve over 18 types of data, including photos, contacts, messages, voice memos, and WhatsApp data, using only three simple steps.
Broad Compatibility: iMyFone D-Back is compatible with all iOS devices, including iPhone 15/14/13/12/11, as well as various iOS versions like iOS 17/16/15/14/13.
Get it downloaded and installed on your computer first and then follow the steps below to recover permanently deleted notes on iPhone without backup/icloud.
Step 1.Launch D-Back and choose "Recover from iOS Device". Connect your device to the computer and then click "Next" to proceed.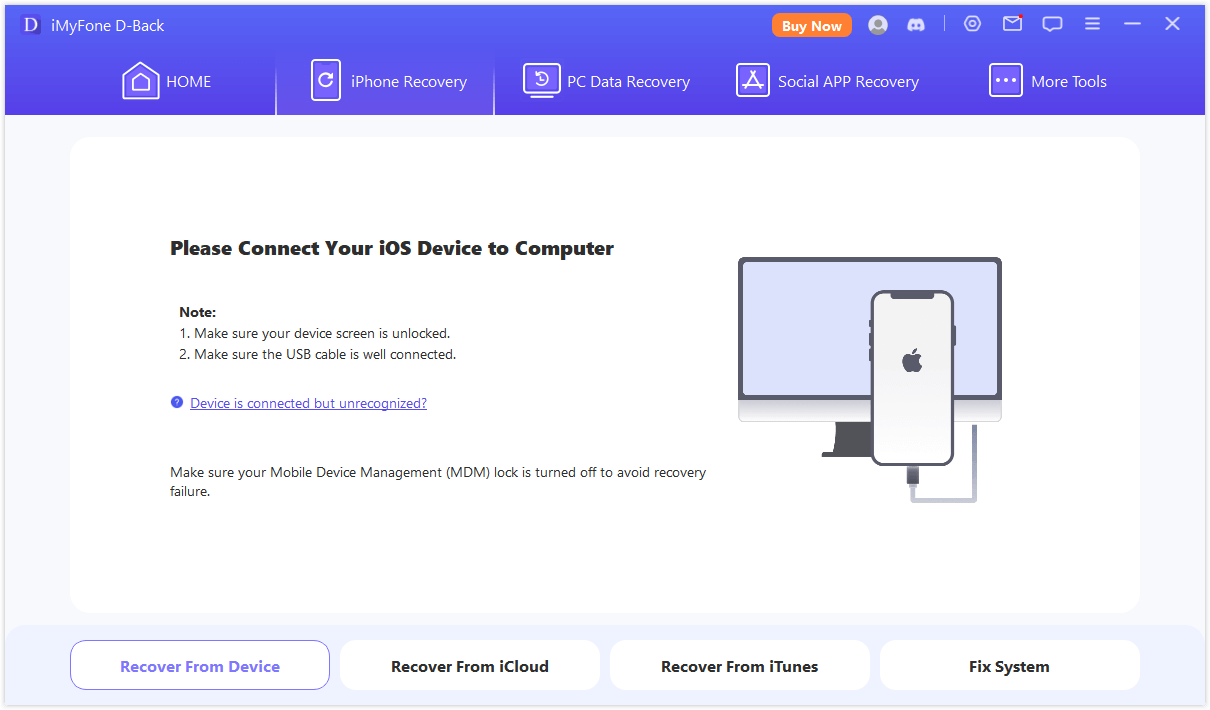 Step 2.Select the types of files to recover. Here you should choose "Notes". After that, click "Scan".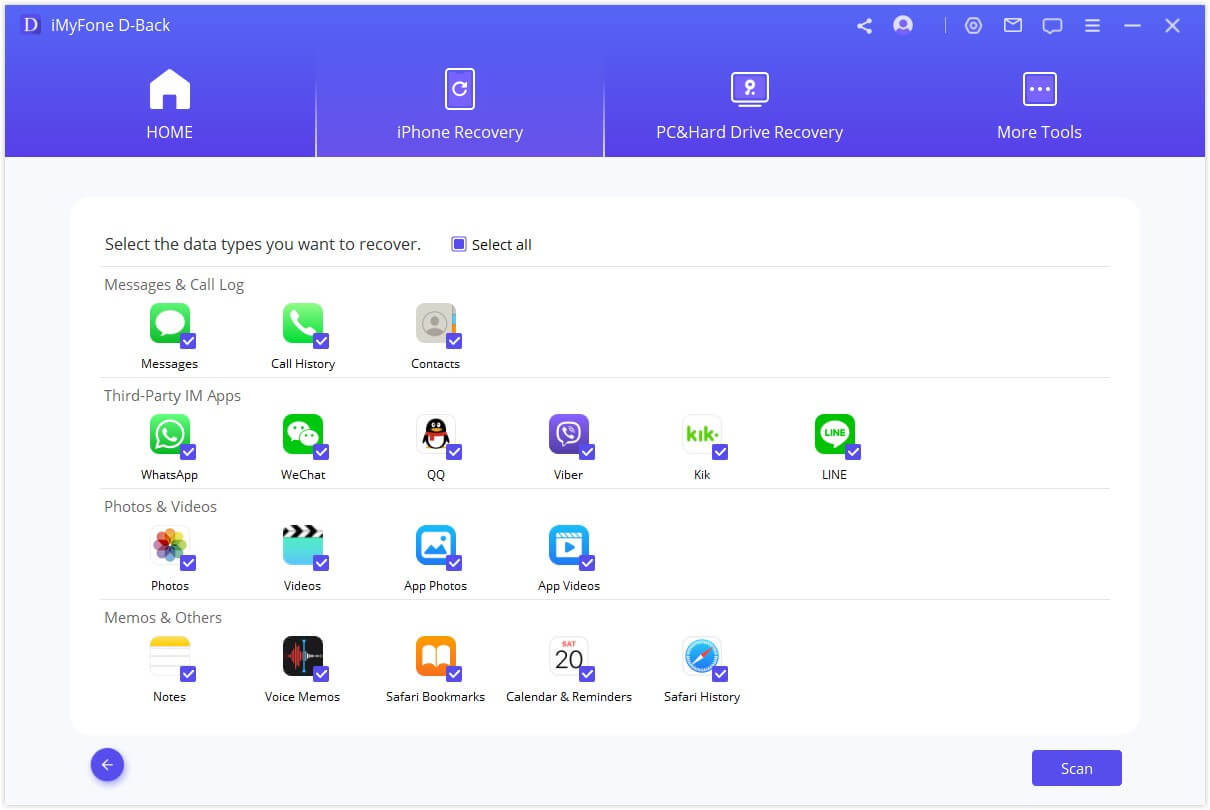 Step 3.After the scan, all the recoverable data will be listed and you can preview it freely. Lastly, select the data you want to recover and hit the button "Recover".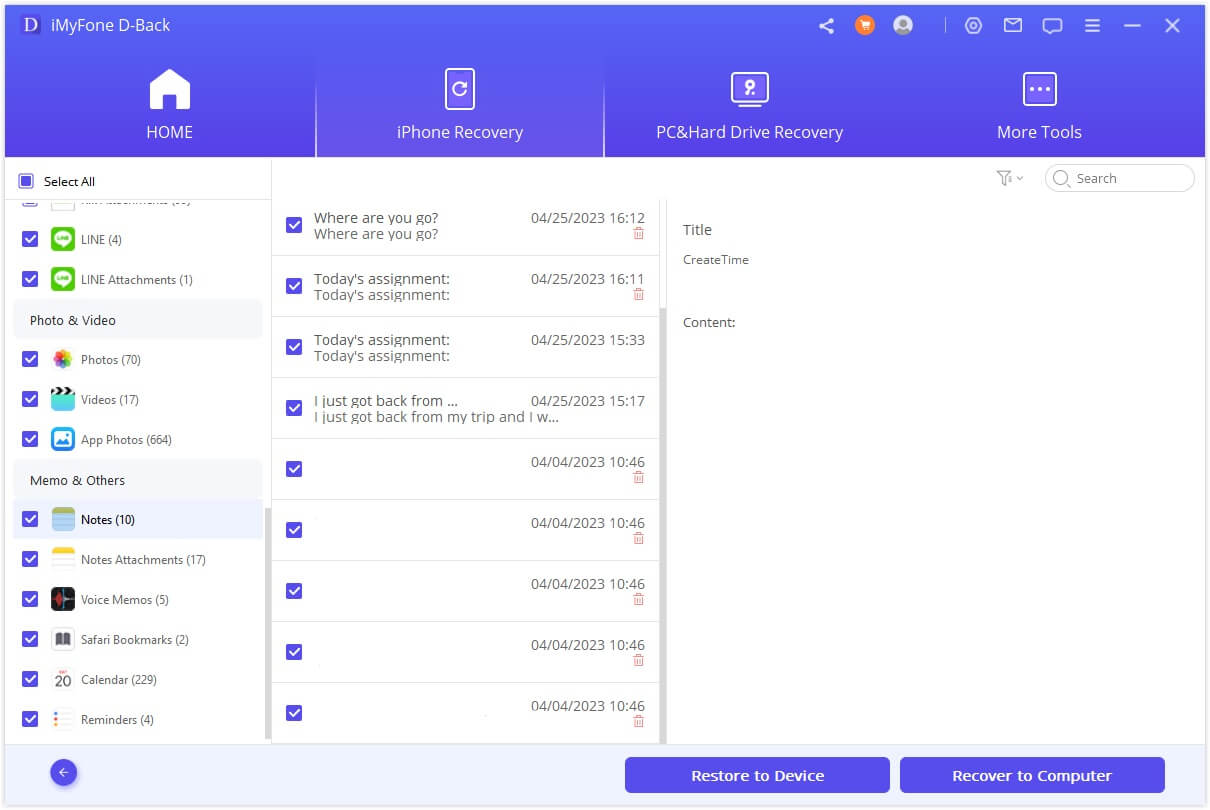 Way 2. Recover Deleted Notes on iPhone via iTunes Backup
2.1 Get Back Accidentally Deleted iPhone Notes via the Official method
If you regularly backup your iPhone data to iTunes, it is likely that your deleted notes could be in your iTunes backups. Here's how to restore deleted notes from iTunes backup.
Step 1. Connect the iPhone and open iTunes on the computer you synced your device with.
Step 2. Click "Restore Backup" to restore the device to the latest iTunes backup.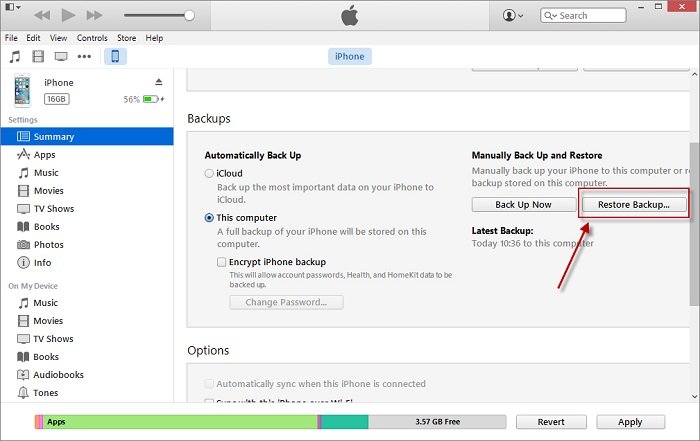 Restoring the iTunes backup will overwrite the existing data on your iPhone.
The Official method does not allow you to preview its content, so you will not know whether it contains the notes you want until the restore is finished.
2.2 Retrieve Deleted iPhone Notes From iTunes Backup via D-Back without iCloud
If you are afraid of overwriting your existing data and want to preview the notes before doing recovery. Then you can use D-Back's third mode--Recover from iTunes Backup.
Step 1.Launch D-Back and choose "Recover from iTunes backup". Click "Start" and then you will see all the iTunes backups on your computer. Choose one from those listed to proceed.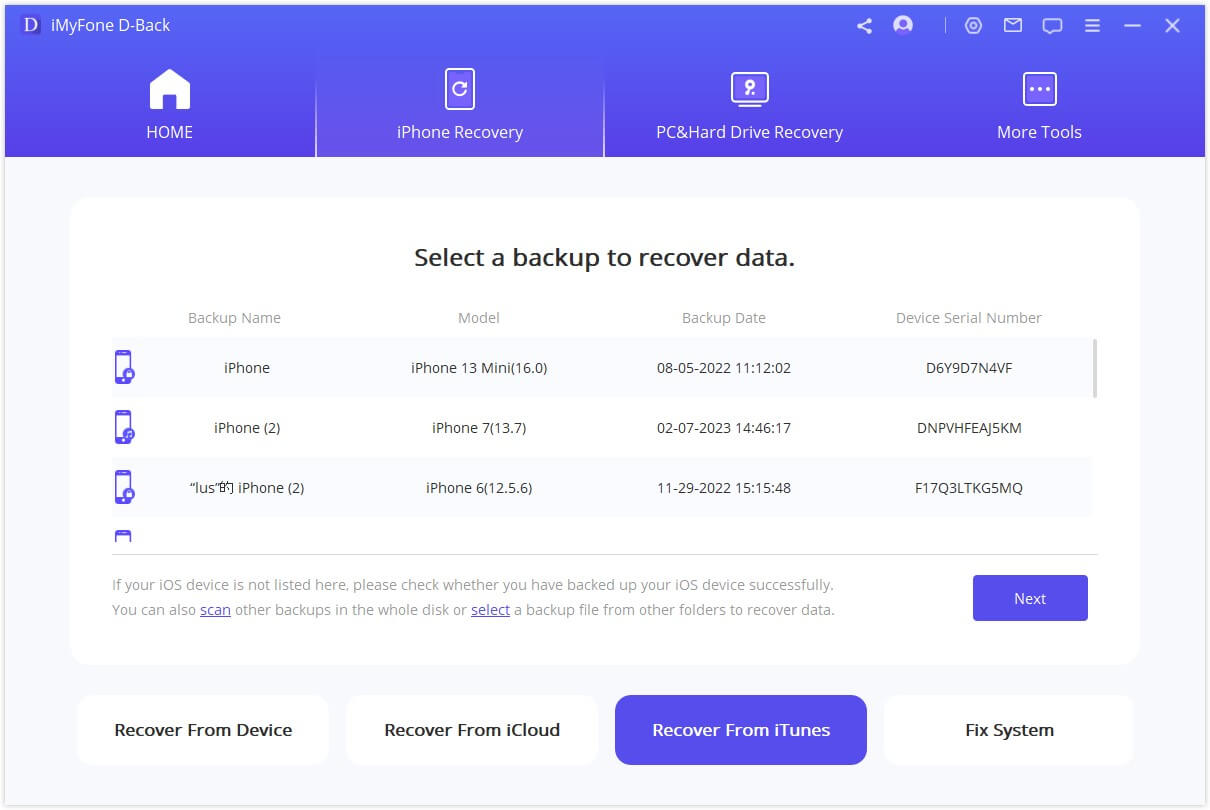 Step 2.Select "Notes" as the type of data to extract. Click "Scan" to allow the program to scan the selected backup file.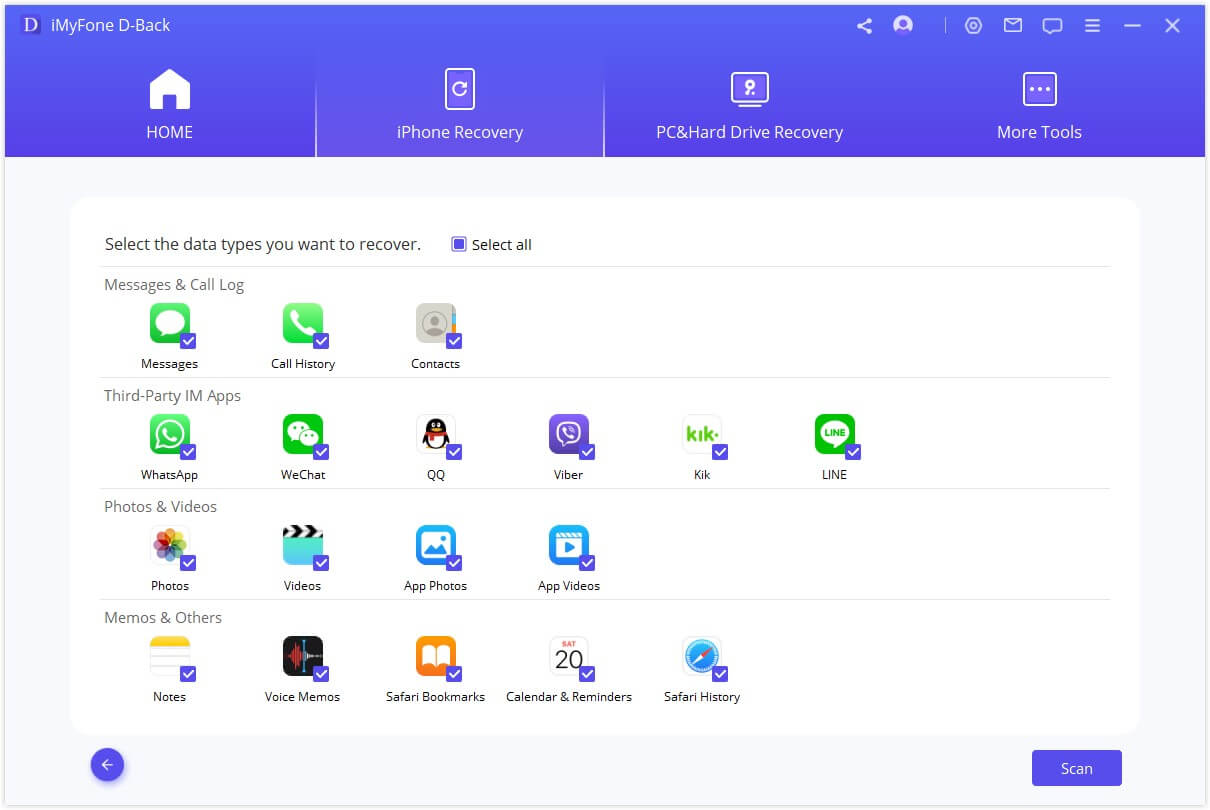 Step 3.When the scan completes, all notes will be displayed. Select the ones you need and click "Recover" to get them back.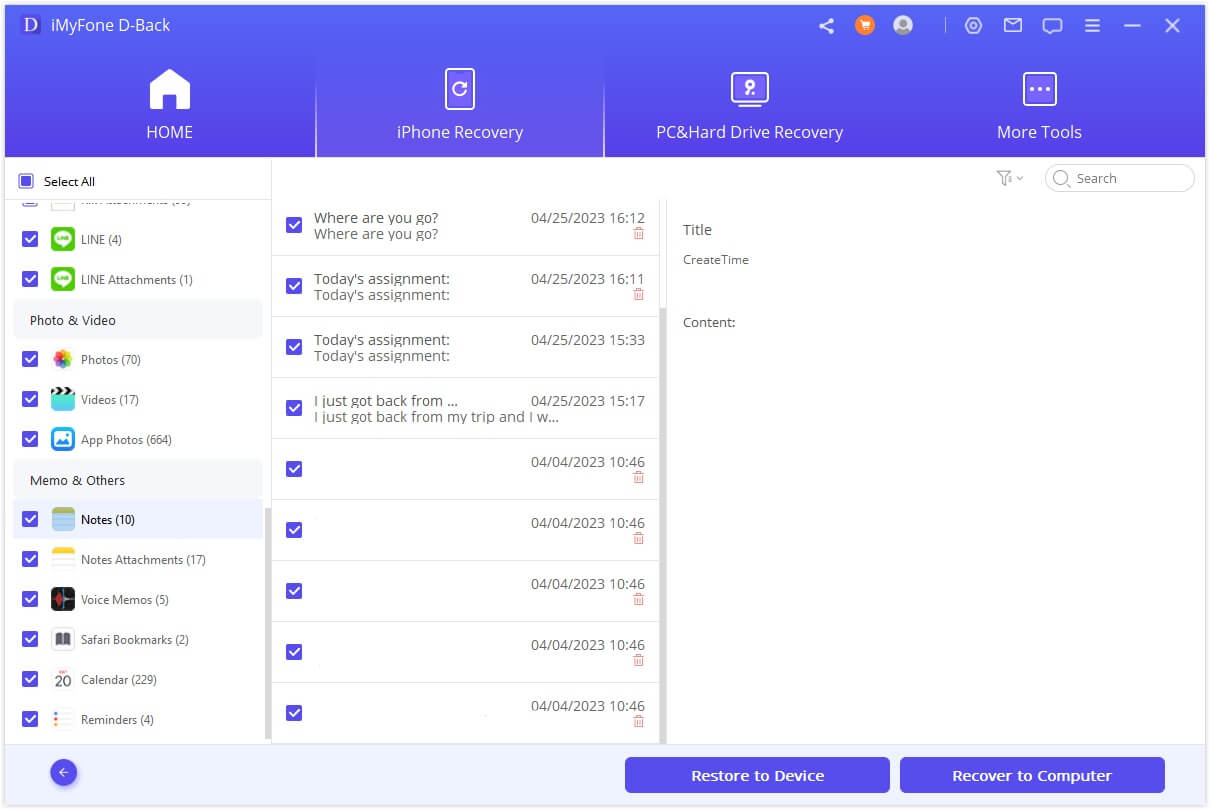 Way 3. Recover Deleted Notes on iPhone via iCloud Backup After 30 Days
If you have turned on iCloud backups, your deleted notes may be included in an iCloud backup file. To recover accidentally deleted notes on iPhone in this case, all you have to do is to restore the iCloud backup to get the data back. Here is the guide on "How do I recover deleted notes on my iPhone from iCloud?":
Step 1. Go over Settings> General> Reset, then tap Erase All Content and Settings.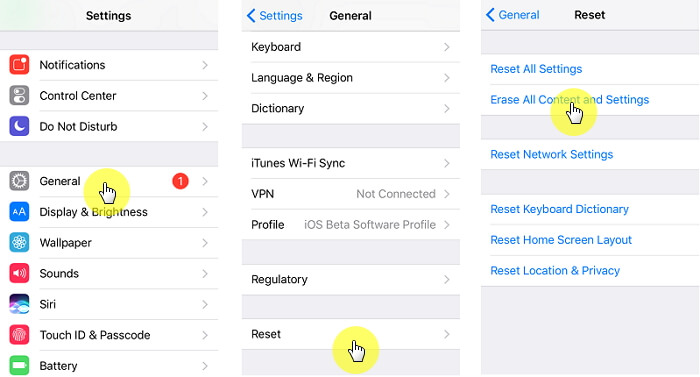 Step 2. Tap Restore from iCloud Backup and then sign in with your Apple ID.
Step 3. Select a backup which contains your deleted notes from the list of iCloud backups available.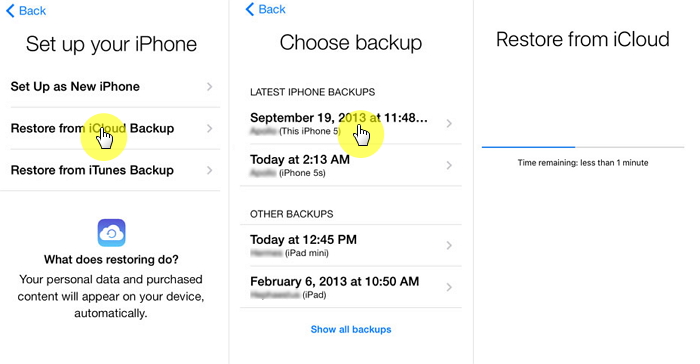 All your data and settings will be erased after resetting your device. So you will bear the risk of losing your existing data while trying to recover your previous data.
Way 4. Restore Permanently Deleted Notes on iPhone via iCloud.com
If you have turned on Notes for using iCloud, then there is one case where you can recover permanently deleted notes on iPhone via iCloud.com. That is, your iPhone is not connected to any Internet when your notes are permanently deleted, i.e. further deleted from Recently Deleted folder. No Internet access prevents iCloud from updating the latest condition of the notes so they still remain in the Recently Deleted folder in iCloud. The relevant steps required are easy as follows.
Step 1. Go to iCloud.com and log in to your iCloud account.
Step 2. Select Notes on the home screen and check the Recently Deleted folder.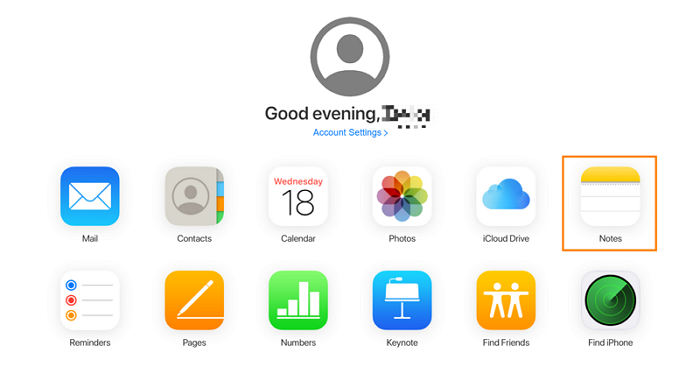 Step 2. Find the deleted notes you want to get back and click Recover at the top.
Frequently Asked Questions
1

How come there is no Recently Deleted folder on my iPhone after 30 days?

There are several possible reasons accounting for this issue. First it's probably because you are not using the upgraded version of Notes. Besides, maybe you have set Gmail or Yahoo account to sync your notes, or the recently deleted notes were cleared, or simply because you didn't delete any notes. Lastly, if you are only a participant of a shared note, deleting it will only remove it from your list, but not from the owner's or other participants', and the deleted note will not be moved to Recently Deleted folder.
2

I did not delete any notes. Why some notes disappeared from iPhone?

The email accounts on your iPhone can store notes as well in addition to just sending and receiving emails. Sometimes when notes disappear, actually they haven't been deleted but still live on a server tied to your email address. And the reason why you cannot see them in the Notes app is because something goes wrong with your email address - you recently deleted an email address from your iPhone, to name just one example. In a situation like this, you have to set up your email account again to recover the notes.
3

Does iMyFone really work as for retrieving recently deleted notes on iPhone without backup/icloud?

Still doubt about if D-Back can help you get back your lost notes? Check a user's feedback below to learn more about us!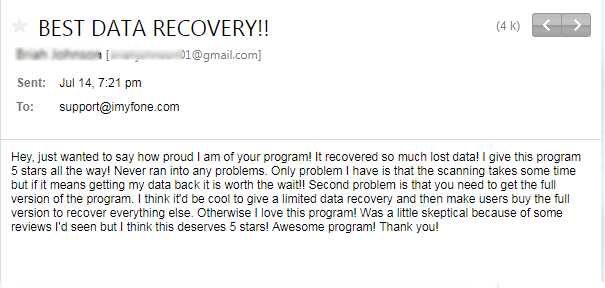 Conclusion
Recover deleted notes on iPhone without backup after 30 days may be a complex task, but iMyFone D-Back iPhone Data Recovery makes it much easier. With 4 powerful method and simple interface, this program enables you to recover what you want effectively within just a few steps. What's more, it performs exceedingly well while protecting users' data security and integrity. If you are still at a loss about which method to adopt facing deleted notes, give it a shot and iMyFone won't let you down. If you have other good suggestions about how to recover deleted notes on iPhone, please feel free to leave comments as well.
Recover Data from Windows/Mac/iOS
168,282 people have downloaded it.
Repair broken/corrupted files, photos and videos.
Supports a wide range of data types such as messages, photos, videos
100% Work with a variety of data loss scenarios.
Retrieve lost data from different types of devices
AI repair corrupted photos, videos, files.