A ton of reasons may make you lose photos on your iPhone. Scenarios such as a system crash, a virus or malware attack, wrong installation or incomplete installation of an iOS version, accidental deletion, and factory reset. All these reasons often bring discomfort and may cause panic.
This article will be focusing on the loss of photos on the iPhone after restoration. Herein, we will show you what it means by "Restore" in your iPhone and give you ways to recover iPhone photos after restore without iCloud. Keep reading to see how.
If I Restore My iPhone Will I Lose My Photos?
This part will cover two sections. Here, we will explain what it means by "Restore iPhone" and the different things involved in this. We will also show you the difference between "Restore Backup" and "Restore iPhone."
1. 1 What Does "Restore iPhone" Mean?
When one says, they performed a "Restore" on an iPhone, what they mean is they have wiped out all data on the iDevice and have restored it to its factory settings. Restoring your iPhone to its default settings is often the last resolve whenever you experience an unsolvable issue on your iPhone, and you want to start anew. Since all data will be wiped out, you should have a backup of at least your relevant data.
1. 2 Difference between "Restore Backup" and "Restore iPhone"
"Restore Backup" and "Restore iPhone" are different operations that could be carried out on an iDevice.
Restore Backup: Herein, you restore the backup of your device from a previous date. When you restore your iPhone, your current data is overwritten by the data contained in the old backup. Your current app settings, photos, homes, screen layouts, etc,. are replaced by the ones in the backup.
Restore iPhone: By restoring the iPhone, you are simply wiping out all data and apps and reinstalling a new iOS version. Here, your device is taken back to the factory settings, and it now becomes like a new device.
1. 3 When you restore the iPhone, will you lose your photos?
The most straightforward answer to that question is yes. You can recover photos after restore, the feature to do this isn't visible there, you need a tool for this. We have the right solution for this.
Different Causes For All My Photos Lost After Restore
You may have lost photos on iPhone after restoring your device from one of the scenarios below. It ranges from an iTunes backup, iCloud backup, etc. More details below.
# 1 Restore/reset iPhone and get all the lost photos
For several reasons, you may need to restore your iPhone. After you factory reset your iPhone, you lose your photos and every other data. The factory reset operation completely wipes your device of any data in it.
# 2 Restore/recover from iTunes backup and lost the current photos
When you delete some photos by accident, in most cases you may have a backup available on your iTunes, this is a great thing. At this time, you're trying to restore/recover photos from iTunes backup you've made before, but directly restore photos to your iDevice can overwrite the existing photos and any other data.
# 3 Restore/recover from iCloud backup and overwrite the current photos
This is similar to restoring an iTunes backup. Just like the iTunes scenario, the iCloud backup will overwrite all existing data and replace it with the data from the iCloud backup. As this may help get your disappeared or deleted photos back, it's also risky to some extent.
Can I Recover Lost Photos from my iPhone after Restore without iCloud?
Definitely yes. You may have carried out a factory reset and lost photos on iPhone after restoring it. If you are in search of a way to recover lost photos after restoring your iPhone without iCloud, iMyFone D-Back iOS version will help you out, and it is compatible with the latest iOS 16.
With many positive reviews to its name, D-Back is a program that functions as a photo recovery tool for iOS devices. This software can recover lost photos after restore on iPhone, iPad, and iPod touch easily without iCloud. Check out other features of iMyFone D-Back.
Features Of iMyFone D-Back
With D-Back, you can recover lost photos after restore directly from your iOS device without iCloud.
You can select particular photos to restore.
It is quite easy to use, is time-efficient, and will recover your photos within minutes.
You can preview your recoverable photos before fully recovering it.
Except for restoring photos from iPhone, D-Back is capable of recovering many other data types including WhatsApp data, Kik Data, Photos, Videos, Reminders, Voice memos, etc.
Compatible with all iPhone models and all iOS systems (iOS 16).
The D-Back software also provides a bonus mode to fix your iOS system.
[Steps] How To Recover Lost iPhone Photos After Restore without iCloud With iMyFone D-Back:
Step 1. Visit the official iMyFone site and download the D-Back software. After the installation, run the program and go to step 2.
Step 2. Select the "Recover From iOS Device" tab at the left side of your screen, there in click on the "Start" button. Using a working USB cable, connect your iPhone to your computer, once the program detects your iDevice, click "Next" to proceed.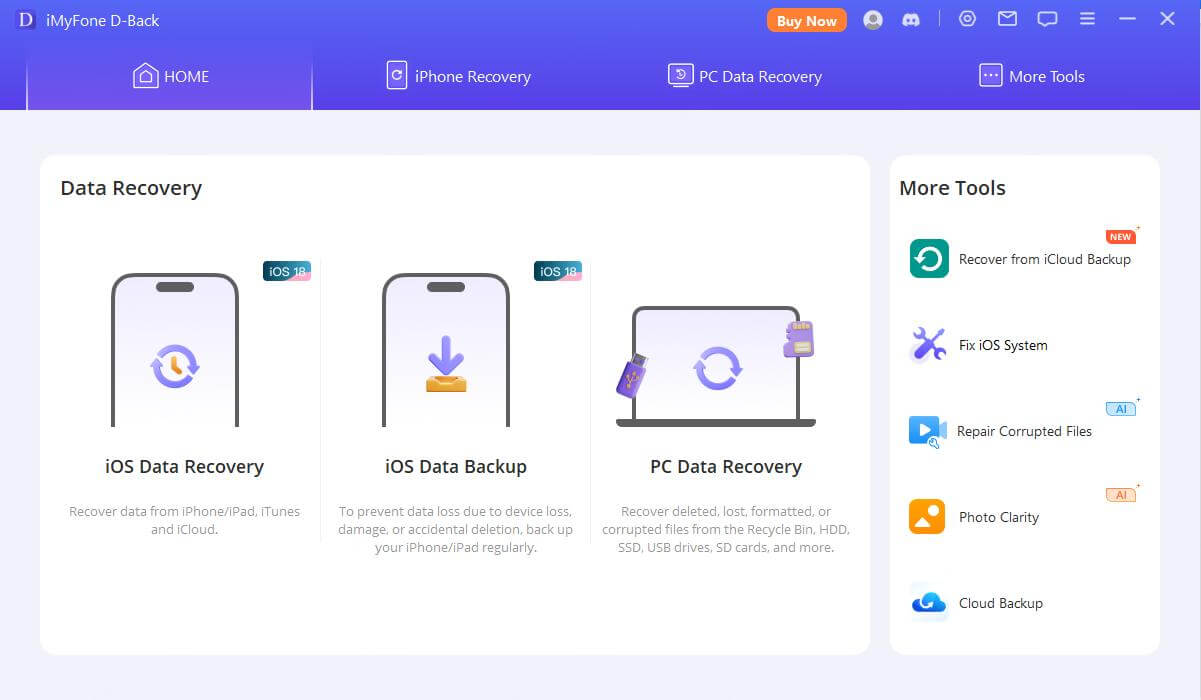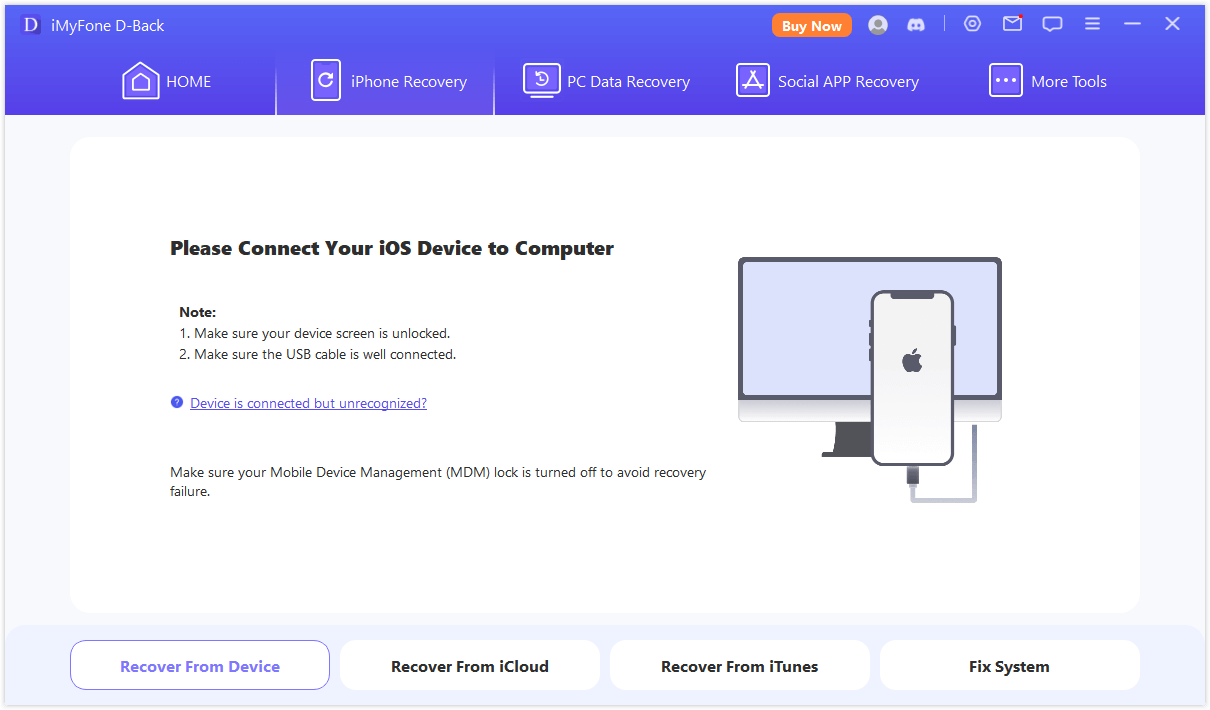 Step 3. From the list given, select the data type you wish to recover, "Photos" in this case. Click on "Scan," which is at the lower right side of your screen.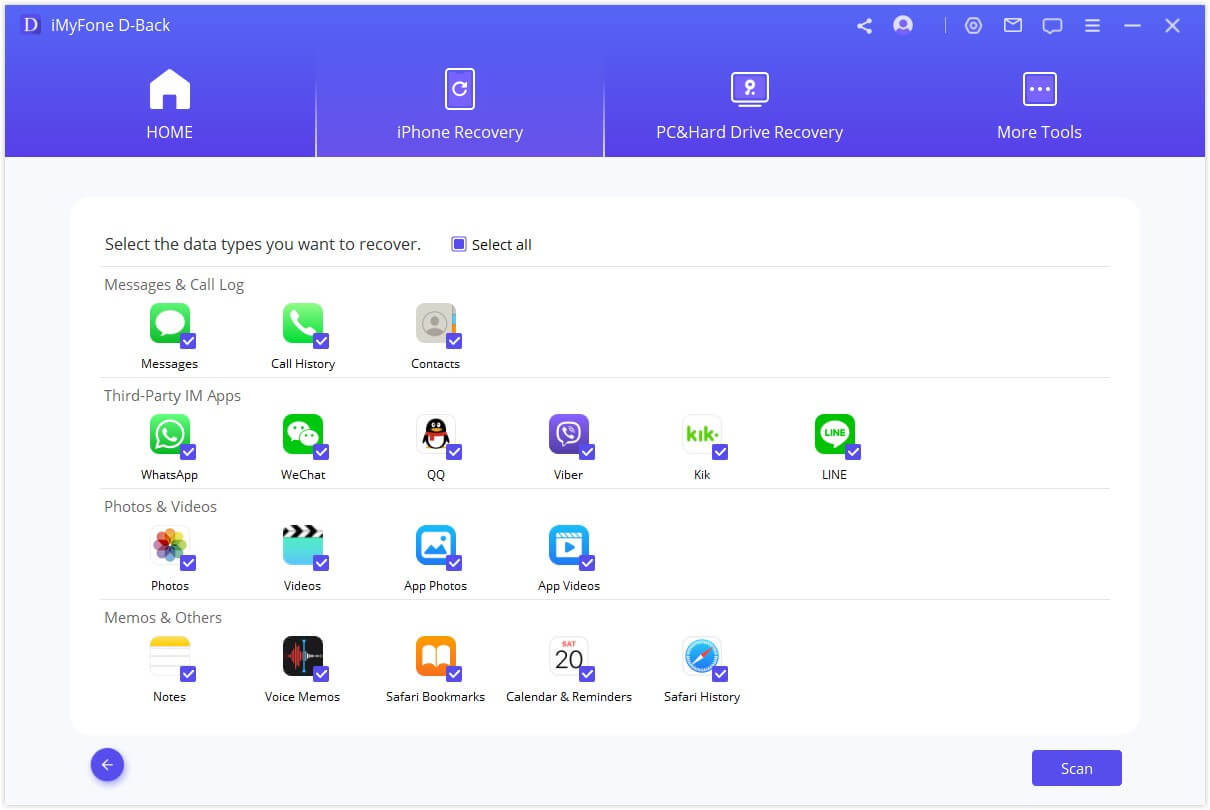 Step 4. D-Back then scans your device and displays all the recoverable photos. Here you can preview and select the photos you want to restore. After selecting the photos you want, click on "Recover" from the bottom right corner.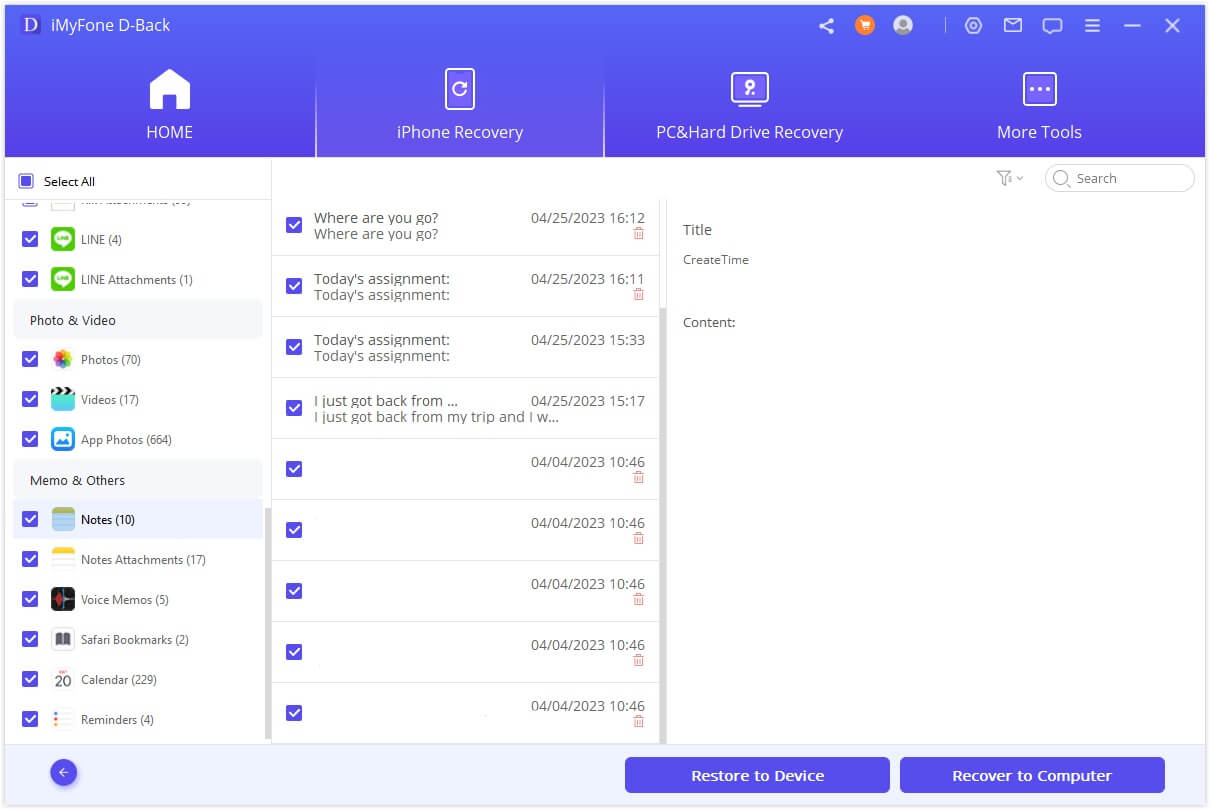 Conclusion
For some reason, you did a factory reset on your iPhone or directly restore the lost photos from iTunes/iCloud backup to your iPhone, then you lost your photos on iPhone. It is possible to get back lost photos.
To get back these lost photos after restore, we introduced a tool called iMyFone D-Back to help recover lost iPhone photos after restore without iCloud, showed you other features, and how to use it. We hope we were able to get back your lost photos, thanks for reading.