It's great to see iMyfone over-delivered on its promises.
With iMyfone Umate Pro, this process is extremely simple.
iMyfone Umate makes it quick and easy to clear cruft from your iPhone.
Umate Pro Features
Erase Sensitive Information with Guaranteed 0% Recovery Rate
Erase Private Data

Preview and selectively erase personal data reliably like it never existed.

Erase All Data

A normal reset is recoverable. Umate Pro makes erased data irrecoverable even by the FBI!

Erase Deleted Files

Previously deleted data is actually still saved on the device. We erase them all with no chance of recovery.

Erase Fragments

3rd-party apps constantly store incomplete fragments which cause your privacy get compromised.

1-Click CleanUp

Instantly delete all hidden junk files, trash, caches, temp files etc.
Secure Use of Third-Party Apps
This ensures your personal chats are fully wiped and prevented from hackers. With iMyFone iPhone Data Eraser, you can scan and view your 3rd party App data and select private data to erase permanently.
Erase App Messages & Attachments:
Wipe App Fragments & Traces:
Note: Fragments are not cookies, cache or messages but the incomplete leftover of data that entails high privacy exposure risk.
Export/delete large files
Uninstall apps in bulk
Clean junk & temp files
Export/delete/
losslessly compress photos
iOS Devices Optmizer :
Save Space & Speed Up
The 1-click cleanup mode allows you to clean up hidden garbage and deleted files that are still lurking on your iPhone, making your iPhone run fast, just like when it was brand new.
Comprehensive iPhone Data Removal Solution
No Possibility of Recovery

No any hacking tool can ever recover the data erased by this iPhone data eraser.

Wipe Also 3rd-party Apps

Supports to erase 3rd-party apps data like WhatsApp, LINE, Kik, Viber without any hassle.

3 Erasing Levels to Choose from

3 wiping levels (Low, Medium and High) available depending on your needs.

Preview & Select before Erasing

Allows you to preview those iOS files before erasing and delete them selectively.

1 Click Data Wiping Feature

Permanently erase any files that you want to delete from iOS devices in just one click.

Free Up More Storage Space

Release more precious space for iPhone/iPad/iPod by clearing unneeded files.
Erase Data Convincingly from Any iOS Device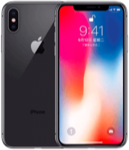 iPhone
iPhone 13 series,iPhone 12 series,iPhone 11 series,iPhone XS Max,iPhone XS,iPhone XR,iPhone X,iPhone 8 Plus,iPhone 8,iPhone 7 Red,iPhone 7 Plus,iPhone 7,iPhone SE,iPhone 6s Plus,iPhone 6s,iPhone 6 Plus,iPhone 6,iPhone 5s,iPhone 5c,iPhone 5,iPhone 4s,iPhone 4

iPad
All models of iPad Air,iPad mini,iPad Pro and iPad

iPod
iPod touch 7,iPod touch 6,iPod touch 5,iPod touch 4,iPod touch 3,iPod touch 2,iPod touch 1
Everything is Erasable:
WhatsApp Data

LINE Data

WeChat Data

Call History

(i)Messages

Kik Data

Reminders

Notes

Videos

App Cache

Apps

Safari History

Photos

Contacts

Bookmarks

Viber Data

Voice Memos

System Settings
View All Supported Data Types
Erase iPhone in 3 Simple Steps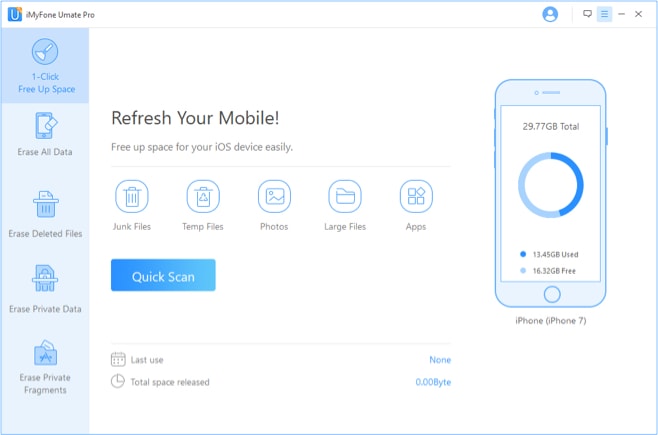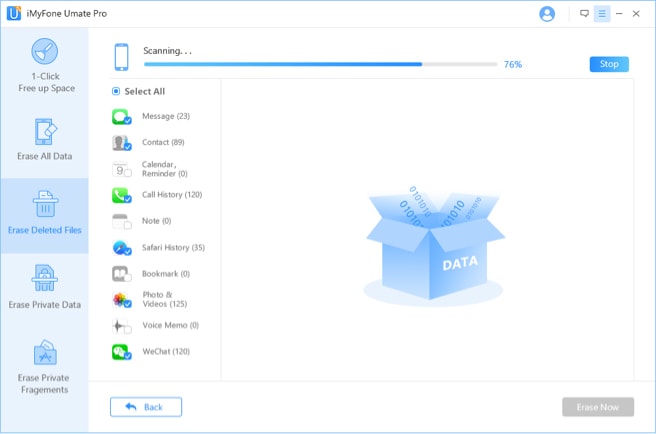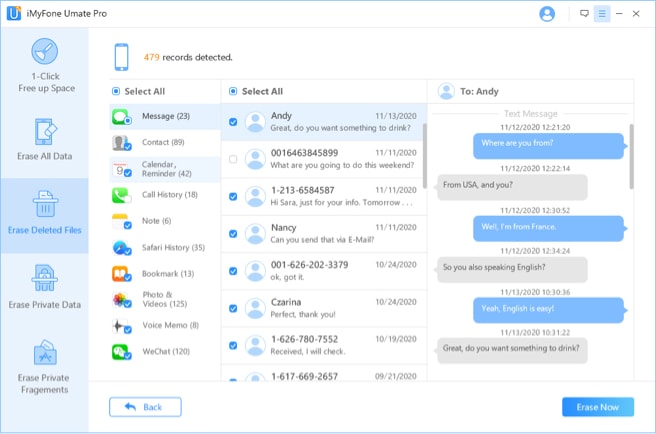 Media Reviews
"I was really impressed with iMyFone Umate. Space-saving apps are a famously scammy category. It's great to see one that over delivered on its promises. It managed to save me over 15 GB of space."
"Unless you like your privacy being invaded, then secure erasure is an absolute must. To stop the identity thieves stealing your data from your smartphone, you need to be able to pack a powerful punch. That punch can be delivered using iMyFone Umate Pro."
"iMyFone Umate shines in comparison to the usual, Apple-made method of managing mobile storage. It really is that easy. Within minutes, Cult of Mac's tester saved 5 gigabytes on a well-kept iPhone."
"If you need to make sure that your phone will have no trace of who it was previously owned by, or if you want to make sure some texts are never dug up again, iMyFone is an awesome pick."
"Worry about the account information, banking information, browsing history, emails, or other personal information on your mobile devices revealed to others? iMyFone Umate Pro can help you erase all private data on your iPhone."
"Unlike Factory Reset option on your device, iMyFone Umate Pro leaves no trace of the deleted files. The files deleted has no possibility to recover, in result your privacy is under protection, in case you want to sell your old iPhone."
30-Day Money Back Guarantee
100% Secure
Transactions Protected
Serving Millions of Users
FAQs
1. Why should I permanently erase data?

Because "simple deleting" just erases the pathway to the information and it remains recoverable if right tools are used. The file only gets marked as deleted but isn't actually removed.

2. How iMyFone Umate Pro permanently erases data?

Umate Pro removes the original files in your device including the ones marked as deleted. Once the process of erasure is complete, Umate Pro will store random data on your device storage to overwrite deleted files. Then it again deletes the files and refills data again until recovery becomes impossible. After such intricate removal process, even the FBI cannot recover your data from the device.

3. What does "Erase Deleted Files" mean?

Deleted files can be recovered if these aren't overwritten. Erase Deleted Files option in Umate Pro will fully remove previously deleted files as well as overwrite them. This makes them 100% unrecoverable.

4. After erasing data, why the previous erased data is still existing?

After you have erased data, please don't log in your Apple ID account and password. Otherwise, part of the erased data might be recovered from your iCloud backup or iTunes backup.
More