[2023] 6 Easy Ways to Restore iPhone after Jailbreak
Category: iPhone Issues
6 mins read
After some time of using an iPhone that has been jailbroken, certain applications may stop functioning and you may find that you need to take the device to Apple to have it repaired, or you may simply become bored with the jailbreak. In either event, you will be required to remove the jailbreak from your iPhone. So you will want to restore iPhone after jailbreak.
It is possible that learning that there are actually a couple of ways to go about achieving this would come as a surprise to you. This guide will walk you through removing your jailbreak and restore your iPhone to its original state.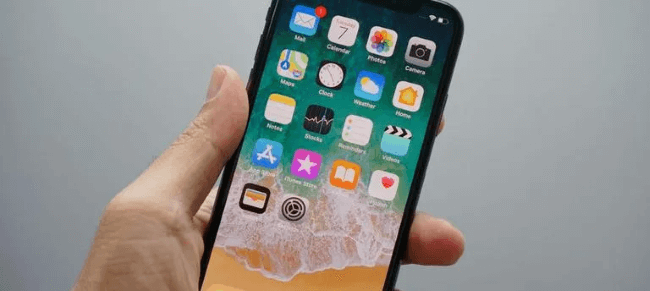 Part 1. Restore iPhone after Jailbreak to Factory Settings
Make the necessary preparations to move your material and settings to a new iPhone. Bringing your iPhone from jailbreak to factory settings is something that will help you to get your iPhone in a non-jailbroken state.
1. Simply tap the Get Started button, and then follow the instructions that appear on the screen.
2. When you are finished, navigate back to Settings, select General, then Transfer or Reset iPhone, and finally select Erase All Content and Settings from the menu that appears.
3. You will have the ability to fix your jailbroken iPhone if you proceed in this manner.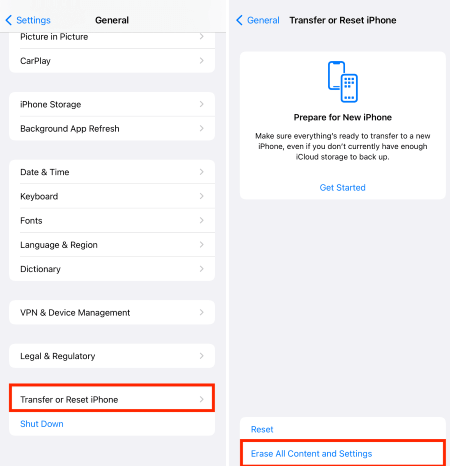 Part 2. Restore iPhone after Jailbreak in iCloud.com
Since you're able to back up your iPhone with iCloud, it's sure that you can restore your device with it. Though it may seem a bit more complicated than the first method, it's still one effective way to restore your jailbroken iPhone with a computer only.
1. To begin, ensure that your iPhone is properly connected to the computer then go to iCloud.com.
2. Enter your Apple ID and passcode of the iPhone that needs to be restored, then click on the Find iPhone option.
3. On the top of your PC's screen, select All Devices and choose the belonging device.
4. Tap Erase iPhone and type in your Apple ID passcode again. iCloud will soon begin to erase your device and restore it.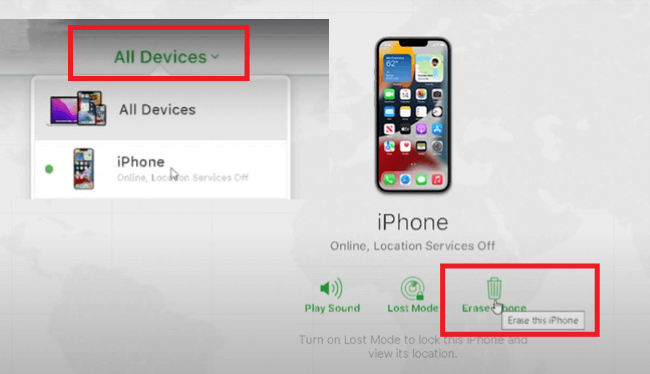 Part 3. Restore iPhone after Jailbreak with iTunes
With a computer, you can try almost all methods in this article. If you don't remember your Apple ID and passcode, then you're not able to try the second way. However, to unjailbreak your iPhone by using iTunes can be another approach that can dismiss this puzzle. If iTunes doesn't open automatically after connecting your iPhone to your computer, open it manually.
1. Click the iPhone icon in the top-left corner when your device is successfully connected to iTunes, then get access to the Summary page.
2. After that, click the Restore iPhone button and adhere to the instructions that appear.
3. Just wait for the procedure to finish as your device will now go through the processes of returning to stock.
4. Once finished, the activation screen will instantly boot up on your device.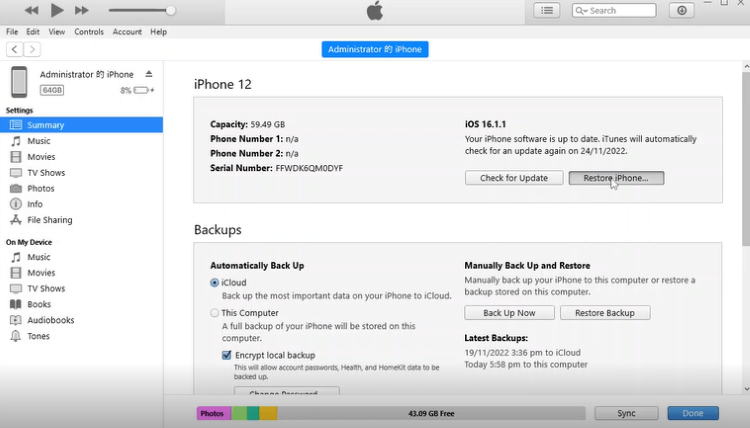 Part 4. Remove Jailbreak and Restore iPhone in Recovery Mode
Unfortunately, using the standard iTunes procedure described above to restore your iPhone to a non-jailbroken condition is far from foolproof and occasionally will not succeed owing to numerous issues. Therefore, you have the choice of putting your device in Recovery Mode to help ensure a painless procedure if you wish to completely prevent this potential problem.
Step 1: Connect your device to the computer and launch iTunes to start. Once the connection has been confirmed, press the button that corresponds to your device with the following commands:
iPhone 8/X/11/12/13/14: Quickly tap the Volume Up and Volume Down buttons on your iPhone. Next, hold down the Side button for a brief moment until the Connect to iTunes screen appears.
iPhone 7 and 7 Plus: Press and hold the Volume Down and Sleep keys at the same time for your iPhone to show the Connect to iTunes logo.
iPhone 6 and earlier: Press and hold the Home and Sleep keys, wait for the Connect to iTunes shows up on your screen.
Step 2: Choose Restore, then tap to confirm more for iTunes to begin its work.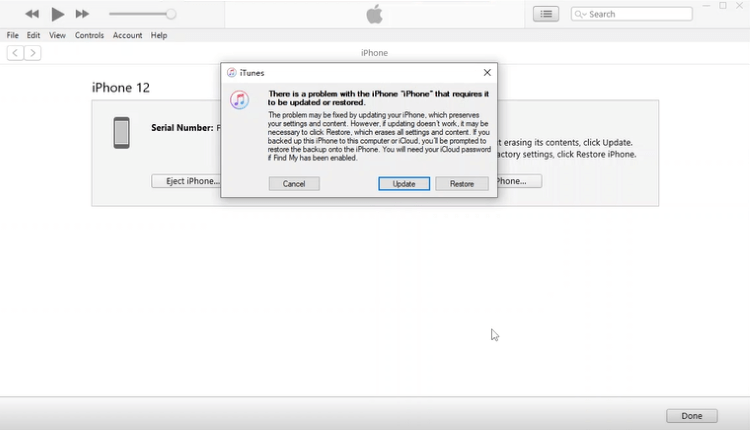 Part 5. Restore Jailbroken iPhone via iMyFone Fixppo [Best Solution]
What if iTunes fails to restore your iPhone, which is quite common as for many users? Then the best and highly recommended solution here is to use a third-party application to restore your jailbroken iPhone, which is iMyFone Fixppo. Regarded as the best alternative to iTunes, it is a 100% fast and efficient iOS system repair tool that can help to restore your iPhone to its previous state and fix your other iPhone problems without data loss.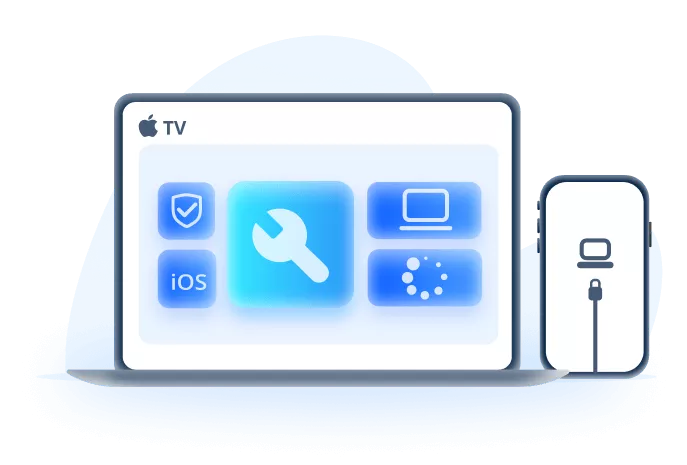 Key Features:
It can restore your iPhone after jailbreak without data loss.
Offer to freely get access toRecovery Mode needed during the fixing procedure.
Works for all iPhone models and iOS system versions.
100% safe with high success rate.
How to use iMyFone Fixppo to restore Jailbroken iPhone?
Follow the steps outlined below to utilize the Standard Mode of iMyFone Fixppo.
Step 1: After downloading and installing Fixppo, click on it and choose the fist part Standard Mode.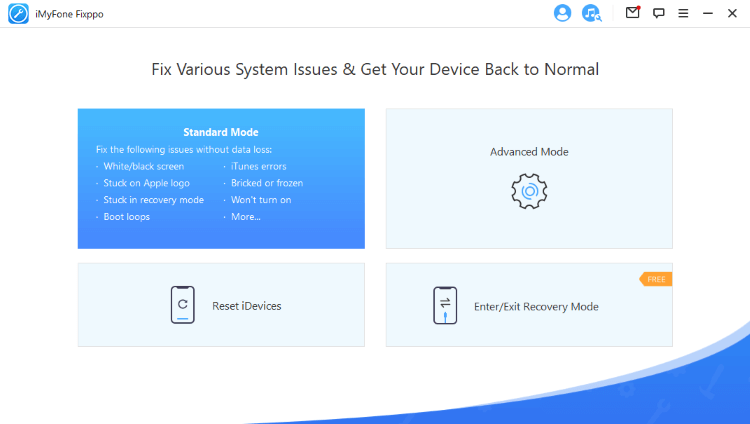 Step 2: Fetch a lightning wire in good condition to connect your iPhone to the computer. If asked, enter Recovery mode to let Fixppo be able to detect your device.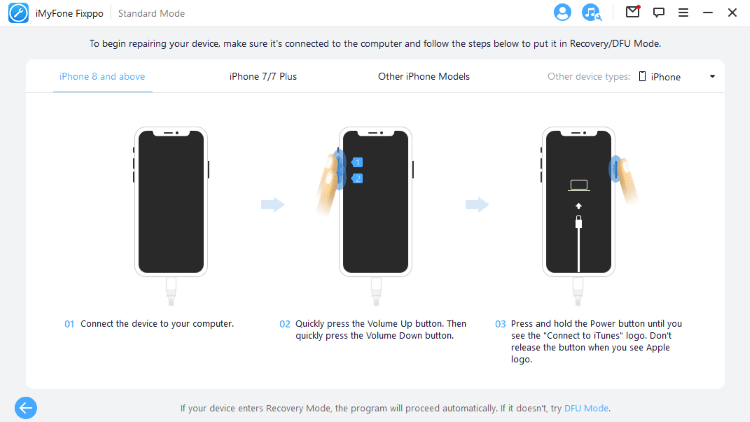 Step 3: Click on Download to get the firmware, this won't take you long, please wait for it to complete and enter the next step.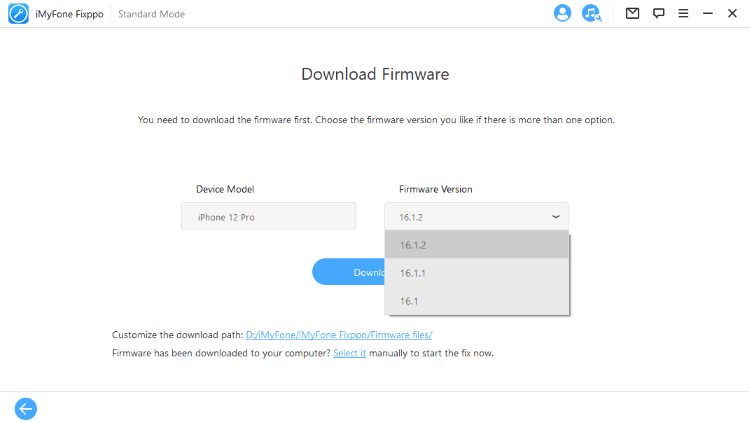 Step 4: Click the Start button, and Fixppo will take the download firmware to restore your iPhone in a second.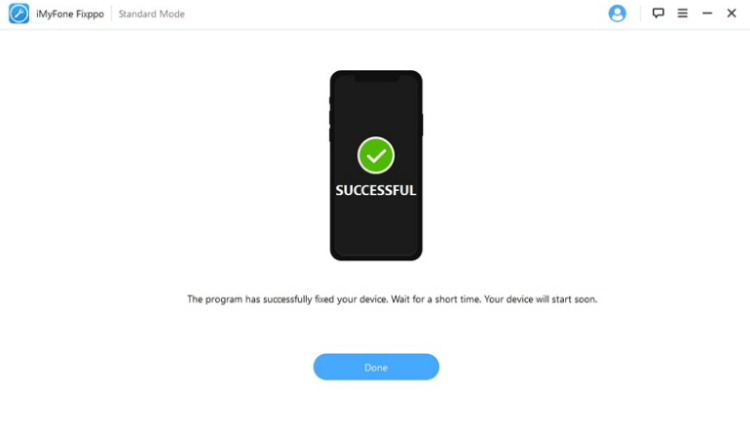 Part 6. Restore Jailbroken iPhone from Cydia
This is a way that is a lot more complicated than other methods. Rollectra can be installed through Cydia without a repo. The app only works on certain iOS versions, but it eliminates the need to upgrade firmware via iTunes. Cydia won't let you install Rollectra if you're not on iOS 11.3 through 11.4 beta 3.
1. If your device is compatible, open Cydia and hit the magnifying glass icon in the lower right to restore factory settings. Search for semirestore11/rollectra and choose it. To install, tap Modify in Details' upper right.
2. Tap Install from the bottom prompt, then confirm to finish its installation and click Restart Springboard. After your device reboots, turn on Airplane Mode and launch Rollectra. To unjailbreak, touch Unjailbreak and Erase All on the prompt.
3. Relax as the app resets your smartphone. If your device freezes during restoration, wait a minute or two and check the bar under the Apple logo. If no movement is detected, force restart. The welcome/activation screen will appear after a few minutes.
Conclusion
Well, now that you have read all about how to restore iPhone after jailbreak, you can easily notice that third party applications like iMyFone Fixppo can easily solve your problem without confusing you much. If you have ever tried any of the solutions that we discussed but not our recommended one, try it today and see the difference.