How to Play ARK: Survival Evolved Mobile on PC
Category: Mirror Tips
5 mins read
ARK: Survival Evolved, an open-world survival game, has enthralled players with its immersive gameplay and captivating visuals. While the game offers an engaging experience on various platforms, playing it on a PC takes the adventure to new heights.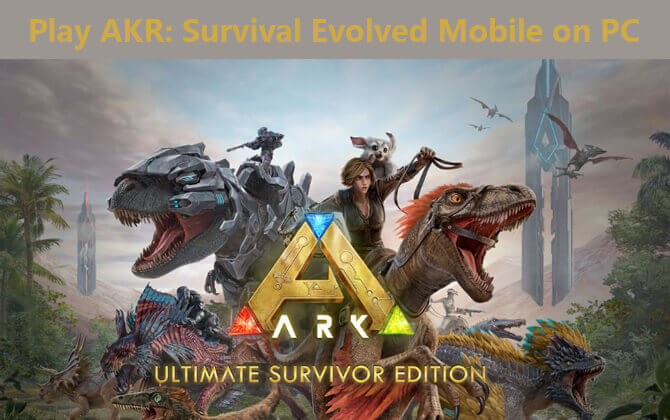 In this article, we explore the benefits and unique features of playing ARK: Survival Evolved on PC, including enhanced controls, powerful hardware, and access to a vibrant modding community. Prepare to tame dinosaurs, construct fortresses, and unravel mysteries as we dive into the thrilling world of ARK: Survival Evolved on PC.
Part 1. What is ARK: Survival Evolved
ARK: Survival Evolved, as the name suggests. This game is all about the survival skills that you have to use to save your character in the game safe and alive. The game starts with helping your character naked, freezing, and starving to death. Then, you have to utilize your survival skills to tame or kill dinosaurs and some other kinky creatures in the game.
You have to harvest crops to feed yourself, craft items for your survival and design weapons, and explore other treasures to grow a living on a stranded island where there's no one to help you! You can also team up with other players in the game to make a squad to fight against all the hardships and grow an everyday life on a stranded island.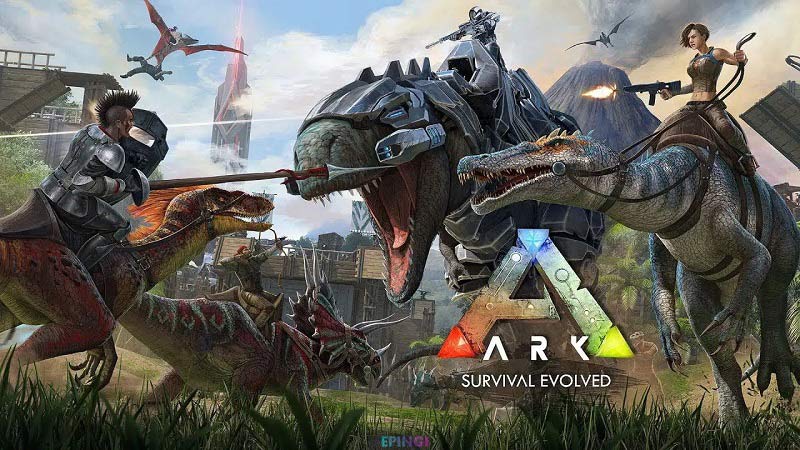 The best thing is that you can either tame the dinosaurs or breed them to help you in surviving. You will have to take care of your pet creatures and feed them to get them back to life after a tiresome battle for life. You also have to vary inventory like armor and lift allies over the enemies to knock them down and rule over their territories.  In this way, the whole game revolves around you surviving the hardships and growing at a place where living is not as easy as it seems.
Part 2. How to Play Mobile Games Like ARK: Survival Evolved on PC
1

iMyFone MirrorTo

You can play ARK: Survival Evolved on Steam. However, the most convenient wqay is to use a screen mirroring app. iMyFone MirrorTo is a good choice to help you easily play Android games on the computer. You can easily mirror your Android games to computer and play the game with a large screen. Even the latest Android version 11 is supported.

How to play ARK: Survival Evolved Mobile on your computer by MirrorTo:

Step 1. Download, install and launch iMyFone MirrorTo on your Windows 10/8.1/8/7.

Step 2. Use a USB cable to connect your Android device, like Samsung, Xiaomi. Make sure that your device and computer is well-connected.

Step 3. Then turn on USB debugging in the Developer option (go to Setting > About phone > Software information).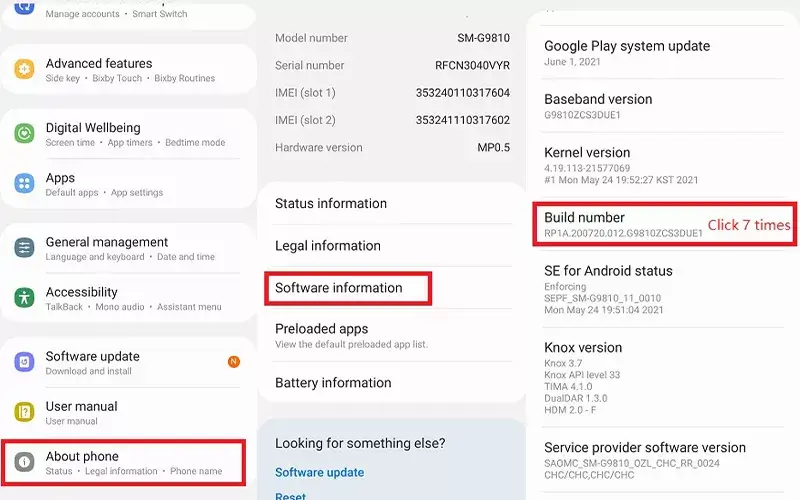 Step 4. iMyFone MirrorTo apk will be automatically installed on your Android device after opening permission to MirrorTo.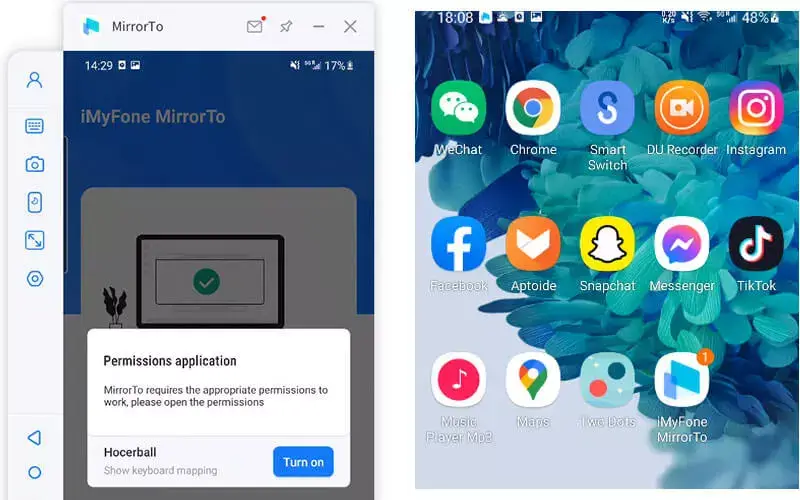 Step 5. After that, your device is successfully mirrored on your computer. Then you can use keyboard and mouse to play different mobile games freely.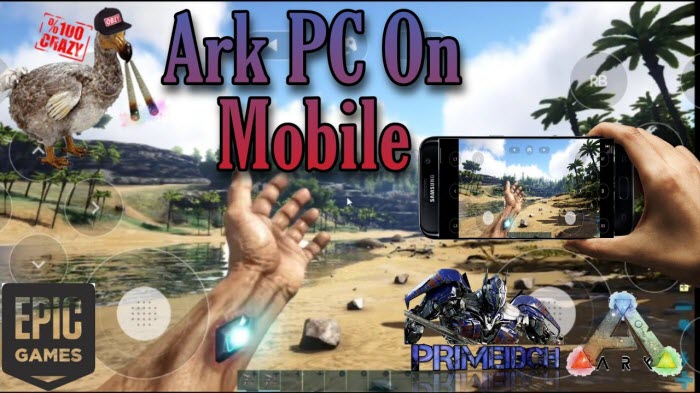 Video Tutorial on How to play ARK: Survival Evolved Mobile on PC with MirrorTo:
Get 10% OFF with Coupon Code: YTR5E7
Real-time Mirroring: iMyFone MirrorTo provides smooth and seamless mirroring, ensuring an uninterrupted gaming experience.
Preserves Mobile Gaming Experience: With MirrorTo, you can enjoy the same touch controls and features of mobile games, maintaining the authenticity of the gameplay.
Simultaneous Mobile and PC Use: MirrorTo allows multitasking, enabling you to use your smartphone or tablet while mirroring the screen to your PC.
Enhanced Visuals and Performance: Utilizing the power of your PC's hardware, MirrorTo offers improved graphics, higher resolutions, and smoother frame rates.
Easy Setup and User-Friendly Interface: MirrorTo offers a simple setup process and a user-friendly interface, making it accessible to all users.
Device Compatibility: MirrorTo works with a wide range of iOS and Android devices, ensuring compatibility with various smartphones and tablets.
---
2

BlueStacks

As we told you before, ARK: Survival Evolved Android APK only supports touch screen devices, but if you want to download it on PC, you will need BlueStacks ARK: Survival Evolved. Don't know what BlueStacks is? Let me brief you about this incredible software that fakes the Android environment on PC. BlueStacks is an Android emulator that helps you get an Android environment on your PC.

It means that you don't need to have an Android device to enjoy all the Android OS features, as you can fake an Android environment on a PC. In this way, ARK: Survival Evolved PC download APK can help you enjoy your favorite ARK survival game on PC.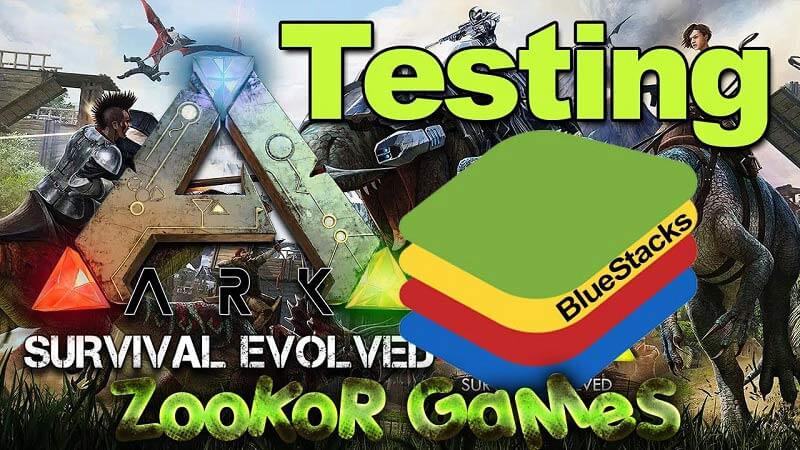 This Android emulator allows you to enjoy all your favorite Android games and applications on PC.
While playing games, you can improve your shots and enhance your aiming skills through the keyboard and mouse.
You can excel in moving your character freely in the game via keyboard and mouse.
The macros feature allows you to record and replay the same action more than once in the game.
How to download ARK: Survival Evolved Mobile and play ARK: Survival Evolved Mobile?
Step 1. Download and install the BlueStacks app on your device.
Step 2. Register a new user or log in with your old Gmail account our PlayStore account.
Step 3. Now, type "Ark Mobile" in the search bar of the software.
Step 4.Click on the "Install" button to start downloading ARK: Survival Evolved Android APK.
Step 5. After successfully completing the installation, click on the game to launch it and start playing your favorite game on PC.
---
3

GameLoop

Some alternatives of BlueStacks are also available in the market, and GameLoop is at the top of the list. Gameloop is another trusted and highly efficient Android emulator that can help you play your favorite Android games on PC. In addition, this simple and easy-to-use software will help you play ARK: Survival Evolved mobile on PC.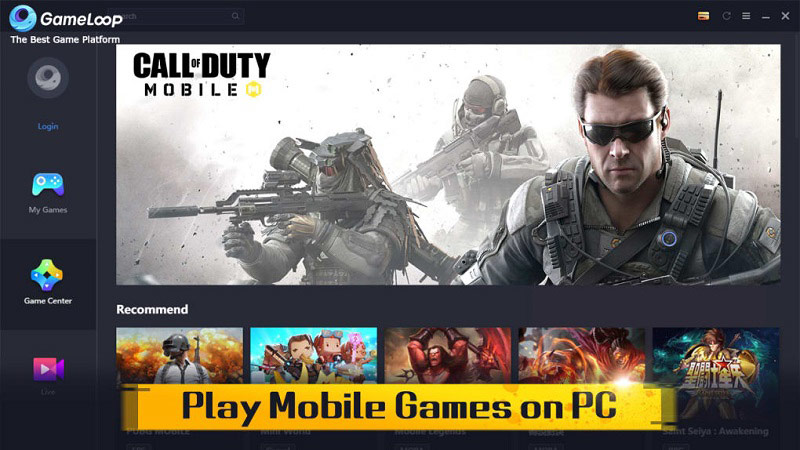 Gameloop is free software that allows you to enjoy your favorite games on PC.
It has an entirely new interface, lively graphics, additional customization options, and some new tools.
It is an instant way to find, download and enjoy all your favorite Android games.
This software is made to provide you with lag-free gaming sessions.
It is an incredible option for multiplayer gaming sessions.
How to download and play ARK: Survival Evolved Mobile on PC
Step 1. Download the Gameloop emulator on your PC or laptop.
Step 2. After installations, click on the emulator to launch the interface.
Step 3. Search "ARK: Survival Evolved mobile".
Step 4. You will see the game in the search results.
Step 5. Click on the game to install it.
Step 6. After completion, launch the game and enjoy playing your favorite game!
---
4

Play ARK: Survival Evolved on Steam

You can still play ARK: Survival Evolved on Steam with your Windows PC. You need to purchase it again on Steam. It's not crossplay on Steam & mobile. Players using a PC can Crossplay between Steam and Epic games.
Part 3. Tips for Playing ARK: Survival Evolved Mobile for PC
Playing ARK: Survival Evolved Mobile for the first time? Don't worry! Some tested and verified tips and tricks can help you survive a little longer on the stranded island. The following is the list of things that you must know before playing ARK: Survival Evolved Mobile. These tips and tricks are used by experts and shared so that you can also get your way to higher levels. So, without any further delay, let's dive in and learn the best tips and tricks to play ARK: Survival Evolved Mobile for PC.
The first thing that you should focus on is to collect the resources for more prolonged survival. If you don't have the resources to stay alive, your survival would be impossible. So, the first thing you have to do is make a strategy to gather as many resources as you can.

The next tip is to use the right tool. As you will proceed in the game, you get so many different tools and weapons. Sometimes you may get confused about which one to choose first. Be very conscious while using your tools because it will define your success or rate of survival. Also, you will have to build some tools by yourself at first, so be careful while using tools.
You must know that building a shelter for the night is your dire need, so don't take it for granted and build one for you as soon as possible.
When you are able to build more shelters, don't build a shelter at visible places because it will make you vulnerable, and your enemies can easily spot you and destroy you.
Building lots of beds will multiply your chances of survival. You must build a network of beds all across the world so that you can move around whenever and however you want.
Joining a tribe would be a great option to minimize your struggles and grow along with so many different people. In addition, you will make new friends who will help you in surviving.

Taming animals around you should be one of your bucket items. You must not rely only on your pick and hatchet. You have to be friends with different animals so that they can help you whenever needed.
Part 4. Game Like ARK: Survival Evolved
Looking for some other recommendations of Android games that you should play on PC using an emulator? Here's the list!
Subsistence
Valheim
Osiris: New Dawn
Life Is Feudal: Your Own
Dayz
Rust
Raft
Subnautica
Conan Exiles
Part 5. FAQs about ARK: Survival Evolved Mobile PC
1

Is Ark survival evolved cross-platform PS4 and pc?

No, you can't crossplay the game on PS4 and PC. The game does offer cross-play between certain platforms, such as Xbox and PC, but PS4 is not included in that compatibility.
2

How to play with friends on ark survival evolved pc?

To play with friends on Ark: Survival Evolved on PC, you can follow these steps:

1. Ensure that all players have the game installed on their PCs and are connected to the same network or online environment.

2. Launch the game and select "Multiplayer" from the main menu.

3. Choose whether you want to host a dedicated server or join an existing server. If you're hosting, you'll need to configure the server settings, such as map, player limit, and game mode.

4. Share the server information with your friends, including the server name or IP address, and any required passwords. If you're joining an existing server, your friend will provide you with the server details.

5. Your friends should go to the "Join Ark" option in the main menu, select the "Unofficial PC Sessions" or "Favorites" tab, and enter the server details you provided.

6. Once connected to the server, you and your friends will be in the same game world. You can communicate and play together, exploring, building, and surviving in the Ark.
3

How to make a server in ark survival evolved pc?

To create a server in Ark: Survival Evolved on PC:

1. Open the game's installation folder.

2. Launch "ShooterGameServer.exe" in the "Win64" folder.

3. Configure server settings like name, map, and player limit.

4. Save the settings and wait for the server files to generate.

5. Share the server's public IP address or name with friends to connect.
4

Is it worth getting Ark on PC?

For Ark fans, getting Ark on pc is worth more than anything. Playing their favorite game on a bigger screen brings unmatchable joy to them. Also, a new way of controlling your characters and surviving in a game is worth trying. So, yes! Getting Ark on PC is worth it.
5

Is Ark mobile better than PC?

As ARK: Survival Evolved is an Android game and supports touch screen devices, it runs flawlessly on mobiles. However, on the flip card, you need an emulator to play ARK: Survival Evolved Android APK, which may lag sometimes and cause frustrations. In this way, Ark mobile works better than Ark mobile on pc.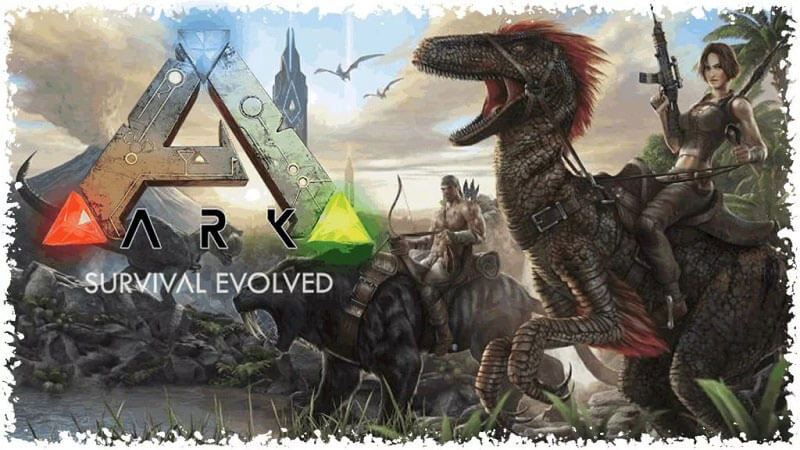 7

Is ARK: Survival Evolved free to play on a PC?

Luckily yes! ARK: Survival Evolved is free to play on PC unlimitedly. You can simply download the game on PC free of cost and start playing it instantly without buying any subscriptions unless you are using a paid emulator. BlueStacks and Game Loop are the free Android emulators that you can use to play ARK: Survival Evolved mobile on PC. There is a list of alternatives that you can use to download and play ARK: Survival Evolved mobile pc for free!
8

How big is ark survival evolved on pc?

It needs almost 150GB of storage and needs more for a good performance on PC. So I recommend you use iMyFone MirrorTo, which gives you a great experience with the least storage usage.
Conclusion
We knew that there are many ARK: Survival Evolved mobile fans out there looking for an ultimate guide about how to play ARK on PC. That's why we decided to provide them with a defined path to play their favorite game. This article is dedicated to all the fans that wanted and asked for this brief guide. Play your part in spreading this article so that every ARK fan can get this. Perhaps you can try iMyFone MirrorTo tool to this game. Don't forget to share this article with your friends who are great ARK: Survival Evolved mobile PC fans!