5 Newest Ways to Use Viber on PC
Category: Mirror Tips
4 mins read
One of the best communication apps, Viber, has to be used with a smartphone and is a valuable communication tool at work. Using Viber on a PC allows you to communicate without other phone-related distractions. The bigger display line also makes for better conference calls.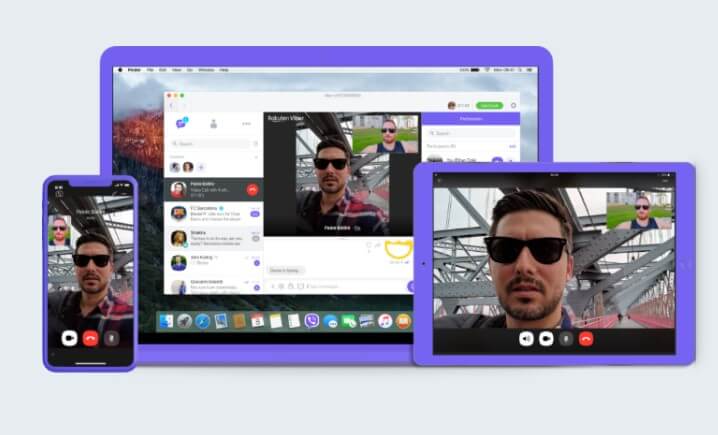 Part 1: Download Viber for PC from Official Way (Windows & Mac)
Whether the computer is Mac or Windows, you will have to install Viber. Download it from the app's official website, Viber.
1

How to Install Viber on Windows

Step 1. After download it, open the downloaded file if your computer isn't set to open it automatically and click install. If you can't find it, as it can sometimes happen, search for 'vibersetup' on the search bar.

Step 2. Depending on your security settings, your computer might ask you to confirm if the download is from a secure source before installation. Click 'Yes'.
Step 3. Follow instructions on the installation wizard to the end. Installation should be over within a few minutes.
There is Viber 32 bit and Viber 64 bit version. If the 64-bit version fails to install after download, it may be incompatible with your computer. Download Viber 32 bit and install.
---
2

How to Install Viber on Mac

Step 1. Download the Mac version of Viber for desktop.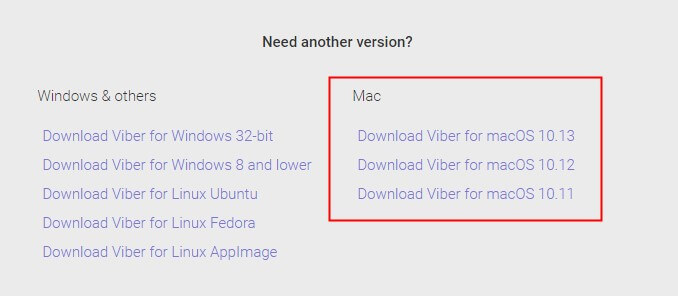 Step 2. The download should take a few minutes, and then the icon will appear at the bottom of the screen.
Step 3. Click the icon, and it will take you to Viber's location on the computer.
Step 4. Drag the Viber icon into the applications folder.
Step 5. Double click on the icon that is now on the application folder.
Step 6. The system may ask whether the download is from a reliable source. Click 'Yes'.
---
3

How to Activating Viber on PC

Step 1. Open Viber on your Android or iPhone. Click on the three bars on the top right-hand side of your Android screen or three dots on the same location on your iPhone.

Step 2. Click/tap the icon ; the QR icon should appear automatically, but if it doesn't, tap on the tab 'QR Scanner' in Android devices and 'Scan QR Code' for iOS.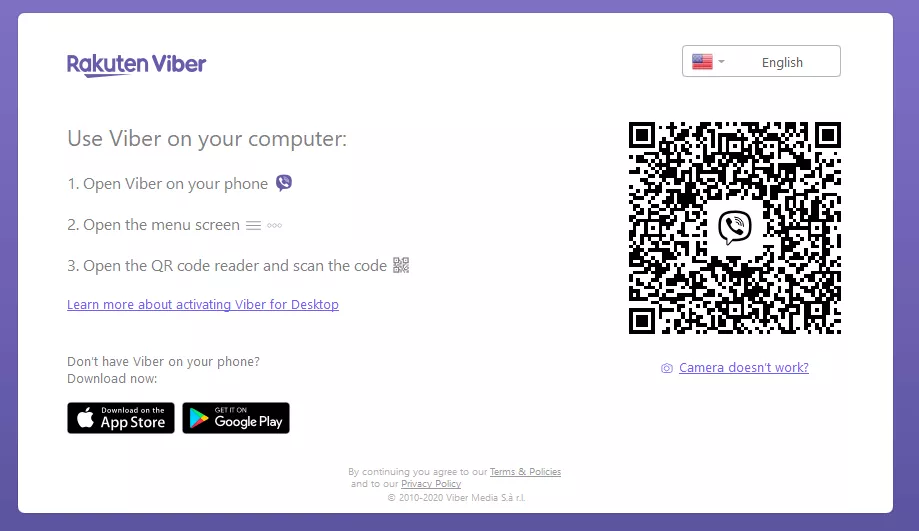 Step 3. The smartphone will prompt you to approve activation of Viber, after which you should select 'Yes' or 'Approve' as the case may be for Android and iPhone.
Step 4. Scan the QR code on your desktop screen by pointing your smartphone's camera at the code.
Step 5. Click 'Open Viber' on your computer screen to open the app on your computer.
Part 2: How to Use Viber on PC without Downloading
You can use Viber on a PC without downloading. You need to mirror it using different mirroring ways.
1

Comparison of the 4 Mirroring Ways
| Screen Mirroring Way | Compatibility | Easy or Difficult to Use | Connective Stability | Screen Image Quality |
| --- | --- | --- | --- | --- |
| | iOS & Android | Easy to Use | Very Stable | Fairly High Quality |
| | iOS & Android | Fairly Difficult | Mostly Stable | Good Quality |
| | Android | Fairly Difficult | Stable | Fairly High Quality |
| | iOS & Android | Difficult | A Bit Unstable | Fairly High Quality |
---
2

iMyFone MirroTo

iMyFone MirrorTo is arguably the best in the market today. It works flawlessly for iOS and Android devices. It benefits you from enjoying a bigger display line without installing apps on your PC. You can even enjoy the larger display in apps that are impossible to install on a PC.

Most of the users give it an excellent rating and it, therefore, has a 4.5 out of 5, which is fantastic considering it has had hundreds of thousands of reviews.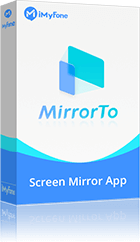 When mirrored, you can use the PC screen to control the phone's screen for better entertainment activity.
Can enjoy social media like Snapchat, Instagram, YouTube, and other platforms with big screen for better communication.
You can easily live stream your phone screen to platfroms like Facebook, Twitch, Zoom, and other platforms for better sharing.
Follow the Steps to Use Viber on PC via MirrorTo
Step 1. Download and install iMyFone MirrorTo on your computer and launch the program.
Step 2. Connect your mobile device to the phone using a USB cable. Select 'Transferring Files' .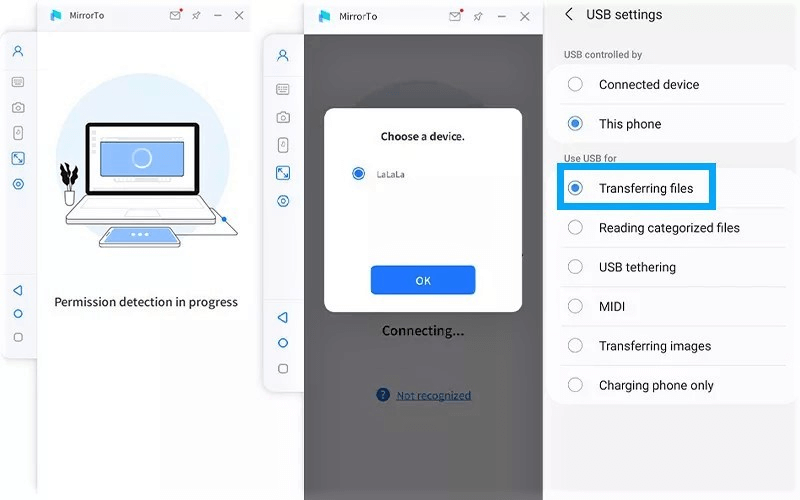 Step 3. Go to developer settings and enable USB debugging.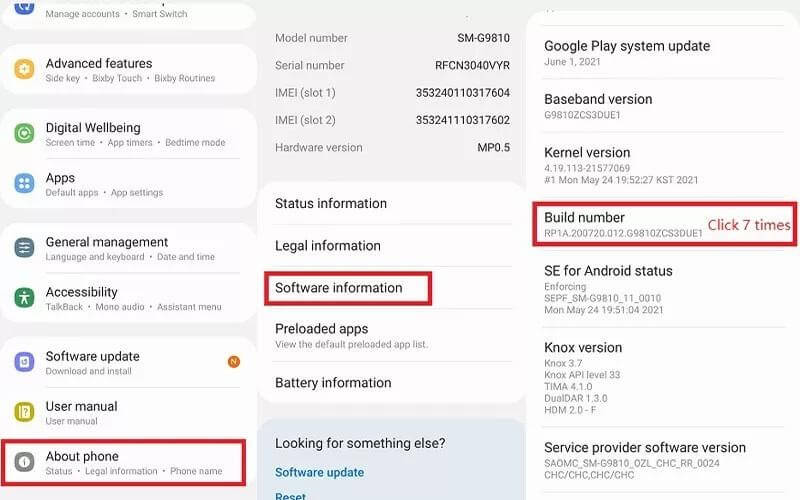 Step 4. Click Turn On to offer permission to mirror. Now you can see Viber on your PC.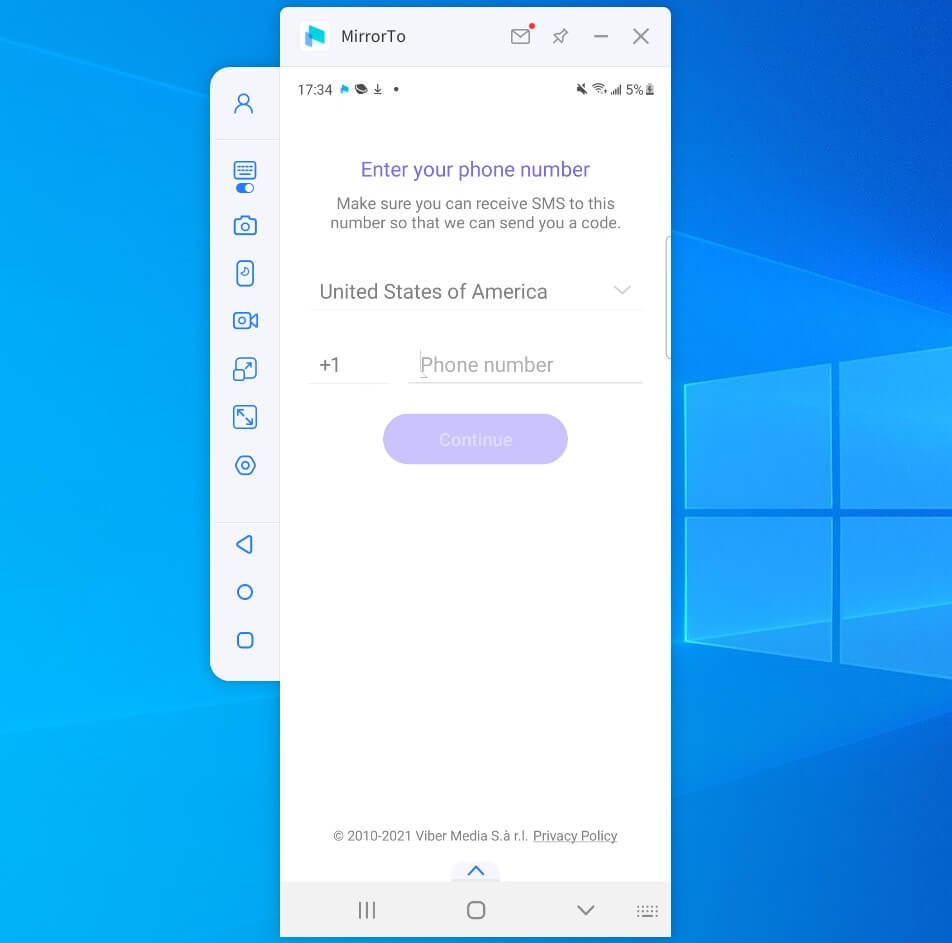 Video tutorial on using mobile apps on PC with MirrorTo:
Get MirrorTo 10% OFF with a Coupon Code for Limited Time: YTR5E7
---
3

AirDroid Cast

AirDroid Cast is powerful and easy to share and control Android and iOS screens to a larger display. You can take direct control of these mobile devices on a computer.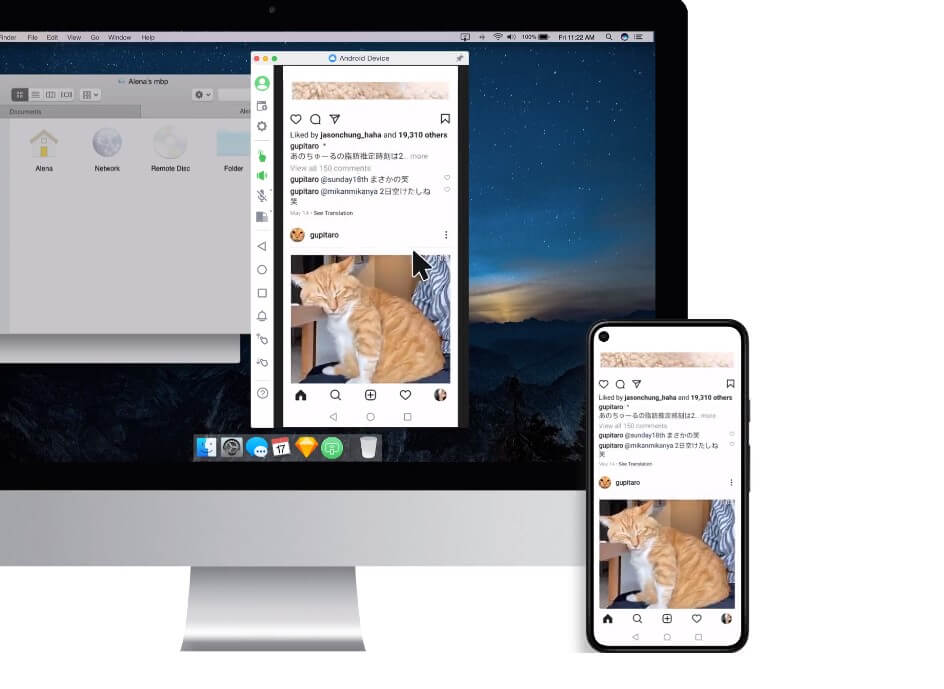 Airdroid is a casting app with the unique feature of simultaneously casting several screens on one device.
It supports file transfer and management.
It allows for notification and messaging from various devices.
Steps on How to Use Airdroid Cast
Step 1. Download AirDroid on your Android device. Go to Google play store to download AirDroid. Install and launch it.
Step 2. Enable the feature that allows you to see all the apps you have on the phone on the screen of the PC.
Step 3. Tap on the AirDroid Notification Mirror Service and check the box.
Step 4. Tap 'OK' on the confirmation screen that appears.
Step 5. Open the QR code.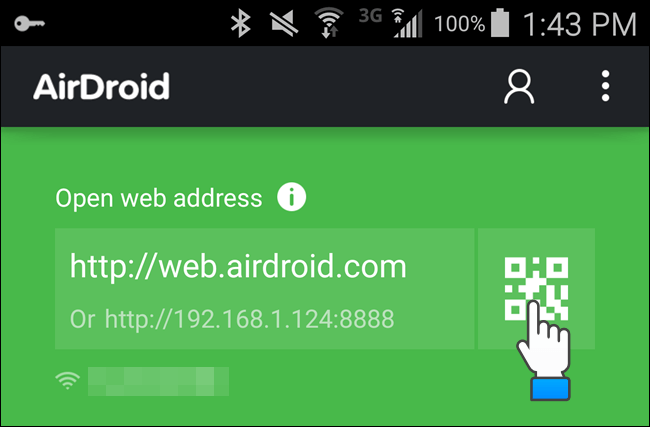 Step 6. Aim the camera at the QR code under 'Scan QR'.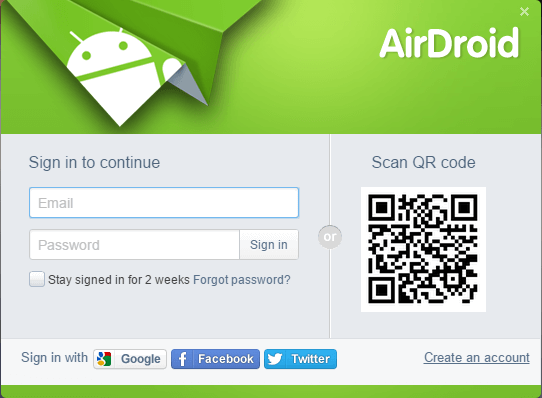 Step 7. Your Viber screen will mirror automatically.
---
4

Phone Mirror

Phone Mirror prides itself on being the best Android to PC mirroring software. It enables you to control the device on the PC screen using a mouse and keyboard.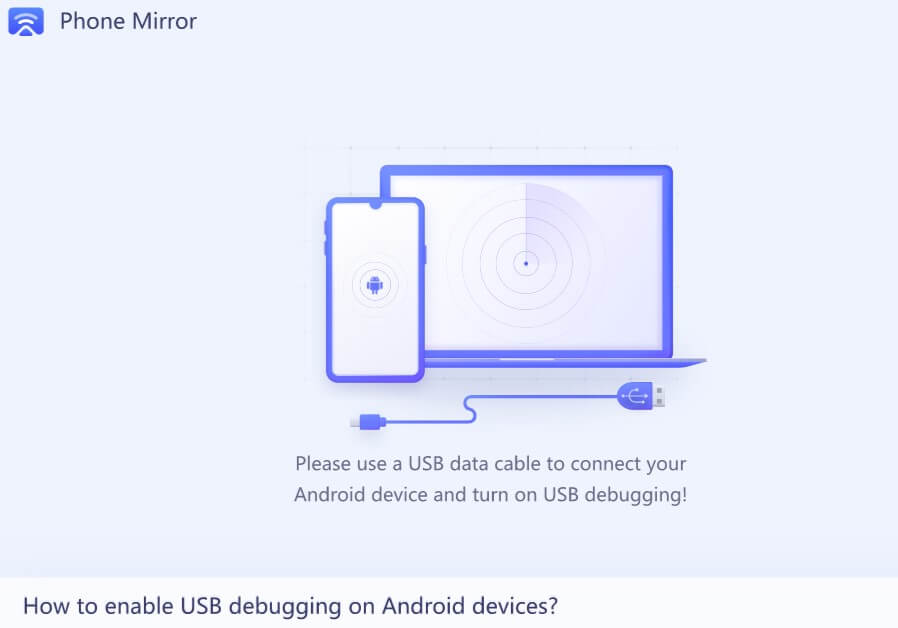 Technoshare allows you to turn your phone screen off and still mirror it on the PC's screen.
It allows you to control your Android smartphone using your PC's mouse and keyboard.
You can share files between the PC and Android.
Steps on How to Use Phone Mirror
Step 1. Launch Tecnoshare phone sharing and connect the Android smartphone.
Step 2. Allow for USB debugging.
Step 3. Once debugging is complete, click the mirror icon to start mirroring.
---
5

Reflector

Reflector is a screen mirroring app for both Android and iOS devices. It works great for personal use, but it may not be as effective in professional settings with multiple devices.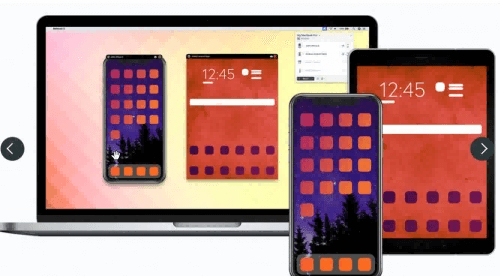 Screen monitoring in reflector is entirely wireless; you don't need cords or cables to connect.
Compatible with iPhone, Android, Mac, Windows, Chromebook.
It allows you to record screens and voiceover audio.
Steps on How to Use Reflector
Step 1. Download and install reflector on your computer.
Step 2. Ensure your computer and iPhone are on the same WiFi network.
Step 3. Open reflector on the PC.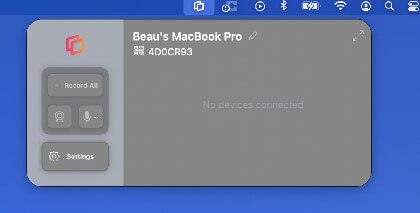 Step 4. Open your phone screen and select 'Screen Mirroring' on the screen menu.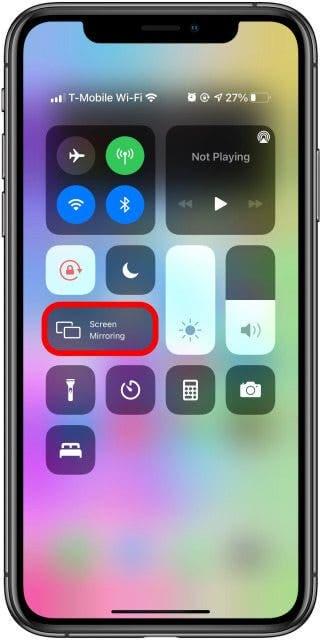 Step 5. Select the receiver you want and use Viber on your PC.
Conclusion
iMyFone MirrorTo stands out from other Viber mirroring apps in many ways. TechRadar is one of the respected IT publications that endorse it. One thing that stands out the most is its compatibility across various platforms.
Screencasting using iMyFone MirrorTo helps you access Viber and other social media pages on the PC. This increases your enjoyment of the experience from these sessions and makes it possible to have access to them even when working. iMyFone MirrorTo gives you the means to connect to social media apps in your computer from your device.
Mirror & Control iOS/Android Screens on Windows PC/Mac Easily and Fluently.