Every iPhone comes with a set of default ringtones, but you can increase your iPhone default ringtone collection by purchasing more from iTunes or creating one from a song using iTunes or a ringtone app. However, sharing these ringtones with a friend or family member is usually a hard nut to crack.
Moreover, when you want to upgrade to a new iPhone, you will definitely want to transfer your ringtones to your new iOS device. The question that begs for an answer is "How can I share ringtones between my iPhones?"
How to Share Ringtones between iPhones Using iTunes
iTunes is the official program for iOS data management and transfer. This program can be used to transfer purchased ringtones to iPhone, but this works only in earlier versions of iTunes. The version must be earlier than iTunes 12.7.
So, if you still have any iTunes version beyond iTunes 12.7, then you can fool these steps to transfer your purchased ringtones from one iPhone to another.
Step 1: Connect the iPhone where you have the ringtones you would like to transfer to your PC using a USB cable. Launch iTunes.
Step 2: Wait for your iPhone icon to appear on iTunes, then click File > Device > Transfer Purchases from [Device Name]. All your iTunes purchased files will be transferred to iTunes including purchased ringtones.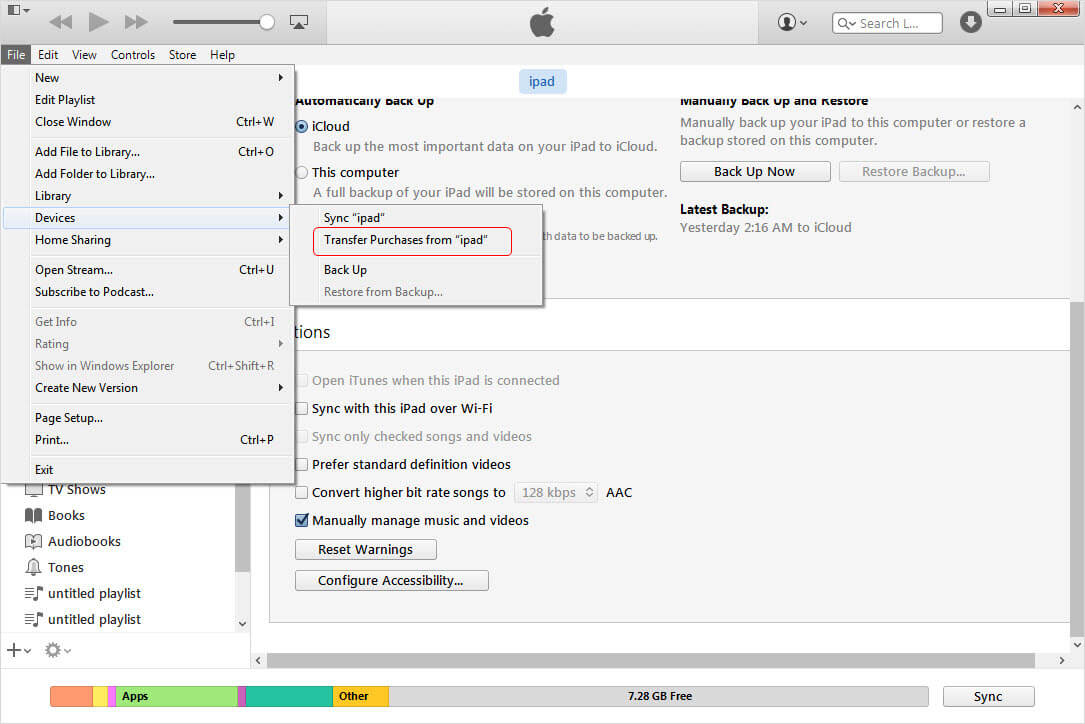 Step 3: Disconnect your iPhone from your PC, and connect the second iPhone where you want to transfer ringtones to.
Step 4: Click on the device icon on iTunes, and click on the "Tones" option on the left side of the menu.
Step 5: Click "Sync Tones" and select the tones you would like to have synced, and click "Apply".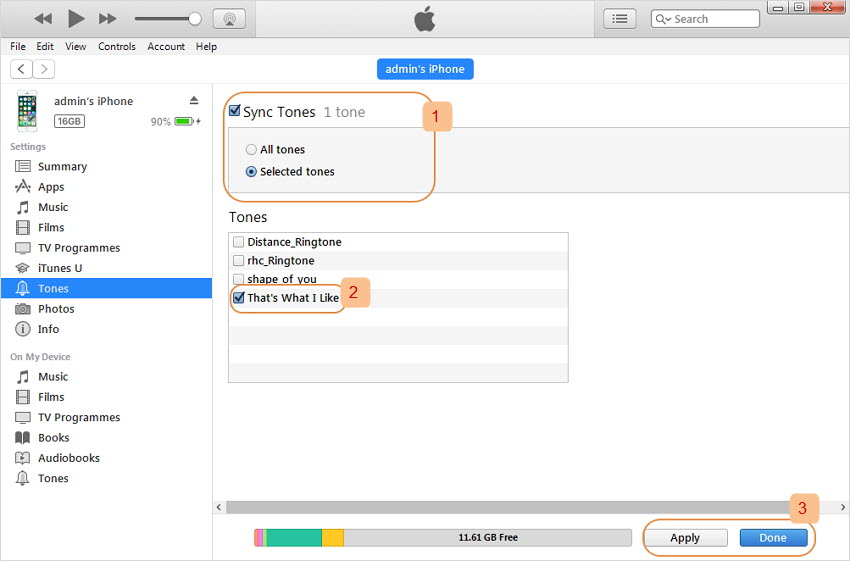 Disadvantages:
You may not be able to transfer your custom ringtones. iTunes only transfers purchased ringtones.
Custom ringtones in the second iPhone may get lost when syncing files from iTunes. It's the limits of iTunes sync.
The option to selectively transfer ringtones is not available.
If you've already updated your iTunes to version 12.7, then this method is not for you.
How to Share Ringtones between iPhones without iTunes
With the recently updated iTunes 12.7, you cannot sync ringtones between iPhone and iTunes because there is no "Tones" tab in iTunes 12.7. But sharing ringtones between iPhones is still possible with iTunes alternative software. One of such software that is useful in transferring ringtones from iPhone to iPhone, or even to iTunes is iMyFone TunesMate.
TunesMate is a smart iTunes alternative that is highly effective in managing iPhone content including ringtones. It can help you to create and share ringtones between iPhones and other iOS devices. It also gives you options to extract and transfer files to iPhone, iPad or iPod touch from your iTunes Library or directly from your computer.
Key Features:
Manage iPhone Ringtones: Customize your own tones; transfer ringtones to/from iPhone; edit the tones, etc.
Two-way transfer of media files from iPhone to computer/iTunes, and from iTunes/computer to iPhone.
No chances of data loss when you sync files to iPhone from computer/iTunes/external drive, etc.
Purchased and non-purchased files are supported to be transferred or managed.
Files supported include music, playlists, videos, photos, ringtones, podcasts, audiobooks and much more.
Steps to Share Ringtones between iPhones without Limits
Step 1: Download and install iMyFone TunesMate on your Mac or Windows PC. Connect the first iPhone and launch TunesMate.
Step 2: Click on "Music" tab, then select "Ringtones". At this point, all your ringtones will be displayed. Select the ringtones you would like to export, and click "Export > Export to PC/Mac".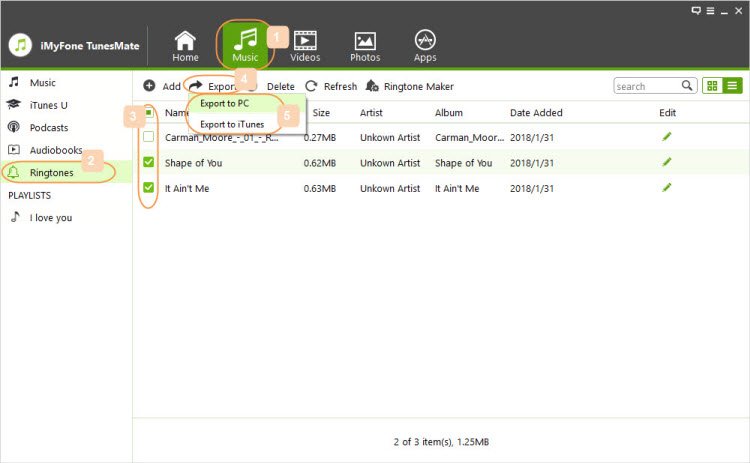 Step 3: Browse a folder to store your ringtones, click "OK" to complete the transfer. Disconnect the first iPhone from computer.
Step 4: Connect the second iPhone and go to the "Music" tab and "Ringtones" tab again.
Step 5: Click "Add > Add Files", then locate the folder where you stored the ringtones you imported from the first iPhone. Then click on it to add them to the second iPhone.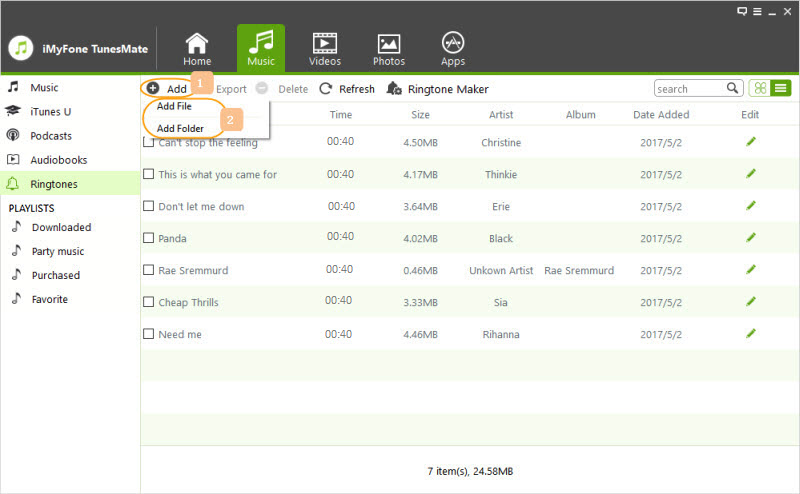 Note: If you want to make your own tones from any songs, you can use its "Ringtone Maker" feature which helps you easily decide the precise section of a song to be your tone.