"I bought an iPhone XS on the same day it was officially released on stores, but 1 week into using the device, Face ID started failing in recognizing my face. So, why would FACE ID suddenly stop working on my iPhone XS, and refuse to respond to every troubleshooting solutions? I don't know if this is because of a glitch, but I really need a viable solution to fix it back. -- Maxwell."
If Face ID is not working on your iPhone 13/12/11/X, then these solutions will help to fix it. Moreover, we're happy to mention here that Maxwell has sent his appreciations to us after solving the issue using our tips, and we hope this would help to lift the burden of "Face ID not working on iPhone 13/12/11/X" off your shoulders.
Best Way to Fix Screen Lock Issues with LockWiper
The prime solution for fixing all iPhone screen lock and iCloud issues and malfunctions is iMyFone LockWiper iPhone Unlocker. Having been tested and trusted by over one million iPhone, iPad or iPod touch users, software authorities, and software review sites, LockWiper stands as the most popular iPhone unlocking tool that's available in the market today.
Therefore, if you desire to fix Face ID not working on iPhone 13/12/11/X then you should get iMyFone LockWiper now to fix every problem you may have.
Benefit A Lot from LockWiper to Unlock Screens
Easily and permanently fix "Face ID not working" on iPhone without passcode.
Remove all iPhone screen locks and security issues without any hassle.
Open locked, disabled, and broken screen iPhone to access your it again in 5 minutes.
Support not only Face ID, but also touch ID, 4 or 6 digit passcodes and Apple ID unlock.
Also fix screen issues, like being stuck at recovery mode, black/white screen, frozen screen, etc.
Steps to Fix Face ID Not Working on iPhone 13/12/11/X
Step 1. Launch iMyFone LockWiper on your PC or Mac, click the "Start" tab.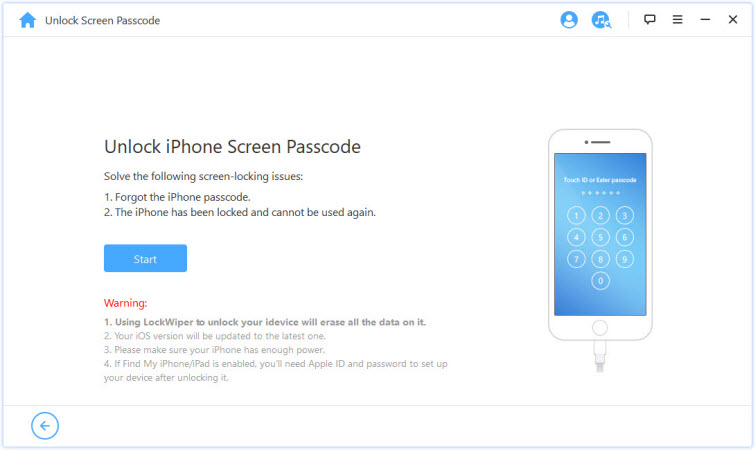 Step 2. Connect your iPhone using an Apple lightning cable.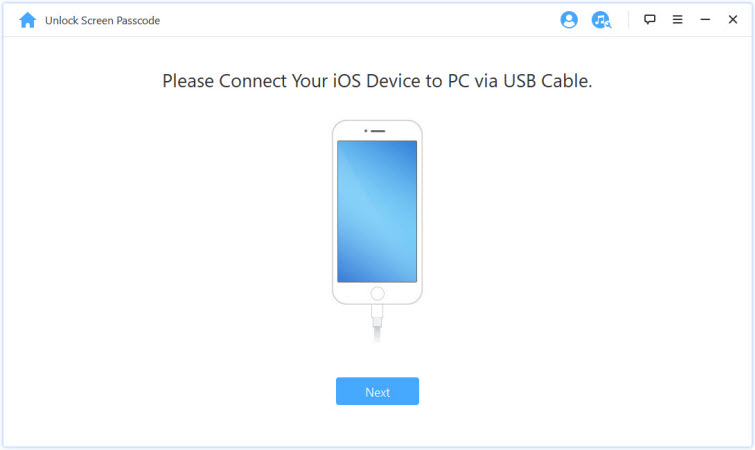 Step 3. Download the firmware package for your iPhone by clicking "Download". Once done, click "Start to Verify" to continue.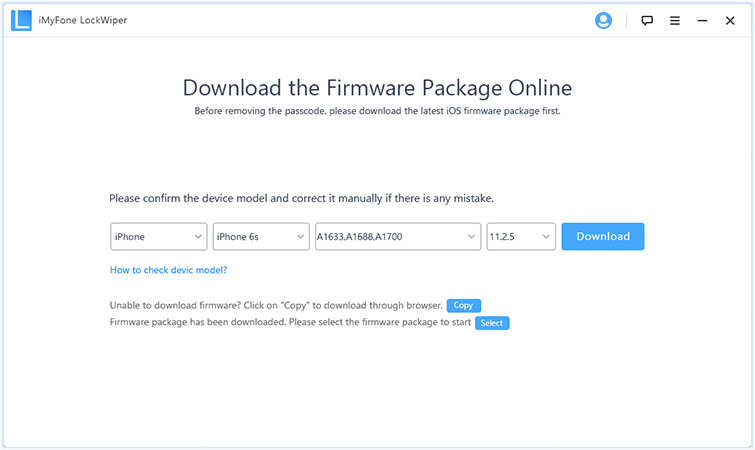 Step 4. When verification is done, click "Start Unlock" and confirm to begin the fixing process.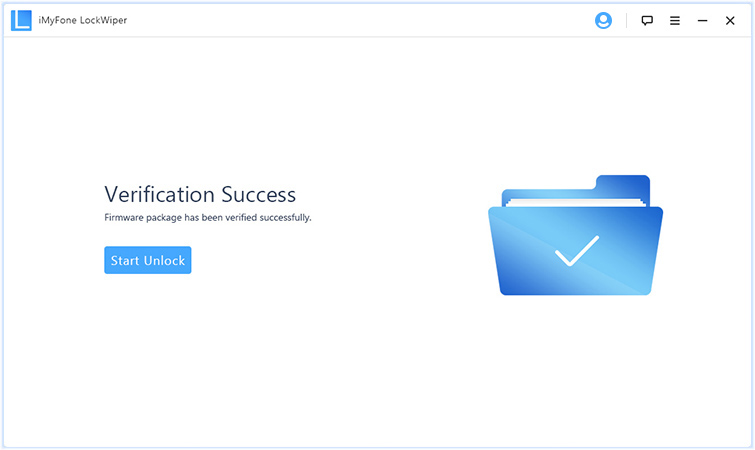 You can also check on this video:
Other Ways You Could Try to Solve Face ID Problems
#1. Your Face Should Stand Out
The TrueDepth camera on iPhone 13/12/11/X works perfectly when your face stands out. So, if you're using a sunshade, face cap, or anything that masks your face, then remove it and try again.
#2. Disable Attention Aware Feature
You can turn off Attention Aware feature on iPhone if you don't want the TrueDepth camera to make an adjustment in display or volume when you are looking away. This can be the solution to Face ID not working on iPhone.
Launch Settings app, and click "General > Accessibility".
Tap on "Face ID & Attention.
Turn off the switch next to "Attention Aware Features".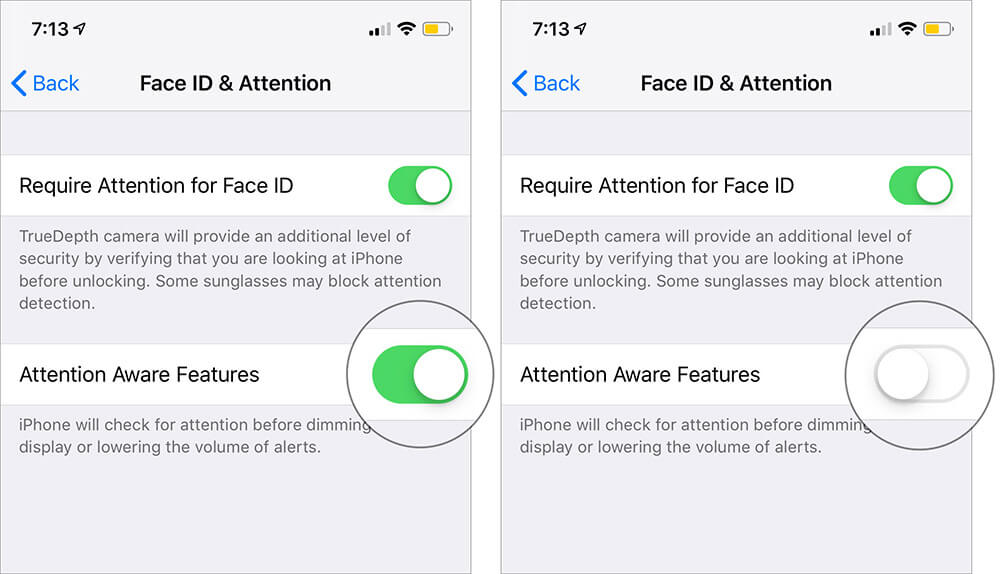 #3. Reset Face ID
If Face ID is not working on your iPhone, then you can reset Face ID and set it up again.
Launch Settings app, and click "Face ID & Passcode".
Enter your passcode there.
Tap "Reset Face ID".
Then, tap "Set up Face ID" to set it up again.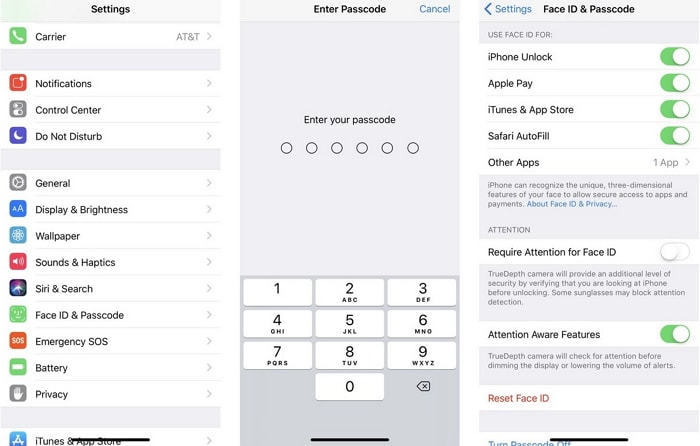 #4. Reset All Settings
If Face ID is still not working on your iPhone, then try resetting all settings, which might be helpful.
Launch the iPhone Settings app, and click "General > Reset > Reset All Settings".
You will need to enter your passcode to proceed.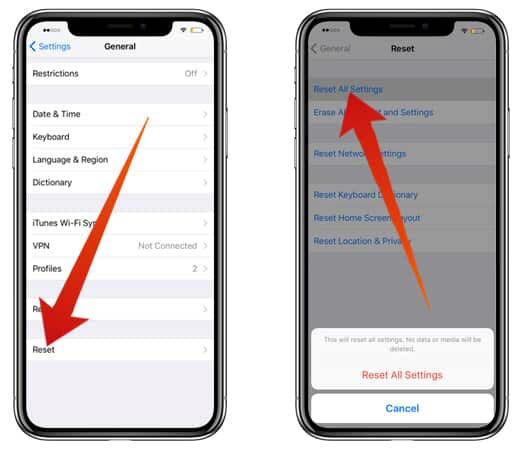 It will reset all the settings including the WiFi connection, but it won't affect any of your iPhone data.
What Does Reset All Settings Do on iPhone >>
#5. Update iOS to the Latest Version
Updating iOS is one of the biggest troubleshooter for many issues. Apple keeps on updating the iOS to improve performance and fix many bugs. So, it's necessary to check if there is a new version available. Here are the steps:
On your iPhone, open Settings app.
Then navigate to General > Software Update
If there is a new version, tap on Download and Install to process the update.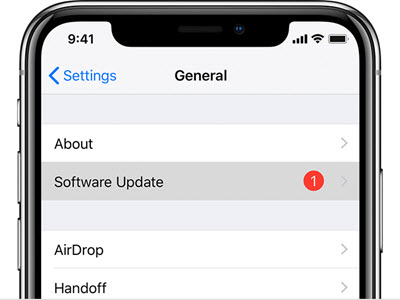 #6. Set up an alternate appearance
Although Face ID can learn to overcome items like sunglasses, recognizing you in some occasions, if you have an appearance that looks very different, it may cause the "Face ID not Working" issue. So, to make sure Face ID works more seamlessly, it's necessary to add an alternate appearance. Follow these instructions to add an alternate appearance:
Settings > Face ID & Passcode > Set Up an Alternate Appearance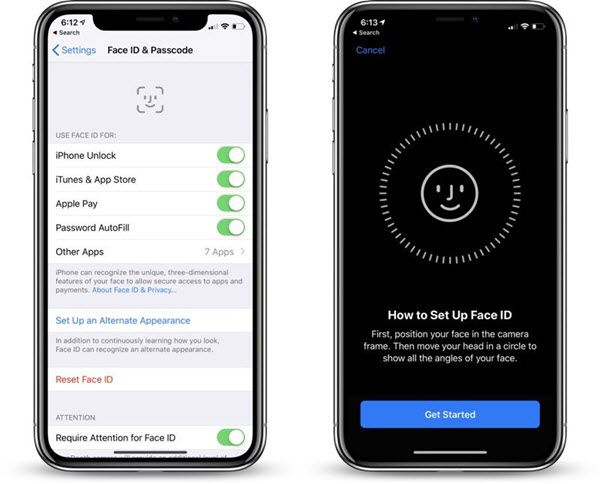 #7. Visual Tips to Make Face ID Better
CNET introduced a video about making Face ID better on YouTube. The video teaches how to make Face ID better when Face ID is not working on iPhone 13/12/11/X.
Reasons that Caused iPhone Face ID Not Working Issue
Due to some reasons, Face ID may stop working for your device, and a few things can cause this. If your Face ID feature suddenly stops working, then you can be sure that it's because of one of the following reasons:
1Faulty camera:
Face ID works its magic with the help of your iPhone front camera, so if the camera malfunctions, it will affect Face ID. Faults in cameras could be as a result of a smudged or cracked camera screen, buggy camera software, or bad lenses.
2Bugged software:
If the camera is working correctly, then the problem could be from the software. Software issues come from errors in the code, internal bugs, or things as simple as not properly shutting down.
3Your face changed:
The iPhone might not recognize your face because it has changed. This sounds weird, but it's true. New bruises, for instance, can make you unrecognizable by Face ID.
4Face mismatch:
Glasses, makeup, hats, tattoos, and other accessories can cause your real-time Face ID picture not to make the one saved in Face ID.
5Update installed incorrectly:
Face ID is relatively new, and new apps and features have compatibility issues with other software. Apple rolls out updates frequently for this feature. Since the updates come all the time, update installation errors are common. This glitch can lead to iPhone 11 Face ID not working.
---
Bottom Line
The video above addresses why Face ID doesn't work when you're wearing sunglasses, woke up in the morning, feel awkward sometimes, or at other moments. You can enjoy the clip to learn more. However, don't forget that iMyFone LockWiper iPhone Unlocker is the ultimate tool for fixing Face ID issues and Errors. So, don't forget to get your copy now!