When your iPhone or iPad gets locked for whatever reason and is rendered useless to you, unlocking it is the next best thing. Depending on how much you need it, you could experience varying fits of frustration. This can be very annoying especially as it means you are less organized and everything else is affected by your locked phone.
iMyFone LockWiper Mac is an excellent tool to help you unlock your iPhone/iPad. However, there are many cracked versions when I searching it. Can I trust it? Let's dive in to find the answer.
What Can iMyFone LockWiper Mac Do for You
iMyFone LockWiper (Mac & Win) is the proverbial knight in shining armor. It is a magnificently molded program that will help you with unlocking your iPhone or iPad with considerable ease. Compared to all its competitors in the market, it's highly recommended because it's the most cost-effective. It fixes the issues well but requires the lowest price.
LockWiper Comes with Great Features:
Unlock iPhone from various locks without password, like screen lock, Restrictions / Screen Time passcode, etc.
Instantly remove iCloud account and unlock Apple ID from iPhone and easily switch to a different account
Take full control over your iPhone and enjoy all iCloud and iOS features after unlocking
Bypasses MDM profile without passcode within few simple steps.
All kinds of screen locks are supported, like Face ID, Touch ID, 4/6-digit passcodes, etc.
Video Tutorial about How to Remove MDM Profile from iPhone/iPad
All your iPhone or iPad unlocking needs can be solved permanently when you use iMyFone LockWiper. It's fully compatible with latest iOS versions (iOS 16 included) and all iOS devices. Official package is 100% secure with no risks of malwares or viruses. Besides, top tech media like SOFTPEDIA, download.hr, etc. spoke highly of LockWiper.

4 Reasons You Shouldn't Download Crack Versions of LockWiper Mac
Crack versions are created by hackers who infringe on the rights of the producers and developers of this magnificent app. Here are the differences between the crack version of iMyFone LockWiper and the official versions.
Crack versions don't have the legal permission of the original developers. They don't have the permission of the copyright owner.
Cracked wersions have no security guarantee, they leave your computer exposed and open to the harms that viruses and malwares bring.
Cracked versions get no scheduled updates. Users of cracked versions are left out of the loop when updates that improve app functionality and bring new features that enhance overall performance and user experience are introduced.
Cracked versions have no official support. There is no support to be given to users of cracked versions by the developers in case users run into problems while using the cracked versions.
Note
The most common issue people who go for a cracked version of software face is cracked software always comes with the risk of viruses, spyware and malware. Causing harm to your device, the official package is your best bet. You get iMyFone's promise of that.
There are many websites say that they have iMyFone Lockwiper free registration code, take this one for example.

In this article, there are many activation codes of Lockwiper, are they true? Let's have a try.

The code DOESN'T work at all! So don't waste your time on them.
Why You Should Benefit from LockWiper Mac Official Version
Official versions are the best. Using official versions mean you support the developers and are not letting the hours they put into creating this magnificent app go to waste.
Advantages of Official iMyFone LockWiper
100% Security Guarantees: You can always be sure and immensely confident that you run no risks with the official versions.
Free Lifetime Updates: Official Versions provide you with access to the latest updates. You stay on top of the latest additions. Every update becomes available for you and you get to enjoy the app even more.
24*7*365 Customer Support: For every issue you encounter while using iMyFone LockWiper official version, there is going to be supportive moves from the developers to help make your usage devoid of hassles.
Money Back Guarantee: LockWiper doesn't solve your issue? Dissatisfied with the program? You can ask for a refund as iMyFone offers 30-day money-back promise.
Get the Official LockWiper with 10% OFF
We're saying thank you to our prospective clients as well as esteemed loyal clients by giving you this 10% OFF coupon code, which works with any type of iMyFone LockWiper serial key.
10% OFF Coupon Code: YTR5E7
Learn how to use coupon to buy iMyFone LockWiper here:
Step 1: Don't forget to copy the coupon code above. Go to iMyFone LockWiper Purchase Page. And choose the plan and click Buy Now button.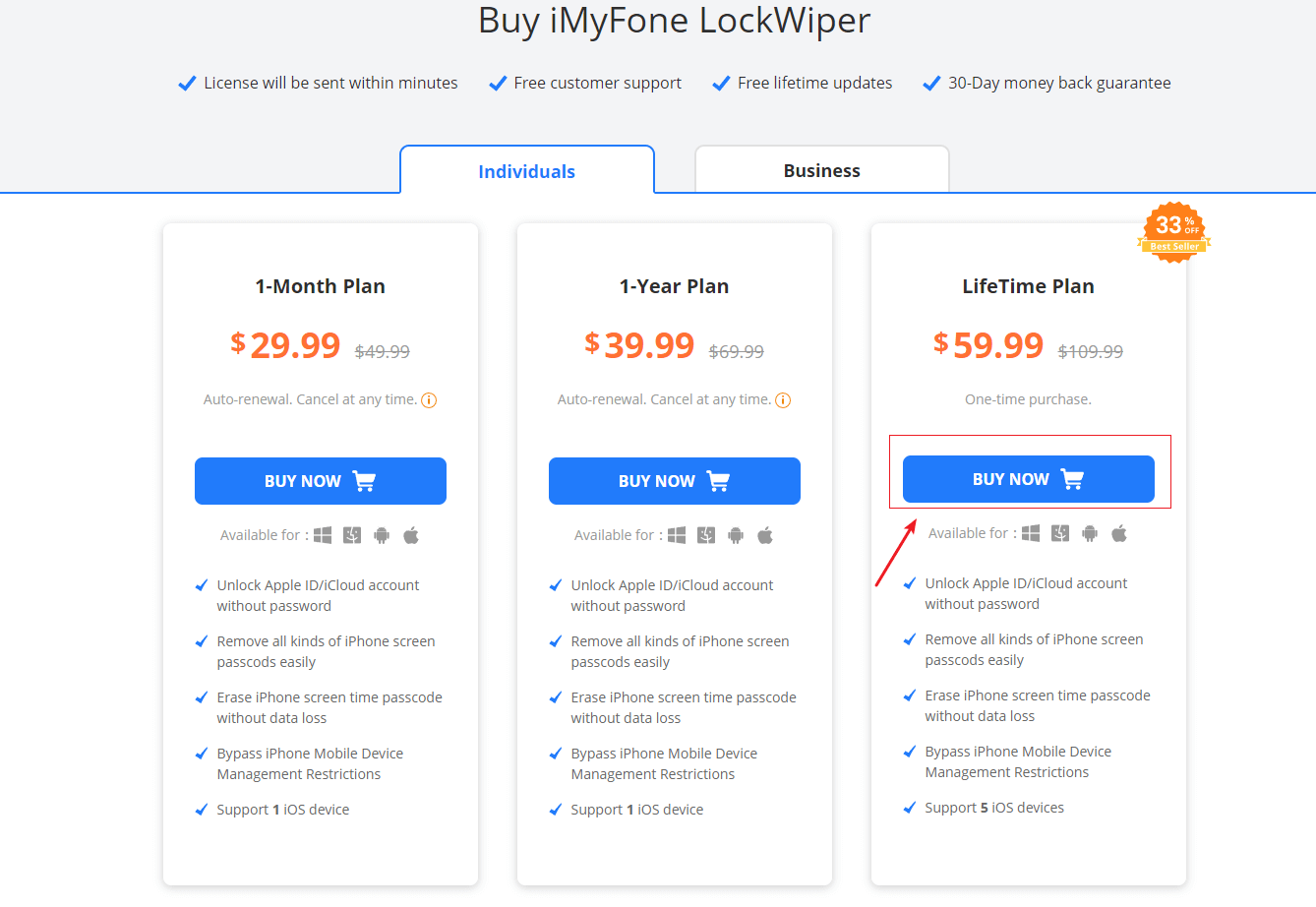 Step 2: You will see the product and its details. Check the box "I have a coupon" on the left side.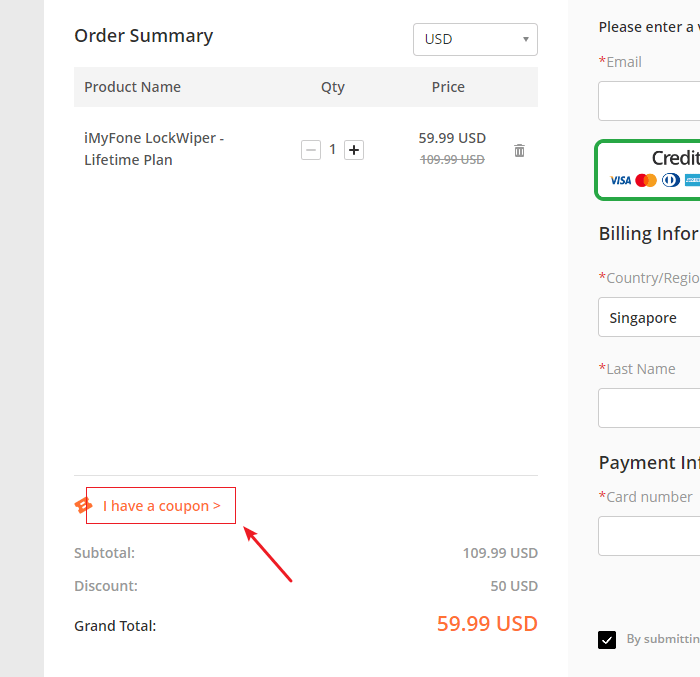 Step 3: Enter the coupon code: "YTR5E7, click the button "Apply".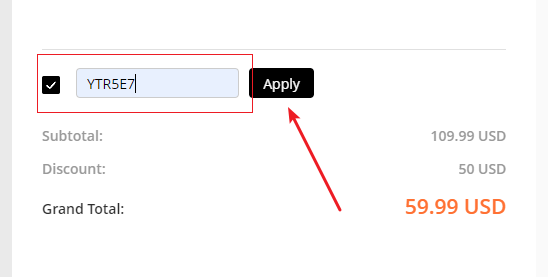 Step 4: Now you can get 10% off to get iMyFone LockWiper.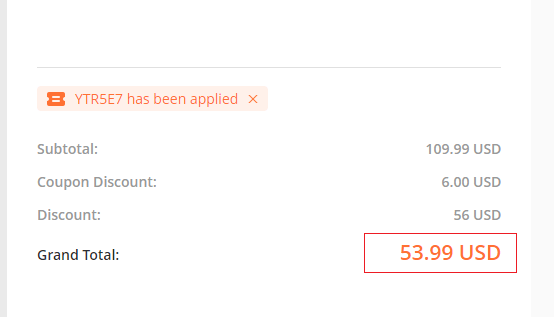 Conclusion
In a word, iMyFone LockWiper is an excellent iPhone unlocking software. Therefore, downloading and installing LockWiper on your PC or Mac would help you to have a handy tool for unlocking your iPhone or iPad anytime it is locked. Don't forget to use the coupon.