You may have tried using iMyFone LockWiper or want to use iMyFone LockWiper but would like to first address questions like "Is iMyFone LockWiper safe?" or "What happens to my data when LockWiper wipes them away?" We believe that your skepticism isn't coming from your use of LockWiper but your experiences with the malicious software.
To set the record straight, iMyFone LockWiper is a genuine iOS device unlocking software that protects the safety and privacy of its clients. Let's get to know more about LockWiper in the following parts of this article.
Basic Information about LockWiper and Its Designing Company
What's iMyFone?
iMyFone Technology Co. Ltd. Is a hi-tech corporation, specialized in providing professional solutions for iOS devices and helping global customers to run their iPhone/iPad/iPod touch better.
What's iMyFone LockWiper?
iMyFone LockWiper is a PC/Mac-based tool for removing old iCloud account or Apple ID from iPhone, unlocking a password-locked iPhone or iPad, and fixing iPhones/iPads that are disabled due to multiple inputs of wrong passcodes. It was designed by iMyFone Inc. to cater for the iOS device unlocking needs of its clients and others who may have the need to unlock their device.
Benefit A Lot from LockWiper
Unlock iCloud Account: Remove Apple ID without password from iOS device and protect it from being tracked or blocked by the previous account
Bypass iPhone Screen: Locked out of iPhone because it's locked or disabled? LockWiper helps bypass all kinds of screen passcode, like 4/6-digit passcode, Face ID, touch ID, etc.
Unlock Parental Control: Quickly remove Screen Time passcode or retrieve Restrictions passcode without damaging any data.
Promise high success rate (over 99%) even to unlock second-hand or stolen iPhone
Scenario When LockWiper Can Be of Help
If your kids play with your iPhone always and end up entering the wrong passcode many times, then you need a LockWiper to unlock your device.
When you try to update apps, erase iPhone or turn off Find My iPhone but you don't remember the iCloud password, LockWiper can help you to remove the existing account so you can set up a new one.
If you forgot your passcode after changing it, then use LockWiper to remove it.
If some of your iPhone features are limited by the parental control, you can use LockWiper to recover passcode to unlock it.
If Touch ID or Face ID doesn't work, use LockWiper to fix any lock issues.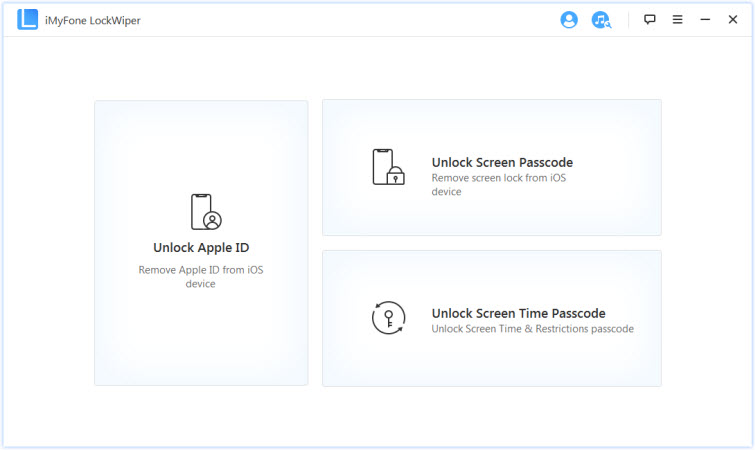 The Authentic Review of iMyFone LockWiper
#1. International Certification
iMyFone LockWiper get permissions and certifications internationally, which are also the evidences that LockWiper is safe, and not virus, malware, spyware, or with virus.

#2. Authoritative Media Sites
We know that many users concern about LockWiper reputation from media. So how do the authoritative media say about LockWiper?
Top media websites sign the praise of iMyFone LockWiper and recommend it to everyone. The following LockWiper reviews are from top class review websites, media sites, and online publications. Their reviews of LockWiper will enlighten your mind on how safe it is to use LockWiper in unlocking iPhones/iPads.


#3. Users' Feedback
If the media reviews probably cannot still eliminate your worries about LockWiper's safety, here we list some of our real users' feedback. These users have published their testimonials to testify that they are safe and happy using LockWiper. Check what they have said about it.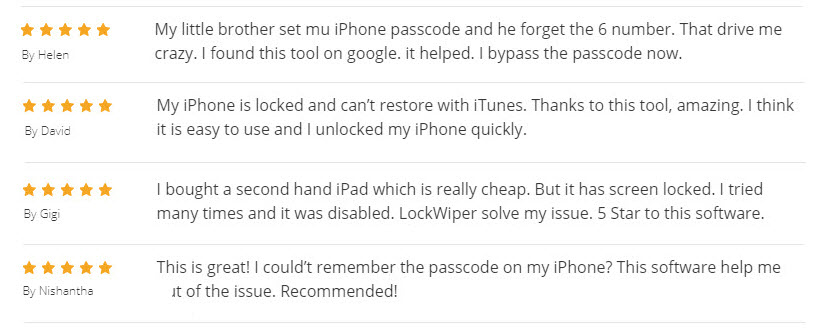 Guarantee from iMyFone
iMyFone Inc. guarantees you the following benefits if you use LockWiper.
LockWiper is not a virus, malware or ransomware; it's a genuine software that was designed to help you regain access to your device when locked out.
Secure payments and no credit card information stealing.
24/7/365 top-notch customers services, and technical assistance.
100% genuine 30-days money back guarantee with no questions or delays (terms and conditions apply).
Free lifetime update on every new LockWiper feature or functionality.
The free guide, tips and tricks to enjoy your iPhone, iPad or iPod touch better.
Special Offer: Get Official iMyFone LockWiper with a great price
Welcome to take part in the Best Deals from iMyFone. You can get official iMyFone LockWiper with a great price.
$31.95 (55% off)
From all the reviews we've published above, you can agree with us that LockWiper is the safest software for unlocking locked iPhones, iPads and iPod touch. So, get yours with the great price now! You may not want to miss out great iMyFone LockWiper.