Newer phones with better specs keep coming out every once, so switching from one device to another has become common. While the overall experience of switching phones is very smooth, there is a huge issue with transferring WhatsApp. Sometimes it takes a long time while sometimes it is not available. Today we'll do a Tenorshare iCareFone for WhatsApp Transfer review and see if it can be helpful.
Here we will be discussing how this amazing tool can bring amazing features for you and a choice beneficial for you.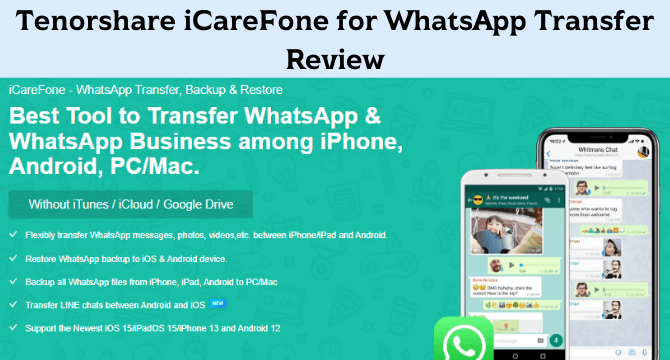 Part 1. iCareFone for WhatsApp Transfer Review
If you are looking to transfer free, download the full version, then you are at the right place. In this review, you will come to know about many factors that may help you make your final decision about this tool. So, here is all you need to know.
1.1 What is iCareFone for WhatsApp Transfer?
iCareFone is a tool available for your WhatsApp transfer needs that ensure to transfer your WhatsApp data from one phone to another. It ensures it works on the latest devices and that it will transfer all of your data within a single click, making the user experience amazingly simple. It is available for Windows users as well as Mac OS users.
Not only this, but iCareFone brings many other features like Line transfer from your android devices to the iPhones up to the latest iPhone 13 model.
1.2 Main Features of iCareFone for WhatsApp Transfer
iCareFone is one of those few tools that come packed with top-notch features. Below are some of the best features that you get here:
It provides multi-directional WhatsApp transfer.
iCareFone works for the basic WhatsApp version as well as the business version across all devices.
It works for all iPhone models and more than 5000 Android devices without any issue.
High success and satisfaction rate with the best safety.
All these features in one tool bring a very centralized experience to solve all your WhatsApp transfer needs.
1.3 Steps to Use iCareFone Transfer
Transferring your WhatsApp data from your old android device to the new iPhone may be simple, but it is a bit long. So, here are step-by-step details of every process.
Step 1. Start iCareFone on your computer: You will start the process by downloading and installing iCareFone on your pc and then connecting your phone to the tool.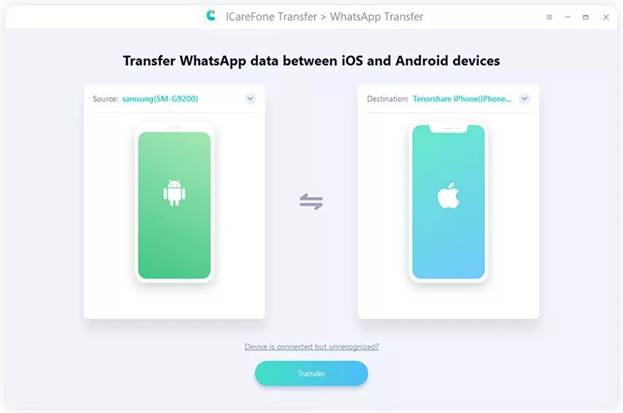 Step 2. Backup your WhatsApp data:Get your source phone and start creating the WhatsApp data backup. Some android phones may need you to enable USB debugging.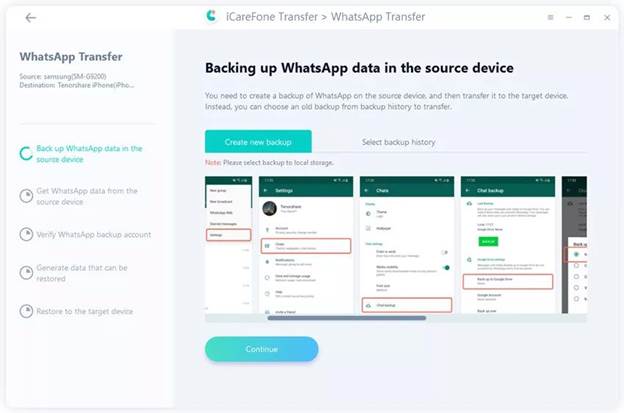 Step 3. Verify backup source account: The Next step is to verify your WhatsApp account by providing the number and the verification. It is necessary to keep your data safe.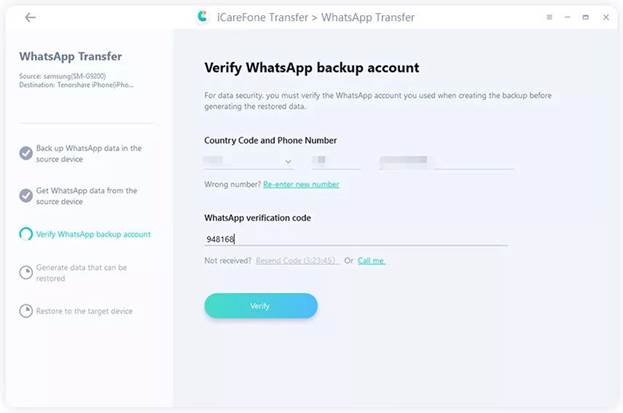 Step 4. Generate data on iPhone: After a successful backup, you will need to restore the data on your iPhone. You will need to log in to WhatsApp on your iPhone before moving to the next steps.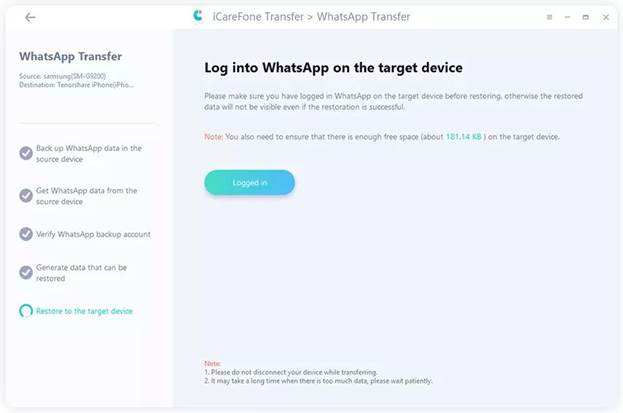 Step 5. Finishing things up: Follow all the instructions you get on the screen and follow through with the process. Within a few minutes, you will have everything done.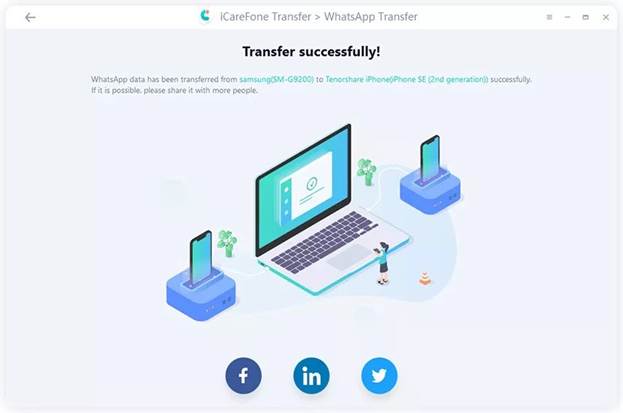 1.4 Is iCareFone free for WhatsApp? [Price and Purchase Plan]
iCareFone comes with pricing plans and packages for both individuals and businesses. Here are the details about all the plans that you get:
$19.99 for one month of license with 5 mobiles is the cheapest plan available here.
$39.99 for one year of license with 5 mobiles is the best saving plan available here.
$49.99 for lifetime usage with 5 mobiles & unlimited PCs is the most convenient individual plan.
$109.99 for 1 year of license with unlimited mobiles & PCs is the starting price for a business plan.
Part 2: Better Alternative to Manage WhatsApp Easily and Safely
While iCareFone may provide most of the features you need, some important ones are still missing here. Additionally, it may miss the ease of usage that most people need from their pay tools. So, for all of these features and the best safety, you need to give iMyTrans a try. Below are all the details about the program.
2.1 Why Choose iMyTrans
WhatsApp provides safety, security, and privacy to all of its users. However, it can be very problematic for you when you need to transfer your WhatsApp data across different devices. Why? Data loss could be a success issue, or you may face some safety and privacy issues. So, when you are selecting your WhatsApp transfer tool, you must look for the following benefits:
Best safety and security
100% privacy
100% success rate
Ease of usage
Keeping the following things in your consideration helps in selecting the best tool. So, with all of these qualities, iMyTrans makes the best choice for you.
2.2 What Can iMyTrans Do for You?
While you have so many options in choosing a tool, you must go for the best one. The WhatsApp transfer tool here brings all the features you will need to meet your WhatsApp transfer requirements.
Transferring your WhatsApp across different devices.
Creating chat backups for you.
Restoring your backups in different devices.
Google drive backup restoring.
Export your WhatsApp in different file formats.
It comes with all the features you will need from it making it one of the best choices for anyone who needs to transfer their WhatsApp from one mobile to another.
2.3 One-Click to Manage Crucial WhatsApp data
Using iMyTrans will be very easy for you as long as you have the basic knowledge of using computers. It comes in a 3 step process that is very easy to follow. Here is how you will get things done.
Step 1. For the first step of the process, you will need to start iMyTrans software on your computer and connect your devices with the computer using wires.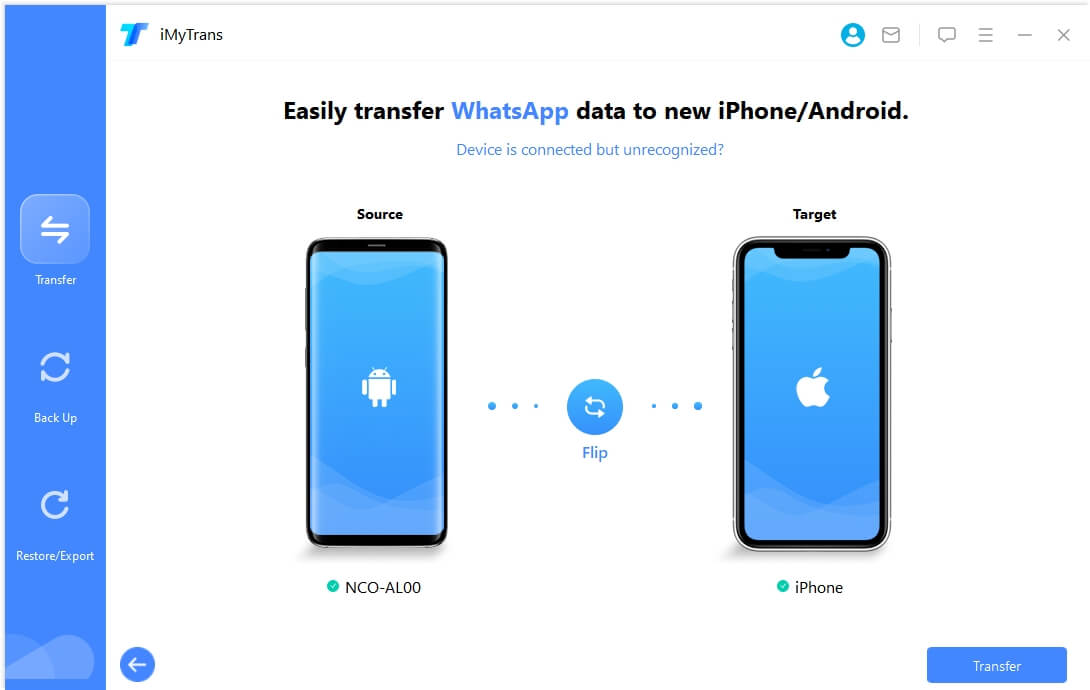 Step 2. Click Transfer to start the process. Follow any instructions appear on screen.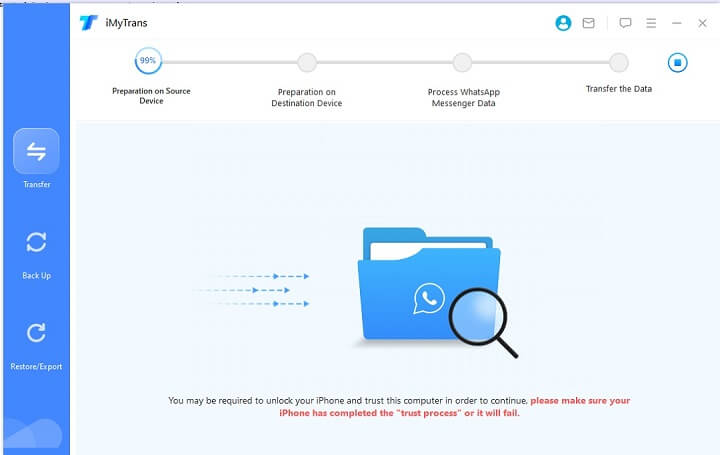 Step 3. The last step is about finalizing everything and finagling the process. With the process complete, you will have your WhatsApp transfer done.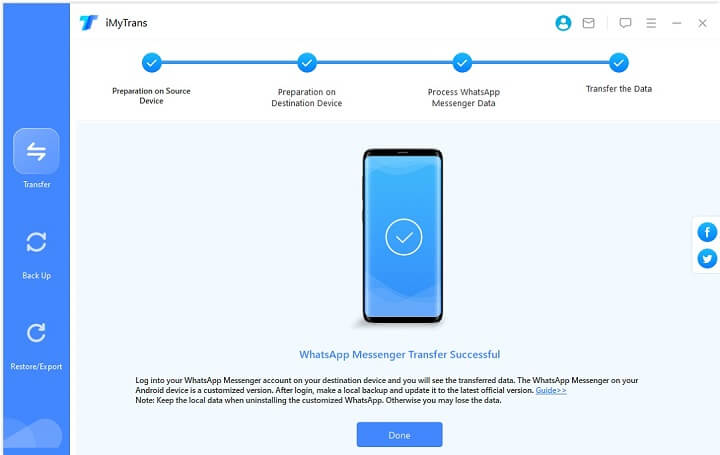 2.4 Prices and Purchase Plan
iMyTrans makes things further attractive for its users. There could be individual users as well as business users. So, it provides different plans with several features. Thus, the selection process can be easier for you. Below are some pricing plans that you can get here:
1-month usage for 5 mobile devices for $29.99.
1-year usage for 5 mobile devices for $39.99.
Lifetime usage for 5 mobile devices & unlimited PCs for $49.99.
Part 3: Comparison Between iCareFone Transfer and iMyTransp
Here is a comparison between some factors that matter when selecting a tool for different requirements.
| | iCareFone | |
| --- | --- | --- |
| Success rate | 85% | 100% |
| Privacy | WhatsApp Verification Needed | 100% |
| Ease of usage | 5-step process | 3-step process |
| Prices | $49.95 per year for 5 devices excluding tax | $49.99 per year for unlimited phones & PCs |
So, after a thorough comparison between these tools, we see that they bring a similar experience. However, google drive backup access is a sector where iMyTrans holds better value for you.
FAQs: More You May Want to Know about iCareFone WhatsApp Transfer
1

Is iCareFone WhatsApp Transfer Safe?
Yes, it is not only 100% effective, but it is very safe to use as well. So, when you are using it, you will not have any reliability issues about getting your data leaked or facing data loss when processing the data transfer.
2

Is there any free iCareFone for WhatsApp transfer Key/registration code?
The tool officially comes as a paid tool, so it is activated using the online licensing with no free key or code. However, there might be some free cracked versions available online that are not reliable and safe. So, it is always a better choice to go for the official version of the tool.
3

What to do when iCareFone no new backup is detected?
If you ever come across this error, you will need to restart your computer and make sure that your mobile has an internet connection with the latest WhatsApp update installed.
4

How can I get the Tenorshare iCareFone coupon code?
Many online websites are providing amazing discounts with coupon codes. However, most of them might be scams, so be careful about the official offers. If there are no official discount coupons available, it is better to stay away from such risky websites and wait for an official discount.
Conclusion
WhatsApp is one of the most important applications for most smartphone users. So, switching a phone means getting all your old chats and their data and attachments back in your new phone. While the process may not be easy sometimes, you can use iMyFone iMyTrans to have an easier experience.