How to Transfer WhatsApp from iPhone to Android Wired or Wirelessly [2023]
Category: Transfer WhatsApp
6 mins read
Although nowadays many applications offer cross-platform data transfer services such as "Samsung Smart Switch" for transfer from iPhone to Samsung and "Move to iOS" for transfer from Android to iPhone, these tools can't migrate MMS data such as WhatsApp. Yet because of the common use of WhatsApp Messenger, if you don't know the ways to transfer WhatsApp data from iPhone to Android, it can become a real headache to think about.
Before we start, you can watch this video to learn how to transfer WhatsApp data from iPhone to Android quickly. The secret to an easy-peasy transfer process lies with iMyFone iMyTrans (new version of iTransor for WhatsApp) that move WhatsApp data directly.
The Best WhatsApp Transfer/Backup/Restore Apps
Part 1. Transfer WhatsApp from iPhone to Android via Apps
Since WhatsApp doesn'toffer a direct way for users to move all WhatsApp data between iOS and Android, some third-party tools cure this headache. With WhatsApp data transfer software, you can use WhatsApp on Android like you are using it on iPhone. In this part I will share three third-party tools that focus on WhatsApp data transfer.
1

Transfer with Ease - Use Transfer App iMyFone iMyTrans
One of the best WhatsApp transfer softwares to transfer WhatsApp messages from iPhone to Android is iMyFone iMyTrans. This program is designed to help transfer, backup and restore WhatsApp data between different phones and devices. With this tool we can directly transfer WhatsApp data from iPhone to Android without further efforts.
Here are some other features of iMyFone iMyTrans: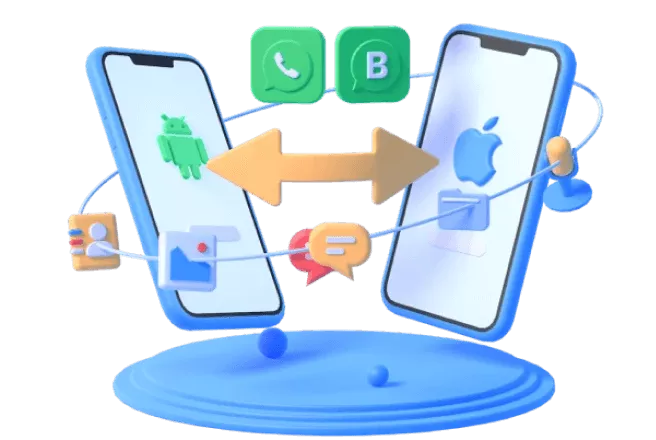 Key Features:
Transfer WhatsApp & WhatsApp Business data from iOS to Android in 1-clcik.
Also allow to backup WhatsApp & WhatsApp Business data before transferring.
Supports all popular mobile devices including the iPhone15, Samsung Galaxy S21, and Huawei P60 as the operating system is from iOS 9 to 17 or Android 2.0 to 14.
Steps to transfer WhatsApp from iOS to Android:
Step 1. Install iMyFone iMyTrans on your computer and launch the program. Choose the first icon (Transfer) which is located in the left bar. Connect the iPhone and the Android device for transfer to the computer with USB cables. Besides, you can click "Flip" to change source device and traget device.
The program should detect and display the devices. Follow the instructions on the screen.
Step 2. Click on "Transfer" in the right below corner, to begin the process.

Step 3. Keep both devices connected to the computer during the transfer. It might take minutes to hours depending on the amount of WhatsApp data. You can transfer your photos, videos, files, music and wallpaper.

Step 4. By clicking on the second icon (backup) you can also quickly backup your existing Whatsapp data to the iMyTrans program (we care about our customers' privacy and this data will be saved only in your local device, to which we do not have access). This is to prevent data loss.

In addition, by clicking on the third icon (Restore/Export) you can view information about the data backed up for each time period and preview it before exporting.
Bonus-Tip: Can I Transfer WhatsApp Data from Android phone to iPhone Without PC?
Yes, you can! It's the right choice to use iTransor Go for WhatsApp to transfer WhatsApp data between 2 mobile device. If you're interesting, you can view the step-by-step guide videos below!
Download Link (Google Play): https://play.google.com/store/search?q=iTransor&c=apps
2

Use Backuptrans to Swich WhatsApp

Backuptrans developed to help transfer WhatsApp messages from iPhone to Android is called "iPhone WhatsApp to Android Transfer". It supports iOS versions 4 to 15 and most Android phones - Huawei, Samsung, HTC, etc.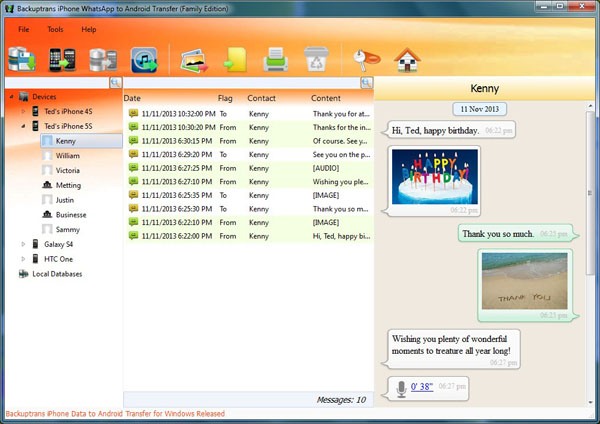 Steps to move your WhatsApp messages from iPhone to Android with Backuptrans:
Step 1. Connect the iPhone and Android to the computer.
Step 2. Turn on USB debugging on the Android phone to make the phone recognizable. Click"Back up my data", no need to enter a password. On the iPhone tap"Trust" in the window asking if you want to trust your computer.
Step 3. The program will load allyour WhatsApp data from both the Android and the iPhone. Choose your iPhone device from the screen, then right click > Transfer Messages from iPhone toAndroid.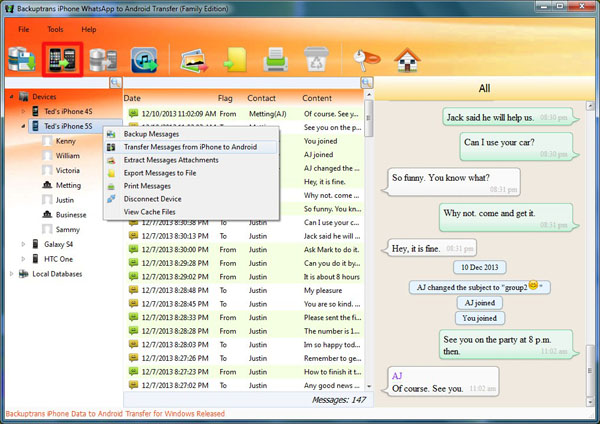 Backuptrans also allows you to manage WhatsApp data in other ways than transferring them from iPhone to Android. You can still back up and restore the WhatsApp data, but only on the iPhone.
3

Use WazzapMigrator to Migrate WhatsApp

WazzapMigrator is an app that helps to transfer WhatsApp backup from iPhone to Android. It might be complicated because this method requires programming skills and will take a lot of time to understand the operating processes. You will need three tools for this solution: iTunes, WazzapMigrator Extractor, and WazzapMigrator.

Let's see how to use WazzapMigrator:
Step 1. Make a full backup of your iPhone with iTunes and turn backup encryption in iTunes off.

Step 2. Download and launch WazzapMigrator Extractor on your computer. Use this tool to load up the iTunes backup of your iPhone.
Step 3. Find the net.whatsapp.WhatsApp folder on the menu of the extractor. Locate the ChatStorage.sqlite file and your media files in the net.whatsapp.WhatsApp folder.

Step 4. Connect the Android device to the computer. Transfer the ChatStorage.sqlite file and your media files to the Download folder of your Android phone.
Step 5. Install and open WazzapMigrator on your Android device.
Step 6. Wait until the tool detects the files and tap "Select iPhone Archive". Choose the iOS Backup you want to restore.

Step 7. Follow the prompts on the screen until you see "Conversion Successful". Open WhatsApp on the Android phone and you will see all the WhatsApp chat history from the iPhone.
Part 2: How to Transfer WhatsApp from iPhone to Android Wirelessly?
When we want restore WhatsApp data from iPhone to Android, most of us may choose handle it manually. But we still wonder is there have any free way to transfer WhatsApp data. Fortunately, there is!
1

Transfer WhatsApp Chats from iPhone to Android via Email

You can transfer the WhatsApp chat from an iPhone to an Android with email. This feature, however, will only transfer the WhatsApp text, photos and videos less than 25MB per mail. You will not be able to sync these WhatsApp chats with the data on your Android device. But it is still free way to move the WhatsApp messages from iPhone to Android wirelessly.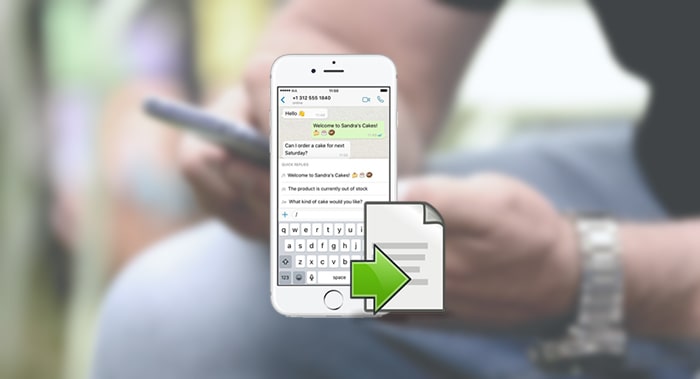 Here's how to transfer WhatsApp chats from iPhone to Android wirelessly:
Step 1. Open WhatsApp on the iPhoneand click on the chat that you want to transfer. Tap the top of the screen and choose "Export Chat" from the list.
Step 2. A popup will appear, and you can choose to export the chats "Without Media" or "Attach Media".
If you choose Attach Media, your video/photo messages will be attached to a folder other than the text messages. Normally we will click on the Mail icon to export chats, but you can also choose another app as long as you can access the app on the Android phone.
Step 3. WhatsApp will startprocessing your data. Type in the email address you want to send the WhatsApp chats to and click "Send".

Step 4. Go to the Android device, log in to that email account, and view the WhatsApp chats.
Another problem with this method will be the high number of manual actions. You have to export chats one by one, which means that if you have 50 chats to transfer, you'll need to do it 50 times.
Pros:
1. Totally free for chats transferring.
2. Can transfer WhatsApp chats from iPhone to Android without USB cables.
Cons:
1. Only can export 50 chats in once, not friendly to mass data transfer.
2. Time consumption increases when transferring a large number of data..
2

Backup and Restore Chat to iCloud

Apart for use Email to transfer WhatsApp Messages, you can also choose Chat Backup to migrate WhatsApp Messages from iPhone to Android for free!

Actually, the WhatsApp Messages can back up and save daily auto to your iPhone's memory. You can select periodically backup your WhatsApp chats to Google Drive, which is convenient for you to keep the WhatsApp Messages.

The operating step as below:
Step 1. Log in to your WhatsApp account on iPhone, and navigate to "Setting". Then click "Chat" > "Chat Backup". Start to back up current WhatsApp data by a tap on the "Back up Now" button.
Step 2. Log into your WhatsApp account on your Android phone. And there will pop up a tip asking you "Whether to Restore Data from Backup for the First Time".
Step 3. If it is prompted to "Restore from WhatsApp iCloud", you can click on it and wait for restore.
Using Google Drive to transfer data is the simplest way to transfer data to a new phone, it does needn't install any third-party tools. If you want to use a local backup, you'll need to use a computer and SD card to transfer the files.
Pros:
1. Totally free for data transferring.
2. Can transfer WhatsApp without cables.
Cons:
1. Time consumption increases when restoring a large number of files.
2. iCloud is limited for storage space unless you paid for extra icloud space.
Comparison of the Methods Mentioned Above
You might be confused by the methods we have provided, so we made a comparison chart which includes the transfer between different operating systems they can make. Just choose the one that suits you best.
Conclusion
Since you have learned all the five methods to transfer WhatsApp messages from iPhone to Android, you can now get to move other data left on your old Android. The most useful method I still recommended use iMyFone iMyTrans, which is easy to operate and transfer fast. You can leave your comment if you have any problems. Have a look around!
Transfer/Back up/Restore WhatsApp in one App
100,000+ people have downloaded it.
Transfer WhatsApp between devices with different OSs, i.e., iOS to Android, Android to iOS.
Supports 6000+ different smartphone models running on iOS and Android.
Transfer safely without resetting devices or deleting original data.
Supports phone-to-phone transfer, phone-to-computer transfer, and backup & restore.
Fully compatible with the latest OS version.