photos are typically lost through deleting accidentally or because the space on your device is full. When you lose your most important photos, the next point of call is to dive into PlayStore to locate the best photo recovery software. A photo recovery software will bring back those deleted photos. Here, We are to show you the DiskDigger Photo Recovery app for Android.
Let's keep on reading!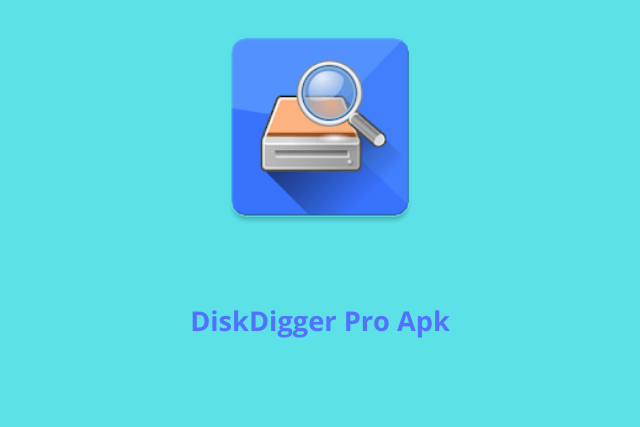 Part 1: DiskDigger
Photo

Recovery for Android at A Glance
1.1 What Is DiskDigger Photo Recovery Pro App for Android?
So, what is DiskDigger app? In simple terms, it digs for content on your phone that has been deleted. Once you've retrieved your photo files, you can upload them directly to cloud services like Google Drive and Dropbox. DiskDigger comes with a free and pro version. The free version is a limited version that is particularly used for photos only. If you're seeking to retrieve your photos and other documents, you're required to sign up for the pro version. Although your device does not need to be rooted when performing this recovery process, it is still recommended to root your phone because you're more likely to restore your photos and photos more efficiently.
1.2 Is DiskDigger Photo Recovery Pro Apk for Android Safe?
Don't worry. Like most other recovery apps, DiskDigger is as safe as houses. The software does not seek any personal or sign-up information. And neither does it require you to input personal information. Simply download and use it.
1.3 I Know about DiskDigger –How to Use Diskdigger
Photo

Recovery on An Android Phone?

This guide takes you through both types of scans and the features available to give you the best chance of recovering your media files. It's quite simple. Follow these steps:

Note:

DiskDigger app is compatible with any Android device, from Android 2.2 or higher.

• Step 1 – Search and download the DiskDigger photo Recovery app from Play Store.

• Step 2 – Open the app when it has downloaded.

• Step 3 – Choose your scan option.

When you open the app, you're presented with two scanning options: Dig Deep or Dig Deeper.

Dig Deep: simply requires you to open the app and click on "Start Basic Photo Scan" to begin the process.

Dig Deeper: requires rooting of your device for an efficient recovery process. You can recover files from your SD card and restore many data types from JPG, MP4, MP3, WAV, GIF, and more!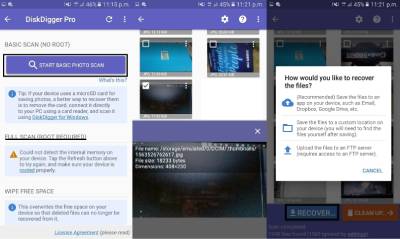 1.4 Pros&Cons for DiskDigger App
When the scanning begins, sit back and let the app perform its retrieval magic! It's quite a straightforward application to use, right? Let's bring a multitude of features into a simple summary.
| DiskDigger Basic | DiskDigger Pro |
| --- | --- |
| Recovers photos and photos recently deleted | Recovers all kinds of files (photos, photos, documents) |
| Root your device to recover photos | Restore all file types when rooting |
| Save to your local drives or cloud sharing accounts | Save to local drive, cloud and FTP server |
| Free | Costs $14.99 |
Pros
Recovery all kinds of lost or deleted data types(paid).
Preview your files on the native interface and choose which files to recover.
Very easy to use with a simply interface.

Cons
Recovery rate isn't very high.
There is no customer support feature.
Many users said that it only recovers the thumbnails that are very pixilated compared to the original picture while recovering the photos.
1.5
DiskDigger Photo Recover App for iPhone Free Download
DiskDigger Photo Recover app only have Android version, it doesn't have iPhone app now. we recommend better iPhone photo recovery tool - D-Back for iOS.
Part 2: DiskDigger Photo Recovery App User Reviews
But now, let's have a look at another really important thing when testing this kind of service - reviews. DiskDigger tool reviews from users, in general, are pretty mixed. People either love it or hate it - and there's not much in between.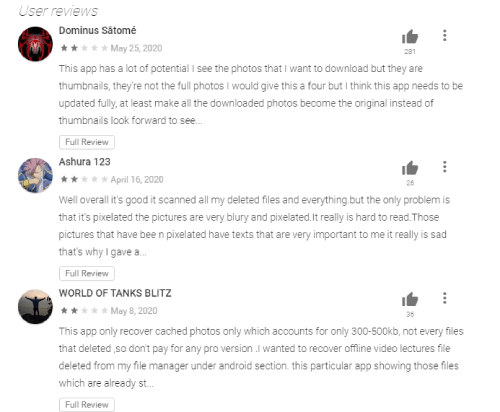 Part 3: The Best Alternative To Diskdigger
Photo

Recovery For Android

Since DiskDigger photo recovery app doesn't always work, people often look for a DiskDigger alternative instead. If you confront trouble while using the DiskDigger app, then give a D-Back Android to have a try. It is the best software to perform photo recovery and that too without overwriting your data on your device. Comparing to DiskDigger tools, D-back for Android has a much better success rate, and it can recover your deleted photos and photos without rooting at all. If you are looking for DiskDigger photo recovery app for iPhone, DiskDigger photo recovery app dont have iOS version, we recommend better iPhone photo recovery tool - D-Back for iOS.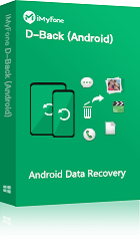 1,000,000 Downloads
Features of D-Back Android
Safely recover your deleted, missing, or lost contacts, WhatsApp messages & attachments, call logs, photos, photos and more.

photo can be recovered if it has been deleted, corrupted, infected with a virus, or is stored on a broken device.

The software recovers data at a blink of an eye with fast recovery speed.

D-Back software doesn't require any personal information and is secure and fast.

Works on rooted and unrooted Android.

Compataible with Android OS 2.0 to 10.0.
Follow these simple steps to recover your photo on Android as quickly as possible.
Step 1. First, you have to run the D-Back Android and choose a recovery mode as per your requirements.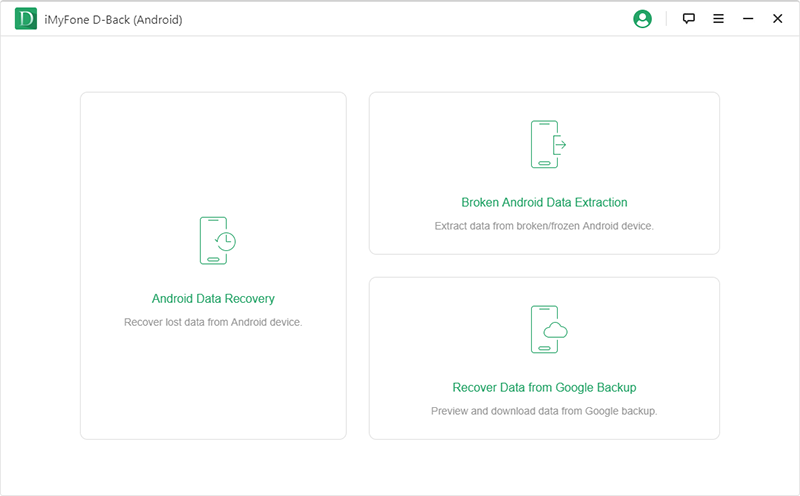 Step 2. Input your device information including the name and model and it will automatically download the required data package.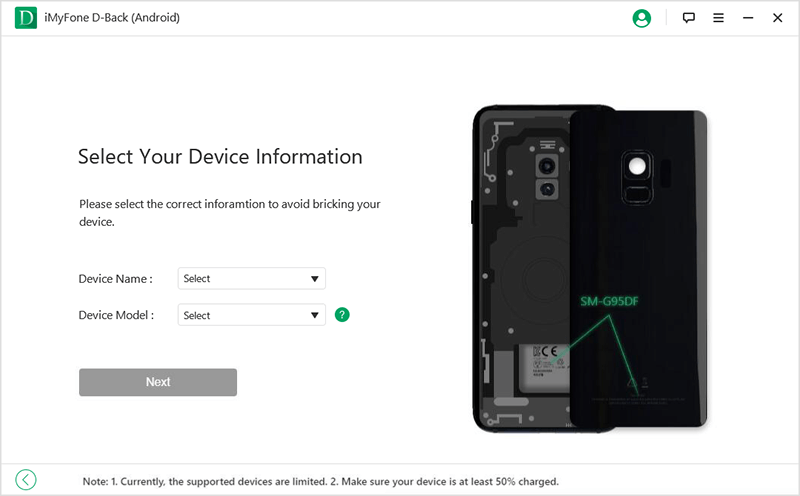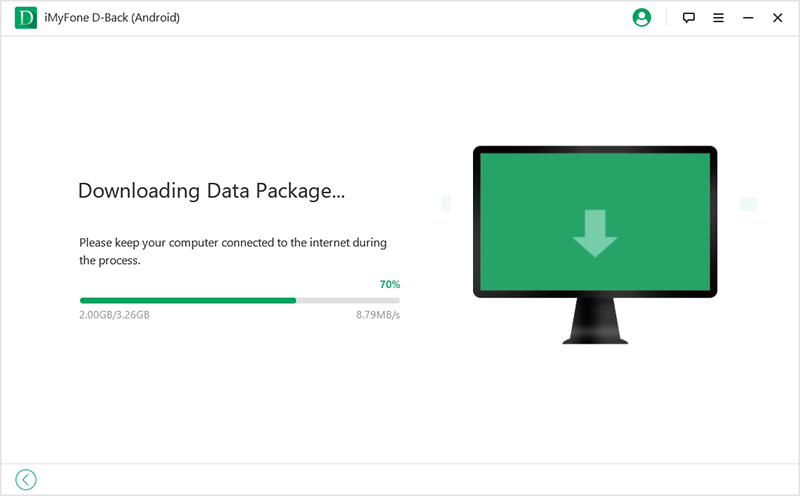 Step 3. Connect your device to the computer and go to the downloading mode.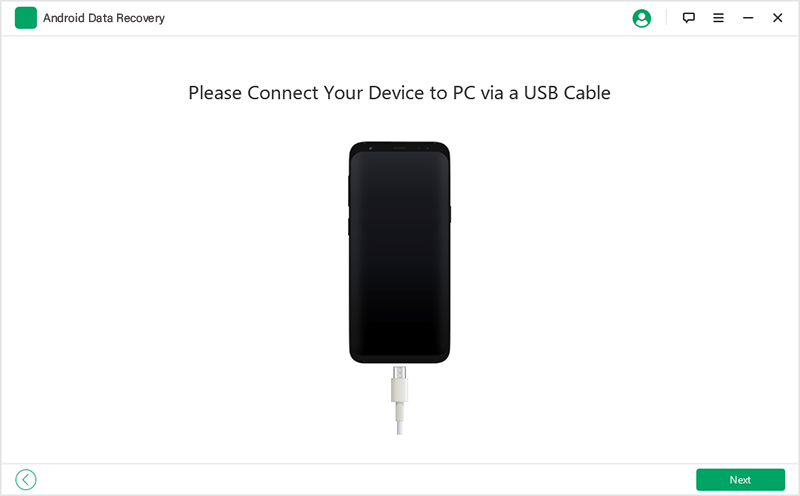 Step 4. Choose your data type to recover.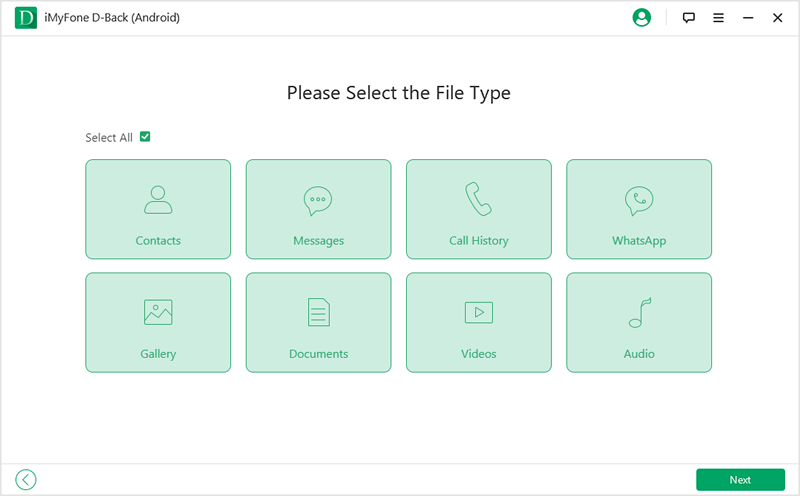 Step 5. It will show you all the files you can recover, select and restore as per your needs.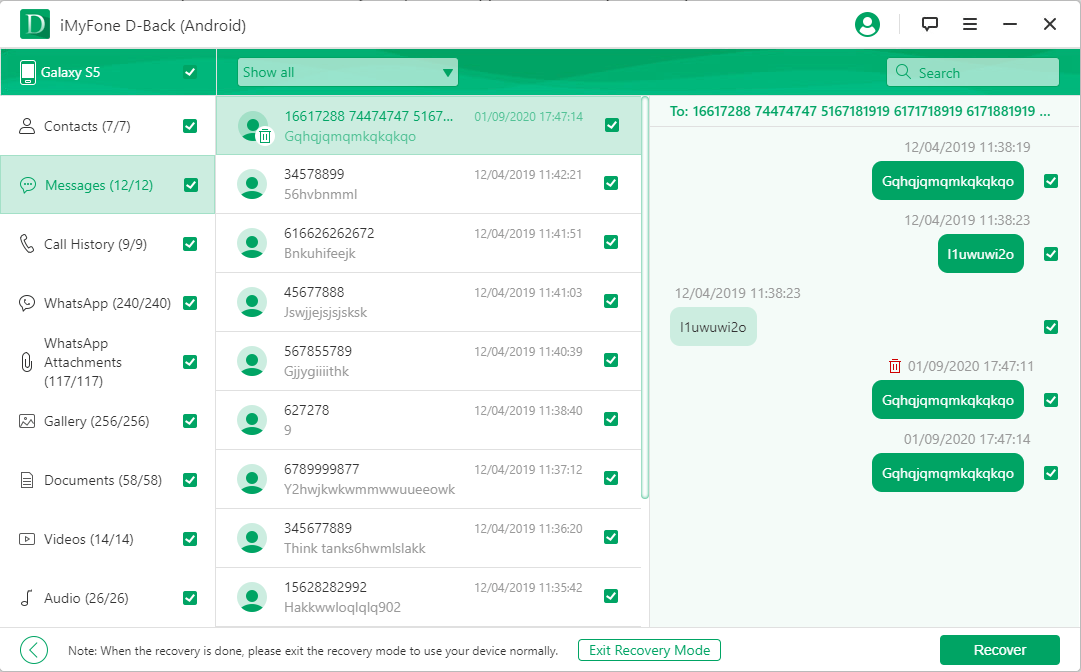 What's the catch? None! No matter if you've lost your data accidentally or your phone's memory has caused valuable data to disappear, D-Back for Android has you covered.
Part 4 :Diskdigger VS D-Back For Android- Which Method Should I Use
So, you've got these data recovery choices, and you're unsure of the best one to use. Not only is it important to know the data types that each software can recover, but stability and compatibility when using the software are also essential. Below, we've picked out some critical comparison features at-a-glance that will guarantee to help you choose the best photo software to suit your recovery needs.
| Features and Metrics | | DiskDigger |
| --- | --- | --- |
| Technical Support | | |
| Several Back-Up Options (inc. Cloud Back-Up) | | |
| Full Android Compatibility (2.2 and higher) | | |
| Efficient File Recovery through Damaged Device | | |
| Data Recovery without Rooting | | |
| Supports Multiple Data Types | | |
Conclusion
There you have it! After reading this review of DiskDigger and D-Back Software. You now have two choices. Which should you choose? For secure, multi-purpose data recovery to recover a variety of data types no matter the state of your phone, use D-Back Android.