Google Hangouts is one of the most popular instant messaging apps that many people use to stay in touch with their closed ones. With features like video and voice calling, Google Hangouts makes it extremely easier for people to contact their friends and family members without any hassle.
However, despite being a popular messaging platform, even Google Hangouts is vulnerable to unexpected situations. One such situation is the deletion of messages/chat history. Believe it or not, but many users face the issue where all their chat history gets deleted, especially when they haven't archived their conversations.
If you're facing the same situation, we're here to help. In this guide, we have shared a few helpful tips on how to recover deleted google hangout messages/chat history on Android. These tips will help you recover deleted Hangouts conversations with minimal efforts.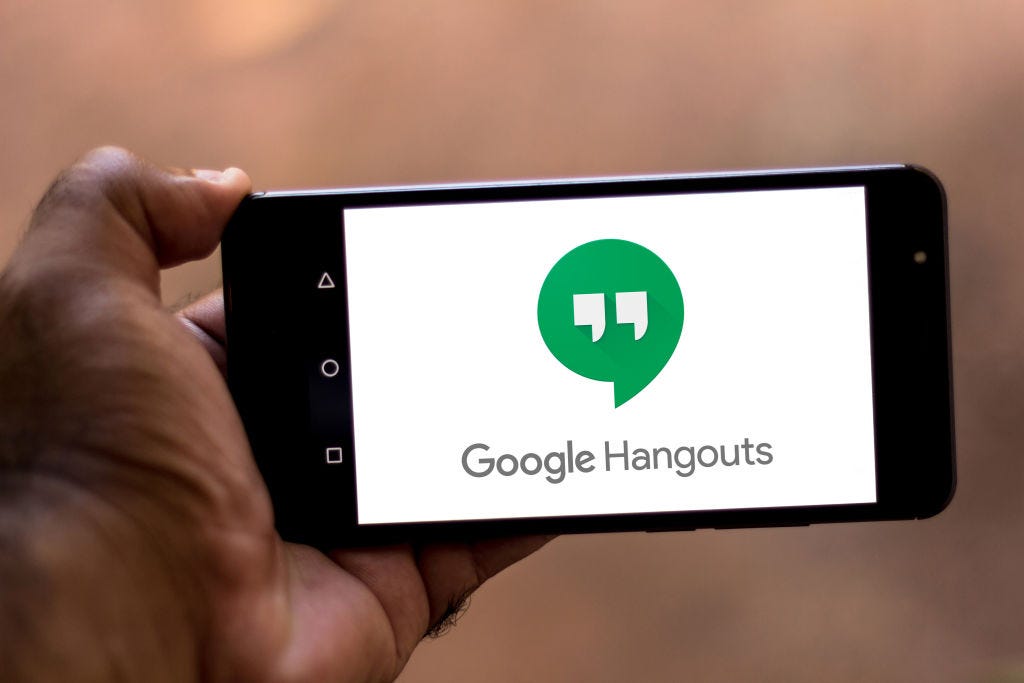 Part 1: Are Google Hangout Gone When Deleted?
Whenever Hangouts conversations get deleted, the first thing that comes to the mind is, "Is it at all possible to recover the deleted messages from Google Hangout." To be honest, recovering messages from Google Hangouts is a bit tricky. Why? Because Google won't store messages if the "Hangout History" feature is unchecked in the "Settings" window!
When this feature is disabled, all your chat history will be automatically deleted, and it'll become almost impossible to retrieve it. So, whenever you're chatting in Google Hangouts, make sure that the "Hangout History" feature is enabled.
Part 2: Cause: Why Did My Google Hangout Messages Disappear on Android
Before moving further to the solutions, it is always a great idea to know the reasons behind the issue. When it comes to Hangouts, several factors can cause the chat history to get deleted. Some of these factors include:
You uninstalled the Google Hangouts app from your smartphone.

You accidentally deleted a conversation.

Your phone got physically damaged, and now you're unable to unlock it.

You performed factory data reset on your device without taking a prior backup.

Your smartphone got attacked by a malware or virus.
So, now that you're familiar with what causes Hangout messages to get deleted, let's talk about different ways on how to recover deleted Hangouts conversation Android.
Part 3: Recover Permanently Deleted Google Hangout Chat History With D-Back Android
If you have backed-up your Hangout conversations to a Google account, you can simply use a professional data recovery tool that supports Google Backup data recovery. In our experience, we've found iMyFone D-Back (Android) to be one of the most useful recovery tools for Android users.
The software comes with a dedicated "Google Backup" recovery mode that'll allow you to retrieve deleted Hangout conversations from your Google account. One of the top benefits of using the D-Back is that it helps in exporting the hangout messages that you didn't even archive. Besides, it is this "Preview" feature where you'll be able to preview all the chats/conversations before restoring. This will make it way easier to pick the right conversations instantly. Let's put some light on this tool's amazing features.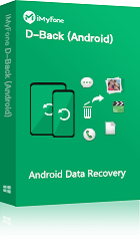 1,000,000 Downloads
Features of D-Back Android
Easy to use and offers quick recovery sans harming any data.

Lets you view deleted messages from Google backup.

Supports a full scan of the device for deleted data.

Apart from Hangout conversations, you can also use D-Back to recover different types of files, including images, videos, mp3 files, documents, etc.

Allows users to recover data from Android without professional assistance.

Allows previewing of data before recovery.
Here's how to recover deleted Hangout messages/chat history Android using the D-Back recovery software.
Step 1 - Go to the official website and download D-Back on your PC. Now, install and launch the tool and select "Recover Data From Google Backup."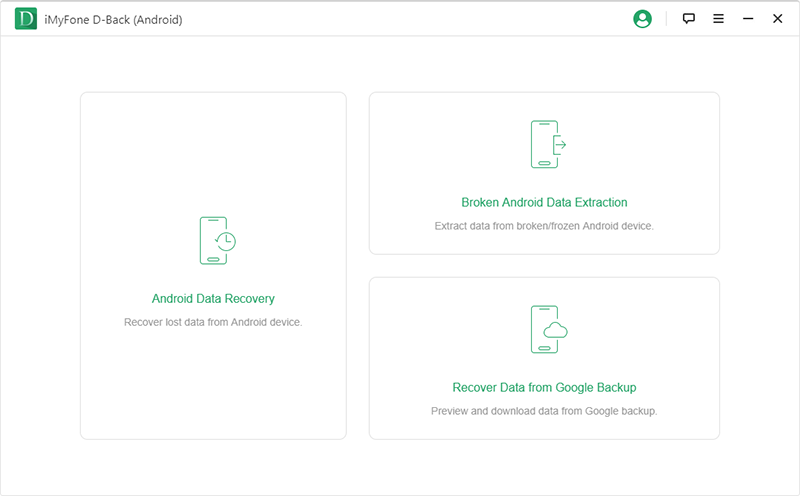 Step 2 - Click "Start" and log in with your Google account credentials.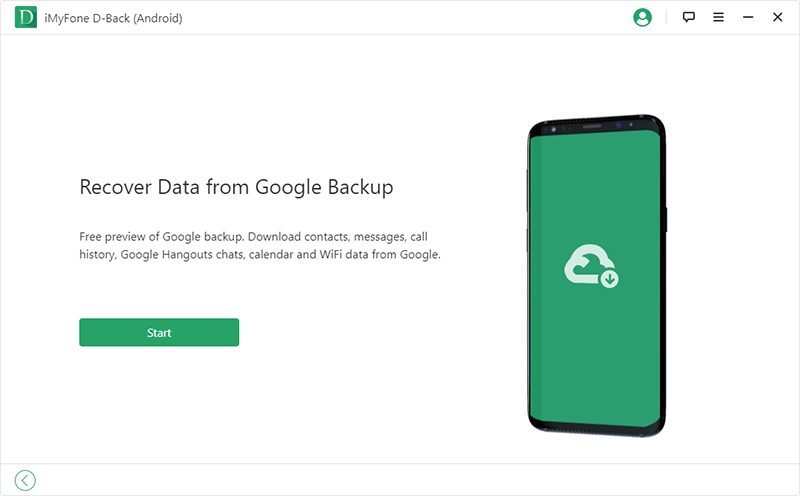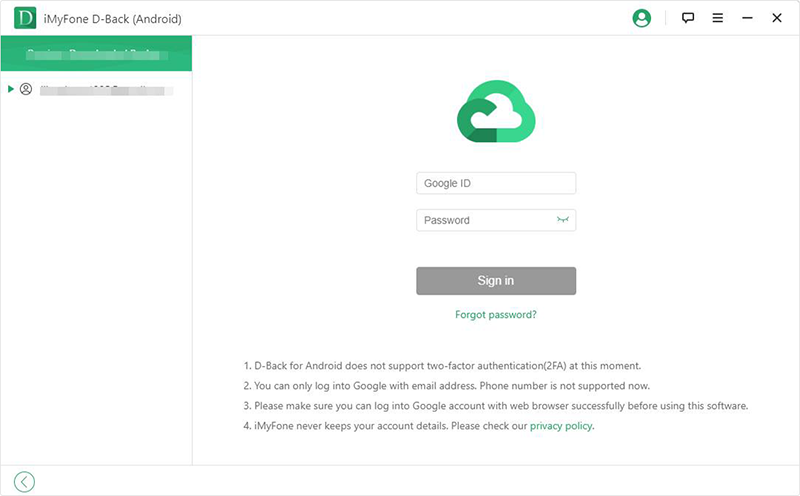 Step 3 - You'll be prompted to a new window where you'll have to choose the right file type. Since we want to retrieve Hangout conversations, select "Chats" from the list.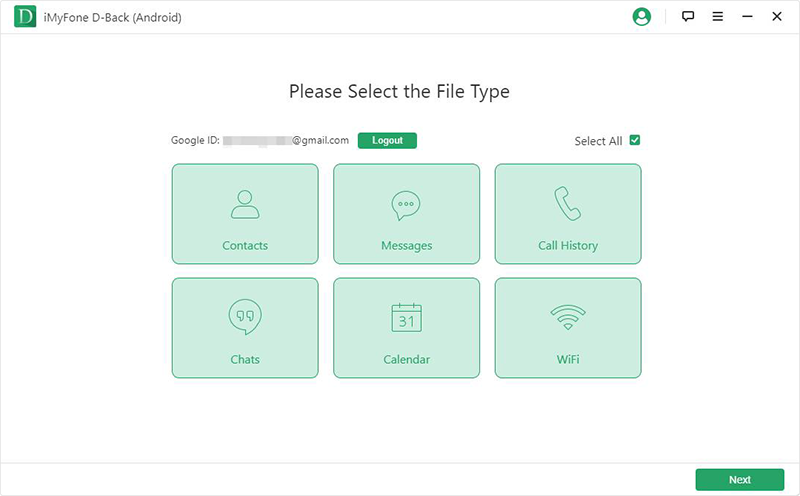 Step 4 - Click "Next" and D-Back will start scanning your account for all the deleted chats. The scanning could take a few minutes, depending on the size of the Google Backup.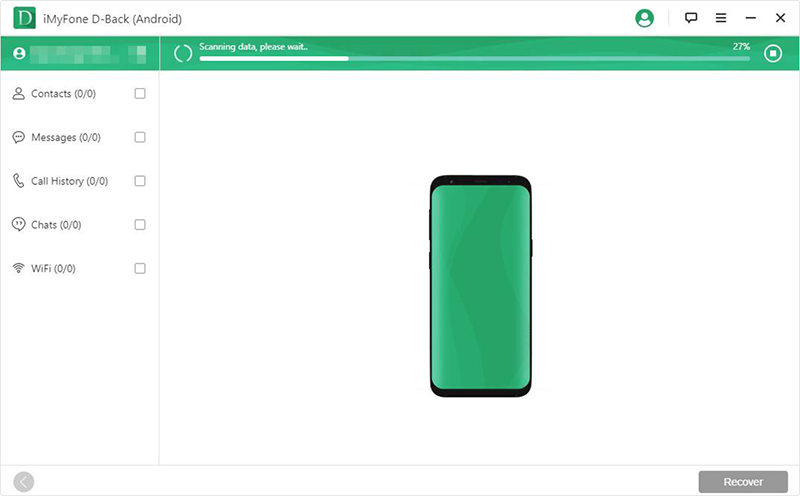 Step 5 - Once the scanning process completes, browse through the list to find chats that you want to retrieve and click "Recover" in the bottom-right corner.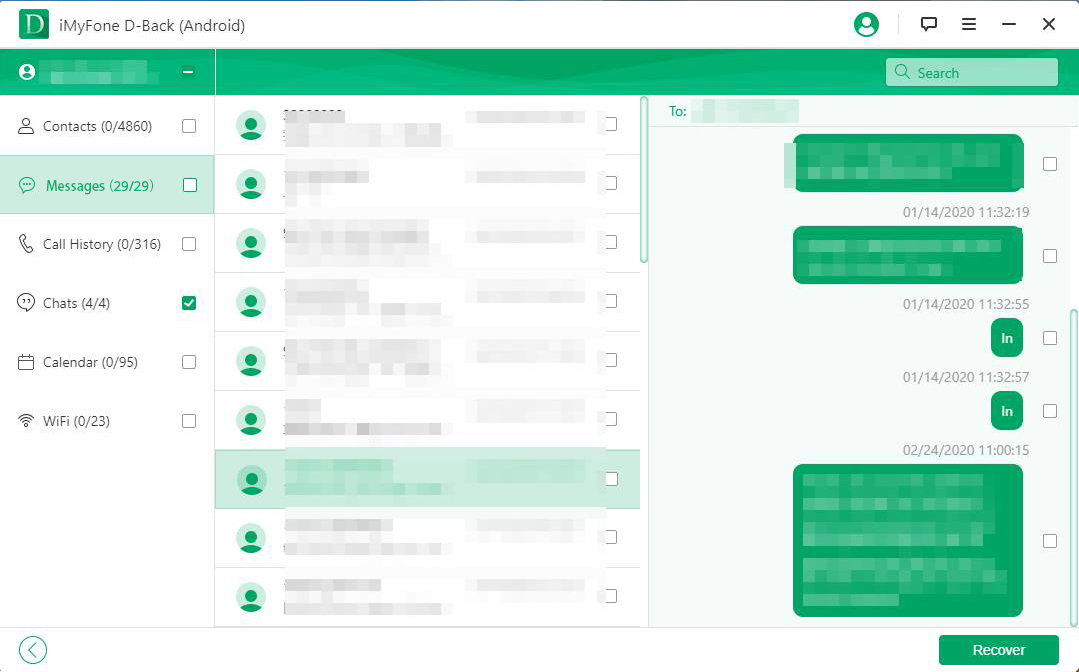 All the selected chat history will be recovered on your PC safely. You can either transfer these restored conversations to your smartphone or keep them on your PC for future use.
D-Back provides 3 modes from which choosing the 3rd one will help you get your deleted messages from Google backup with ease. This can be done if the new data that has been added to your device hasn't yet overwritten the deleted data. This implies you need to take action fast as soon as you find that the messages have got deleted. It will increase the chances of recovering data.
Part 4: How to Restore Archived Conversations from Hangout from Gmail
Fortunately, if you have enabled the "Hangouts History" feature in your Gmail account, it'll be easier to recover the accidentally deleted messages. As we mentioned earlier, Google will automatically save all the conversations on the cloud when the "Hangouts History" feature is enabled.
In this case, you can simply sign-in into your Google account and instantly recover the archived conversations.
Step 1 - Open Gmail on your PC/laptop and log in with the right credentials.
Step 2 - In the left menu-bar, click "More" to expand Gmail's label list.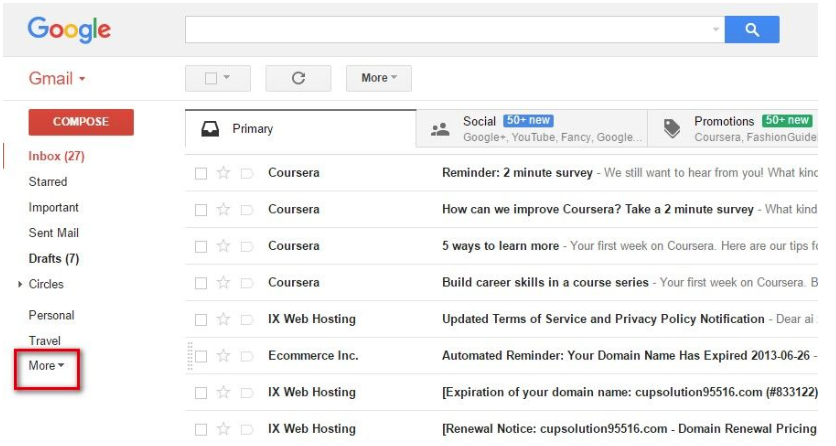 Step 3 - Now, click on "Chats."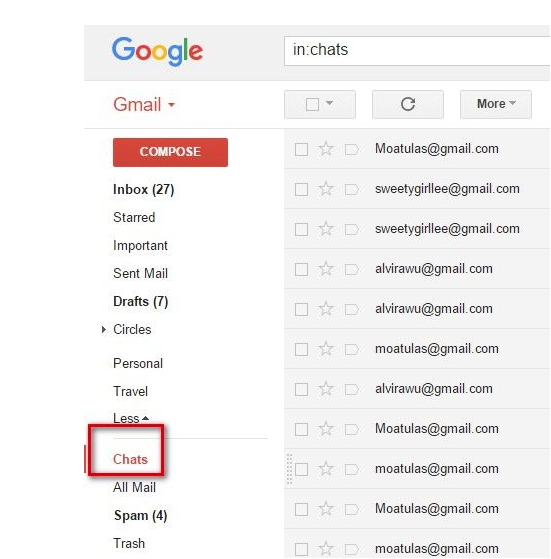 All the hangout messages will appear on your screen. Browse through the conversations to locate messages that you wanted to retrieve.
Part 5: How to Get Back Hangouts Conversation on Android Online
Another way to recover archived Hangout conversations is to use the Hangout app itself. This method will be extremely useful if you want to recover an entire archived conversation from hangouts.
Step 1 - Go to hangouts.google.comon your desktop and login with your Google account credentials.
Step 2 - Click the "Menu" icon at the top-left corner and select "Settings."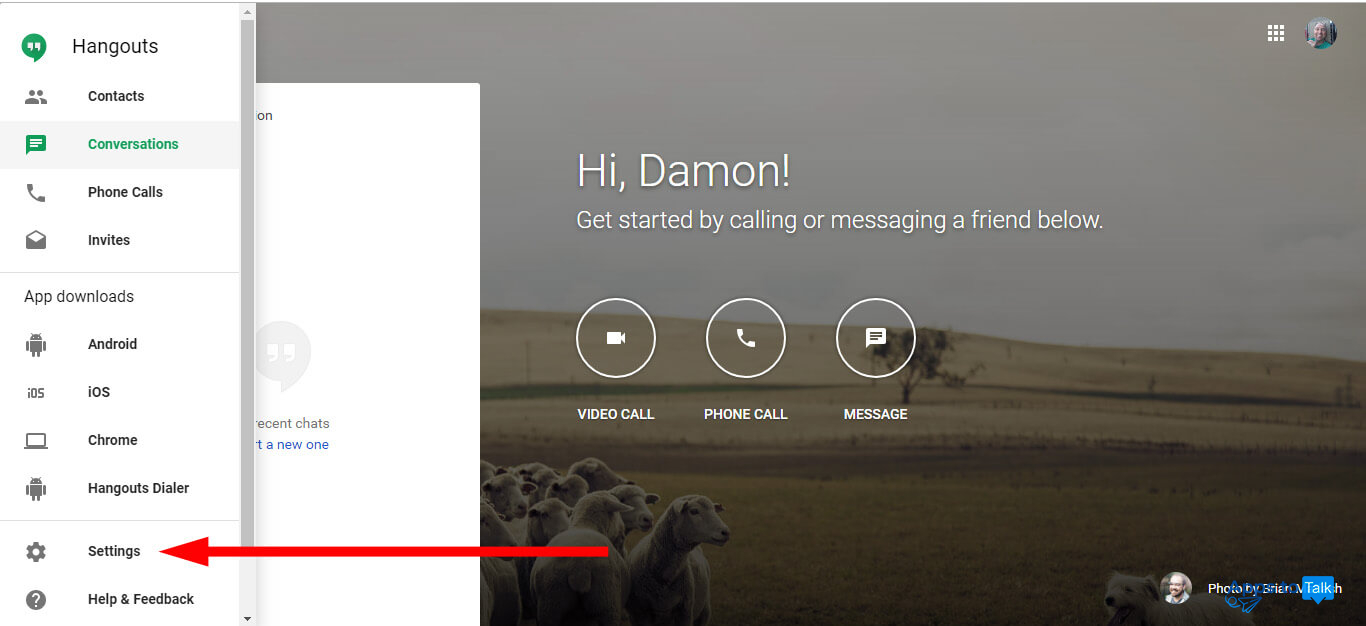 Step 3 - Now, click on "Archived Conversations" and find the conversation that you would want to get back.
Step 4 - Select the specific conversations and tap on the "Unarchive Conversation" option.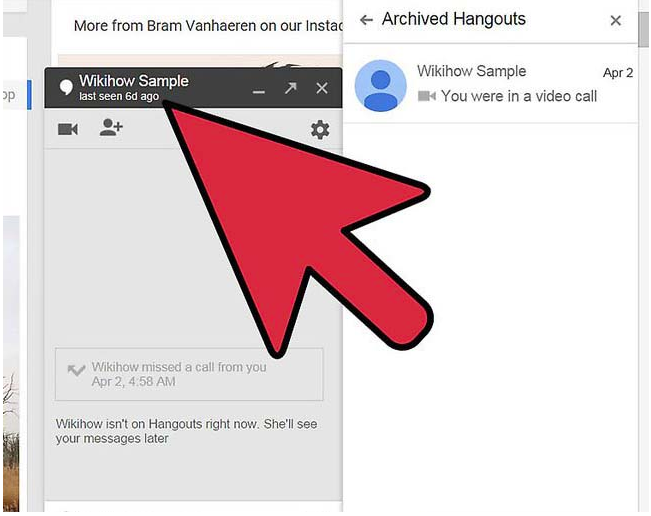 Once the conversation is marked un-archived, you'll be able to see it inside the Hangouts chat history.
Part 6: How to Delete Messages In Hangout Permanently On Android
So, these were a few different ways to recover deleted hangout messages/chat history in Android. These tricks will help you immediately retrieve all the accidentally deleted Hangout chats without facing any issues.
Apart from restoring deleted conversations in Google Hangouts, many users want to know how to permanently delete a message as well. The good news is permanently deleting a Hangouts conversation is not as challenging as one might think.
Simply follow the below-mentioned instructions, and you'll be able to quickly delete a message in Hangouts.
Step 1 - On your Android device, open the Hangouts app and enter your account details to log in.
Step 2 - Once logged in, tap the "Menu" button in the top-left corner and click "Turn History Off."
Step 3 - Now, open Gmail on your desktop and log in using your credentials.
Step 4 - Click "More" and select "Chats" from the left side.
Step 5 - Select a conversation that you want to delete and click the "Delete hangout History" option.
Step 6 - Confirm your actions by tapping the "Permanently delete history for this Hangout" option.
That's it; the selected conversation will be deleted permanently, and you won't be able to recover it at all. Since deleting a Hangout conversation will remove it forever, make sure to proceed with this action when you're 100% sure that you don't need the specific conversation.
Conclusion
It's safe to say that seeing your Google Hangout chat history get deleted can be a nightmare. If you're stuck in a similar situation, the above-mentioned methods will help you recover deleted hangouts conversation on Android. Whether you have accidentally deleted a conversation or lost it due to malware/virus attack, these tricks will help you get back deleted Hangouts conversations on your device.