For anyone who cares about their privacy would not want someone else to monitor all their cell phone activities. Unfortunately, that's still the harsh reality in 2022. With mSpy becoming an effective monitoring tool, many people use it to spy on someone's smartphone and keep track of their online activities.
If you're also worried that someone is spying on you using mSpy, it is important to take effective measures to keep your privacy intact. To help you along the way, we've compiled a comprehensive guide on how to stop mSpy from spying on your smartphone. So, without any further ado, let's quickly dive into the guide.
Part 1: Can mSpy Be Detected on Your Phone
For users who don't know, mSpy is a dedicated spying tool that's primarily marketed to parents and employers to keep a check on their children and employees respectively. However, it's safe to say that the app is being used by many third-parties to collect user's personal information and utilize it for marketing purposes.
What makes mSpy the go-to tool for device monitoring is the fact that the company advertises it as an invisible spying tool. It means that one can install it on your smartphone without you noticing it at all. Fortunately, this statement is partially true.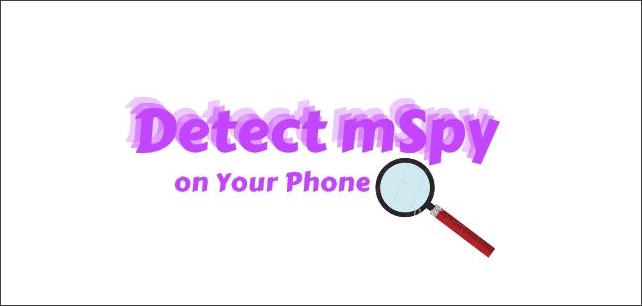 During our research, we found that it is quite possible to detect the presence of mSpy on your smartphone using different methods. These methods include:
1 Antivirus Programs Flag mSpy as a Virus
If you want to know if mSpy is installed on your smartphone or not, simply install an Antivirus program and perform a deep device scan. The majority of Antivirus tools in the market are capable of detecting spyware apps like mSpy and list them as a potential Virus threat.
2 mSpy Can Be Found in Application Manager
As surprising as it may sound, you can find mSpy on your smartphone's application manager. However, this method works only half the time as such spyware apps are usually listed under a different name. So, if you find any unusual app in the application manager, there's a high probability that it might be mSpy.
3 mSpy Is Listed in the Download List
If someone has downloaded mSpy on your smartphone, it will be listed in the "Downloads" directory unless the person has manually deleted it. So, make sure to check the "Downloads" folder and see if you can find mSpy or not.
Part 2: How to Stop Somebody Spying Using mSpy on Phone
While the above method can indicate the presence of mSpy on a smartphone, it's still important to take the required measures to stop it from spying on your device. So, let's quickly take a look at the best tips on how to stop someone spying using mSpy on iPhone and Android.
Method 1: Spoof Location to Prevent mSpy from Location Tracking
Among all the possible reasons, location tracking is the primary goal for people to use a monitoring tool like mSpy. When someone wants to track your GPS movement, all they have to do is install mSpy on your device and use it to track your real-time location on the map.
One of the most effective ways to restrict mSpy location tracking is to use a location spoofing tool. Location spoofing tools are designed to alter your real GPS location and set it to anywhere in the world. As a result, mSpy will only track a fake location and be unable to know your whereabouts.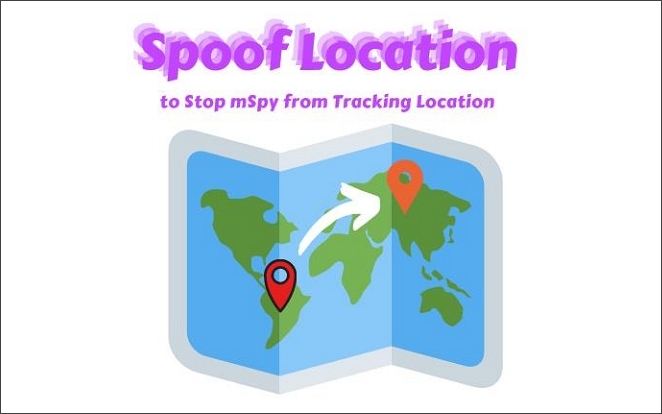 Using a location spoofing app becomes more useful when you cannot uninstall mSpy but don't want to disclose your location either. For instance, if your parents have the app on your device, you might not be able to delete it, but sometimes you wanna keep a secret of where have you been.
So, here are the two best and most convenient location spoofing apps for iOS and Android users you can see which fits you best.
For Both iOS and Android Users: iMyFone AnyTo
Since iDevices are extremely secure, it is imperative to find the right spoofing app that can help you set a fake location on the device. Fortunately, iMyFone AnyTo fits the description just right.
The tool boasts a multitude of features and a user-friendly interface that'll make it extremely easier for people to fake their GPS location. In addition to this, you can also use iMyFone AnyTo to create fake GPS movements and trick mSpy.
What make iMyFone AnyTo the most reliable GPS spoofing app:
Change location to anywhere in the world with one click.
Add fake GPS movement with customized speed.
Stop moving anytime along the fake route and play again to make it look real.
Widely compatible with all iOS devices running iOS 7 - iOS 16.
Supported Almost All Android Brands.
Here's the step-by-step process on how to stop someone spying using mSpy on an iPhone using iMyFone AnyTo.
Watch Video Tutorial to Stop Safari Tracking Location on Your iPhone in 2022
(Note: If you have installed iMyFone AnyTo on the computer, drag the video bar to 0:28 to skip the downloading and installation part.)
Step 1: Install and launch the app on your desktop/laptop and click "Get Started".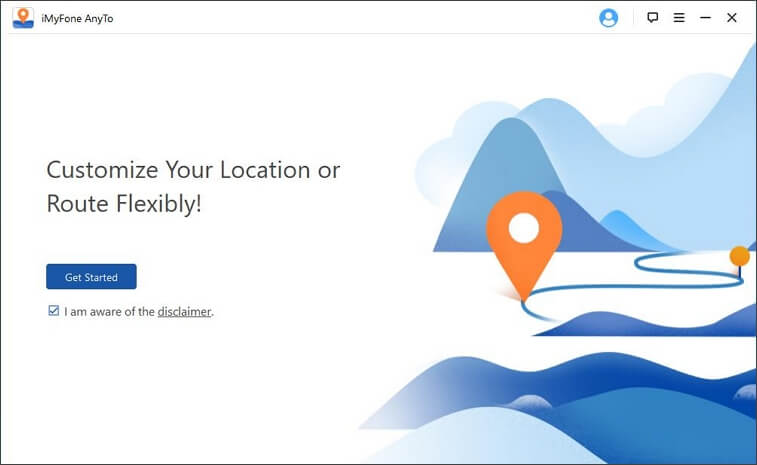 Step 2: Connect your phone to the computer via USB. Now, to connect the two devices successfully, unlock the phone by entering the passcode and click the "Trust" button.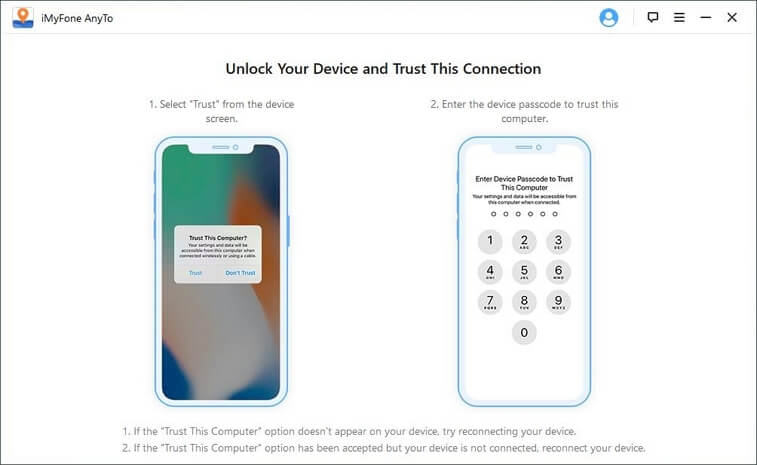 Step 3: After the devices are successfully connected, switch to the "Teleport Mode" by tapping the third icon in the top-right corner.
Step 4: Use the search bar to find a location or enter the GPS coordinates to go to a specific location on the map.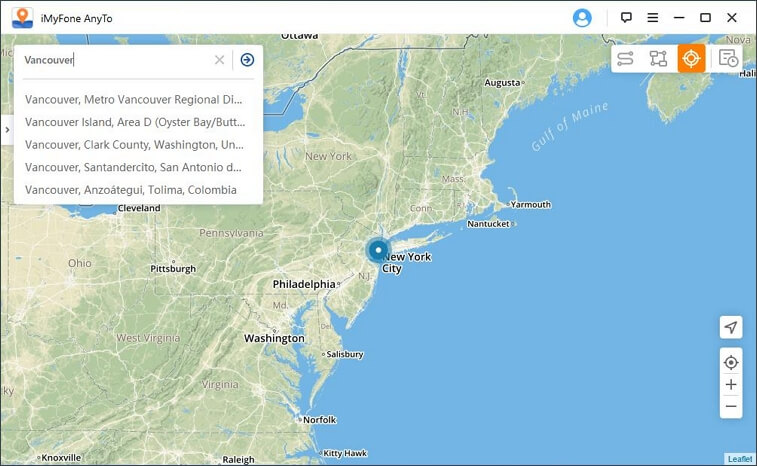 Step 5: Once you've selected the location, click "Move". And you have succeeded in setting the exact location you want.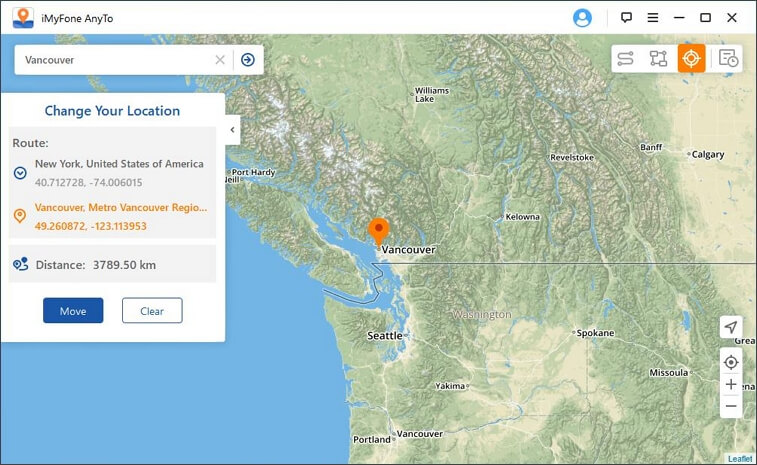 That's it! Your real-time location on your phone is changed successfully and there is no way of detecting your whereabouts via mSpy.
So, what're you waiting for? Click the "Try It Free" button below and use iMyFone AnyTo to stop mSpy from location tracking right now!
---
Alternative For Android Users: GPS Emulator
Normally, if you're an Android user, you'll be able to directly install the location spoofing app on your phone. However, in this case the process will be slightly different. Let's walk you through the step-by-step procedure of setting a fake GPS location on an Android device.
Step 1: Go to Google Play Store and download GPS Emulator on your device.

Step 2: Once the app is successfully downloaded, you'll have to set it as the default Mock Location app. To do so, go to "Settings > Developer Options > Set Mock Location app" and select "GPS Emulator".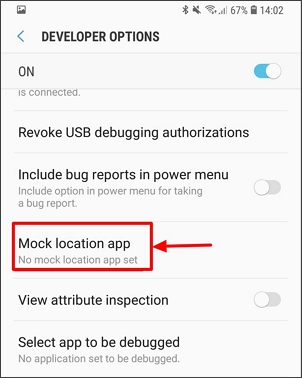 Step 3: Now, launch the app on your smartphone and use the search bar to find a location.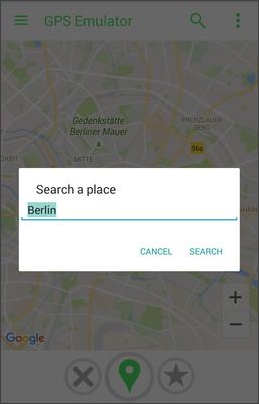 Step 4: After you've found the right location on the map, tap the "Green" button at the bottom of your screen and your device's GPS location will be moved to the selected location.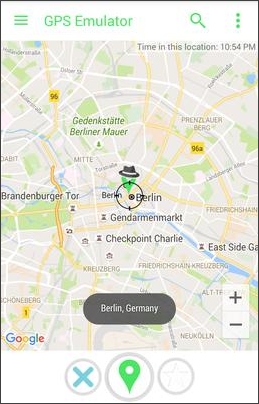 That's how GPS Emulator works on stopping mSpy from tracking your GPS location.
---
Method 2: Use Anti-Spyware App
For most users, iMyFone and GPS Emulator has solved all their location-changing issues. While some people still think mSpy a threat to their privacy and feel like mSpy tracking their other activities like calls and messages, browsing history, Whatsapp conversations, etc.
So, if you want no further worries, we recommend using a dedicated anti-spyware app to find and remove mSpy from your device.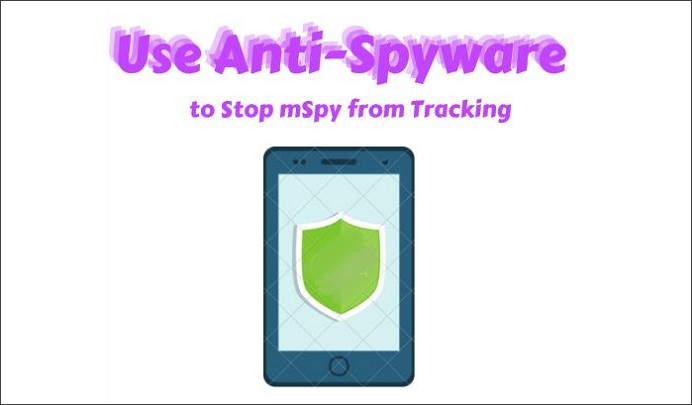 When there's a spyware app on your device, these apps will create alerts and even automatically uninstall the application. Whether you use an Android device or an iPhone, there are several anti-spyware tools you can use to remove spyware tools and keep your personal information protected.
So, here is a list of the best Anti-Spyware tools you can install on your smartphones.
Top 5 Anti-Spyware Apps for iOS Users
For iPhone, there are limited anti-spyware tools. Anyhow, we've cherry-picked the best apps that'll help you stop mSpy from spying on your phone.
1 Avast Security & Privacy
When it comes to privacy, Avast should be on top of the priority list. Its Wi-Fi scanning feature lets you be sure of the secure network. Its VPN assists in online encrypted connections to increase the privacy protection. You get a 14-day free trial at first and then need to opt for the monthly or yearly premium version.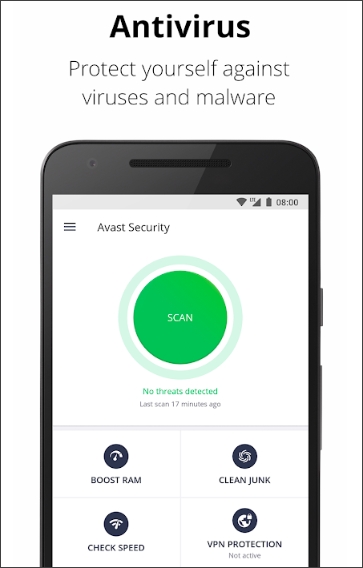 2 Avira Mobile Security
Another helpful anti-spyware for iOS users is Avira Mobile Security. One of the best features about Avira is the Avira connect. This helps people when they lose their phones. They can then login to the Avira connect and track their device for sending out the alert. Services like identity safeguard and call blocker are also offered by Avira.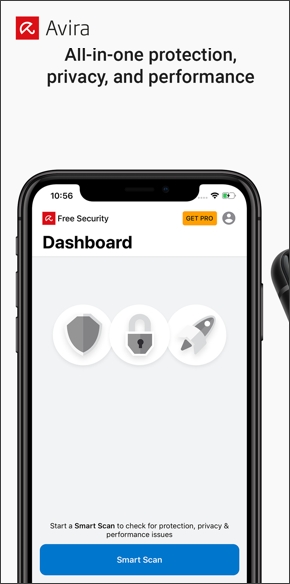 3 Lookout
If you have a habit of forgetting device at most places you have been, this can be a great option for you. It helps a lot when you misplace the device as it contains "Theft Alerts" functionality which is supposed to alert the owner for any suspicious activity on the phone. Isn't it great?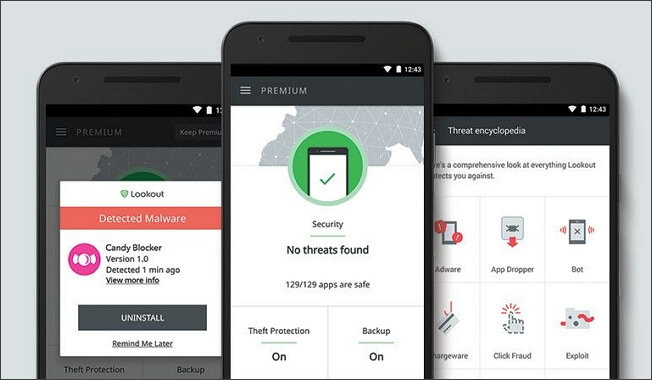 4 McAfee Mobile Security
One of the popular anti-spyware apps that is known to help iOS users is McAfee Mobile Security. Offering two different phone location features, it allows users to find their devices from other Apple device with ease. With the help of Media vault, your device gets an extra protection layer to it.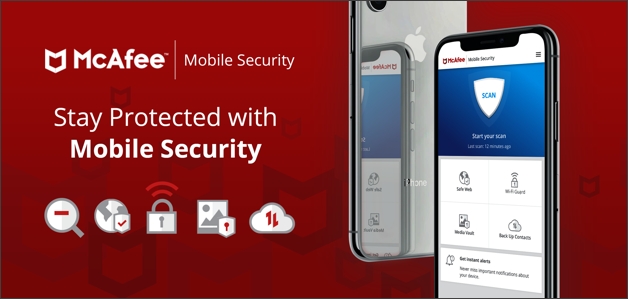 5 F-Secure Safe
The last in the list is F-Secure Safe, designed to help you with web filtering feature. This can help you block the sites that can be harmful and you feel insecure about. The banking protection feature is also available to get saved from visiting any un-trusted site.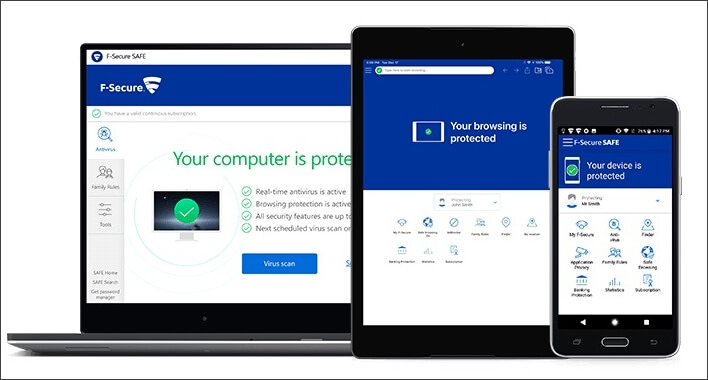 ---
Top 5 Anti-Spyware Apps for Android Users
For an Android device owner, you can use both anti-spyware tools and anti-virus programs to detect and block mSpy. Here are the top 5 anti-spyware tools for Android users.
1 Norton Mobile Security
With an intuitive design and powerful capability of malware detection, Norton comes on top in the list for Android anti-spyware apps. The only matter is you need at least the Android 4.1 version to work on. Norton has the power to check newly installed apps for any unexpected behaviors as well as inspect for any hidden risk before you install these apps. However, it doesn't provide a free service so you need to pay $30 for your privacy and safety.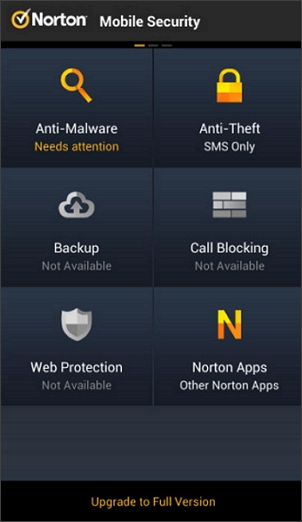 2 Google Play Protect
With Google Play Protect, various inbuilt features like Find My Device and Chrome Safe Browsing are available. With no ads facility, this anti-spyware helps remotely turn off the apps that might be dangerous. For above mentioned third-party antivirus software, Google Play Protect can help detect whether they are secure or not. Most importantly, it's free!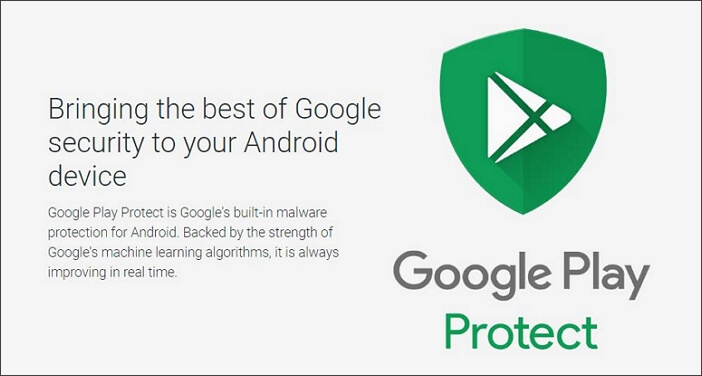 3 BitDefender Mobile Security
A yet another flawless anti-spy app will be BitDefender. Wi-Fi scanner, strong privacy protection and anti-theft features are its plus points. You get 200MB of data from a built-in VPN. To get more, you need to purchase $7 monthly or $50 annual service respectively.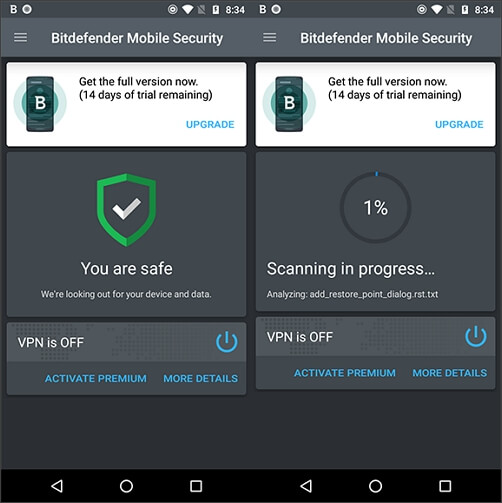 4 Kaspersky Mobile Antivirus
No one is unheard of the name Kaspersky when it comes to digital safety and security. This anti-spyware app provides a quick scan, folder, or full scan. You can go for the one you need and get the results you've wanted. For the price of these services, you need to pay $13 for a monthly subscription.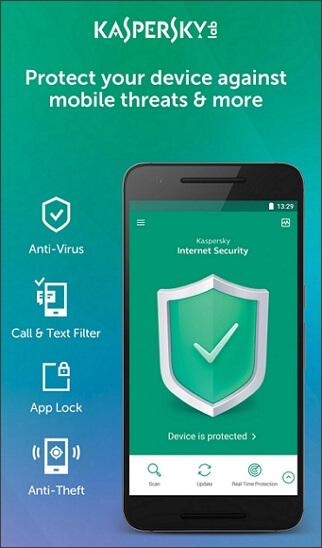 5 AVG Antivirus for Android
Another tool that can help you detect and block spy apps is AVG Antivirus. Ranging from a free version to an $11.9 yearly plan, it can easily scan your device for any risks that are likely to involve spying activities. Apart from that, AVG Antivirus also enjoys an anti-theft feature.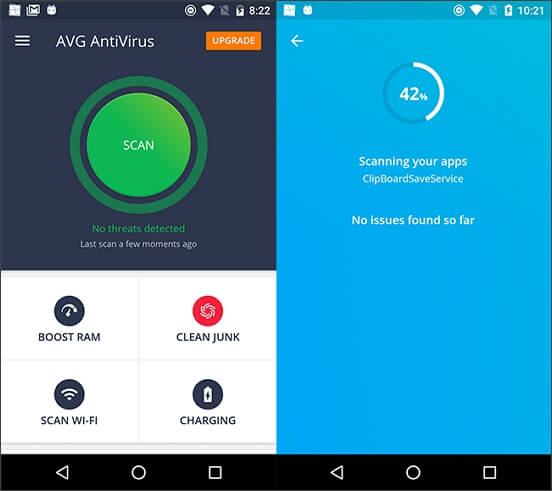 ---
Conclusion
Today, we're living in a world where smartphone monitoring has become quite normal for advertisers and companies to track user's private data. Apart from hampering your privacy, this also puts you in a vulnerable situation as anyone can use the tracked information to trouble you in different ways.
That's why it's important to grasp and utilize these effective methods so that you can keep your private information safe from potential threats. If your smartphone is being tracked using mSpy, please make good use of the above-mentioned tricks and stop the app from tracking you .