How to convert PDF to HTML5? You are at the right place to solve this problem. In this article, we will review 3 methods to convert PDF to HTML5 for you. Just read and get skills to stay current with new technology and be ease in the digital business world since HTML5 is a new and essential HTML version that supports the latest multimedia.
Part 1. 3 Methods on How to Convert PDF to HTML5
There are many ways to convert PDF to HTML5. Maybe you are confused about which one to choose. Breeze easy. The best choices have been reviewed for you. Just move on and pick the one you like.
Method 1. Convert PDF to HTML5 with Adobe Acrobat Pro DC (for Windows & Mac)
Well, the obvious choice would be to use the software that pioneered the format, Adobe Acrobat. Adobe Acrobat Pro is available for Windows and Mac as a desktop application with a high price tag. One major pro of using Adobe Acrobat Pro is it's a full-featured app with online support. Its design is intuitive and offers users a simple layout that is easy to navigate.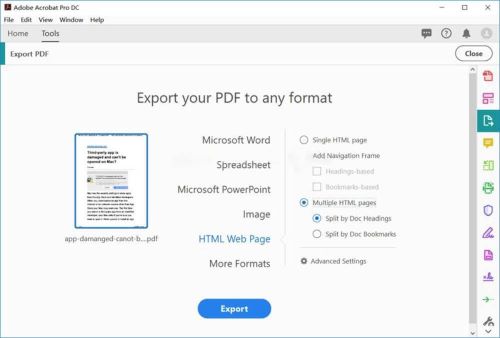 Here are the steps to convert PDF to HTML5 by Adobe Acrobat Pro.
Step 1. Click "Tools" from the top toolbar, find and open "Export PDF" in the "Create & Edit" section. A screen with Export your PDF to any format will appear.
Step 2. Select the PDFs you want to be converted from the left side and choose the "HTML Web Page" output format from the middle.
Step 3. Select "Single HTML Page" or "Multiple HTML Pages" on the right side.
Step 4. Finish up by hitting the "Export" button at the bottom and choosing a location for the files to be exported to.
Pros:
It's a full-featured PDF editor that comes from Adobe who created the PDF format.
You can edit and e-sign the PDF and then convert it to HTML5 offline.
Online support is provided.
A 7-day free trial is provided.
Cons:
High-cost for the subscription. It costs $14.99 per month.
Not a good choice if not using all the apps capabilities.
For a beginner, this PDF tool may be too complicated to use.
Method 2. Convert PDF to HTML5 Online for Free without Email
Converting a PDF to an HTML5 file online is easy and fast. Here is an online free tool pdftohtml.net that does not require your email. As a precaution, avoid any site asking for your email before converting. This information is sold to advertisers and you'll have your inbox flooded. Keep in mind, any files uploaded are saved on the site's servers for up to six hours. After six hours they are removed.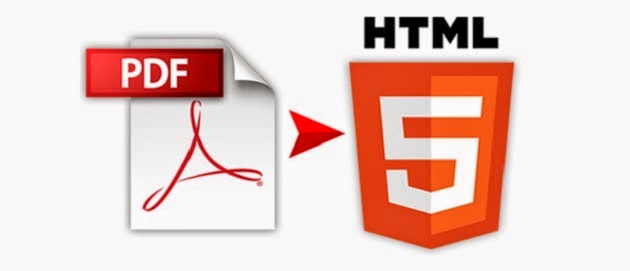 Just follow the steps below, you'll get what you want.
Step 1. Open the link above. Drag and drop your files on to the blue rectangle. Or click "Upload" and navigate to the location of your file.
Step 2. Once you upload the PDF to the website, wait as they are converted.
Step 3. It produces a Zip file for you to download. You open it with a browser.
Step 4. Click "Download", then choose where you want your files exported.
Pros:
This is a 100% free PDF to the Html5 converter.
Easy and quick to convert PDF to HTML from Google Drive, OneDrive, Dropbox or your computer.
No email required so you don't need to register.
No restrictions for the file number and size.
Cons:
Major formatting issues, which can cause some punctuation, fonts and bulleted lists to disappear or change.
The images unzipped together with the HTML5 are harmful files, which must be kept on your computer. If you delete any of them, all unzipped files including the HTML5 will be deleted.
Net-work required option for PDF to HTML 5 conversion.
Potential security risk even though the website claims that the files uploaded will be deleted after six hours.
Method 3. Convert PDF to HTML5 with Google Docs
Google Docs, as a free option, is perfect. It's an online web server containing files you upload for storage that can be downloaded in a different format. You can easily access the files and convert them right from the document.

Step 1. Open your Google Drive by signing in first.
Step 2. Find the PDF you want to convert. Right-click the file and choose to Open with Google Docs.
Step 3. From here, the file is open in Google Docs. Click on "File" at the top left from the menu bar.
Step 4. Scroll down to "Download" and then select "Web Page". Choose the location where you want the file saved.
Pros:
This is 100% free PDF to HTML5 converter and file editor backed by Google.
You can enjoy the 15GB of storage in Google drive for free.
Link sharing and easy for cooperation.
Cons:
Slower method for PDF to HTML5 conversion.
Like other online options, using Google docs can also cause formatting issues.
It requires an internet connection.
10-Page of limits for PDF to HTML5 format conversion.
Part 2. Learn More about PDF & HTML5
1. What is PDF?
PDF stands for Portable Document Format, is created by Adobe back in the 1990s. It quickly became the standard for documents to be converted to this format for easy sharing. Unlike a simple text document, PDFs contain graphics, logical structuring elements, interactive elements such as annotations and form-fields, layers, rich media (including video content) and three-dimensional objects using U3D or PRC, and various other data formats.
The power of PDF is how versatile it is. It can incorporate all kinds of designs and allows it to be altered later following set guidelines. You can design the file, email it to someone, have them return the file signed, and neither of you has to leave the office.
2. What is HTML5?
HTML stands for HyperText Markup Language, is the most basic building block of the Web. Similar to PDF, HTML is the guideline for the internet. Web pages are designed following the HTML rules, which include adding elements similar to PDF. These elements include rich media and interactive elements.
HTML5 is the recent edition of HTML and all content needs to be compatible online so users have the best experience online possible. As internet browsers continue to upgrade constantly, so do the file formats that are uploaded to them as well. This is why content needs to be converted to HTML5 before being added to a website.
These two file formats are the most common and next up is how to convert from PDF to HTML5. You'll get a look at 3 different ways to convert PDF to HTML5 and each review should give you an idea of whether the method will work for you.
Conclusion
We have shown you 3 methods to convert PDF to HTML5. One document at a time from your online store is a job for Google Docs. Multiple files from your desktop would be better converted from an online app. If you are editing PDFs to later be converted, then paying for the Adobe subscription might be best suited for you.One consideration is whether or not you need a constant internet connection. The Adobe Acrobat method is the only one not to need an active connection.