One of the major changes that iOS 15 is set to bring to your devices is in Notes App. The Notes app has been undergoing changes with every iOS update announced and this time, there are numerous major changes that are bound to make the Notes app that much more usable and effective.
One of these improvements is the ability to use Notes to scan documents. In the past, if you wanted to scan a document, you would need a third-party app to help you do that. With the new Notes in iOS 15, you eliminate the need for these other apps and use your camera to scan a document. In this article, we will look at how to do that.
How to Scan Documents in the Notes App
So far in the 3 beta builds of iOS 15 that Apple has released, scanning documents in Notes works very well. The following is a guide to help you scan your documents easily and effectively.
Step 1: Begin by opening a new or existing Note.
Step 2: Tap on the (+) icon and then select "Scan Documents".
Step 3: Place the document you would like to scan in the camera's view and use the shutter button or one of the volume buttons to capture the scan.
Step 4: If you need to, you can adjust the corners of the scan by dragging.
Step 5: Once you're happy with the rendering, tap "Keep Scan" and the tap "Save."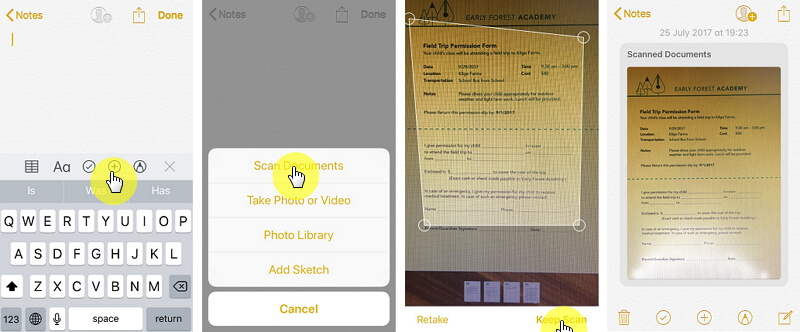 The simple to sue feature is ideal for any size document and you get the option to use the camera flash and filters when scanning. You can also edit and mark-up the scanned document which is then saved as a PDF and you can also choose to share it via email or to cloud storage solutions like Dropbox.
How to Name and Export the Scanned Document
The scanned document will appear as a preview inside the opened note. To view it, tap on it. Then follow these simple steps to rename it and export it.
Step 1: Tap on "Scanned Documents" to rename the document.
Step 2: Once you've tapped on the document, it will open in full-screen view and in the toolbar, you should see a bunch of copy options.
Step 3: On the copy options that appears, select any app and the document will be exported in PDF format.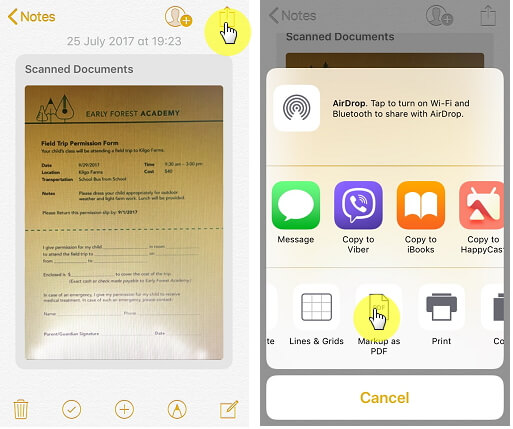 How to Recover Deleted Notes from iPhone
Regardless of the changes made to any app, there is only way to ensure you don't lose the documents you scan in Notes and that is to make a backup. Yet for one reason or another, you can lose Notes that you were still working on and thus were yet to be included in a backup. In this case you need a data recovery tool that will allow you to get your Notes back quickly and effectively.
If you've ever found yourself in a situation like that, iMyFone D-Back iPhone data recovery will help you out in more ways than one. Not only will D-Back recover lost or deleted notes from iOS device without a backup, it can also be used to extract notes from your iTunes or iCloud backups which is handy when you want to recover the note but don't want to restore the device in the process. Plus, it is very easy to use and very fast.